Economics
What Are The Major Natural Resources Of North Korea?
North Korea has a wealth of minerals.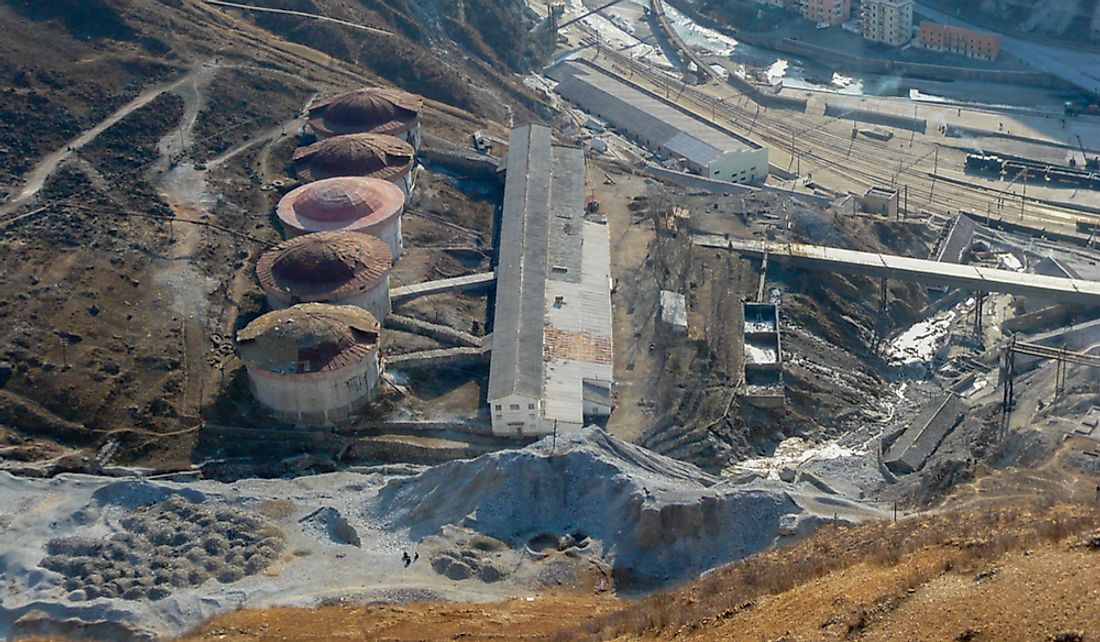 North Korea has maintained a closed and centralized economy since the 1940s. It is a relatively industrialized country where almost 50% of the GDP is generated by the industries. The economy is mainly nationalized with the state extensively subsidizing on food and housing and offering free education and healthcare. North Korea is one of the countries with a wide variety of resources in Asia. It is the 18th largest producer of zinc and iron and has one of the largest coal reserves in the world. According to several sources, the country could be sitting on about $10 trillion of resources. Some of the major natural resources of North Korea include coal, iron ore, limestone, zinc, copper, magnesite, and gold.
Natural Resources of North Korea
Coal
North Korea has the 22nd largest coal reserves in the world. Most of the coal produced in the country are the anthracite, the purest form of coal. The pure coal reserves in the country are estimated to be 4.5 billion tons, valued at $644.8 billion. North Korea is the leading exporter of anthracite. Jikdong coal mine, which contains mainly anthracite, is located in Jikdong. The mine has a capacity to handle up to one million tons of coal per year. Other coal mines include Gogeonwon Mine located in Gogeonwon labor district, also with a capacity of one million tons per year. The two coal mines are underground mines and mainly use trucks to transport coal to the respective Thermal Power Plants.
Iron Ore
North Korea is the 18th largest producer of iron in the world. Since 2000, iron ore production has increased slightly. North Korea has large deposits of iron ore and the potential for the development of large-scale mines. Iron ore mines are located in the provinces of Hamgyeongbuk-do, Pyongan-do, and Hwanghae-do. The Musan Mine in Hamgyeongbuk-do is operated by Mitsubishi Mining Company. The mine produces about 2 million tons of iron concentrate of 65% grade annually and has a capacity to handle 10 billion tons per year. Iron ores are extracted using the open pit method. The Oryong Mine, in the province of in Hamgyeongbuk also produces a significant amount of iron ore. China is the main market for DPRK's iron.
Limestone
Limestone is one of the major nonfuel minerals in North Korea. In 2014, the production of limestone accounted for approximately 66% of the value of nonfuel mineral production. For years, the country has been meeting its demand for limestone resources of about 80 million tons per year almost completely from local production. About 75% of the limestone produced is locally consumed in cement production and 14% in the manufacturing of steel products and the rest is used in the milling industry. Japan is the leading market for the limestone and limestone products from North Korea. Other major destinations include Taiwan, Indonesia, and China.
Zinc
North Korea is one of the leading producers of zinc in the world. The country has a capacity to produce 400,000 metric tons of nonferrous metals. Of that amount, 77% is accounted for by zinc and the rest by lead. Zinc is mainly mined by the Korea General Zinc Industry Group based in Pyongyang. The main zinc mine in the country is the Geomdeok Mine located in the province of Hamgyeongnam-do. It is the largest zinc mine in East Asia and has been in operation since 1932. This mine has seven mine blocks extracted through ten mines. It can handle 10 million tons of zinc ore annually. Mining of zinc concentration is mainly done by a conventional flotation method. Other products that are obtained from the mine include galena, sphalerite, and chalcopyrite.
Copper
North Korea relies heavily on copper for local production and export. To meet the local demand, the country relies on imports, mainly from Canada. However, North Korea is estimated to hold over 2.1 million metric tons of copper. Copper mining and development in Hyesan was jointly conducted by the Korea Mining Development Trading Corporation and a Chinese firm. However, KOMID was blacklisted by the UN in 2009 for a rocket launch in Korea on April 5, 2009. The Hyesan copper mine is situated in the province of Yanggang and has been in operation since 1970. It is the country's largest copper mine. The mine was temporarily closed in 1994 as a result of flooding and was partially reopened in 2010. It has a capacity to handle 1.2 million tons of copper per year.
Magnesite
There is a significant amount of magnesite resource in North Korea. Magnesite is mainly found in large quantity in the Tanchon area and has been extracted since 1980. The main mines in the area include the Yongyang mine and Taehung Youth Hero Mine. Another significantly large mine is the Daeheung Mine, located in the province of Hamgyeonnam-do. This mine has four blocks and has operated since 1982. It is thought to be the largest magnesite mine in the world. However, it operates at 60% of its capacity (600,000 tons per year) owing to the deteriorating infrastructure. Magnesite is mined by both underground and open pit mining.
Gold
North Korea is estimated to hold 2,000 metric tons of gold reserves, valued at $87 billion. The largest gold mines in the country are located in Yanggang Province. Daebong Mine situated at the border of Woonheung and Gapsan produces over 150 kilograms of gold annually. Plans are currently underway to improve its capacity. Sangamon mine has been in operation since 1956 and has processed over 20 million tons of tailings. The Holdong Mine located in Holdong labor district has been in operation since 1893. It has a capacity to hold 2 tons of silver and 0.85 tons of gold annually.
Other Major Natural Resources of North Korea
North Korea has over 200 mineral types distributed over most parts of its territories. Apart from the resources discussed above, other significant natural resources in the country include graphite which is commonly found in Jeongchon-gun. This resource is mainly shared between South and North Korea. Lead is also found in large quantities in North Korea, with the country exporting over 100,000 tons in 2014.
This page was last updated on January 24, 2019.
Citations
Your MLA Citation
Your APA Citation
Your Chicago Citation
Your Harvard Citation
Remember to italicize the title of this article in your Harvard citation.