Suriname, formally known as the Republic of Suriname, is a small country located in north eastern South America. It is situated on the coast of the Atlantic Ocean and shares borders with the neighboring nations of Brazil, Guyana, and French Guiana. Covering a total land area of 60,232 square miles, Suriname is home to a population of approximately 584,822 people. Most residents live in the northern region of the country near the capital city of Paramaribo. 
Suriname came under Dutch rule late in the 17th century before becoming a so called constituent state of the Netherlands in 1954. The country gained its political independence on November 25, 1975 while still maintaining close economic and cultural ties with the Kingdom of the Netherlands.
Major natural resources in Suriname include bauxite, various agricultural products including bananas and rice, local seafood products such as shrimp as well as rich oil and gold reserves. Another important component in the South American nation's economy is the emergence of the profitable ecotourism industry. 
Suriname exports its natural resources and locally produced materials to a number of trading partners around the world including markets in North America, the Caribbean, and Europe.  Among the countries which purchase the most goods from Suriname are the U.S., Canada, the Netherlands, as well as Trinidad and Tobago.
Major Natural Resources Of Suriname
Bauxite
Bauxite is a type of aluminium ore. It is a sedimentary rock which is regarded to be the primary source material for aluminum throughout the world. Bauxite deposits in Suriname have often been referred to as being the economic backbone of the country. The material takes its name from the French village of Les Baux-de-Provence where it was discovered in 1821. In 2016 statistics showed that profits from Suriname's bauxite industry accounted for 70% of its total export revenue as well as making up 15% of its GDP (gross domestic product). 
Agriculture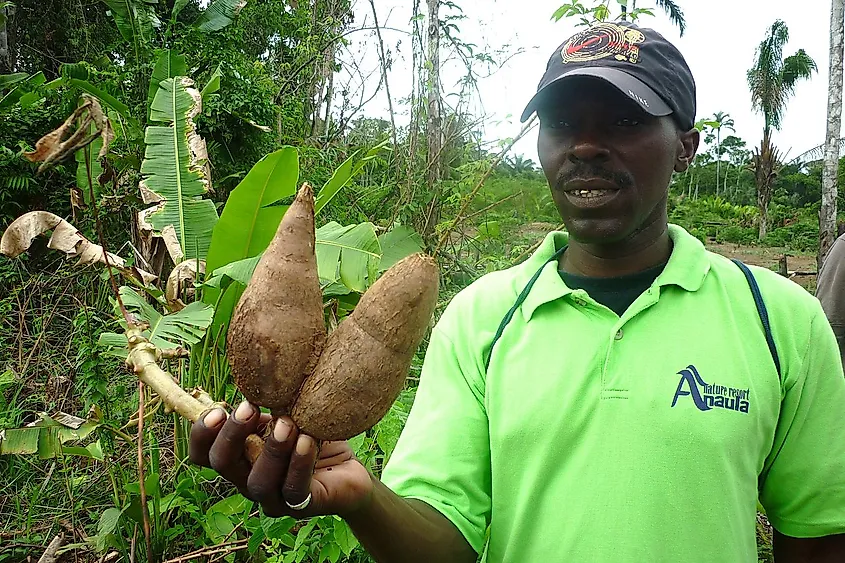 The agricultural industry plays a major part in Suriname's economy which is illustrated by the fact that approximately twenty five per cent of wokers in the country are employed in this sector. Bananas and rice are two particularly important crops in Suriname. Other key types of produce grown in the nation include timber, various tropical fruits (papayas, pineapples, mangoes), coconuts, peanuts, and palm kernels. 
In 2017 4526 acres of land were devoted to cultivating bananas in Suriname. That same year production statistics show that the annual yield for this domestic crop reached 773,701 acres. In total Suriname's banana production in 2017 amounted to 57,362 tonnes. 
Seafood
Shrimp is an especially important natural resource in the South American nation. In 2011 the Suriname Atlantic seabob shrimp fishery made history as the first such tropical shrimp fishery to ever be granted a Marine Stewardship sustainability certification. The seabob shrimp is a local species which can be found living in sand or mud in both seawater as well as brackish, or somewhat salty, water. The particular variety of shrimp found in Suriname can survive for about a year and a half. These decapod crustaceans are known for growing quickly and reaching sizes of just over five and a half inches. 
Given that Suriname has a coastline which runs approximately 236 miles long and a continental shelf measuring 21,061 square miles it's not surprising that fish and other types of seafood are one of the country's major natural resources. The nation's fishing industry includes freshwater, coastal, brackish, as well as deep sea sectors. Statistics from 2017 show that in one year fisheries production in Suriname totalled some 470,000 tonnes with seabob shrimp totals coming in at approximately 7,650 tonnes. That same year seafood exports were estimated to be valued at $107 million (U.S.). 
Oil 
The discovery of oil has proved to be particularly profitable in terms of boosting Suriname's economy. The most recent offshore discovery of naturally occurring oil reserves in the Maka field has brought renewed international interest in the country's oil industry.  One company which continues to play a significant role in the development of this particular natural resource is Staatsolie, Suriname's national oil company. According to estimates from Staatsolie the South American nation's oil reserves have an expected potential value of some 13.6 billion barrels. Staatsolie is involved in various aspects of Suriname's oil industry including not onlt the initial exploration process but also drilling, refining, sales, and transportation of this valuable product. 
Gold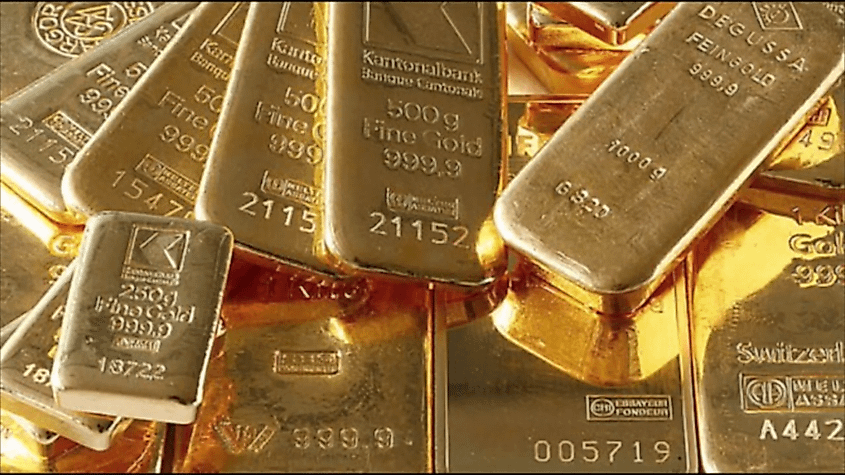 The Rosebel Gold Mine is Suriname's sole large scale gold mining operation. Located in the north eastern portion of the country, about 52 miles south of the capital city of Paramaribo in the Brokopondo District, the mine comprises a total land area of some 65.6 square miles. The company is co-owned by Imgold, a Canadian gold producer, and Suriname's national government. Gold was initially discovered in this key location way back in 1879. Currently it's estimated that 20,000 small scale gold mines are in operation throughout the nation. The majority of these sites are not registered and thus deemed to be illegal. 
Ecotourism
Perhaps Suriname's greatest natural resource is it's actual environment and ecosystem as a whole. More than 80% of the country is made up of pristine unspoiled rain forests. This is particularly important given ongoing global threats to biodiversity and the environment caused by such factors as land loss, pollution, and climate change. The nation's Central Suriname Nature Reserve was established in 1998 with a partnership between the American organization Conservation International and Suriname's government. In 2000 the tourist friendly site was awarded the status of World Hertiage Site by the United Nations Educational, Scientific, and Cultural Organization (UNESCO). Located in Suriname's sprawling Sipaliwini District, the Central Suriname Nature Reserve was created when three of the country's nature reserves (Tafelberg, Eilerts de Haan gebergte, and Ralleighvallen) were merged together in order to create one central reserve.  Devoted to preserving and conserving the nation's precious forests as well as the plants and animals which live in these protected areas, the Central Suriname Nature Reserve covers an area of approximately 4,000,000 acres. Along with tropical forests the reserve also includes portions of the Guyana Highlands as well as landmarks such as granite domes, mountainous regions, and a research station.