World Facts
Top Wheat Producing Countries In The World
China is the world's largest producer of wheat, while the U.S. remains the top exporter of the grain.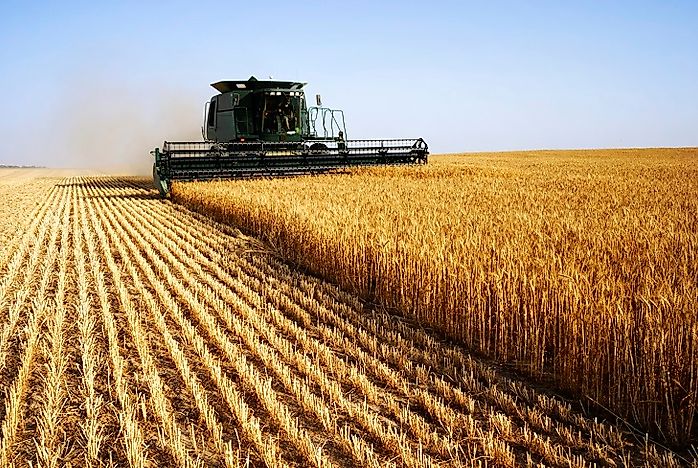 5. Top Wheat Producing Countries
Many countries all over the world grow wheat, as it has long been a highly popular cereal grain. After rice and maize, it is the third most widely produced agricultural commodity, and it is a staple food of billions of people all over the globe. According to the FAOSTAT database, China tops the list of countries producing the largest amount of wheat in tons. In fact, there production over recent years have amounted to around 120 million metric tons of wheat per year. Nonetheless, nearby India is gaining ground on the Chinese, and the two countries combine to produce almost a third of the world's total. The Chinese are then followed by India, the United States, the Russian Federation, France, Canada, Germany, Pakistan, Australia, Ukraine, Turkey, and Iran.
4. Wheat Export Leaders
The international market for wheat is growing, and export shipments of wheat globally rose to US $47.6 billion in 2014. This is a remarkable increase of no less than 45% which is measured over a five-year period. From 2013 to 2014 however there was a 2.7% decrease of value of worldwide wheat export shipments. Of all the continents, countries situated in Europe were responsible for the largest dollar value of wheat shipments, totaling $23.5 billion US dollars across the continent. The complete list of top fifteen countries garnering the largest dollar value worth of wheat export shipments in 2014 includes the United States at US$7.8 billion (16.3% of global wheat exports), Canada at $7.2 billion (15.1%), France at $5.4 billion (11.4%), Australia at $5.3 billion (11.2%), Russia at $5.3 billion (11.2%), Germany at $3.1 billion (6.4%), Ukraine at $2.3 billion (4.8%), Romania at $1.3 billion (2.7%), India at $1.1 billion (2.3%), Kazakhstan at $960 million (2%), Poland at $806.9 million (1.7%), Bulgaria at $691.3 million (1.5%), Lithuania at $646 million (1.4%), Argentina at $603.6 million (1.3%) and Czech Republic at $580.8 million (1.2%).
3. Rising Stars in the Global Market
India has been the wheat exporter exhibiting the most growth since 2010. It is followed by Poland (up 288.4%), Russia (up 157.3%), Romania (up 156.1%) and Ukraine (up 152.7%). This trend is only upset by Argentina, who reported a decline of 33.1%. All in all, the countries mentioned above accounted for 90.5% of all 2014 wheat exports.
2. Largest Net Exporters
Canada had the highest positive net wheat shipments in 2014. Net exports is defined as the value of a country's total exports less the value of its total imports. Following Canada in this list is the United States at $6.8 billion (up 9%), Australia at $5.3 billion (up 42.3%), France at $5.3 billion (up 17.8%), Russia at $5.2 billion (up 152.7%), Ukraine at $2.3 billion (up 152.8%), Germany at $1.9 billion (up 80.2%), Romania at $1.1 billion (up 221.3%), India at $1.1 billion (down -1192.7%), Kazakhstan at $957.9 million (up 5.2%), Poland at $687.5 million (up 695.0%), Bulgaria at $682.8 million (up 54%), Lithuania at $615.3 million (up 155.2%), Argentina at $603.6 million (down -33.1%) and Czech Republic at $569 million (up 145.8%).
1. Big Names in a Big Industry
In business terms, the world's largest wheat exporting companies are to be found headquartered within the U.S. and France. Based on 2003 information provided by OXFAM, there are four conglomerates topping this list, of which three are located in the United States of America. These U.S. companies are Cargill, Archer Daniels Midland, and Bunge, while the fourth largest is Louis Dreyfus of France. Other companies playing major roles in the global wheat market are Tropolis of Canada, Pentarch of Australia, FENIL of Russia, SB Import & Export of Germany, Agro Resources International LLC of the Ukraine, NUPUR International of India, and Zaharni Zavodi–AD of Bulgaria.