Being one of the easiest crops to grow, wheat is the main ingredient in staple dishes and baked goods around the world, like pasta, pizza and bread products. Easy to cultivate in various climates, high in carbohydrates, and with more protein than in corn and rice, wheat is a relatively cheap and easily attainable source of energy. Although other industries have been affected by the virus through cut-backs, wheat production is flourishing. In fact, a record amount of wheat supply is projected for 2020, with the biggest contributors on this list of the largest wheat-producing countries in the world.
1. China
China continues to be the top single country wheat producer in the world, with 135,000,000 metric tonnes of wheat produced this year or 29% of the world's total. Rice is China's top agricultural product and consumed predominantly in the south. However, wheat, being a winter crop, thrives in the northern provinces, where temperatures hit negative double digits, and people prefer to eat noodles. Paleobotanical evidence, which is based on studying plant fossils, suggests that wheat originated around Afghanistan or Central Asia and made its way into China through the northern province of Xinjiang. Archaeological evidence, which includes human factors such as ancient tools used to cultivate wheat, suggests that wheat came to China from either Siberia or Mongolia in Eurasia. 
2. India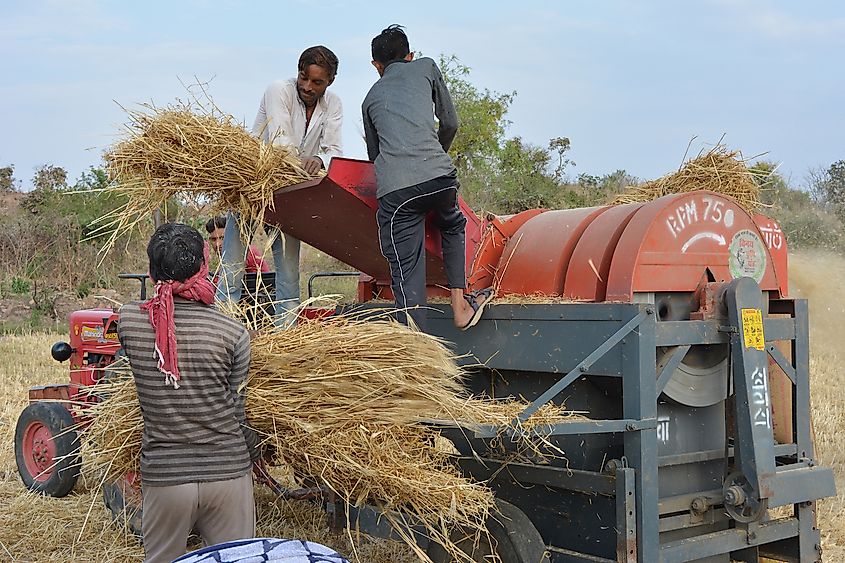 Just like in China, wheat is India's second most produced crop after rice, and dominates staple dishes in the north of the country. More adaptable to weather changes, than rice, wheat is sown in India throughout the fall season and harvested in winter-spring. Producing 103,000,000 metric tonnes of wheat this year, India takes the second place on this list. 
3. Russia
Russia gets the third place in the world's wheat production and the first place as the world's top exporter of wheat, with 77,000 metric tonnes produced and $6.4 billion worth exported in 2019, or nearly 17% of all wheat exports. Although Russia is projected to stay the top wheat exporter for the upcoming year, there has been a steady decrease from previous years, which is likely to continue. In fact, Russia is planning to put limits on its wheat export to protect its food supply, as an effect of COVID-19, and as a precaution after the U.S. made a major wheat sale to China. Back in March, Russia's agricultural ministry proposed to limit its all-grain export to 7-8 million tonnes in three-month period, from April to June. With 2.3 million tonnes of wheat quoted, Russia hit and bypassed this quota by the end of April. Experts say that the world's wheat trade patterns and prices will greatly change, if Russia continues to stockpile its wheat and puts a definitive quota on its wheat export. Countries in the middle-east, especially those still struggling with the pandemic, are stockpiling their own flour, in case Russia goes through with this decision. 
4. United States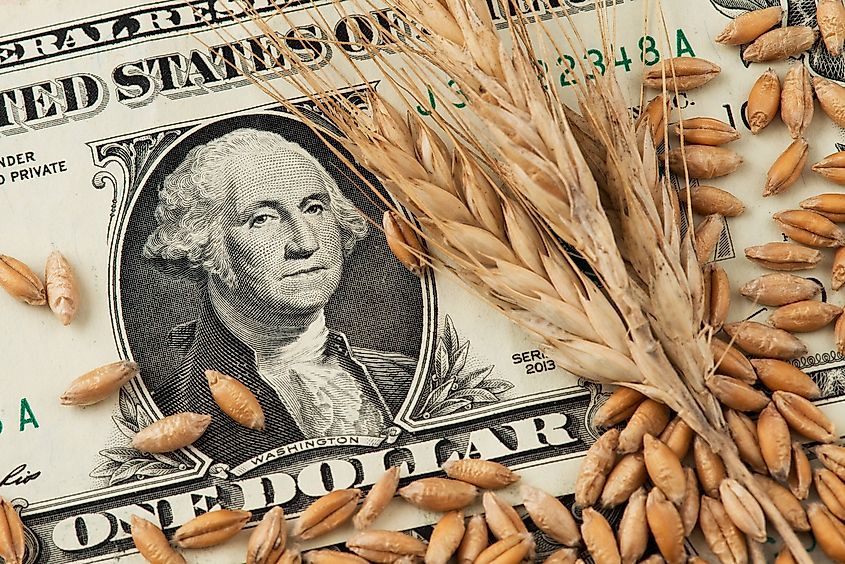 Although corn and soybean dominate US' agriculture over wheat, US ranks fourth in the world's top wheat producers. With Kansas and North Dakota as its top suppliers (https://www.worldatlas.com/articles/leading-wheat-producing-states-in-the-united-states.html), US produced 50,784,000 metric tonnes of wheat this year, short of 1,5 million metric tonnes from last year's supply.
5. France
France leads the EU in wheat production with nearly 40,000,000 metric tonnes produced last year. Supplying 4% of the global total, France is deserving of the fifth place on this list, as a country with a relatively small land surface.
6. Canada
Canada comes in next with 34,000,000 metric tonnes of wheat produced this year. Canada's wheat export earns Canada more money than any other agricultural product, sitting at $5.5 billion, or just over 14% of the world's total. Canadian scientists and manufacturers work together on developing optimal growing methods for the Canadian climate and innovative technologies to produce many varieties of wheat, also making Canada a leading world producer of high-protein milling wheat. The Canadian Grain Commission and researchers stand behind the consistently quality Canadian wheat, giving Canada a reputation of being the breadbasket of the world.
7. Ukraine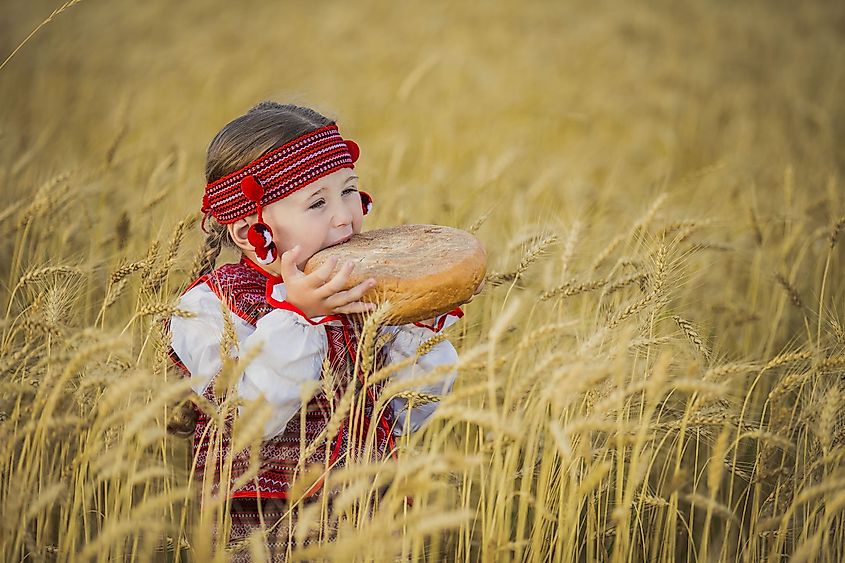 The European breadbasket, Ukraine, with vast fields and a hardworking nation, comes in the sixth place of top wheat producers in the world, having yielded over 29,171,000 metric tonnes last year. Home to thousands of bakeries and coffee shops, comparable to Western Europe, it is no surprise that cereal is its second-highest export. Driving through the country, one will witness endless golden fields, which are even portrayed on Ukraine's blue and yellow flag. Having recently faced conflict and changes in governance, Ukraine is also slowly shifting focus from farming to advanced manufacturing and IT, losing a little over 1,000,000 metric tonnes in wheat production from last year's total.
Others
Although Pakistan currently holds the next spot on this list with 26,100,000 metric tonnes of wheat produced last year and additional 1,800,000 metric tonnes this year, Australia is set to overtake the seventh place with a personal record increase of 8,800,000 metric tonnes in one year. Yielding only 15,200,000 metric tonnes last year, Australia was able to successfully overcome the drought and produce 24,000,000 metric tonnes this year, as a result of its mild climate and vast land, also making wheat it's number one product to export.
As a flexible crop, wheat thrives in various regions and conditions. Not the world pandemic, climatic changes, nor trends, such as the gluten-free fad, which started in the west and is spreading to the bread-loving Europe, have had an impact on the world's top wheat producers, who are set for the highest wheat production ever.