The World's Largest Exporters Of Coffee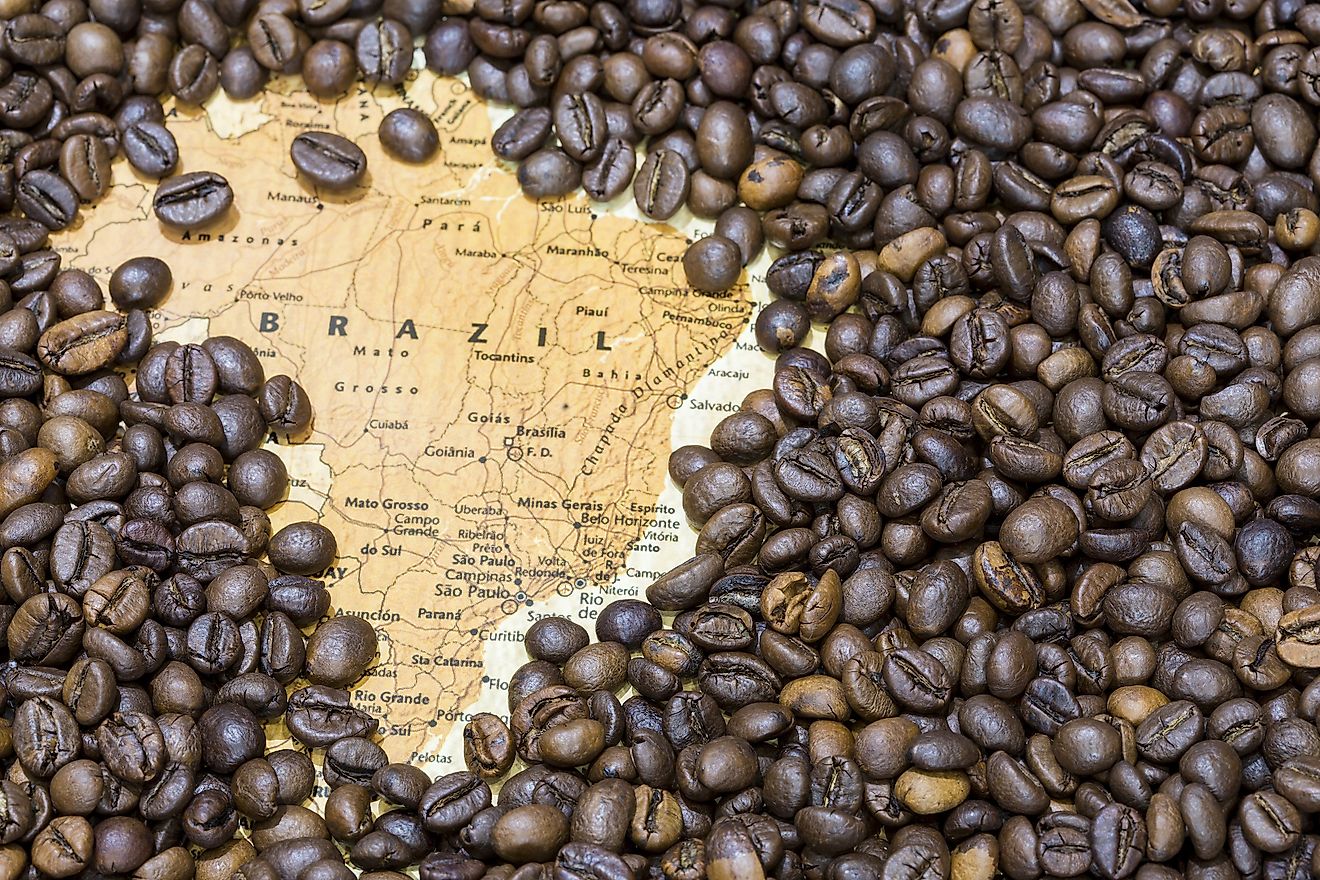 Brazil is the world's leading producer and exporter of coffee.
Germany is the third leading coffee exporter without growing a single bean.
Coffee is the 121st most traded product in the world.
Following tea, coffee is the second most consumed beverage in the world with countries in Europe consuming the most coffee. With over 3.5 billion cups of coffee consumed every day in the world, the demand for coffee as a commodity is high. Coffee is also one of the most traded commodities in the world. Every year, the value of exported coffee appreciates. Apart from its use as a beverage, the coffee bean can be decaffeinated to obtain caffeine which is used in making of beverages, cosmetics, and pharmaceuticals. The two primary coffee types that are commercially grown are the Arabica and Robusta coffee. Below are the world's 10 largest exporters of coffee: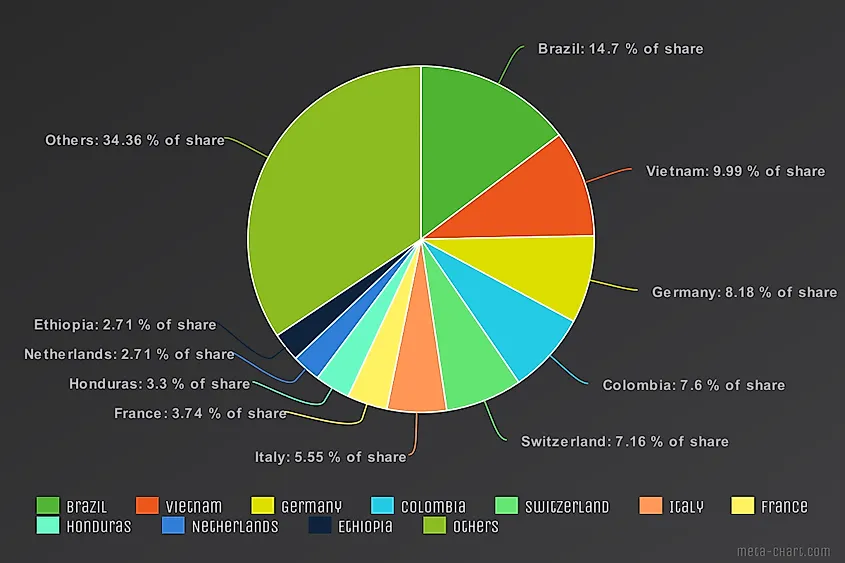 Important Facts
According to OEC, coffee is the 121st most traded product in the world. As observed on the chart above, Brazil, Vietnam, and Germany lead the world in coffee export accounting for 14.7%, 9.99%, and 8.18% of the total coffee exported globally. As mentioned in the table below, these three countries exported $4.52 billion, $3.08 billion, and $2.53 billion worth of coffee in 2018 respectively.
The World Leader
Brazil is the world's largest producer of coffee. The country produces approximately a third of the world's total coffee. Brazil is also the world's largest exporter of coffee despite its large domestic coffee consumption. Brazil is unrivaled in the production of Arabica, green coffee, and instant coffee. The largest markets for Brazilian coffee are Japan, the United States, and Europe.
How Germany Became A Coffee Giant?
If one takes a look at the world's top coffee producing nations, Germany's name does not feature anywhere on the list. How then did the country find its name on this list? Brazil's position is understandable as it is also a top coffee producer. However, Germany's climate is not suitable for coffee production. But how did this country become a top coffee exporter?
The answer lies in the fact that Germany purchases raw coffee beans from developing countries growing coffee and then processing and re-exporting the commodity to other countries to make profit.
Growing Coffee Industry
Due to coffee's financial prowess as a commodity, the coffee industry has significantly skyrocketed over the past years. With over 500 billion cups of coffee consumed every year, the demand for coffee is likely to go up even more. This fact is why international coffee sales have been fast growing in countries such as Dominica, Oman, Algeria, British Virgin Islands, and Taiwan among others, over the last five years.
The World's Largest Exporters of Coffee
| Rank | Country | Export value (2018) | Share |
| --- | --- | --- | --- |
| 1 | Brazil | $4.52B | 14.7 |
| 2 | Vietnam | $3.08B | 9.99 |
| 3 | Germany | $2.53B | 8.18 |
| 4 | Colombia | $2.35B | 7.60 |
| 5 | Switzerland | $2.21B | 7.16 |
| 6 | Italy | $1.71B | 5.55 |
| 7 | France | $1.16B | 3.74 |
| 8 | Honduras | $1.02B | 3.30 |
| 9 | Netherlands | $837M | 2.71 |
| 10 | Ethiopia | $836M | 2.71 |