Highest Numbers Of Cosmetic Surgery Procedures By Country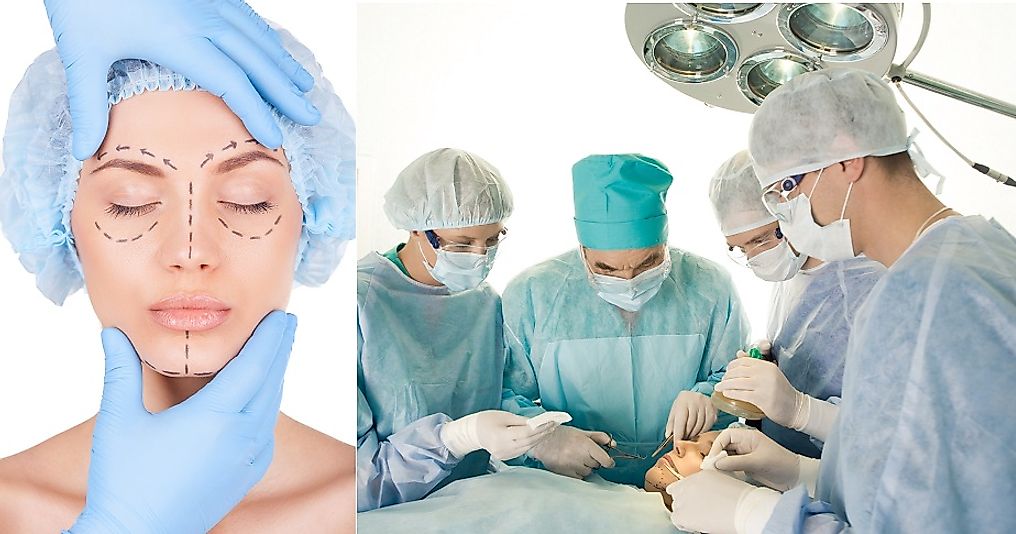 The practice of plastic surgery involves reconstructive surgery of the human body. It has various sub-specialties, including cosmetic surgery. Cosmetic surgery focuses on aesthetic changes to a person's appearance with the intent of improving the way they look. The common defense of this medical practice is that it helps to improve self-esteem levels thus allowing the patient to lead a happier life post-surgery. The country with the most plastic surgery operations is the United States.
Surgeons can operate on any area of the body. The body parts function properly prior to surgery, meaning that cosmetic surgery is elective. Common surgeries include breast augmentations, breast reductions, liposuction, face lifts, and tummy tucks.
Reasons for Cosmetic Surgery
As mentioned previously, the driving reason behind cosmetic surgery is the desire to enhance a patient's appearance. Evidence suggests that the people most likely to seek these surgeries are females with low self-esteem and heavy TV consumption. Today, the procedures are increasingly affordable which has led to an increase in the number of operations performed every year. Below is a look at which countries have the highest number of recorded surgeries for 2015.
Countries with Highest Numbers of Cosmetic Surgeries
The United States tops the list with 4,042,610 cosmetic procedures performed in 2015. This number represents an increase over the previous year. The most common surgery in the US is breast augmentation, the enlarging of breasts by inserting implants. Following this was liposuction, a procedure that removes fat from unwanted areas. The third most common procedure was nose reshaping. Miami in Florida has the highest rate of cosmetic surgeries every year, 18 out of every 100,000 people has had something done. This is followed by New York City where there are over 600 cosmetic surgeons.
With 2,324,245 cosmetic procedures in 2015 alone, Brazil takes second place. This represents approximately 12% of all cosmetic surgeries performed worldwide. The most requested enhancement is to breasts, this is followed by face lifts, and tummy tucks (in that order). Rio de Janeiro is the capital of cosmetic surgeries. The country has also developed medical tourism for patients who either come due to the less expensive costs or to recover in privacy.
Third on the list is South Korea, which reported 1,156,234 surgeries for 2015. Approximately 20% of women between the ages of 20 and 49 claim to have had at least one cosmetic procedure in their life. One of the most common surgeries here is referred to as "double eyelid". This procedure creates a crease in the eyelid, a characteristic that is not common in most people of Asian descent. The second most popular procedure is a type of jaw line reduction that changes the appearance of a squared-off jaw to a more of a V shape.
Other countries where aesthetic surgery is popular include India, with 935,487 such procedures in 2015, followed by Mexico (907,913), Germany (617,408), Colombia (548,635), France (488,718), and Italy (418,760).
Risks and Precautions
Some of the possible risks of cosmetic surgery involve complications with anesthesia which can result in pneumonia post-surgery. Infections are also possible which could lead to scarring of the operation site, often requiring additional surgery. Additionally, mild bleeding and fluid buildup may also occur. A permanent risk is nerve damage which could result in lifelong numbness and tingling.
Some precautions can be taken to ease and promote recovery. Avoiding pain and strenuous activity are helpful as well as keeping the wound site clean to avoid infection. Following the doctor's postoperative recommendations is critical. Getting lost of rest and eating a healthy diet will also ensure a strong immune system to increase recovery.
The Number Of Cosmetic Surgery Procedures By Country
| Rank | Country | Total Number Of Cosmetic Procedures, 2015 |
| --- | --- | --- |
| 1 | United States | 4,042,610 |
| 2 | Brazil | 2,324,245 |
| 3 | South Korea | 1,156,234 |
| 4 | India | 935,487 |
| 5 | Mexico | 907,913 |
| 6 | Germany | 617,408 |
| 7 | Colombia | 548,635 |
| 8 | France | 488,718 |
| 9 | Italy | 418,760 |