The Largest Enclosed Shopping Malls In Canada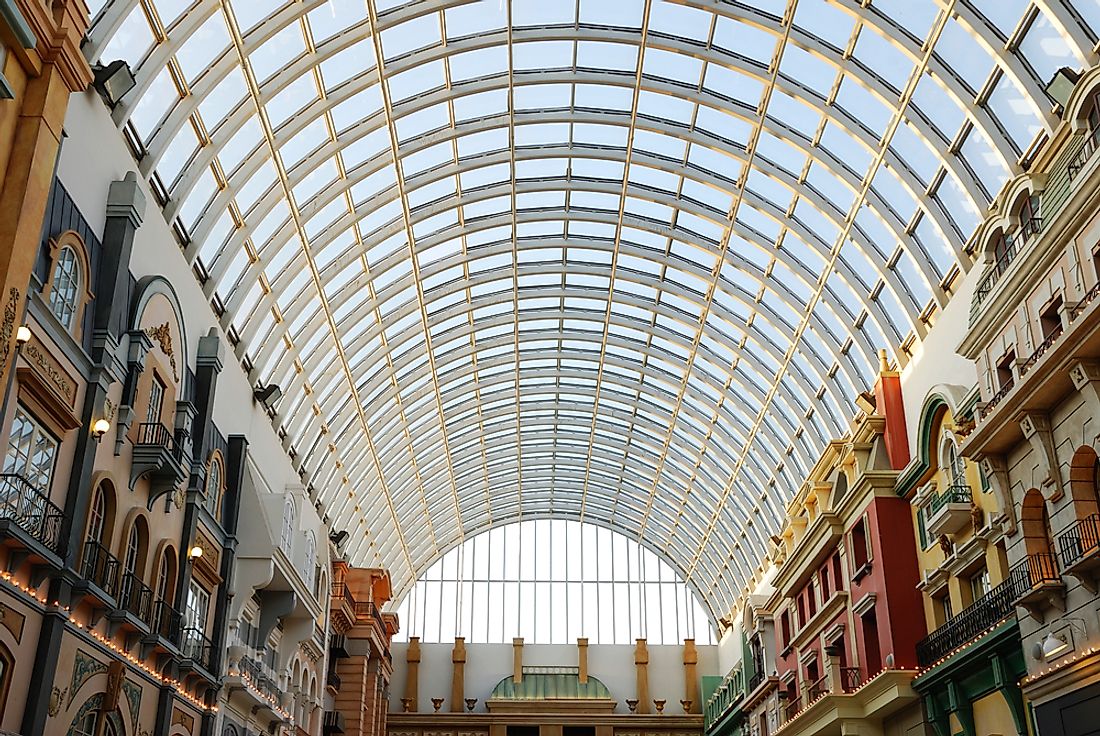 Enclosed malls are large shopping centers that have roofs to protect from the weather. The growth of enclosed malls in Canada increased in the late 20th century. The presence of a large population of well-to-do individuals and increased spending capabilities of shoppers have been contributing factors in the sharp increase of growth of malls. Shopping by tourists has also contributed to the increased number and productivity of malls. Canada is home to some of the largest enclosed malls in North America as well as the world.
West Edmonton Mall, Edmonton, Alberta
With a retail space of 3,800,000 square ft, the West Edmonton Mall is the largest enclosed mall in North America and the tenth largest in the world. The mall which opened in 1981, is owned by the Triple Five Group and houses more than 800 stores. There is ample parking space within its three floors for 20,000 vehicles. The mall attracts about 32 million tourists annually for shopping and recreational activities. There are more than 24,000 people employed at the mall. Some notable attractions in the mall include Galaxyland, the World Waterpark, and the Mayfield Toyota Ice Palace. Businesses within the mall include T&T Supermarket, Hudson Bay, NewCap Radio, Simons, Bed, Bath and Beyond, and Urban Outfitters.
Square One, Mississauga
Square One mall in Mississauga, Ontario is the second largest enclosed mall in Canada with a retail space of more than 2,200,000 square ft. The mall, owned by Oxford, was opened in 1973 and has more than 360 stores and services including top businesses like Walmart Supercentre, Hudson's Bay, and Holt Renfrew. The mall attracts more than 24 million customers annually. Recent innovations and investments in customer satisfaction have seen the mall grow from a mid-level retail outlet to a highly ranked mall in North America.
Metropolis at Metrotown
Metropolis is Canada's third largest enclosed mall with a retail space of 1,795,591 square ft. The mall located in Burnaby, British Columbia was opened in 1986. The Ivanhoe Cambridge owned mall serves more than 27 million customers a year. More than 360 stores and services including Hudson's Bay, Sears, Toys "R" Us, T&T Supermarket, Sports Chek and Forever 21, operate within the mall. Renovations and expansions of the mall have directly impacted the surrounding community through employment opportunities.
Eaton Centre, Toronto
The Eaton Centre in Toronto, Ontario, is Canada's fourth largest enclosed mall with a retail space of 1,722,000 square ft. The mall was opened in 1977 under the ownership and management of Cadillac Fairview. The mall has four floors and is served by two public transit systems- Dundas and Queen. With more than 48 million visitors annually, the Eaton Centre is a leading tourist attraction in Toronto. It is one of the busiest and most productive malls in North America. Some top businesses in the mall include Hudson's Bay, Nordstrom, Saks Fifth Avenue, and H&M.
Other Large Enclosed Malls in Canada
Other large malls in Canada include Yorkdale in Toronto, the Galeries de la Capitale in Quebec City, the Chinook Centre in Calgary, and the Park Royal in West Vancouver. Canadian malls are expected to continue growing compared to other malls in North America mainly due to improved designs and relative political and economic stability.
The Largest Enclosed Shopping Malls In Canada
| Rank | Mall name, location | Province | Retail space (sq. ft.) | Ownership | Year opened |
| --- | --- | --- | --- | --- | --- |
| 1 | West Edmonton Mall, Edmonton | Alberta | 3,800,000 | Triple Five Group | 1981 |
| 2 | Square One, Mississauga | Ontario | 2,200,000+ | Oxford | 1973 |
| 3 | Metropolis at Metrotown, Burnaby | British Columbia | 1,795,591 | Ivanhoe Cambridge | 1986 |
| 4 | Eaton Centre, Toronto | Ontario | 1,722,000 | Cadillac Fairview | 1977 |
| 5 | Yorkdale, Toronto | Ontario | 1,700,000 | Oxford | 1964 |
| 6 | Rideau Centre, Ottawa | Ontario | 1,545,113 | Cadillac Fairview | 1983 |
| 7 | Bramalea City Centre, Brampton | Ontario | 1,504,013 | Morguard | 1973 |
| 8 | Galeries de la Capitale, Quebec City | Quebec | 1,496,000 | Oxford | 1981 |
| 9 | Chinook Centre, Calgary | Alberta | 1,374,580 | Cadillac Fairview | 1960 |
| 10 | Park Royal, West Vancouver | British Columbia | 1,370,000 | | 1950 |
| 11 | Scarborough Town Centre, Toronto | Ontario | 1,300,000 | Oxford | 1973 |
| 12 | Vaughan Mills, Vaughan | Ontario | 1,270,111 | Ivanhoe Cambridge | 2004 |
| 13 | Carrefour Laval, Laval | Quebec | 1,243,000 | Cadillac Fairview | 1974 |
| 14 | Guildford Town Centre, Surrey | British Columbia | 1,203,584 | Ivanhoe Cambridge | 1966 |
| 15 | Tsawwassen Mills, Tsawassen | British Columbia | 1,200,000 | Ivanhoe Cambridge | 2016 |
| 16 | Polo Park, Winnipeg | Manitoba | 1,198,577 | Cadillac Fairview | 1959 |
| 17 | Laurier Québec, Quebec City | Quebec | 1,192,879 | Ivanhoe Cambridge | 1961 |
| 18 | Sherway Gardens, Toronto | Ontario | 1,182,000 | Cadillac Fairview | 1971 |
| 19 | Carrefour de l'Estrie, Sherbrooke | Quebec | 1,160,329 | Ivanhoe Cambridge | 1973 |
| 20 | Oshawa Centre, Oshawa | Ontario | 1,140,887 | Ivanhoe Cambridge | 1956 |