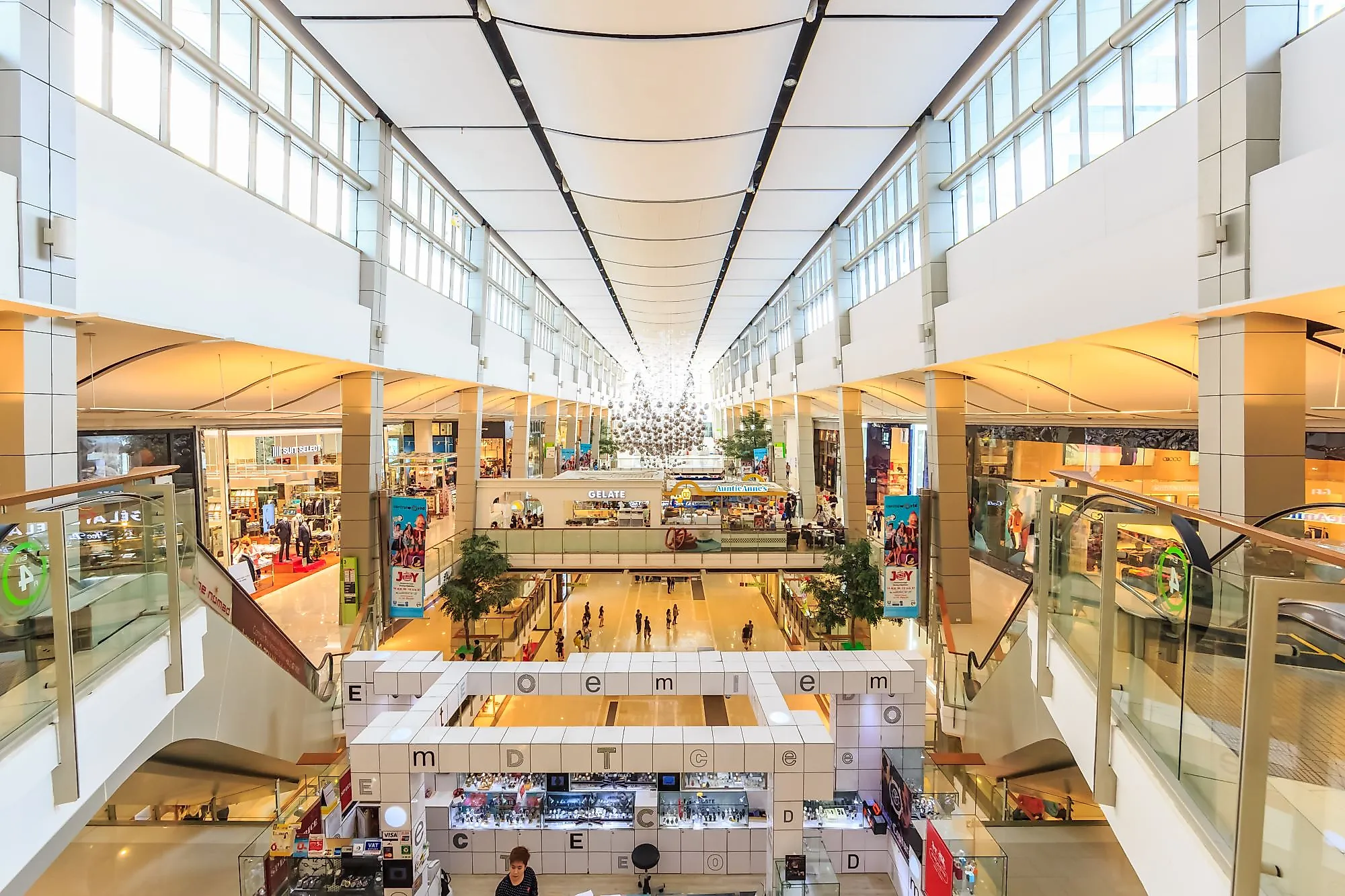 The 10 Biggest Shopping Malls In The World
For some people, a mall is just a place where they can get what they need. But for others, a mall is a place for shopping and engaging in activities with friends, family, and colleagues. Over the years, humble markets have transitioned into colossal structures, including cinemas, supermarkets, and posh department stores with rows of dining and entertainment options. Gigantic spaces that span millions of square feet have become a symbol of mall culture in several countries; in other words, "the bigger, the better." These expansive malls allow customers to get lost in a world away from the realities at their dwelling places. These world-wonder malls are sorted based on their total Gross Leasable Area, a fair representation of the thousands of shops and theme parks they can contain.
1. Iran Mall, Iran - 21,000,000 Sq. Ft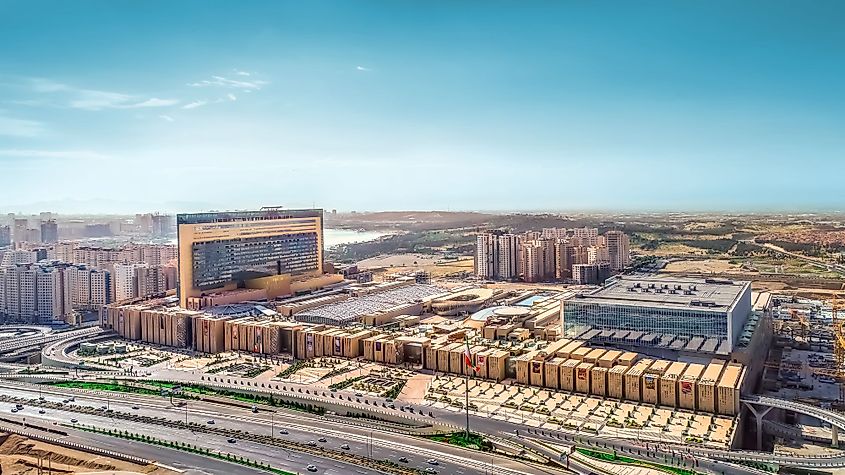 As of 2023, the biggest mall in the world is the massive Iran Mall. Located in Northwest Tehran, Iran, this gigantic mall occupies a gross leasable area of around 21 million square feet. The Iran Mall is one of the biggest commercial, cultural, and social hubs that also includes economic spaces, retail outlets, cultural facilities, recreational areas, a hotel, and some parking spaces. There are about 708 retail stores in the mall, which spans about seven floors. The mall's traditional bazaar has been inspired by the traditional markets of some well-known Iranian cities such as Shiraz, Isfahan, Tabriz, etc. 
2. IOI City Mall, Malaysia - 8,840,000 Sq. Ft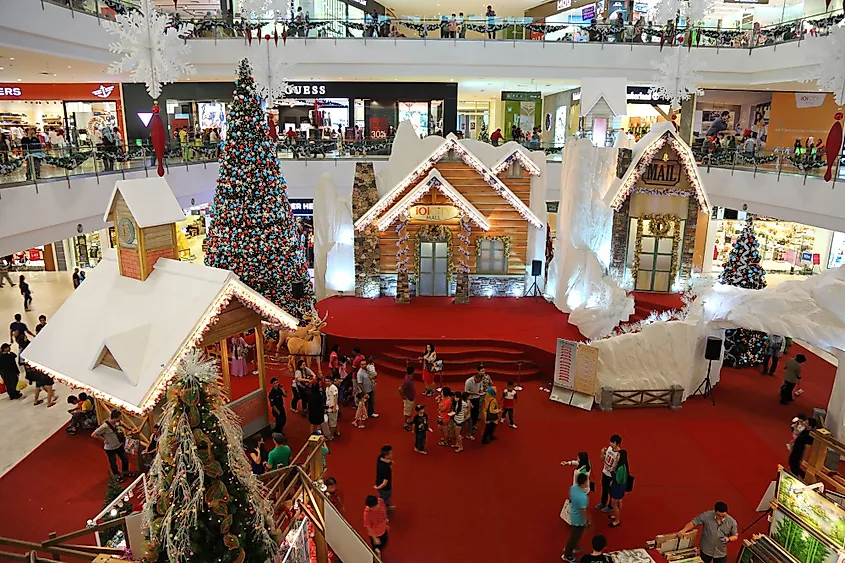 The IOI City Mall situated in Malaysia's Sepang District, is the world's second-largest shopping mall, with more than 650 stores spread over an immense 8.8 million square feet. The mall includes many departmental stores, F& B stores, restaurants, cafes, District 21 - a post-apocalypse theme park and an Olympic-sized ice skating rink. Containing stores of several luxury brands, this mall has become a must-visit destination in Southeast Asia, offering shoppers extravagant services and merchandise. Everywhere one turns, more exciting experiences and activities are guaranteed to please everyone who visits the IOI City Mall.
3. South China Mall, China - 7,100,000 Sq. Ft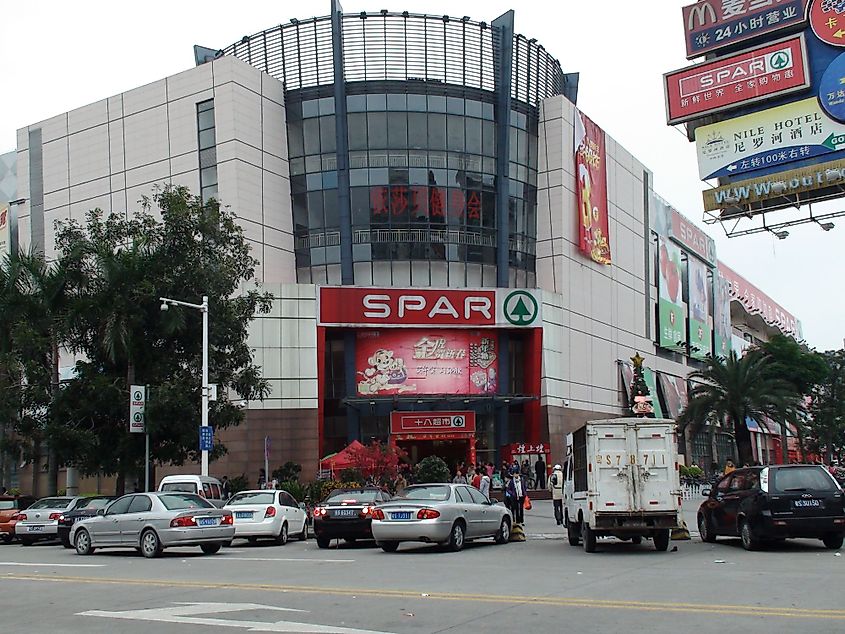 The third-largest mall in the world is located in Dongguan, China, and is named the South China Mall. Spanning an impressive 7.1 million square feet, the massive shopping center boasts roller coasters and canal rides for visitors' entertainment. Unfortunately, despite its grand size and amenities, the mall still needs to draw more shoppers, as five of its seven sections need to be more occupied. Consequently, it has earned the nickname "Ghost Mall" due to its lack of business. The mall's poor performance serves as a reminder that even the most extravagant places can only succeed if there is sufficient demand. 
4. Isfahan City Center, Iran - 7,000,000 Sq. Ft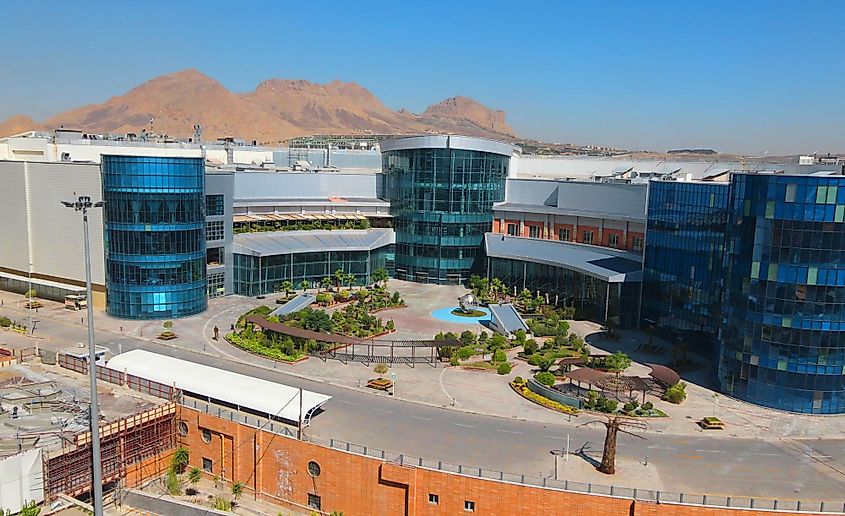 Isfahan City Center, the fourth largest mall in the world, opened in Iran in 2012. It has over 7 million square feet of Gross Leasable Area and includes a museum, an indoor theme park with roller coaster and bumper cars, an entertainment center, a hypermarket, restaurants, a World Trade Center, and an International Financial Center. Moreover, there are over 750 retail outlets and a 5-star hotel to satisfy the visitors. With so many features, it's no wonder this mall has become one of the most famous shopping centers in Iran.
5. SM Mall Of Asia, Philippines - 6,349,530 Sq. Ft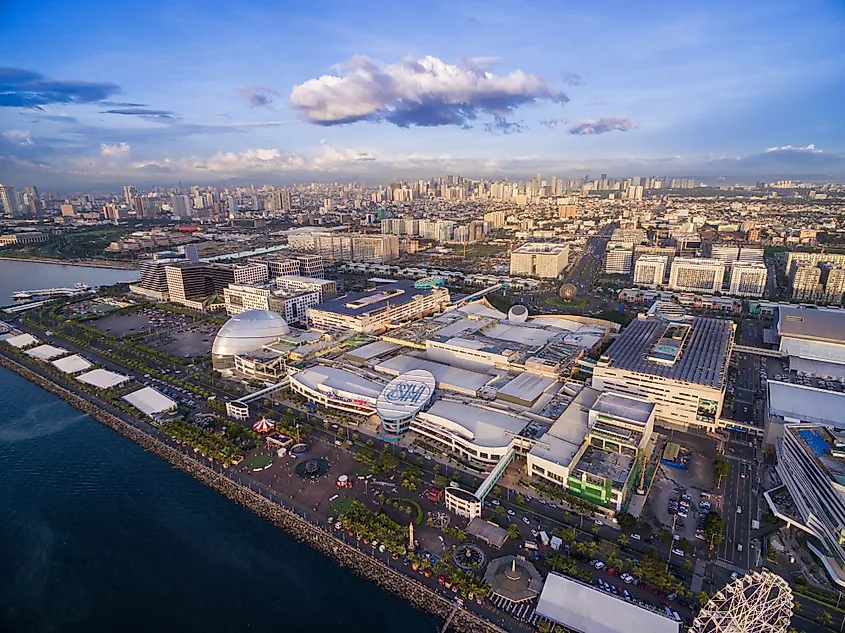 Situated on a reclaimed area within the Philippines' Manila Bay, the SM Mall of Asia is truly a marvel, having earned itself the title of the fifth-largest mall in the world. With 6.3 million square feet of Gross Leasable Area and 200,000 daily visitors, it is easy to see why it attracts such large crowds. The mall has numerous exciting features, such as an IMAX theater, cutting-edge restaurants, an ice skating rink for all ages, five hotels, and The Galeón museum - a collection of artifacts from around the world, including exhibited pieces with models of ships. All these attractions guarantee visitors a unique experience when they walk through its doors.
6. SM Tianjin, China - 6,080,000 Sq. Ft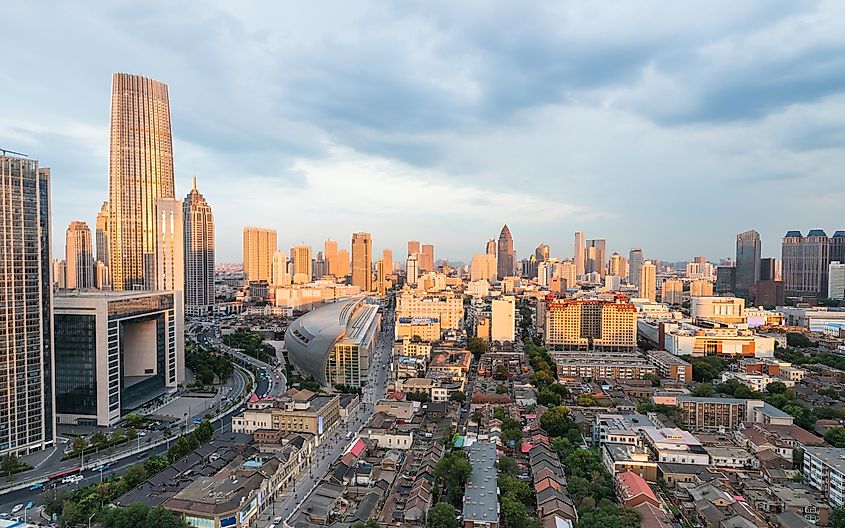 Another gigantic mall located in China is SM City Tianjin. Spanning a little over six million leasable square feet, the mall houses more than 2,500 stores spread throughout the enormous complex. It is composed of five different buildings, each named after the five traditional Chinese elements—Earth, Fire, Water, Metal, and Wood. The mall opened its doors in 2016 in the bustling Tianjin Airport Economic Area.
7. Golden Resources Mall, China - 6,000,010 Sq. Ft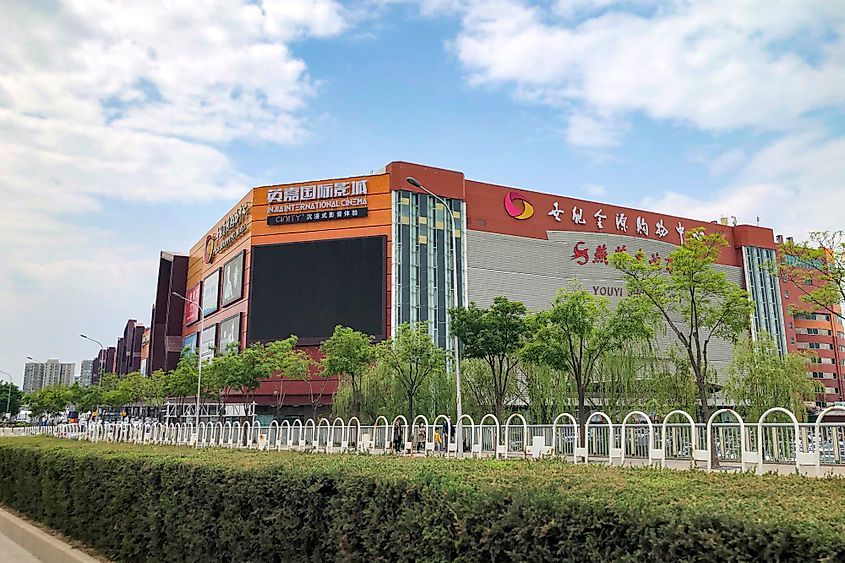 The Golden Resources Mall in Beijing's Haidian District is an impressive feat of engineering and consumerism. Located in one of the most populated cities in the world, having over 6 million square feet of space makes this mall the seventh-largest worldwide. The mall has six floors and a grand 206-foot-tall entrance gate. Visitation to the mall significantly increased with the addition of two new subway lines at strategic locations near the mall. Millions of guests flock to this mall every year for an unique shopping experience.
8. CentralPlaza WestGate, Thailand - 5,923,140 Sq. Ft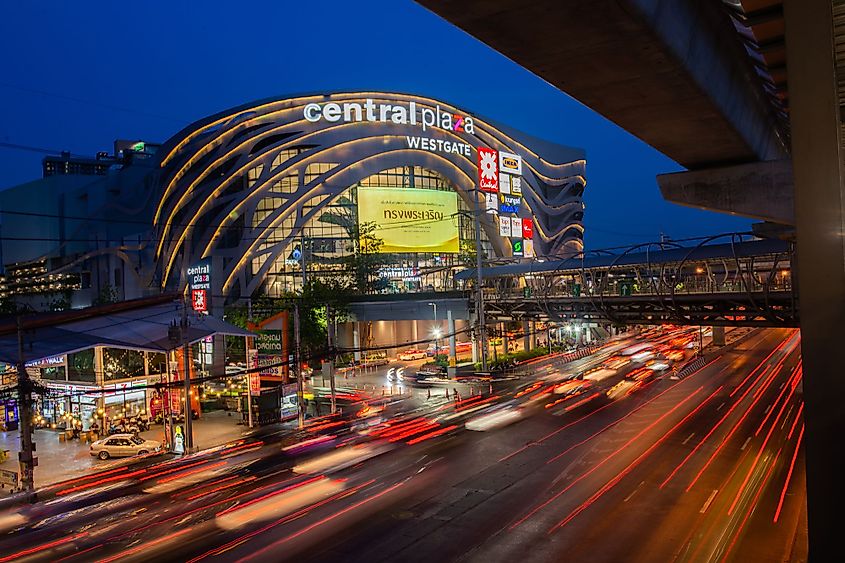 The country's biggest mall is the CentralPlaza WestGate, located in Thailand's Nonthaburi Province, in a suburb of its capital city Bangkok. It has over 5.9 million square feet of gross floor area composed of multiple floors. It is deemed South East Asia's "Super Regional Mall" and has managed to convert Thailand into a thriving regional shopping hub. This mall has over 500 Thai and international brands and over 200 restaurants.
9. CentralWorld, Thailand - 5,900,000 Sq. Ft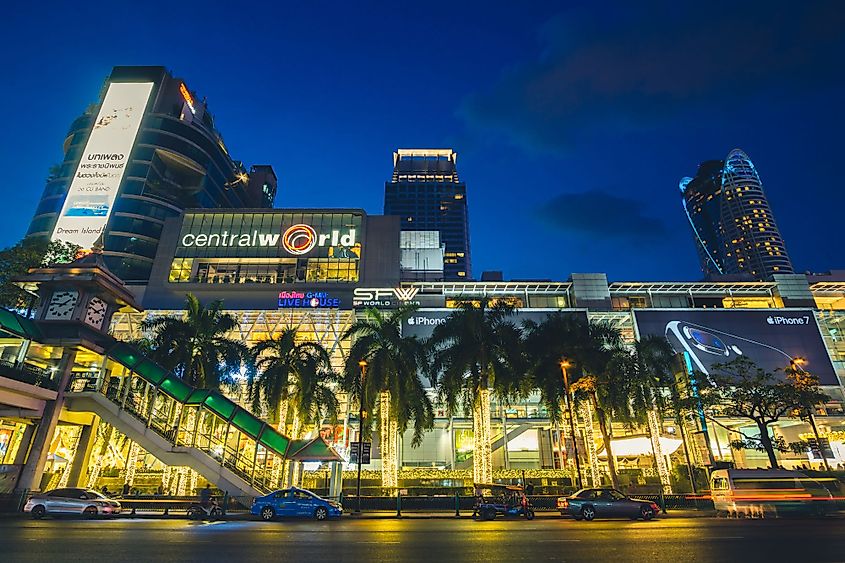 Almost as big as the CentralPlaza WestGate Mall is Thailand's CentralWorld Mall located in the country's capital, Bangkok. One of the largest shopping complexes in the region, the CentralWorld Mall includes 500 stores, 100 restaurants and cafés, and 15 cinemas. In addition, it has a kid's zone, a learning center, and two department stores. The mall also has an indoor ice skating rink, like a few others on this list.
10. ICONSIAM, Thailand - 5,650,000 Sq. Ft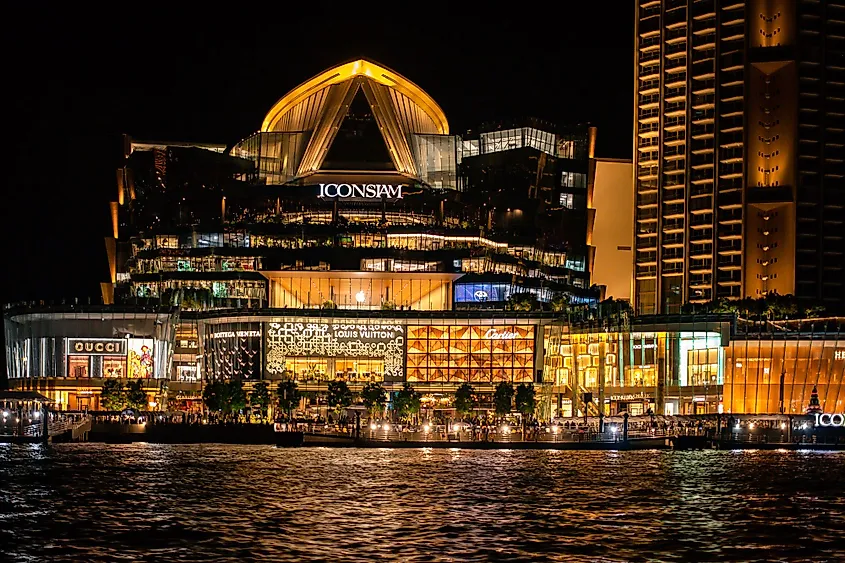 Also located in Bangkok is the next largest mall in Thailand, the ICONSIAM Mall. This spectacular river-side mixed-use development is unique since, aside from the usual retail stores, it also has a quirky indoor floating market where shoppers can buy food. Opened in 2018, ICONSIAM has operated over 5.6 million square feet, which is a real opportunity for guests to stretch their legs.
Shoppers find many of the grandest malls throughout Asia, specifically because mall culture is a serious business there. It fuels the economy by providing thousands of locals with valuable employment and strengthening the country's business sector. In some Southeast Asian countries, an air-conditioned mall provides a comfortable respite from the hot or humid temperatures outside, encouraging people to flock to the malls daily. Whether you're a shopaholic or just looking for a place to window-shop, these are the biggest malls in the world that are worth a visit. From Tehran to Bangkok, these retail giants will have you browsing for hours. So plan your trip accordingly and get ready to max out your credit card!
The 20 Biggest Shopping Malls In The World
| Rank | Mall | Country | City (Metropolitan Area) | Gross Leasable Area (In Sq. Ft) |
| --- | --- | --- | --- | --- |
| 1 | Iran Mall | Iran | Tehran | 21,000,000 |
| 2 | IOI City Mall | Malaysia | Putrajaya | 8,840,000 |
| 3 | South China Mall | China | Dongguan | 7,100,000 |
| 4 | Isfahan City Center | Iran | Isfahan | 7,000,000 |
| 5 | SM Mall of Asia | Philippines | Pasay (Metro Manila) | 6,349,530 |
| 6 | SM Tianjin | China | Tianjin | 6,080,000 |
| 7 | Golden Resources Mall | China | Beijing | 6,000,010 |
| 8 | Central Plaza WestGate | Thailand | Nonthaburi | 5,923,140 |
| 9 | Central World | Thailand | Bangkok | 5,900,000 |
| 10 | ICONSIAM | Thailand | Bangkok | 5,650,000 |
| 11 | Mall of America | United States | Bloomington | 5,600,000 |
| 12 | 1 Utama | Malaysia | Petaling Jaya | 5,590,000 |
| 13 | SM City North EDSA | Philippines | Quezon City | 5,351,960 |
| 14 | Global Harbor | China | Shanghai | 5,200,000 |
| 15 | SM Megamall | Philippines | Mandaluyong | 5,100,000 |
| 16 | SM Seaside City Cebu | Philippines | Cebu City | 5,064,270 |
| 17 | Persian Gulf Complex | Iran | Shiraz | 4,800,000 |
| 18 | The Avenues Mall | Kuwait | Al Rai | 4,570,000 |
| 19 | Sunway Pyramid | Malaysia | Subang Jaya | 4,300,000 |
| 20 | New Century Global Center | China | Chengdu | 4,300,000 |