Society
First Shopping Malls in the United States
The concept of the enclosed shopping mall emerged in the United States in the 1950s and 1960s, particularly in those areas where a cold climate made an indoor shopping experience preferable.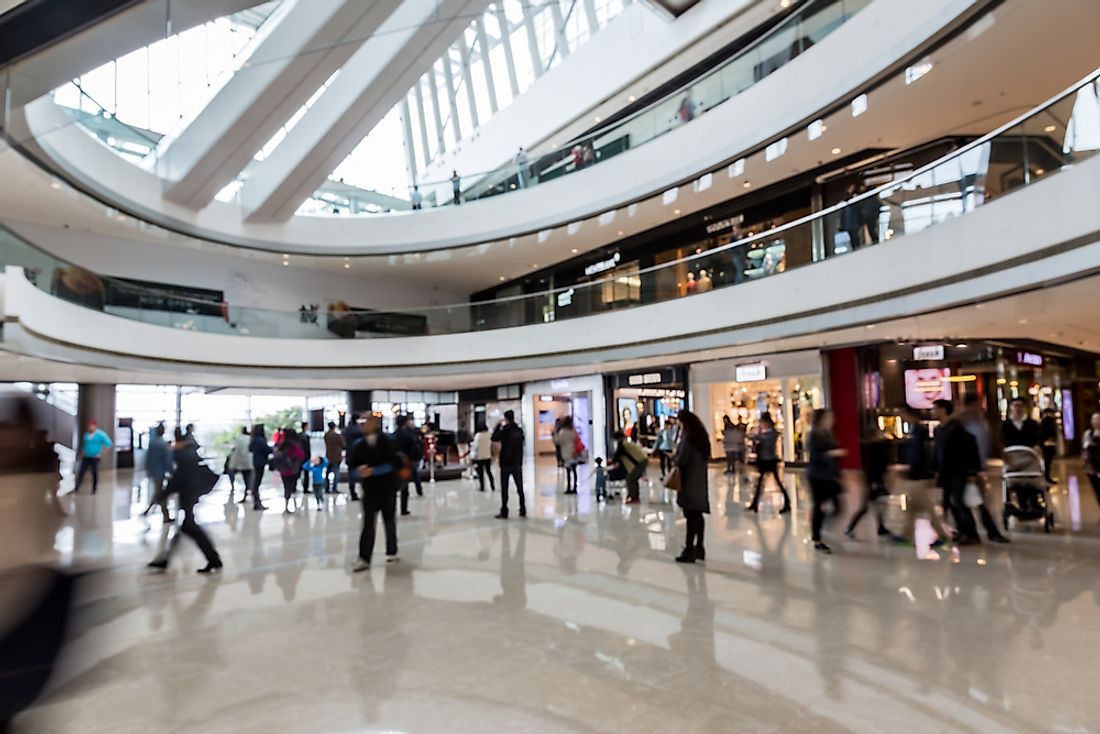 A shopping mall is a word used predominantly in North America to refer to modern shopping center or precinct, where a building or buildings form an intricate of shops representing various merchandisers. Outside of North America, the term shopping arcade or shopping center is preferred. Burlington Arcade in London is one of the earliest shopping arcades in the UK. Technical innovations like escalators and electric lighting were introduced in the 19th century in many of the shopping malls around the world. Similarly, in the 20th century venues such as movie theaters, restaurants, and other entertainment venues began to be incorporated in shopping malls.
The shopping mall was initially conceived of as a community center where people could come together for shopping, social interaction, and cultural activity. Shopping malls or shopping centers had their origin in the 1920s in California. The first enclosed mall was established in 1956 in Minneapolis and their growth following the migration of population out of cities to the suburbs.The growth of shopping malls paralleled the growth of automobiles. There were 4,500 malls in 1960 accounting for 14% of all retail sales in the US. In 1975, there were 30,000 malls accounting for more than 50% of the retail dollars spent. The amount was equivalent to $676 billion, 8% of the workforce, and 13% of the GDP.
First Shopping Malls In The United States
Lakewood Center
Lakewood Center shopping mall was opened in 1952 in the boom town of Lakewood, California. It was built post World War II and transformed the lima bean fields into a major big city suburb under ten years. The mall occupies 154 acres and has a parking that can accommodate more than 10,000 cars. Within the first two years after opening, the mall was America's largest shopping mall and it originally featured more than 100 stores.The mall was enclosed in the 1980's, and subsequent renovations were carried out in 2000 to 2001.The renovation saw an addition of a new wing at the rear and a food court at the second level. Presently, the mall is anchored by Mervyn's, Macy's, Target, and J.C. Penny among others. The mall has 2,121,000 square feet of leasable area and 270 retail spaces.
Westfield Old Orchard
Westfield orchard is a shopping mall located in Chicago metropolitan area of Skokie, Illinois, United States and was founded in 1956. It has a total of 140 stores with four anchor tenants. Previously, it was known as Old Orchard shopping center. In 1991, the mall was expanded by 100,000 sq ft which was part of $200 million projects leading to an additional of 62 stores, a movie theater, and four-story parking ramp. The four tenants include Macy's, Lord and Tylor, Bloomingdale's and Nordstrom.
Northpark Centre
Established in 1965, Northpark Center is located in Texas, United States. It is owned and managed by Northpark Management Company. It is home to a total of seven anchor stores and 235 retail spaces. The parking area has a capacity of 9,000 cars.
The mall today generates an annual sale of $1 billion and is ranked as the nineteenth largest mall in the United States. The North Park Center is known for having sponsored the Dallas International Film Festival in 2009 which took place in the AMC North Park 15. Northpark center was named as one of the seven retail wonders of the modern world in November 2007.
Future Trends
There are observations that the country has become over-malled. The competitive environment that malls face today is different from that faced during the early years when the main competition was the downtown business districts. Currently, most of the best locations are no more. Shopping malls seems to be in a mature phase of retail life cycle where market share and sales could be leveling off.
What Was the First Shopping Mall in the United States?
Lakewood Center shopping mall was opened in 1952 in the boom town of Lakewood, California. It was built post World War II and transformed the lima bean fields into a major big city suburb under ten years.
First Shopping Malls in the United States
| Rank | Mall Name | Location | Year Opened |
| --- | --- | --- | --- |
| 1 | Lakewood Center | Lakewood, California | 1951 |
| 2 | Roosevelt Field | Garden City, New York | 1956 |
| 3 | Westfield Old Orchard | Stokie, Illinois | 1956 |
| 4 | Westfield Garden State Plaza | Paramus, New Jersey | 1957 |
| 5 | Ala Moana Center | Honululu, Hawaii | 1959 |
| 6 | Del Amo Fashion Center | Torrance, California | 1961 |
| 7 | South Shore Plaza | Braintree, Massachusetts | 1961 |
| 8 | Scottsdale Fashion Square | Scottsdale, Arizona | 1961 |
| 9 | Oakbrook Center | Oak Brook, Illinois | 1962 |
| 10 | King of Prussia Mall | King of Prussia, Pennsylvania | 1963 |
| 11 | Northpark Center | Dallas, Texas | 1965 |
| 12 | Northgate Mall | Seattle, Washington | 1950 |
| 13 | Southdale Center | Edina, Minnesota | 1956 |
| 14 | Northland Center | Southfield, Michigan | 1954 |
This page was last updated on May 8, 2017.
Citations
Your MLA Citation
Your APA Citation
Your Chicago Citation
Your Harvard Citation
Remember to italicize the title of this article in your Harvard citation.