Society
The Biggest Cities In Ukraine
Kiev, the largest Ukrainian city, is also a major cultural, economic, industrial, and educational center for all of Eastern Europe.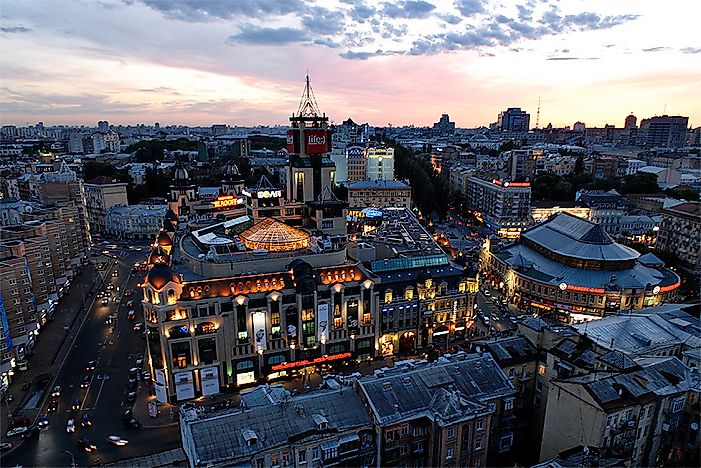 Historically, Ukraine was host to various groups of people, including Greeks, Huns, Goths, Avars, Slovyans, Tatars, and Mongols. Ukraine had some strong rulers, such as Prince Volodymyr, under who Christianity became deeply entrenched in Ukraine. Between 1360 and 1599, Ukraine was under Lithuanian and Polish occupations after which the Cossacks took over the reign. Modern day history of Ukraine began with its annexation by Russia and Austria. Ukraine declared independence in 1918, after the collapse of the Russian empire. Ukraine was occupied by the Nazis in 1941, where an estimated 1.5 million Jews were killed. Ukraine was then annexed by the Soviet Union in 1945, and after its collapse, Ukraine declared independence in 1991. Ethnicities found in Ukraine are primarily Ukrainian and Russian. Other ethnicities are, Crimean Tatar, Bulgarian, Hungarian, Belarusian, Polish, and Jewish.
The Biggest Cities In Ukraine
Kiev
Kiev is the largest Ukrainian city and is a major cultural, economic, industrial and educational Centre in Eastern Europe. Located on the banks of the Dnieper River, the city has 2.89 million residents making it the most populated city in Ukraine. Known as Kievan Rus in ancient history, it was a focal trade center between the Mediterranean ad Baltic seas. Monuments such as the Cathedral of St. Sophia, the Ukrainian Baroque Church of St. Andrew, Kievo-Percherskaya Lavra with several catacombs, bell towers, and museum collection, and the Golden Gate are relics of Kiev's ancient glory.
Parallel with ancient monuments stands a modern Kiev, complete with housing developments and industries. Industries in Kiev include machinery manufacture, food processing, and production of chemicals, metallurgy and textiles. Kiev is comprised of working neighborhoods, with a great business culture among its inhabitants. Kiev is considered an education and scientific hub, with numerous universities and scientific academies. True to its cultural reputation, Kiev is littered with theaters, art galleries, and museums. The city is also home to the Kiev Opera House which boasts acclaimed performances. Almost one-half of the City is comprised of ecological parks and gardens making it one of the most environmentally conscious cities in Europe. Kiev boasts an efficient transport system complete with airports, railways, roads and subways.
Charkiv/Kharkiv
Charkiv is the second largest city in Ukraine, with a population of 1.45 million residents. The city is also known as Kharkiv or Kharkov. Charkiv is a geographical center, situated in the North East region of Ukraine with valleys and ravines. The city is renowned as an educational city. It is home to some acclaimed Ukrainian Universities such as Kharkiv National University, Kharkiv National Medical University, and Kharkiv National Aerospace Universities among other institutions of Higher Learning. The educational institutions host local and international students who make up a substantial part of its total population. Part of the city's population is made up of workers in its numerous industrial plants and businesses. Charkiv also has the largest market in Ukraine, called the Barabashov market.
As a cultural center, the city is home to the Liberty Squares which hosts various festivals and fairs. Charkiv is also home to ancient monuments such as the Pokrovsky Monastery, the Historical Museum, Gosprom, Cathedral of the Assumption of the Blessed Virgin Mary and the Ozeryanskaya Church.
Odessa
Odessa is Ukraine's third largest city with a population of 1.02 million. Odessa is a city situated on the banks of the Black Sea, and it is sometimes referred to as the 'Pearl of the Black Sea'. Odessa is a port city and a major hub for Ukraine's maritime trade. Shipbuilding has emerged as a major industry in Odessa along with food processing, production of chemicals, metallurgy and oil refining.
Odessa is a major tourist center, with long stretches of beaches, a booming hospitality industry, and stunning medieval architecture. Some buildings in Odessa are credited to Italian and French influence while some were built in the Art Nouveau Style. The Merchant trade that boomed in Odessa in the 18th and 19th centuries left magnificent palaces and well-planned streets that still attest to Odessa's prior prominence. Russian and Ukrainian are widely spoken by Odessa's residents. Odessa also has a world-renowned Opera House that showcases acclaimed performances. The city has a modern transport system while the Odessa International Airport connects Odessa to the world.
Dnipropetrovsk
Dnipropetrovsk, with a population of 0.99 million residents is the fourth largest city in Ukraine. The city boasts steel, aerospace building, arms, metallurgy and machinery industries and is located on the Dnieper River, South-East of Kiev. Dnipropetrovsk boasts modern transportation system such as the Metro System and the International airport Dnipro that links it to several countries. The city is also an agricultural center, due its strategic position on the banks of the Dnieper River. Medieval architecture in the city includes Preobrazhensky Cathedral, Monument of Glory and Historical Museum. The city also has numerous theaters and academic institutions.
The Future Of Ukraine's Population
Other large cities in Ukraine by population are: Donetsk (0.94 million), Zaporizhia (0.76 million), Lviv (0.73 million), Kryvyi Rih (0.65 million), Mykolaiv (0.49 million), and Mariupol (0.46 million). Ukraine's population has been steadily declining and has been attributed to low birth rates, emigration, high mortality rate especially in men and low life expectancy. The population of Ukrainian cities is expected to continue declining. Emigrants from Ukraine head to other countries in the European Union, largely, Poland, Germany, Italy, Israel, Canada, and the US. The leading immigrant country to Ukraine is Russia followed by Azerbaijan, Moldova, Uzbekistan, Armenia, and Georgia.
The Biggest Cities In Ukraine
| Rank | City | Number of Residents In Millions |
| --- | --- | --- |
| 1 | Kiev | 2.89 |
| 2 | Charkiv | 1.45 |
| 3 | Odessa | 1.02 |
| 4 | Dnipropetrovsk | 0.99 |
| 5 | Donetsk | 0.94 |
| 6 | Zaporizhia | 0.76 |
| 7 | Lviv | 0.73 |
| 8 | Kryvyi Rih | 0.65 |
| 9 | Mykolaiv | 0.49 |
| 10 | Mariupol | 0.46 |