The Biggest Cities In Modern Egypt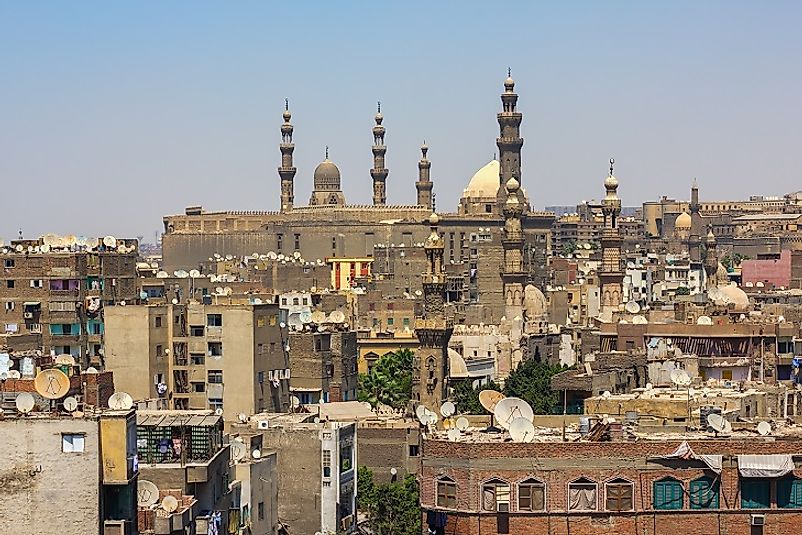 Most people think of the Great Pyramids when they hear of the country Egypt. But this country is much more than ancient ruins. It is home to several large cities with lucrative economies and rich histories. The most populated cities in Egypt can be found below.
Most Populated Egyptian Cities
Cairo
The biggest city in Egypt today is Cairo with a population of 20,439,541. Now the capital of Egypt, this city was founded in 969 AD although its roots date back to 2,000 BC. People come here to see the Great Pyramids (technically located in Giza). Al-Azhar, one of the oldest universities in the world, is also found here. Cairo also takes its place as the most populated desert city with a cosmopolitan setting, people from all over the world call this city home. Throughout the city, visitors can find Islamic architecture and see art from thousands of years ago.
Alexandria
The second largest city in Egypt is Alexandria where 4,546,231 people live. The population has grown rapidly over the last hundred years due to high birth rates and rural to urban migration. This metropolitan area also shares a long history that dates back to Greco-Roman times. Once home to the famed Pharos Lighthouse and backdrop for the relationship of Cleopatra and Mark Antony, Alexandria was well-known as the academic center of the world. Today, it is an important port city and industrial area.
Giza
Giza is home to 3,628,062 people and is the third largest city in the country, considered a suburb of the Greater Cairo metropolitan area. In ancient times, this was the burial ground for several pharaohs and around 642 AD, Islamic caliphates conquered the area and founded Giza. Today, its main economic activities include machinery, cigarettes, chemicals, and movies.
Shubra El-Kheima
Another suburb of the Greater Cairo metropolitan region, Shubra El-Kheima has a population of 1,099,354. The majority of people who live here work in the factories of the area although recently, there has been an increase in rural to urban migrants settling here. Historically, this city was an important market town due to its location on the river and was once home to an Ottoman viceroy.
Port Said
The population of Port Said is 603,787 and it is located north-east of Cairo. Although significantly smaller than the other cities on this list, Port Said is one of the most important cities in Egypt. It serves as the entrance to the Suez Canal thus making it a top economic producer for the country. Shoppers can take advantage of all of the imports and exports and exports at the free zone where products can be purchased free of tax.
Suez
Suez is number 6 on the list with 565,716 people inside its borders. This has been an important seaport location since at least the 7th century when it facilitated trade between countries to the north and Arabian lands. Today, it is the site of large oil refineries and a petrochemical plant. Finished products arrive to Cairo via pipelines, highways, and railroads.
El-Mahalla El-Kubra
Number 7 on the list, El-Mahalla El-Kubra has a population of 535,278. This is an important agricultural and industrial center and is one of the best textile producers in the country. In recent years, it has been grounds for protesting workers conditions, election results, and employment benefits.
Luxor
Luxor is another popular city with tourists and was once known as Thebes or the City of a Hundred Gates. Not only is it home to 506,588 people, but also the immense Luxor Temple which was completed sometime between 1336 and 1327 BC. Given its historic importance and architectural preservation, tourism is the number 1 economic activity here. Agriculture, particularly sugar cane production, also plays an important role.
Mansoura
Mansoura has a population of 495,630 and was founded during the Ayyubid Dynasty in 1219. King Louis IX of France was imprisoned in the house of Ibrahim bin Lokman during a battle in 1250. This site is now a museum and contains some personal effects of the King. This city once housed a large Greek population but they were forced to leave during the Nasser era. The population today is growing from rural to urban migration.
Tanta
The final city on the list is Tanta. With a population of 445,560, this city is located 58 miles north of Cairo and is famous for its desserts. The main economic activity is cultivating cotton and producing textiles. At the end of harvest season, Tanta celebrates the Moulid of Sayid Ahmed el-Badawi, an 8-day religious festival that receives over 2 million pilgrims who come to pay their respects to the tomb of el-Badawi.
Geographic Distribution of Major Egyptian Cities
As noted in the above list, the majority of these cities are located along the River Nile, near the Suez Canal, or on the coastlines of the Mediterranean and Red Seas. This is because around 90% of available land in Egypt is desert which is a climate too harsh to support large human populations. Also, sites along waterways help to ease the transportation of goods which promotes economic activity.
The Biggest Cities In Modern Egypt
| Rank | City | Metropolitan Population |
| --- | --- | --- |
| 1 | Cairo | 20,439,541 |
| 2 | Alexandria | 4,546,231 |
| 3 | Giza | 3,628,062 |
| 4 | Shubra El-Kheima | 1,099,354 |
| 5 | Port Said | 603,787 |
| 6 | Suez | 565,716 |
| 7 | El-Mahalla El-Kubra | 535,278 |
| 8 | Luxor | 506,588 |
| 9 | Mansoura | 495,630 |
| 10 | Tanta | 445,560 |