Hate. It is a strong word and an even stronger emotion. It is not surprising, then, that hate crimes are an unfortunate reality in the world, including within the United States. But just what is a hate crime, exactly? In U.S. federal law, a hate crime is defined as, "a crime motivated by bias against race, color, religion, national origin, sexual orientation, gender, gender identity, or disability." Most states in the U.S. also have their own hate laws, but not all the criteria of the federal law is necessarily covered under state laws. For example, Alabama's hate laws do not include crimes motivated by bias against sexual orientation, gender, or gender identity. Five states, which include Wyoming, Indiana, Arkansas, South Carolina and Georgia, have no hate crime laws at all. The type, severity, and frequency of hate crimes vary from state to state. Here is a list of the five states with the most hate crimes, from the lowest to the highest:
5. Texas 
The Lone Star State reported a total of 500 hate crimes in 2018, the most recent year for which there are statistics available. The majority of the hate crimes in the state involved bias against race, ethnicity, or ancestry. In one case, a man in Grapevine, Texas, was sentenced to 12 months in jail for threatening and intimidating an African American family living in an apartment below his. One of his acts of harassment included putting a doll in a noose and hanging it on a railing near the victims' apartment. Religious bias was the second most frequent cause of Texas hate crimes. In the summer of 2018, a man was found guilty of burning a local mosque in the City of Victoria. He was ordered to serve more than 24 years in prison.
4. New York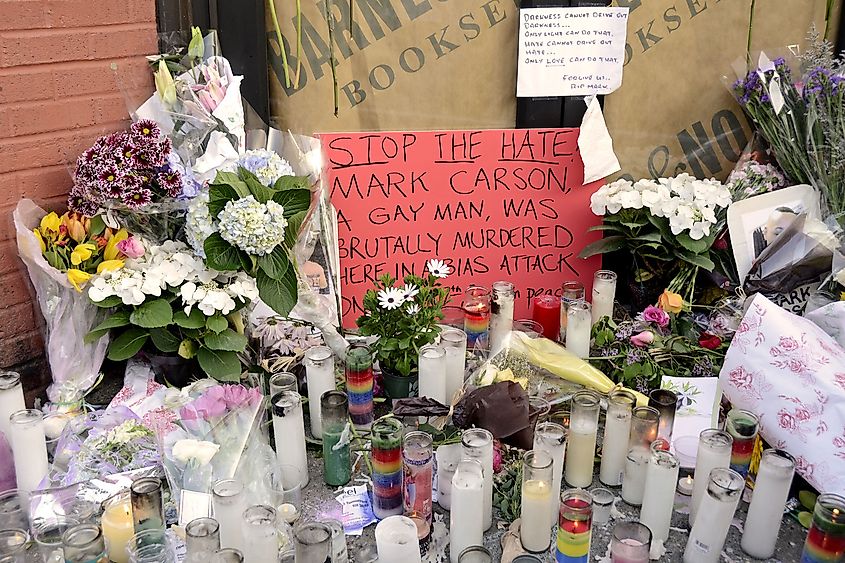 The State of New York reported 525 hate crimes in 2018. Unlike Texas, the majority of hate crimes in the Empire State involved bias against a religious group. In late 2018, a resident of Queens, one of New York City's boroughs, was jailed for 18 years and 10 months for hate crimes against Muslims and Hindus, which included firebombing a Muslim mosque and a Hindu temple. Crimes based on racial or ethnic bias made up another significant portion of hate crimes in New York. In the fall of 2018, someone defaced the African Burial Ground National Monument with a racial slur.
3. New Jersey 
New York's neighbor to the west recorded 577 total hate crimes in 2018. One year earlier, the Garden State recorded close to 500 hate crimes, which was a 76% increase from 2016. As in New York, most incidents involved racial or ethnic bias. But the most recent, high-profile hate crime was motivated by antisemitism. It occurred on December 10, 2019, when two people entered a kosher supermarket and started shooting, killing three people. A police officer was also killed in the subsequent shoot-out with law enforcement that followed. Not only did this act constitute a hate crime, but it was also treated as an act of domestic terrorism.
2. Washington
The west coast state bore witness to 666 hate crimes in 2018. The majority of the incidents involved racial or ethnic bias. More than half of the hate-related incidents in 2018 were reported in Seattle, the state's largest city. In fact, among cities between 2013 and 2017, Seattle had one of the steepest increases in hate crime in the country. A school principal in the town of Mercer Island was so distraught by a photo she saw of two kids giving a Nazi salute that she called on the Anti-Defamation League to help her combat racism in her school.
1. California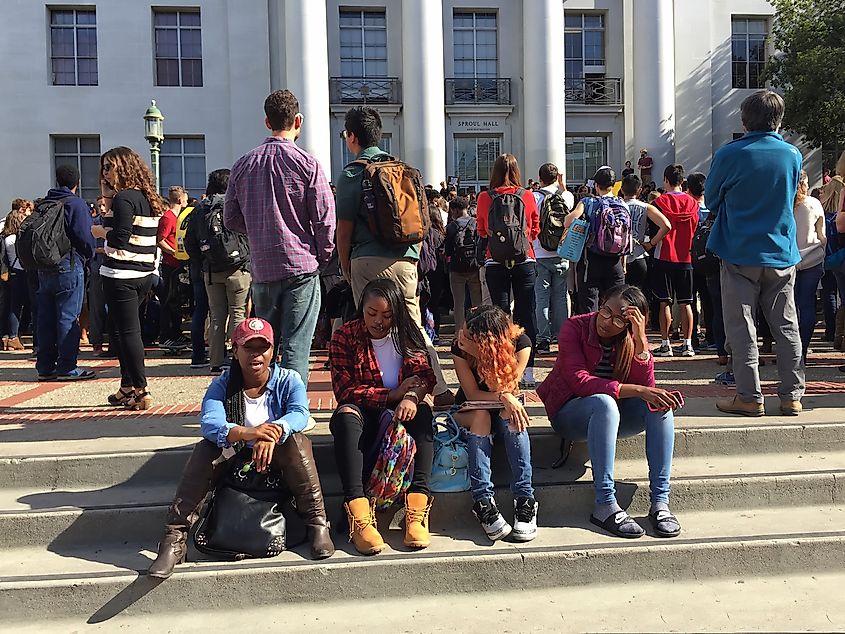 California is known as the richest and most populous state in the Union. Unfortunately, it also holds the infamous distinction of being the state with the most reported hate crimes in the country. A total of 1,222 hate crimes were reported in the state in 2018. Hate crimes based on racial or ethnic bias accounted for the most incidents of hate crimes in California. This was followed by hateful criminal acts against the LGBT community. In one case, a man made phone threats against the San Diego Pride parade. There was also a high-profile attack on a synagogue when, on April 27, 2019, a man entered a Chabad synagogue in the town of Poway and opened fire, killing one person and wounding three others.