Society
States With the Largest Jewish Populations
According to the PEW Research Center, New York is the state with the largest Jewish population with 7% of the population identifying as such.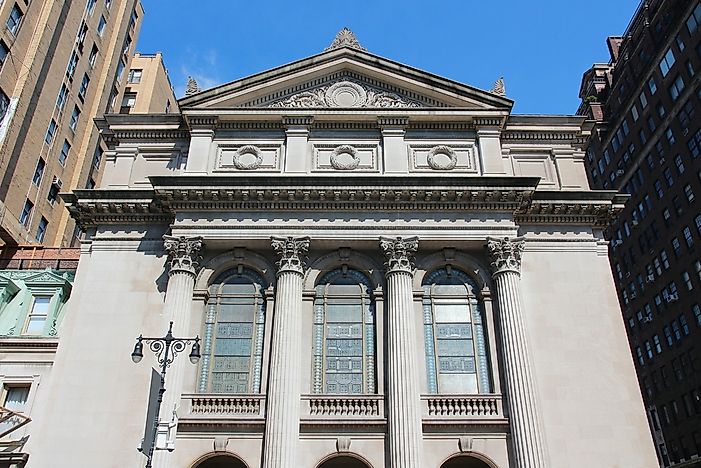 The dominant religions in the USA include Christianity, Judaism and Islam. The following is an outline of the states in the USA with the largest Jewish populations.
Largest Jewish Populations
New York
New York State plays host to the largest number of people practicing Judaism. Among the total population of the Jewish people in the USA, New York is home to seven percent (7%). Jewish people have been living in New York since at least the year 1654. The first synagogue was established in New York in 1664.
New Jersey
Currently, New Jersey has 6% of the total Jewish population of the USA. The early settlers who brought the Jewish religion with them were mainly farmers and businesspersons who dealt in merchandise. The Jewish population in New Jersey has grown slowly over the years.
District of Columbia
Washington, D.C is home to quite a large number of the total Jewish population of the USA. This has led to the establishment of a Jewish Community center where the religious members meet to engage matters their religion as well as engage in other social activities. This state houses around 5% of the entire population of Jewish people in the USA.


Conclusion
Religion is a key aspect of life that to some extent helps trace our identity. For a harmonious society, it is vital to acknowledge diversity that exists in such aspects as religion and to respect all religions.
States With the Largest Jewish Populations
| Rank | State | % Identifying as Jewish (Source: PEW) |
| --- | --- | --- |
| 1 | New York | 7% |
| 2 | New Jersey | 6% |
| 3 | District of Columbia | 5% |
| 4 | Connecticut | 3% |
| 5 | Delaware | 3% |
| 6 | Florida | 3% |
| 7 | Maryland | 3% |
| 8 | Massachusetts | 3% |
| 9 | Arizona | 2% |
| 10 | California | 2% |
| 11 | Illinois | 2% |
| 12 | Maine | 2% |
| 13 | Nevada | 2% |
| 14 | New Hampshire | 2% |
| 15 | Oregon | 2% |
| 16 | Vermont | 2% |
| 17 | Colorado | 1% |
| 18 | Georgia | 1% |
| 19 | Indiana | 1% |
| 20 | Michigan | 1% |
| 21 | Minnesota | 1% |
| 22 | North Carolina | 1% |
| 23 | Ohio | 1% |
| 24 | Pennsylvania | 1% |
| 25 | Rhode Island | 1% |
| 26 | South Carolina | 1% |
| 27 | Tennessee | 1% |
| 28 | Texas | 1% |
| 29 | Virginia | 1% |
| 30 | Washington | 1% |
| 31 | West Virginia | 1% |
| 32 | Wisconsin | 1% |
| 33 | Alabama | < 1% |
| 34 | Alaska | < 1% |
| 35 | Arkansas | < 1% |
| 36 | Hawaii | < 1% |
| 37 | Idaho | < 1% |
| 38 | Iowa | < 1% |
| 39 | Kansas | < 1% |
| 40 | Kentucky | < 1% |
| 41 | Louisiana | < 1% |
| 42 | Mississippi | < 1% |
| 43 | Missouri | < 1% |
| 44 | Montana | < 1% |
| 45 | Nebraska | < 1% |
| 46 | New Mexico | < 1% |
| 47 | North Dakota | < 1% |
| 48 | Oklahoma | < 1% |
| 49 | South Dakota | < 1% |
| 50 | Utah | < 1% |
| 51 | Wyoming | < 1% |