World Facts
Where Is Halloween Celebrated?
Halloween is observed in several parts of the world.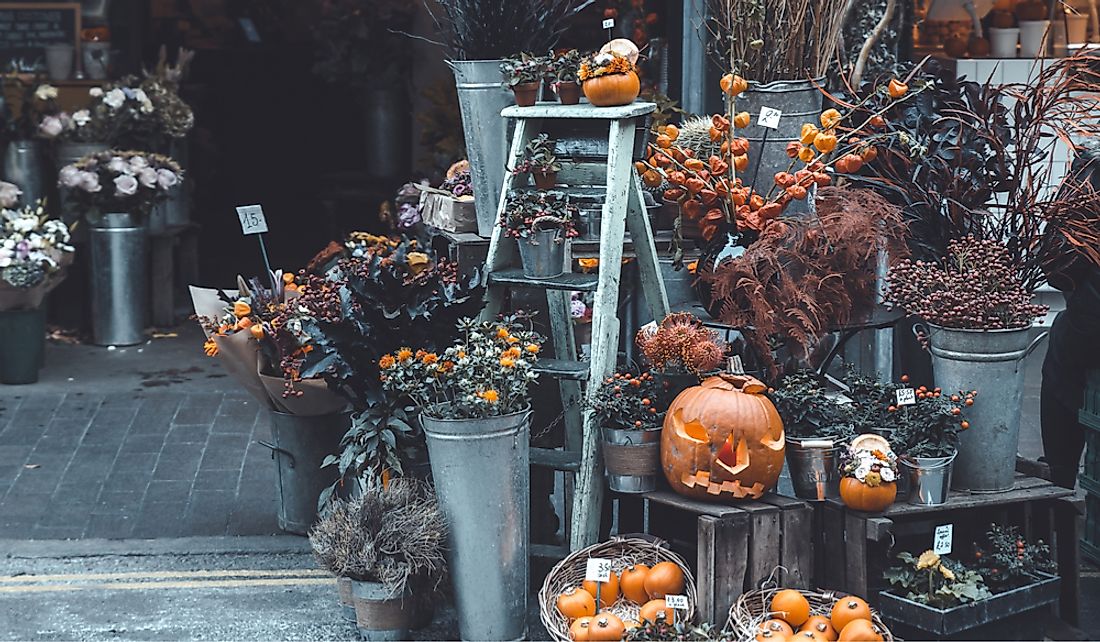 Halloween is a celebration that is observed in several countries in the world on October 31 every year. The celebration is also known as Hallowe'en, All Saints' Eve, Allhalloween, or All Hallows' Eve. To mark the day, many cultures in the world honor their dead and their saints. Popular belief states that most of the traditions of Halloween hail from the harvest festivals of the ancient Celtic, especially the festival Samhain. For this reason, many people believe that it is a pagan celebration with no ties to any religion. On the other hand, many people also believe that the celebration is rooted in Christianity. More modern activities of Halloween include trick-or-treating, lighting bonfires, holding costume parties, carving pumpkins, prank games, watching horror movies, and other things. In North America, particularly in the United States and Canada, there is a lot of commercialization and fanfare surrounding Halloween. However, this does not mean that Europe does not have the celebrations as well. Learn how Halloween is celebrated in the Netherlands, the United Kingdom, and Spain. Other countries that celebrate this holiday include Belgium, Italy, France, and Romania.
Halloween in the Netherlands
In the Netherlands, Halloween is characterized by a number of things such as impressive costume parties, haunted alleys, and other things. In Amsterdam, almost the entire city is themed differently depending on the event. For example, most entertainment places like movie theaters usually prepare a lineup of scary movies throughout the night. There are also family-friendly events such as at Ripley's Believe It or Not. People looking for more intense entertainment usually go to places like the legendary Monster Ball or attend an extravaganza at Obscene Halloween.
Halloween in the United Kingdom
In London, England, the history of the city makes it one of the most interesting places to celebrate Halloween in the world. The city has a bloody past (such as the famous Jack the Ripper), ancient buildings, and other things that makes London seem like a haunted city with the proper theme. In the city, the day is marked in a number of ways such as themed parties, spooky tours, and other forms of celebrations.
Another city in the United Kingdom that holds Halloween celebrations is Edinburgh in Scotland. In Scotland, Halloween festivals are almost an extension of the legendary Celtic celebration of Samhain. Ireland is the only other country to preserve these ancient celebrations. Some of the things that are done to mark the day include carving Jack O' Lanterns, carnivals, huge parades, and other activities. The tradition of caving Jack O' Lanterns originates from the ancient tradition of children putting lit candles inside a skull to scare people.
Halloween in Spain
Despite Barcelona, Spain being a colorful and a popular tourist destination, the city also hosts some incredible Halloween celebrations. The celebrations are even better in a city that is famed for its peoples' ability to host parties. Another thing that makes Halloween festivals interesting is the fact that the city is made up of people from different cultures with differing traditions. Some of the Halloween activities include parties hosted at premium clubs, beach events for everyone, family parties such as at amusement parks, and other activities. In Barcelona, Halloween festivals are followed by other celebrations such as the Chestnut Festival and Dia de los Muertos, which is Mexican.
About the Author
Ferdinand graduated in 2016 with a Bsc. Project Planning and Management. He enjoys writing about pretty much anything and has a soft spot for technology and advocating for world peace.
This page was last updated on January 31, 2019.
Citations
Your MLA Citation
Your APA Citation
Your Chicago Citation
Your Harvard Citation
Remember to italicize the title of this article in your Harvard citation.