George H.W. Bush – 41st President Of The United States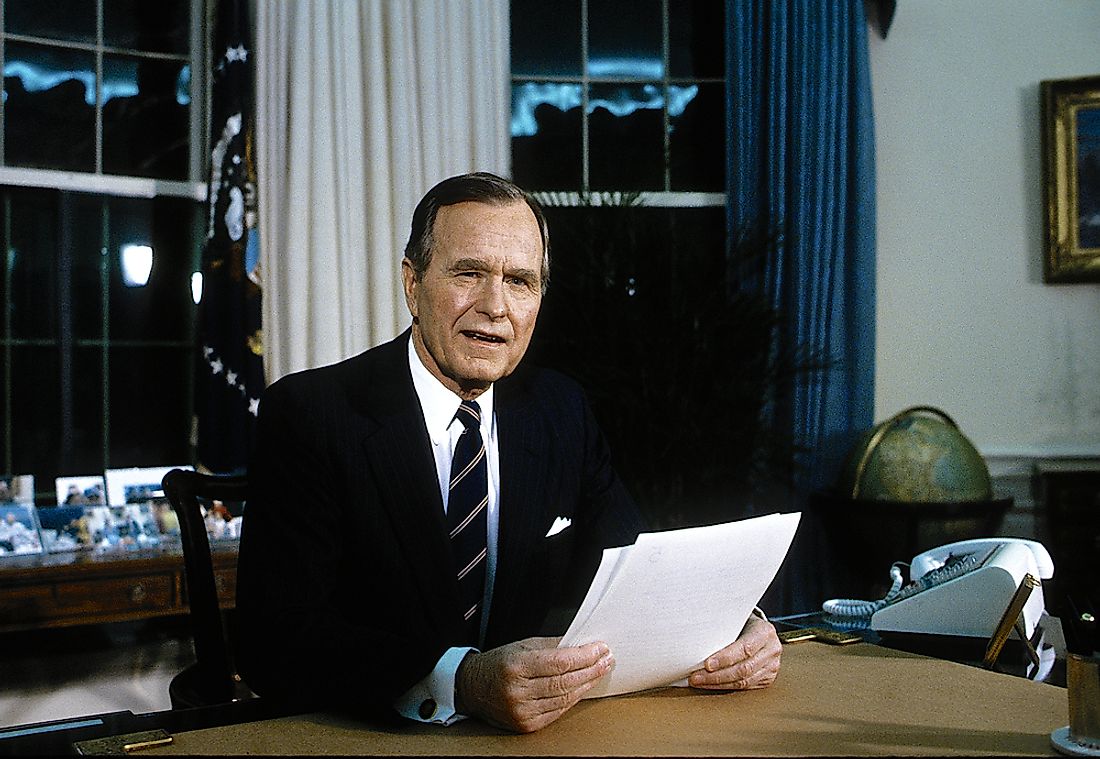 George Herbert Walker Bush was born on June 12, 1924, in Milton Massachusetts. He served as the 41st president of the United States from 1989 to 1993. Bush's parents Prescott Sheldon Bush and Dorothy Walker Bush moved the family to Greenwich, Connecticut when he was a young boy. Though his family was wealthy, the children were raised to be modest, engage in public service, and be charitable according to the Miller Center. In his teens, Bush left home to attend Phillips Academy Andover boarding school in Massachusetts, where he was an active sportsman and student leader. After graduating from the academy on his 18th birthday he enlisted on the same day to the United States Navy.
Rise to Power
In July of 1943, Bush became the youngest pilot in the Navy, and served during the World War II from 1942 until September of 1945. During the war he went on fifty-eight combat missions and flew torpedo bombers in the Pacific Ocean Theater. On January 6th, 1945, Bush married Barbara Pierce and was discharged from the navy September that year, and enrolled at Yale to study economics. With Barbara they had six children. After graduating from Yale in 1948, he moved to Texas to work as an oil salesman. In 1966 he ran and won a seat in the U.S. House of Representatives, and was reelected in 1968. After losing the seat in 1970, Nixon appointed him to serve as US Ambassador to the United Nations (UN). Bush served until 1973 when he became the chairman of the Republican National Committee. After Nixon resigned President Ford appointed Bush the CIA director in 1975, but left in 1976 after Gerald Ford lost the presidential elections to Jimmy Carter. In 1980, Bush sought the Republican nomination for President but lost to Ronald Reagan. Nonetheless Reagan appointed him vice president for his eight year term. In 1988 Bush won the Republican nomination for president and with Senator Dan Quayle, he won the U.S. presidency defeating democrat Governor Michael Dukakis, of Massachusetts.
Achievements
As president, Bush sent American troops to Panama to overthrow the corrupt regime of Manuel Noriega who threatened security on the Panama Canal. Noriega who had also threatened Americans living there was arrested and brought to the U.S and stood trial for drug trafficking. When Iraqi president Saddam Hussein invaded Kuwait in 1990, Bush rallied the UN, Congress, and sent over 400,000 American troops who were joined by over 100,000 allied nations' troops. They managed to repel Saddam's army and protect Kuwait. On the 4th of December, 1992, Bush sent 28,000 U.S troops to war torn Somalia to counter rival warlords who were hindering humanitarian aid distribution to thousands of starving Somalis. On the domestic front, he signed the Disabilities Act which forbade discrimination based on disability, in employment, transport, and public places. He also signed the clean air amendment act aimed at reducing urban smog, stopping acid rain, and eliminating emissions of toxic chemicals.
Challenges
Though Bush leadership of the Gulf War was lauded, there was domestic discontent due to the faltering economy, increased violence in inner cities, and high deficit spending according to the White House. Bush also struggled to work with a Democrat controlled congress, and had bitter relations with Senate Majority Leader George Mitchell, whom he viewed as partisan. He also found it challenging to balance the budget to reduce the deficit, without taxing the American people further. Republicans desired to cut spending while Democrats wanted taxes increased for the affluent. That led to very volatile budget negotiations in 1991. Those factors culminated in his loss to Bill Clinton in his reelection bid of 1992.
Legacy
George H.W Bush is considered as among the most qualified candidates to assume the office of the presidency of the United States. He had a long career in domestic politics, vice presidency, and foreign affairs making him greatly acquainted with the workings of government. According to the Miller Center, Bush's presidency is viewed as successful in foreign affairs and a failure in domestic affairs, especially the economy. Critics argue his administration lacked vision and failed to communicate its direction properly to the public, causing Americans to vote him out. Bush also alienated the conservative wing of the Republican Party, by breaking his promise not to raise taxes and cut military spending. This made him be viewed as a man who betrayed the populous Reagan Revolution. Bush's image according to the Miller Center was one of a wealthy Ivy Leaguer out of touch with ordinary Americans. He also ran what was seen as a poor campaign for presidency in 1992 that made Bill Clinton's win inevitable.
George H. W. Bush, 41st President Of The United States
| Party Affiliation | Republican |
| --- | --- |
| Birthplace | Milton, Massachusetts |
| Date of Birth | June 12th, 1924 |
| Date of Death | Still Living |
| Start of Term | January 20th, 1989 |
| End of Term | January 20th, 1993 |
| Vice President | Dan Quayle |
| Major Conflicts Involved In | Gulf War; U.S. Interventions in Panama and Somalia |
| Preceded by | Ronald Reagan |
| Succeeded by | Bill Clinton |
| First Lady | Barbara Pierce Bush |