Politics
James K. Polk – 11th President of the United States
James K. Polk was the 11th President of the US, serving from 1845 to 1849.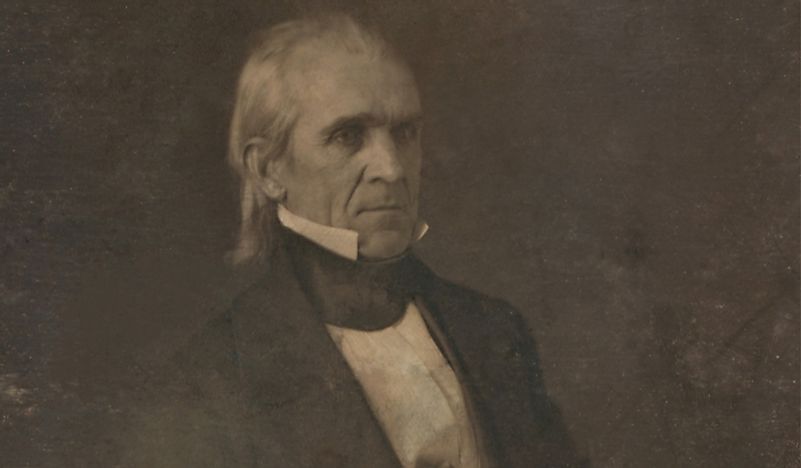 James K. Polk was the 11th President of the US, serving from 1845 to 1849. His predecessor was John Tyler. As President, Polk increased US territory by annexing territories from Mexico and England. He accomplished all the goals he set out to achieve during his first term in office and did not contest for reelection. Polk's aggressive policies for expansion, however, made slavery an unresolved issue even after he left the Presidency.
Early Life
Born on November 2, 1795, in Mecklenburg County, North Carolina, Polk was the first born in a family of 10 children. He was sickly during his formative years and underwent surgery for urinary stones as a teenager without anesthesia. Polk went on to study law at of North Carolina and graduated in 1818 with honors.
Political Career
Polk went back to Tennessee filled with ambition and took up legal training under Felix Grundy, who was an acclaimed trial attorney. He set up his law practice firm and enjoyed a successful professional career. He took interest in politics and, at the age of 27, won a legislative seat in the Tennessee. It was during this time that he met Sarah Childress and was entranced by her intellect and grace. They got married in 1824 and Sarah's insight helped Polk during his political career.
In 1825, at the age of 29, Polk won his seat in the Congress. He went on to become the speaker in 1835 and ardently supported the then President Andrew Jackson's policies. In 1835, the Democratic Party had lost the governor's seat for the first time in Tennessee history. This loss for the party prompted Polk to leave Congress in 1839 and run for the governor's seat which he won. The programs he attempted to institute during his tenure did not get approved by the legislature and he lost his reelection in 1841.
Presidency
Polk had hoped for the Vice Presidential slot when the Democrat delegates met at the 1844 convention. The contenders for the Presidential nomination were former President Martin Van Buren and Lewis class. Martin had lost popularity after losing the Presidential Elections in 1840 and also because he was opposed to the annexation of Texas. None of the two contenders garnered sufficient support from the delegates. The convention arrived at a deadlock, and James K. Polk was nominated earning him the reputation of a "dark horse". Polk had ambitious objectives to expand the US aggressively to the west and create one large nation.
Legacy
Polk pursued the annexation of Texas, and it became the 28th state.The US and England jointly owned the Oregon Territory. Polk's fellow politicians lay a claim on the land which led to tense negotiations between the two countries. England gave up its claim in 1846. Attention shifted to New Mexico and California. Mexico resisted US advances which led to the Mexican-American war after which the US annexed the two states. James K. Polk had delivered on his promise of the US expansion. Polk's administration set out to improve the banking system and lower tariffs. An independent treasury for federal funds was established.
Polk expanded the US territory successfully as he had promised but prompted the North and South further into the division. Polk was a slaveholder himself and his administration failed to address the issue of slavery which continued to haunt the Presidency even after he was gone. He died three months after leaving office from cholera leaving his wife with instructions that their slaves were to be freed after her death. His successor was Zachary Taylor.
Who Was James K. Polk?
James K. Polk was the 11th president of the United States. As President, Polk increased US territory by annexing territories from Mexico and England.
James K. Polk, 11th President Of The United States
| Party Affiliation | Democrat |
| --- | --- |
| Birthplace | Pineville, North Carolina |
| Date of Birth | November 2nd, 1795 |
| Date of Death | June 15th, 1849 |
| Start of Term | March 4th, 1845 |
| End of Term | March 4th, 1849 |
| Vice President | George M. Dallas |
| Major Conflicts Involved In | Mexican-American War |
| Preceded by | John Tyler |
| Succeeded by | Zachary Taylor |
| First Lady | Sarah Childress Polk |
About the Author
Benjamin Elisha Sawe holds a Bachelor of Arts in Economics and Statistics and an MBA in Strategic Management. He is a frequent World Atlas contributor. 
This page was last updated on March 26, 2019.
Citations
Your MLA Citation
Your APA Citation
Your Chicago Citation
Your Harvard Citation
Remember to italicize the title of this article in your Harvard citation.