Bill Clinton – 42nd President of the United States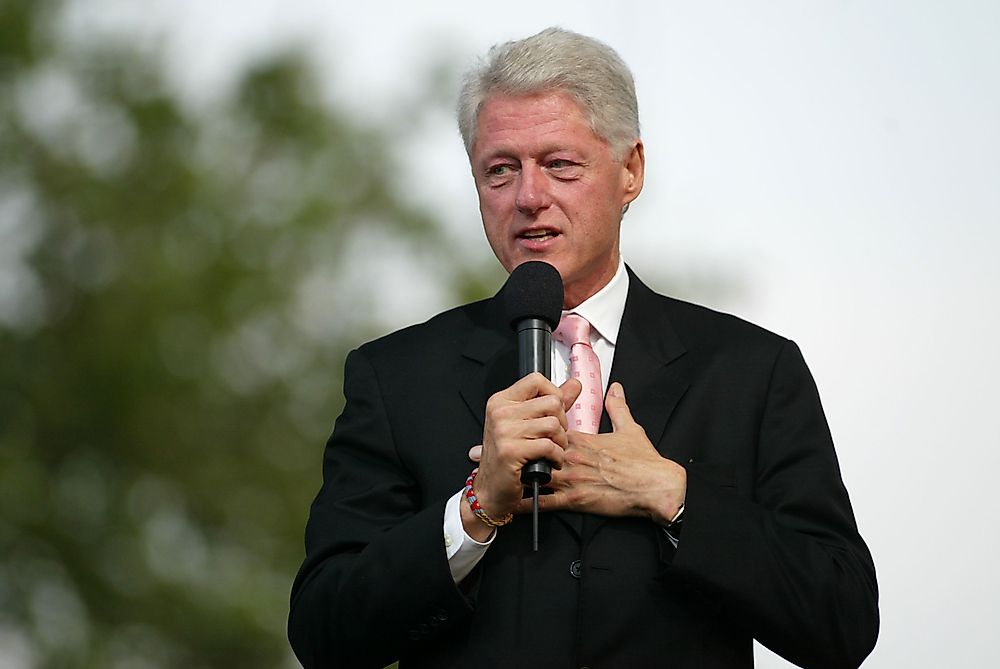 Former President Bill Clinton was born on August 19, 1946, in Hope, Arkansas. His name at birth was William Jefferson Blythe III, but his biological father was killed in a car accident before Bill was born. His mother later remarried, and Bill took his stepfather's last name. He attended Georgetown University in 1968 and in 1973, received his law degree from Yale. During law school, he met Hillary Rodham (his current wife) and they later moved back to Arkansas. While there, Clinton taught as a law professor at the University of Arkansas and unsuccessfully ran for the US House of Representatives.
Early Political Career
In 1976, Bill Clinton became the attorney general of Arkansas, and two years later, he was elected governor. He was not re-elected and started working at the Little Rock law firm. Not to be outdone, he ran for governor again and won in 1982, this time staying in office for ten years. After his decade in public office, Clinton won the Democratic nomination for President in 1992. Over the next year, he campaigned with his vice presidential candidate, Al Gore, and beat the Republican opponent, then-President George HW Bush.
Presidency
Bill Clinton served his first term as the 42nd President of the US from 1993 to 1997. During this term, he signed the Family Medical Leave Act, the Violence Against Women Act, and the North American Free Trade Agreement. He worked to reinstate democracy in Haiti and negotiated peace in Bosnia. His administration reduced crime and the federal deficit and pushed for universal healthcare. His office appointments included the first two women to hold the US Attorney General and US Secretary of State positions. He began his campaign for re-election in 1996 and became the second democratic president to win two terms.
His second term ran from 1997 to 2001 and was the first time the US had a budget surplus in more than 30 years. He continued promoting international trade and peace. When Saddam Hussein of Iraq halted UN weapon inspections, the Clinton administration voted to bomb the region. Despite all of these accomplishments, the memory of his presidency will forever be marred by a sex scandal. The House of Representatives found him guilty of perjury and obstruction of justice and the Senate later acquitted him. Though he finished his term in office, he became the second president in history to be impeached.
Current Role
Since his presidency, Clinton has remained involved in political affairs and speaking events. In addition, three of his books have been published post-presidency (he has 4 in total, but the first was published during his first term as president). He spoke during the UN Climate Change conference in 2005 encouraging policy to reduce greenhouse gas emissions. He partnered with George HW Bush to establish two disaster relief funds after the 2004 tsunami and Hurricane Katrina. He founded a charitable organization, the Clinton Foundation, which works to fight against worldwide poverty and supports health initiatives to prevent disease. 
Bill Clinton, 42nd President Of The United States
| Party Affiliation | Democrat |
| --- | --- |
| Birthplace | Hope, Arkansas |
| Date of Birth | August 19th, 1946 |
| Date of Death | Still Living |
| Start of Term | January 20th, 1993 |
| End of Term | January 20th, 2001 |
| Vice President | Al Gore |
| Major Conflicts Involved In | U.S. Interventions in Somalia, Bosnia, Afghanistan, and Sudan |
| Preceded by | George H. W. Bush |
| Succeeded by | George W. Bush |
| First Lady | Hillary Rodham Clinton |