Gerald Ford - US Presidents In History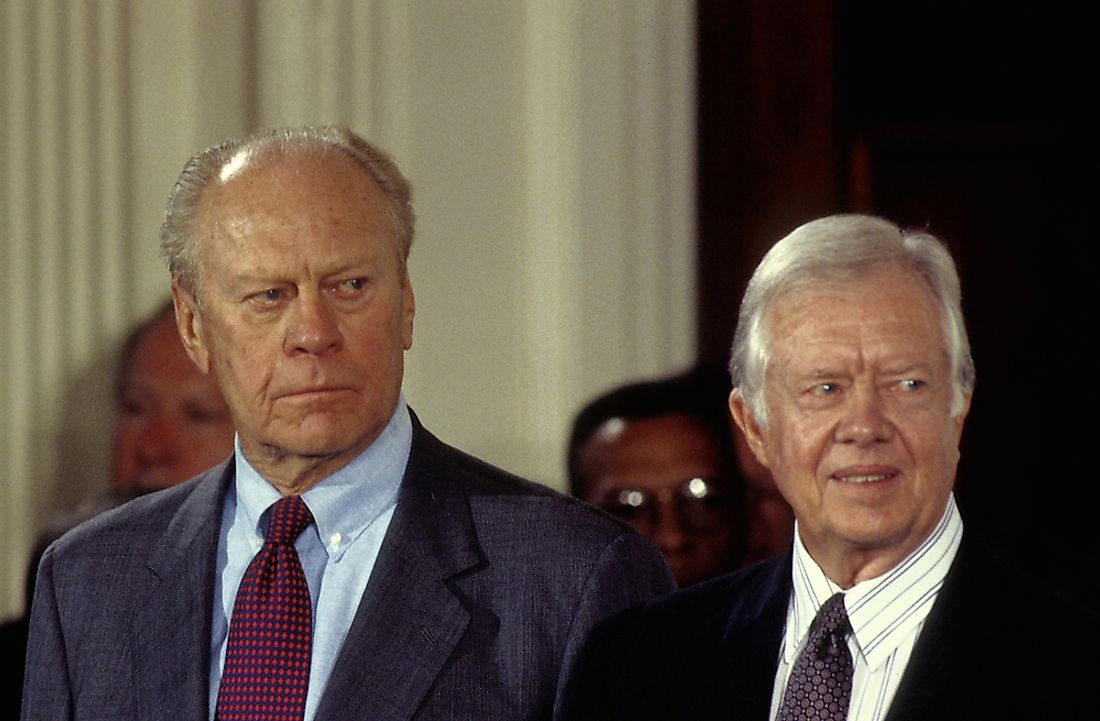 5. Early Life
Gerald Ford, the 38th President of the United States, was born Leslie Lynch King, Jr., named after his biological father, in Omaha, Nebraska, on July 14th, 1913. His mother Dorothy divorced King when Ford was still an infant, and moved to Grand Rapids, Michigan. There, Dorothy married a successful paint salesman, Gerald Rudolph Ford, who adopted the boy. Gerald went on to attend the University of Michigan on an athletic scholarship, where he starred on the Wolverines' national champion football teams. After earning an Economics degree at Ann Arbor, Ford went on to study law at Yale University, where he also helped with the Yale Bulldogs' football team. Shortly after Ford's graduation from Law School, the Japanese attacked Pearl Harbour. Ford enlisted in the U.S Navy, and served aboard an aircraft carrier.
4. Rise to Power
Ford's political career began in 1948 with his election to the U.S House of Representatives, representing Michigan's 5th District. There, he earned a reputation as being a trustworthy, hard-working Republican. In 1964, Ford was appointed by President Johnson to the Warren Commission, which investigated President Kennedy's assassination. The following year saw Ford win a closely contested bid to become Minority Leader of the House of Representatives, serving in the position until 1973. In that year, Spiro T. Agnew, caught up in the Watergate Scandal, resigned, and President Richard Nixon appointed Ford to the Vice-Presidency. In 1974, Nixon's own resignation was accompanied by the subsequently resulting appointment of Ford as the next-in-line U.S. President.
3. Contributions
One of Ford's earliest, and most popular, Presidential acts came in a Presidential Proclamation he made in September of 1974. It gave conditional amnesty to so-called 'draft dodgers' and deserters during the Vietnam War. Around the same time, he had announced a one-man amnesty as well, pardoning the disgraced former President Richard Nixon "for all offenses against the United States" and any he "may have committed in office."The 'Nixon Pardon' destroyed his credibility for many Americans, who saw his claim to be less concerned with the fate of Nixon than with dealing unto Americans pure white-wash. In order to palliate such criticism, Ford voluntarily appeared before a House of Representatives Sub-Committee to explain himself and defend his actions.
2. Challenges
Apart from an unfortunate tendency to accident proneness whenever TV cameras were present, such as frequently slipping on the stairs when leaving an airplane, for example, Ford's presidency coincided with much more serious national problems. He was dealt a domestic energy crisis and a weak economy, with simultaneously high inflation and high rates of unemployment ("stagflation"). He also clashed head on with a Democrat-dominated Congress, who were no admirers of his fiscal conservatism. During his Presidential term, Ford vetoed 66 pieces of Congressional legislation. In return, Congress failed to approve further military spending to defend South Vietnam against the Communist North, culminating in the fall of the country to the Communists and the withdrawal of American forces from the region in 1975.
1. Death and Legacy
Ford was narrowly beaten in the Presidential Election of 1976 by rising Democrat star Jimmy Carter. He subsequently left office to devote himself to serving on the Boards of large corporations. The slim margin of Carter's narrow victory was somewhat surprising, considering how many Americans felt about Nixon's successor, seeing him as not only accident-prone and endangering himself, but also harming others and his country as well. For instance, the "successful" rescue of an American cargo ship seized by Cambodia in 1975 led to the death of 41 Americans. Both then and now, critics regarded him as being in the thralls of Henry Kissinger and other left-overs from the Nixon administration. After his Presidency, Gerald Ford and has wife Betty would live in Rancho Mirage, California until his death in 2006. He was known to be an avid lover of playing golf in his post-Presidential years.