Politics
George W. Bush, 43rd President Of The United States
George W. Bush was a Yale graduate and an oil industrialist before following in the footsteps of his father as a U.S. President.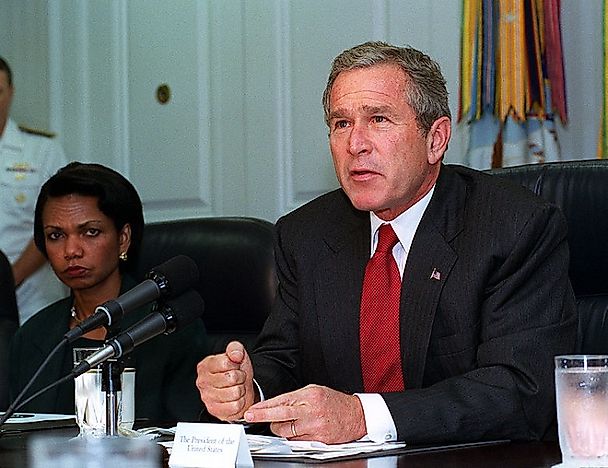 Personal life

George Walker Bush, the son of former U.S. President George Herbert Walker Bush, was born in New Haven, Connecticut on July 16th, 1946. George Bus senior is also former US President married to Barbara Pierce. Bush junior was the firstborn in a family of six. One died at the age of the four after suffering from leukemia. He grew up in Midland and Houston together with his four siblings. George Bush joined a primary school in Texas and later went to The Kinkaid School for two years. Later he went to a boarding high school at Phillips Academy in Andover, Massachusetts. Bush attained a Bachelor of Arts degree in history from conflicts and war in Iraq and Afghanistan. Barack Obama, the current US President, succeeded George W. Bush in 2009.

Bush Family Legacy


The Bush family has a history in the public office arena. George W. Bush's father was the 41st US President from 1989 to 1983. He also served as an American vice President from 1981 to 1989. Prescott Bush, the grandfather of George W. Bush's, was also in public office where he served as US Senator. Jeb Bush, the brother of George W. Bush, served as Florida's 43rd Governor between 1999 to 2007.He announced his candidature for presidency 2016 but later suspended in February 2016. Jeb Bush's idea of the becoming President is possible as long as he continues to hold his ultimate dream. In conclusion, the Bush family has a legacy of leadership. From Prescott Bush, who was a Senator, his son George Herbert Walker Bush became the 41st US President, and his grandson George W. Bush became the 43rd President of US. Jeb Bush is a leader with great political aspirations as well, and in the future might become another in the Bush line of U.S. Presidents as well.

George W. Bush, 43rd President Of The United States
| Party Affiliation | Republican |
| --- | --- |
| Birthplace | New Haven Connecticut |
| Date of Birth | July 6th, 1946 |
| Date of Death | Still Living |
| Start of Term | January 20th, 2001 |
| End of Term | January 20th, 2009 |
| Vice President | Dick Cheney |
| Major Conflicts Involved In | Iraq War; War in Afghanistan; War on Terror |
| Preceded by | Bill Clinton |
| Succeeded by | Barack Obama |
| First Lady | Laura Welch Bush |