George W. Bush – 43rd President Of The United States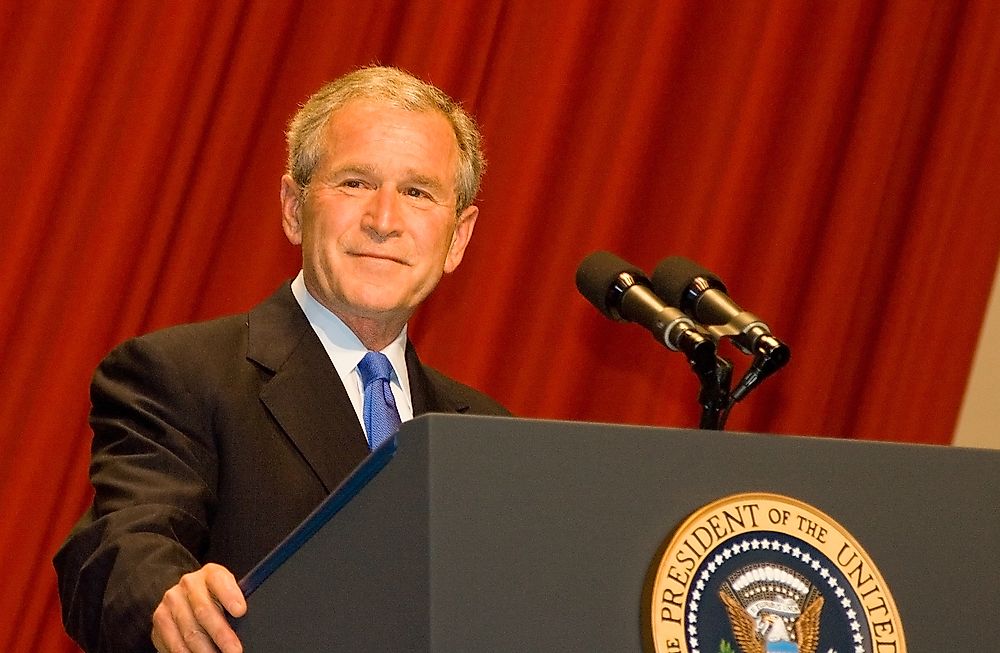 George Walker Bush, the son of former U.S. President George Herbert Walker Bush, was born in New Haven, Connecticut on July 16th, 1946. George Bush was the 43rd President of the United States. Bush junior was the firstborn in a family of six. One died at the age of the four after suffering from leukemia. He grew up in Midland and Houston together with his four siblings.
George Bush joined a primary school in Texas and later went to The Kinkaid School for two years. Later he went to a boarding high school at Phillips Academy in Andover, Massachusetts. Bush attained a Bachelor of Arts degree in history from Yale University in 1968. He also worked for an M.B.A in 1973 at Harvard Business School.
In 1977, George W. Bush met Laura Lane Welch and later they got married. They have twin daughters who were born in 1981, named Barbara Pierce Bush and Jenna Welch Bush. 
Political Career
George W. Bush started his political career in 1978 when he decided to run for the 19th District's US Representative in Texas. Bush lost the race to opponent Kent Hance. However, in 1994 Bush decided to run for a different public office post and became the 46th Governor of Texas. He turned the first Governor, who was elected to two successive terms in Texas when he retained his Governor seat in 1998.
George Bush announced his running for the Presidential seat in 1999. On the elections on November 7, 2000, he emerged a winner and became 43rd President. Laura Lane Welch became the First Lady during his ruling. His running mate was Dick Cheney, who served as the Vice President when Bush won. George Bush succeeded Bill Clinton in the Presidency. Bush's inauguration was on January 21, 2001. He was reelected in 2004, for a second term of Presidency. During his time in office, he declared a war on terror following conflicts and war in Iraq and Afghanistan. Barack Obama, the current US President, succeeded George W. Bush in 2009.
George W. Bush, 43rd President Of The United States
| Party Affiliation | Republican |
| --- | --- |
| Birthplace | New Haven Connecticut |
| Date of Birth | July 6th, 1946 |
| Date of Death | Still Living |
| Start of Term | January 20th, 2001 |
| End of Term | January 20th, 2009 |
| Vice President | Dick Cheney |
| Major Conflicts Involved In | Iraq War; War in Afghanistan; War on Terror |
| Preceded by | Bill Clinton |
| Succeeded by | Barack Obama |
| First Lady | Laura Welch Bush |