Countries With The Most Equal Opportunity For Female Business Leaders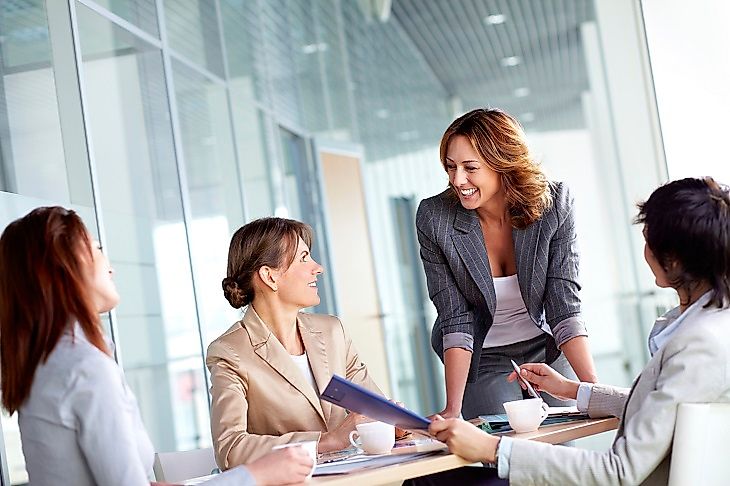 In spite of conscious efforts to practice gender equality, female roles in the business world have changed less than many would like to see so far. Female pay and titles lag behind those of males in many fields globally, and this is not due to a lack of skills. Lack of opportunities and dominant gender beliefs force women to work under male supervision quite often. The number of females who have earned top managerial positions by their sheer hard work, meanwhile, is often but a handful even in large companies, and are few and far between. The future may also seem bleak, with many females leaving their top jobs for the sake of a family life or forced to do because of innumerable other reasons. That said, let us have a look at the countries with the highest rates of female top managers today, and perhaps they can serve as examples to countries where women are far less well represented in the business arena. Interestingly enough, 5 of the 11 countries to make this list were formerly part of the Soviet Union.
11. Bhutan (27% female top managers)
Although in Bhutan women are still trying hard to receive equal rights in multiple aspects of life, there has been a significant development in their participation in the workforce. There are many companies run by female CEOs to empower women in Bhutan. Of these, a notable one is the Bhutan Association of Women Entrepreneurs (BAOWE), which was founded by Damchae Dem.
10. Macedonia (27% female top managers)
The Balkan nation scores high when it comes to having a large proportion of females as top managers. One mention worthy name is Irena Chaushevska, the CEO of NewMan's Business Accelerator. Her company is playing a major role in changing the entrepreneurship scene in Macedonia by nurturing young talents and supporting start-ups, which include initiatives by women entrepreneurs as well. Many other Macedonian companies are now offering corporate childcare facilities because even working women are looked upon as primary caregivers to their children and the elderly. This active engagement in care duties may hamper their advancement in the business world. However, women are not always treated well in Macedonia, and men violate their personal rights frequently.
9. Moldova (27% female top managers)
The government of Moldova acknowledges the importance of women in the economic development of the country. Many women have proved their worths at multitasking by occupying top management posts within the country. Among the notable of these female Moldovan business leaders are Mrs. Silvia Radu of Union Fenosa Moldova and Mrs. Liudmila Climoc of Orange Moldova. However, there is still a great need to address issues like ensuring a work-life balance, and the lack of encouragement to working-women to foster the realization of their true potentials.
8. Namibia (27% female top managers)
In Namibia, the Standard Bank has females in many of its highest managerial posts. There are also companies, like an asset management company named Mergence Investment Managers Namibia, with 51 percent ownership by native women, and EBH Namibia, where women are regularly employed as managers. Long having suffered discrimination in their society and a lack of decision-making power, women now make up 27 percent of all top management posts, which is an impressive feat. Some of Namibia's leading businesswomen are Martha Namundjebo-Tilahun, Theo Namases, and Sara Naanda.
7. Madagascar (28% female top managers)
One of the largest islands in the world has long lived in isolation from the rest of it, but Madagascar has come out of its shell and women are making a foray into the business world. With hurdles like the prevalence of child marriage and adolescence pregnancy, women have to overcome all of these challenges to succeed. They are overcoming the same gradually, and their 28-percent-strong share of top managerial positions is a testimonial feat. Many programs run by the Madagascar Government promote women entrepreneurs, of which the Young Women's Leadership Program (YWLP) is a major initiative.
6. Kyrgyzstan (29% female top managers)
Located in Central Asia, the nation has long favored the empowerment of women and treated them nearly equal as men. Women here are seen holding high ministerial positions in the government, CEO roles, and others. However, these are eroding gradually, even as the Kyrgyzstan Government has taken strict steps in the most recent times to enable them to contribute in the economic development of the country. One notable name of a top female manager in Kyrgyzstan is Olga Vidisheva, CEO of the e-commerce platform Shoptiques.
5. Myanmar (30% female top managers)
In Myanmar, there is a female-oriented socioeconomic structure with women entitled to assume high positions. Some of the top female managers in Myanmar are Ma Pho Phyu Of Myanmar Real Estate Deals, Luu Luu of Rich Gens, Nang Kalyar Win of Asia Fame Media Group, Phyu Phyu Tin of Monsoon Restaurant, and Su Su Tin of Annam Myanmar Company Ltd.
4. Latvia (32% female top managers)
In Latvia, there are more women entrepreneurs than what is seen across the rest of Europe. The wage gap is almost non-existent between Latvian men and women. For women who are eager to build their careers, Latvia is therefore a most favorable country. A shift from the popular perceptions, women are here actively seen working as CEOs, operational managers, and HR directors. Companies in Latvia do not replace an employee if she has taken a maternity leave for up to one year either.
3. Georgia (32% female top managers)
The small nation located at the intersection of Asia and Europe is a beacon of hope for women entrepreneurs across the world. Both the government and civil society have taken steps to ensure the empowerment of women by encouraging them to become economically independent. Even the Georgian Government declared the year 2015 as the 'Year of the Woman'. In spite of having 32 percent of females as top managers, their participation in politics is, unfortunately, extremely low. In Georgia, multiple workshops are in full swing for developing leadership skills among female entrepreneurs.
2. Belarus (33% female top managers)
In 2000, there was a Millennium Declaration in Belarus to eliminate discriminatory practices in the workplace. This was to pave the way for the economic empowerment of all Belarusians, women included. Since then, there has been no looking back and, with a 33 percent share of females among top managers, Belarus ranks second in the list of countries with the highest rates of female top managers. Of these managers, a whopping 60 percent of these female leaders have their own businesses. In Belarus, multiple measures have been taken to eliminate the disparity between the wages of male and female employees, the segregation of males or females in a specific sector, and allowing flexibility at work for female employees with child care and maternal duties.
1. Mongolia (36% female top managers)
Who can imagine that a small nation, traditionally associated with nomadic herding and located between China and Russia, could be such a torchbearer for female equality? With 36 percent of females among the top management jobs, becoming a woman entrepreneur is commonplace in Mongolia. There have been a series of legislative actions since as far back as 1921 to bolster Mongolian women's roles in the business arena and beyond. These have established female civil rights more firmly than in most of Asia. According to a recent report of the World Economic Forum, Mongolia is among the most supportive nations for working women in Asia.