Biggest Cities In South Africa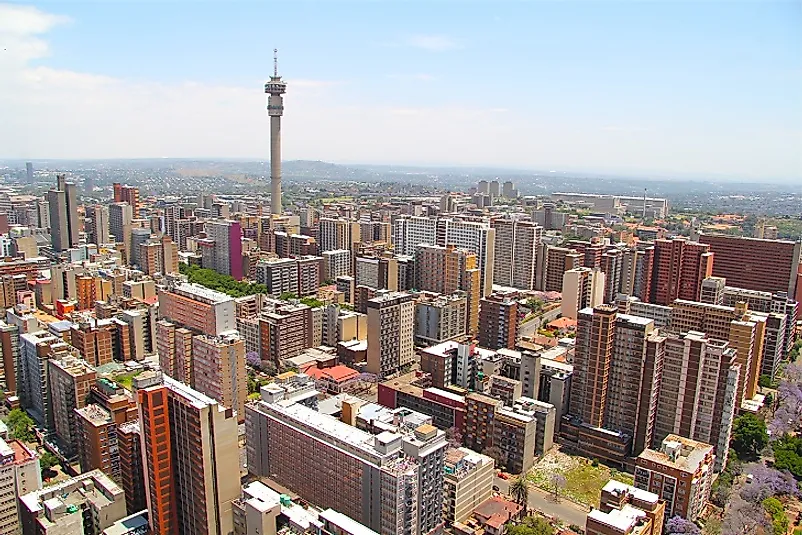 South Africa is an autonomous state in Africa located near the southern tip of the world map. Its border stretches along the South Atlantic and Indian Oceans. South Africa is the 25th largest country in the world with a population of around 53 million people. Namibia, Botswana and Zimbabwe border it to the north, while Mozambique and Swaziland border it on the east and northeast, respectively. South Africa has several cities and ethnic groups each with their unique culture, language, and religion and is classified as an upper-middle-income economy by the World Bank. Here is a list of the largest urban areas in South Africa according to SA Stat. 
1. Johannesburg - 4.4 Million 
Johannesburg is the largest city in South Africa with a population of 4.4 million. It is located in Gauteng Province. It houses South Africa's constitutional court, and it is a major finance center in the country.
With the discovery of an outcrop of a gold reef on the farm Langlaagte in 1886 by George Harrison, Johannesburg was established and controlled by a Health Committee. Although Johannesburg has not yet celebrated its second centenary, it holds an unbelievably rich history. It had structured mining and manufacturing industries that did bolster the city's growth. In times between 1948 and 1990, racial segregation, forced labor, unfair taxation, and unskilled jobs were rampant. Systematic racism known as Apartheid led to the creation of Soweto town in the outskirts of Johannesburg where every non-white resident was relocated to. These problems caused over-congestion in the city with the oppressed searching for a better living. Violence was widespread from the 1960s until the late 1980s. This dark moment continued until 1990 when the National Government abandoned Apartheid after independence. Today, Johannesburg has a fully established metropolitan municipality although crime rates are still high in some parts of the city.
2. Cape Town – 3.7 Million
Cape Town is a beautiful coastal city in South Africa that is full of life and energy and has a population of 3.7 million people. Cape Town is the seat of the National Parliament or the Legislative capital of the country. Cape Town is full of recreational activities. Tourists flock to admire and give an account of this town's valuables natural and man-made features such as Table Mountain National Park, Cliffton Beach, Boulders Beach, Victoria & Alfred Waterfront, Kirstenbosch National Botanical Garden which has contributed to the country's foreign exchange.
3. Ethekwini – 3.4 Million 
Ethekwini is technically what is known as a "metropolitan municipality" in South Africa. Ethekwini includes the sizeable cities of Durban, Umlazi, Chatsworth, and Kwa-Mashu. Durban is well known for being the busiest port in South Africa. Durban is known for its warm subtropical climate, extensive beaches, and the Golden Mile making it a popular destination for tourists from all over the world. 
4. Ekurhuleni – 3.1 Million 
Like Ethekwini, Ekurhuleni is also a metropolitan municipality. The largest cities within Ekurhuleni are Katlehong, Tembisa, and Boksburg. Ekurhuleni is found in South Africa's Gauteng province. The area experiences dry winters and warm summer months. 
5. Tshwane – 2.9 Million 
Tshwane is a metropolitan municipality in South Africa. When combined, all of its cities amount to make it the fifth largest city in the country. The largest cities within Tshwane include Pretoria, Soshanguve, Mamelodi, and Centurion. Pretoria is the seat of the administrative government of South Africa. 
Biggest Cities In South Africa
| Rank | City | Population |
| --- | --- | --- |
| 1 | Johannesburg | 4,434,827 |
| 2 | Cape Town | 3,740,026 |
| 3 | Ethekwini (includes Durban) | 3,442,361 |
| 4 | Ekurhuleni | 3,178,470 |
| 5 | Tshwane | 2,921,488 |
| 6 | Nelson Mandela Bay | 1,152,115 |
| 7 | Buffalo City | 755,200 |
| 8 | Manguang | 747,431 |
| 9 | Emfuleni | 721,663 |
| 10 | Polokwane | 628,999 |