Biggest Cities In South Korea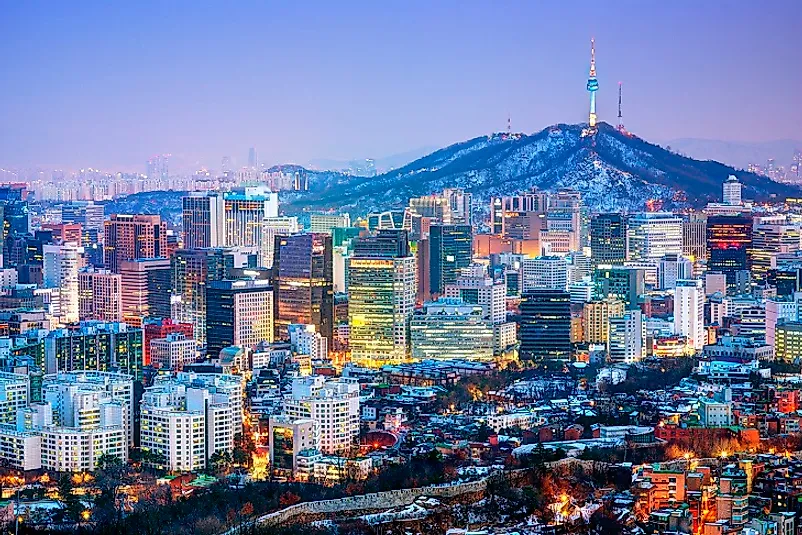 South Korea is a highly urbanized, densely populated country that is located on the Southern half of the Korean Peninsula. South Korea is known as the most developed country within East Asia, and with this level of development, South Korea has become a leading world economy. South Koreans are also known for their ingenuity, and inventiveness, as witnessed by the rise of South Korean brands such as Hyundai, LG, and Samsung. This article will explore the ten largest cities of this fascinating country.
Seoul
Seoul, the capital of South Korea, is home to half of the South Korean population in metropolitan area, and the 25,000,000 people therein and their surroundings are highly urbanized, with high rise apartments dominating the Seoul skyline. Seoul is known as a leading global city with regards to her economy, livability, and technology available to the citizens who live there. Seoul's history traces back to 4,000 BC, with settlement of the Han river (in which Seoul is located) beginning during this time. The city itself used to be surrounded by a large wall, protecting citizens from wild animals, attacks from outside forces, and crime. During the Korean War (1950-1953), Seoul was devastated by the ravages of war and the capital city had to be moved to Busan for 2 years (1951-1953). During this war, control of Seoul was passed between Russian/Chinese backed North Koreans and the American backed South Koreans several times, depending on the advances/retreats of each side. Due to the rapid growth of Seoul, transportation facilities have struggled to keep up, with regular traffic jams and crowded streets becoming somewhat normal in the city.
Busan
Busan, South Korea's second largest city, is home to 8.2 million people. The city is located in the south east and has become the largest industrial area of South Korea. Additionally, Busan boasts the fifth busiest sea port in the entire world. Known as the "Summer Capital of South Korea," the beaches, the restaurants, and cafes that dote the shoreline in Busan, are considered major tourist spots during summer months. Busan also has the world's largest department store, Shinsegae in Centum City. As mentioned above, Busan was briefly the capital city of South Korea during the Korean War. Busan is well known as a passionate baseball city as well as being well known for basketball, football (soccer), horse racing and cycling. Busan is geographically the closest South Korean City to Japan.
Incheon
Incheon, South Korea's third largest city, is located in the northwestern part of South Korea, and it is a large coastal city. Home to 2.9 million people, which is staggering considering that only 4700 people lived there when the city became an international port in 1883. Shortly after Incheon became an international port, the city became a major gateway for cultural and commercial trades between South Koreans and foreigners. Home of South Korea's only officially recognized Chinatown, created due to the friendly trade relations between China and South Korea, Incheon has approximately 50,000 Chinese citizens. The city declared itself as an "English City" with free English language lessons for citizens. Incheon strives to mirror other Asian English Cities such as Hong Kong and Singapore.
Daegu
Daegu is home to 2.5 million people, making this city the fourth largest in South Korea. Originally known as a manufacturing industry city, in recent years, Daegu's economy has lost growth with the decline of the textile industry. Daegu is the second largest inland city, after Seoul. Very few non Koreans live here. Daegu is surrounded by mountains, many of which house Buddhist temples. There is a large art and cultural scene within this city, and Daegu International Opera Festival and the Daegu International Body Painting Festival are two famous arts festivals this city hosts. Although Daegu is a major metropolitan city, many Koreans who live there enjoy the balance between metropolis and nature, which is seen in the surrounding mountains as well as within the many parks this city offers.
Daujeon
Just over 1.5 million people live in Daujeon, making the city the fifth largest in the country. Daujeon is a major transportation hub for South Korea located at the crossroads of two major highways and two major rail lines. Daujeon has been called the "Silicon Valley of Asia" due to the many universities (18 in total) as well as the numerous private and public scientific research facilities. Daujeon is located very close to the center of the country. Similar to Daegu, Daujeon is surrounded by mountains and Gyeryongsan National Park is located at the Western border of the city. Daujeon is a provincial center for media, with publishing, television, and newspaper organizations present within the city. Home to government offices since 1997, which was an initiative to alleviate the overcrowded city of Seoul.
Gwangju
Gwangju was established in the year 57 BC, and is located in the southwestern part of South Korea. Almost 1.5 million people (1.477 Million) live in Gwangju. People who live in this city are considered to have the highest level of art sophistication and artistic knowledge in the entire country. Gwangju is also very well known for the diverse cuisine available. An interesting statistic from Gwangju is that 28.5% of the total city population are students! The city is linked to Seoul by rail, which has historically encouraged the cities industries to flourish. Gwangju's economy relies on cotton textiles, rice processing plants, and breweries.
Suwon
Suwon is home to around 1.2 million people, and is located 19 miles to the south of the capital city of Seoul. This city remains the only totally walled city in the entire country, and these walls and gates remain popular tourist attractions. During the Korean War, this city changed hands four times, and was greatly effected by this conflict. The main employer in Suwon is Samsung, which has been operating in Suwon since 1967. The headquarters of Samsung are also located in Suwon. The city prides itself on the cleanliness and conditions of their public bathrooms, even offering tours of public bathroom facilities!
Ulsan
Home to 1.1 million people, Ulsan is located in the southeastern part of the country. Busan (the second biggest city in South Korea) is located to the south of the city. Ulsan is home to the world's biggest automobile assembly factory (Hyundai), the world's biggest shipyard (also operated by Hyundai), as well as the second largest oil refinery in the world, which is operated by SK energy. Ulsan not just for manufacturing, the city boasts several tourist attractions such as the Yeongnam Alps, grand parks, South Korea's only whaling museum, and Oegosan Onggi village (a traditional folk village).
Changwon
Changwon is located in the southern part of South Korea, and is a coastal heavy industry city. Changwon absorbed two other cities (Masan and Jinhae) in 2010 to form its current expanded urban sprawl. Home to just over one million people, Changwon has urban space that other overcrowded South Korean cities do not. This urban space houses many intercity gardens and parks which are hugely popular. Changwon is growing city, and a new major subway and train line through the city targets a 2021 completion date.
Seongnam
The tenth biggest city in South Korea, Seongnam is home to just under one million people. A satellite city of Seoul, Seongnam is located in the northwestern part of the country. Seongnam was the first South Korean city to be planned by the government. Being reasonably close to Seoul, Seongnam City has been used to alleviate some of the over populated city, with many incentives for conducting business available for companies who base themselves here. Seongnam is also considered a great spot for tourists, with many attractions and a useful transportation network from downtown Seoul available.
Biggest Cities In South Korea
| Rank | Biggest Cities in South Korea | Metro Population |
| --- | --- | --- |
| 1 | Seoul | 25,514,000 |
| 2 | Busan | 8,202,239 |
| 3 | Incheon | 2,978,367 |
| 4 | Daegu | 2,492,994 |
| 5 | Daujeon | 1,535,028 |
| 6 | Gwangju | 1,477,780 |
| 7 | Suwon | 1,170,878 |
| 8 | Ulsan | 1,163,690 |
| 9 | Changwon | 1,070,199 |
| 10 | Seongnam | 994,271 |