Branson Mo Map - Missouri Vacation Cities, Silver Dollar City


Known as the live music show capital of the world, Branson is a popular vacation destination and cultural center in Missouri. With its international and American acts, Branson is the city to visit for top entertainment.

In the heart of the Ozark Mountains in southwest Missouri, Branson offers scenic views of the country while being known for its bright lights and live entertainment. This once small town is now one of the top travel destinations on the U.S. map. Imagine Orlando meets Nashville.

Branson also has something to offer individuals wanting to escape the hustle and bustle. During the autumn season, this Midwest town is full of breathtaking foliage, and the city's crystal clear lakes are the perfect place for spring and summer fishing and boating.




Hollywood Wax Museum
Voted the 'Best American Wax Museum' by the Travel Channel, this landmark museum dedicated to celebrity figures, is appropriately placed in the entertainment capital of the Midwest. Step into the spotlight with the Hollywood stars. Strike a pose and have the camera ready to capture the unbelievable realism of wax. The museum showcases vintage and current stars such as Johnny Depp, Elvis Presley, Marilyn Monroe, Will Smith and John Wayne in some of their most memorable roles. Sister museums are also available in Gatlinsburg and Hollywood. Learn about the art of wax figure creation through live demonstrations and detailed exhibits.
Silver Dollar City
This Missouri theme park is an 1880's-themed experience that features worlds of adventure for everyone in the family. Combining the thrills and fun of popular parks with the dedication to preserving the Ozarks culture, Silver Dollar City was named one of the top theme parks in the world. The park contains over 30 rides, 60 unique shops and restaurants, and 40 shows per day. Silver Dollar City is host to six major music and cultural festivals each year and features its own Showboat, the Branson Belle. Over 100 craftsmen are scattered throughout the park giving demonstrations in arts such as glassblowing, candle making and basket weaving.
Branson's Dinosaur Museum
Journey back into the prehistoric age on the Dinosaur Walk! This Branson museum does not focus its exhibits on fossils and bones, but rather on life-size dinosaur sculptures. Created in detail by artists working in the Utah desert, the museum's dinosaurs make up one of the world's largest collections. Ranging from the 12-inch 'Microraptor' to the two-story high T-Rex, these dinosaurs are sure to deliver fun for the whole family. The museum also has a movie theater showing educational movies and plenty of hands-on activities for children.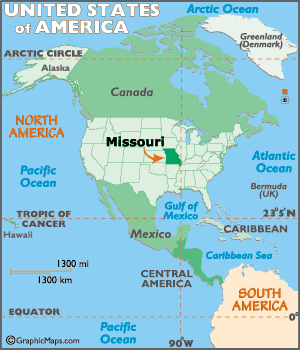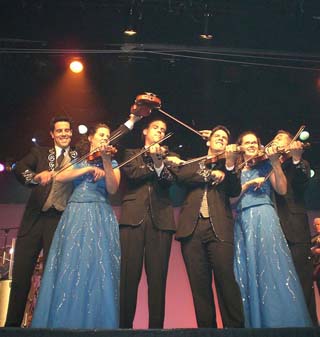 The Duttons, at their theater in Branson Pauliefred at en.wikipedia.org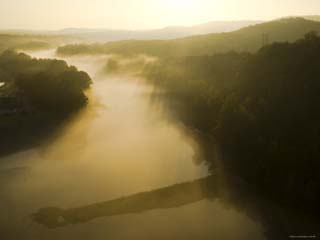 Ozarks Near Branson...
by Alan Copson
Buy This at Allposters.com