The Best State Parks In The United States
In a world where industrialization and an ever-expanding population threaten the existence of nature's enclaves, the USA stands out as a defender of wild spaces. For over a century, leaders across the 50-state federation have designated remarkable geographical territories as protected and public environments, including the thousands of state parks that dot the country. These state parks are made accessible by the successful efforts of groups like the 1930s Civilian Conservation Corps (CCC) and the many heroic rangers and officials who work daily to preserve these lands for future generations. After all, having a chance to escape urban claustrophobia through activities like hiking, camping, and mountain climbing is paramount for social well-being. Furthermore, these state parks act as sanctuaries to millions of wildlife species continually forced out of their original ecosystems. 
Red Rock State Park, Arizona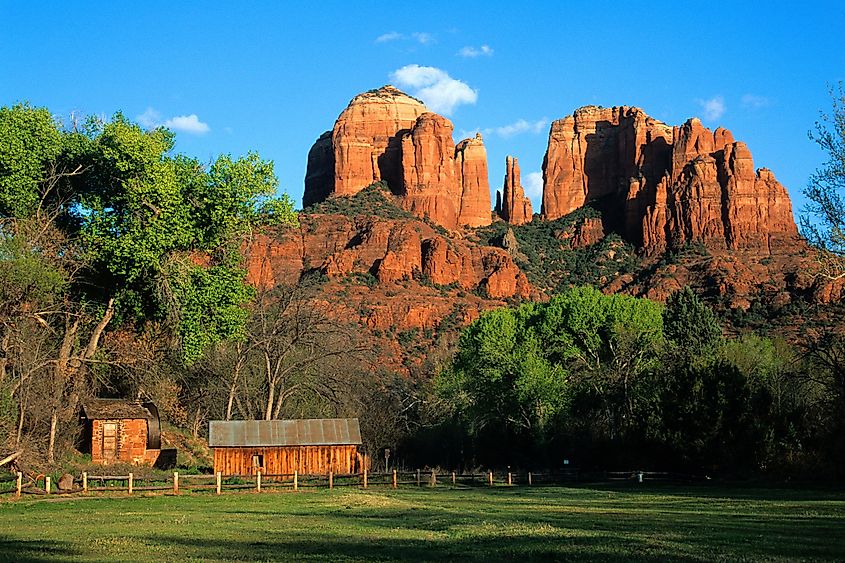 Red Rock State Park, located near Sedona, Arizona, is a 286-acre nature preserve known for its striking red sandstone formations, a geological spectacle that dates back millions of years. The park is home to Cathedral Rock, a natural monument that changes from orange to deep red as the sun sets. Bell Rock, another iconic formation, is considered a spiritual vortex by some visitors. Oak Creek Canyon, carved by the river over eons, offers a lush contrast to the arid desert. Red Rock State Park, therefore, serves as a testament to the ancient, relentless forces of wind and water that sculpted this awe-inspiring landscape.
Custer State Park, South Dakota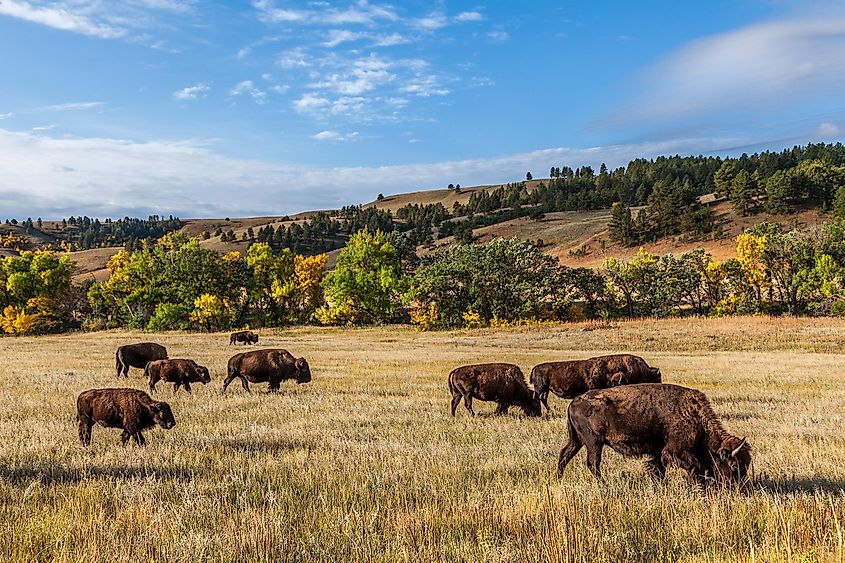 South Dakota's largest and first state park, Custer State Park, spans 71,000 acres of pristine landscapes. It is known for its free-roaming bison herd, a sight that transports visitors back to the wild frontier. The park is named after Lt. Colonel George Armstrong Custer, whose 1874 expedition led to the Black Hills Gold Rush. Among the park's key attractions is Needles Highway, a scenic drive that winds through granite "needle-like" formations. Sylvan Lake, created in 1881, offers a tranquil setting encircled by impressive granite cliffs. In essence, Custer State Park embodies the rugged majesty of the Great Plains, making it a must-visit destination.
Silver Falls State Park, Oregon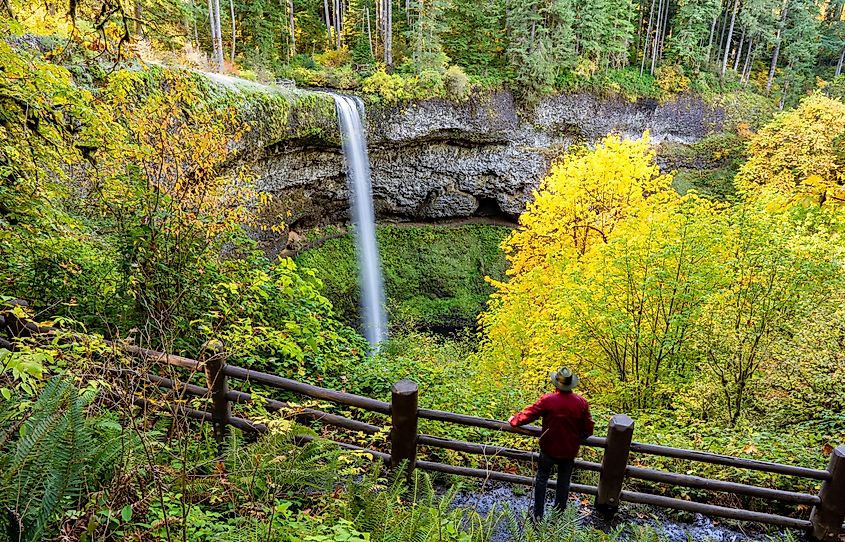 Nestled in the foothills of Oregon's Cascade Mountains, Silver Falls State Park is a haven for waterfall enthusiasts. The park's Trail of Ten Falls takes visitors on a breathtaking journey past ten stunning waterfalls, including the 177-foot South Falls, where a path leads behind the cascade, offering a unique vantage point. The park, spanning over 9,000 acres, is the largest in Oregon and is home to a temperate rainforest, showcasing the region's immense collection of flora and fauna. The area's volcanic and glacial history is evident in the park's basalt rock formations. Last, its history is also marked by early 20th-century logging and Civilian Conservation Corps projects, elements (like bridges and campsites) of which remain in the park today.  
Valley Of Fire State Park, Nevada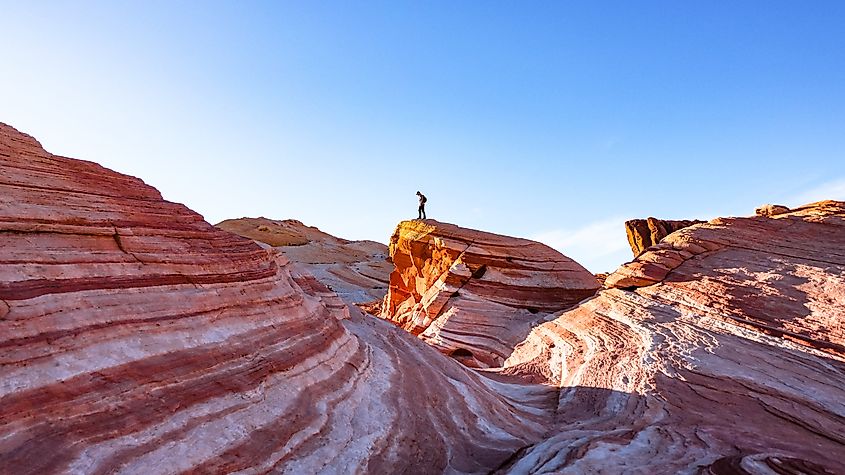 Carved into the arid Nevada desert, Valley of Fire State Park dazzles with its fiery red sandstone formations. Its name, suggestive of flames licking the sky, comes alive when the sun's rays hit the sandstone, setting the park ablaze with color. Of particular interest are Mouse's Tank, a natural basin named after a Southern Paiute Indian renegade, and Fire Wave, an undulating rock formation resembling ocean waves. Ancient history is etched into the landscape here, with petroglyphs dating back over 2,500 years, offering a glimpse into the life of indigenous tribes. The key takeaway for those who are lucky enough to spend time in the Valley of Fire is that it is a geological wonder and anthropological treasure that forms an unforgettable encounter with the raw beauty of the Mojave Desert.
Myakka River State Park, Florida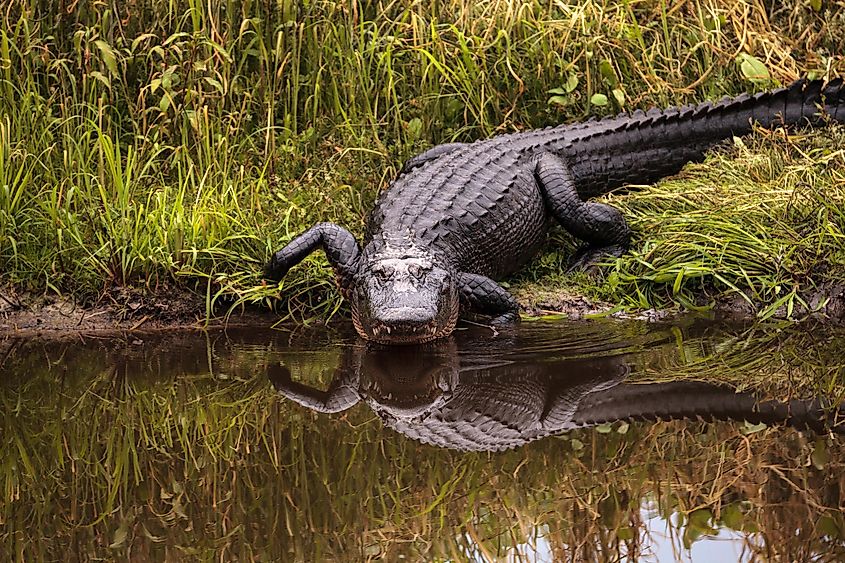 A brilliant tapestry of ecosystems unfurls across Florida's Myakka River State Park. Covering 37,000 acres, it's one of Florida's oldest and largest state parks. The park's namesake, the Myakka River, is a designated Florida Wild and Scenic River, meandering through wetlands, prairies, hammocks, and pinelands. The Canopy Walkway, an aerial footbridge suspended 25 feet above the ground, offers a rare, bird's-eye view, of the forest. The park's history also dates back to the 1930s when the Civilian Conservation Corps developed the area's infrastructure. Whether by foot, bike, or kayak, Myakka River State Park invites visitors to explore the breadth of Florida's landscapes and wildlife.
Devil's Lake State Park, Wisconsin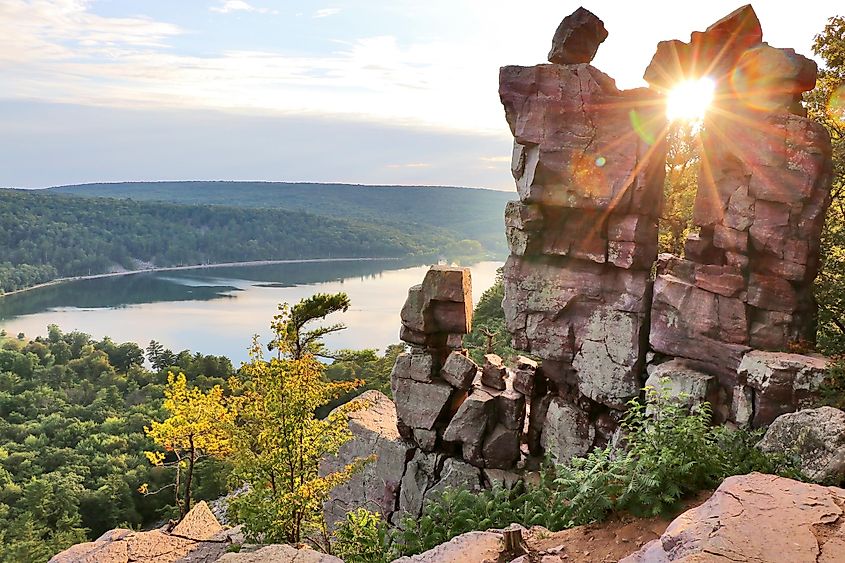 In the heart of Wisconsin, Devil's Lake State Park offers a fascinating mix of natural beauty and geologic history. The park's centerpiece, Devil's Lake, is a 360-acre body of water ensconced between 500-foot quartzite bluffs, remnants of ancient mountain ranges sculpted by glaciers during the last Ice Age. The Balanced Rock Trail, featuring a precarious rock formation teetering on the edge of a cliff, is a popular attraction. The park is also rich in Native American history, with effigy mounds offering silent testimony to the region's past inhabitants. 
Dead Horse Point State Park, Utah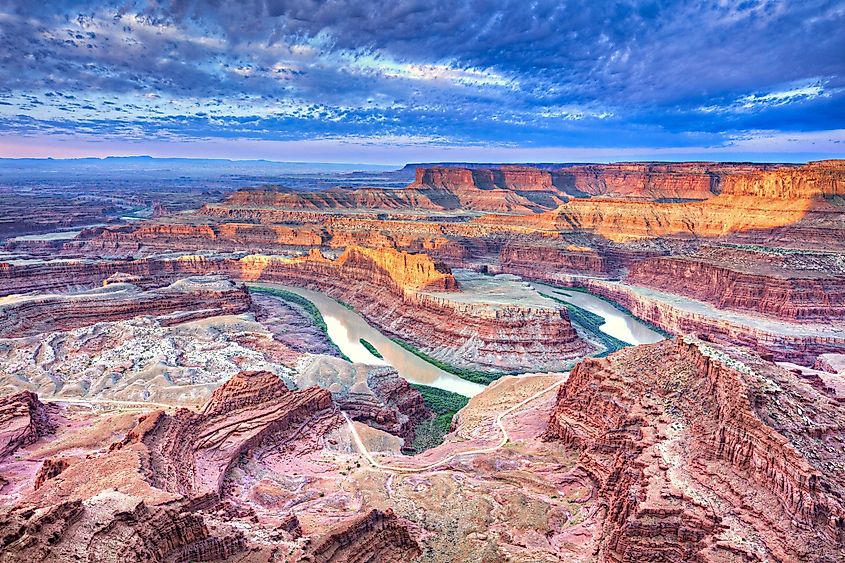 Perched above a gooseneck in the Colorado River, Dead Horse Point State Park in Utah provides breathtaking views of canyon country and the pinnacles and buttes of Canyonlands National Park. Named for a tragic legend of horses left to die on the point, the park showcases the harsh beauty of the desert. The Intrepid Trail System, with over 16 miles of hiking and biking trails, guides visitors through the unique geological colors and textures of the area. From the iconic Dead Horse Point overlook, 2,000 feet above a stark bend in the Colorado River, visitors are treated to an ever-changing landscape of shadow and light.
Harriman State Park, Idaho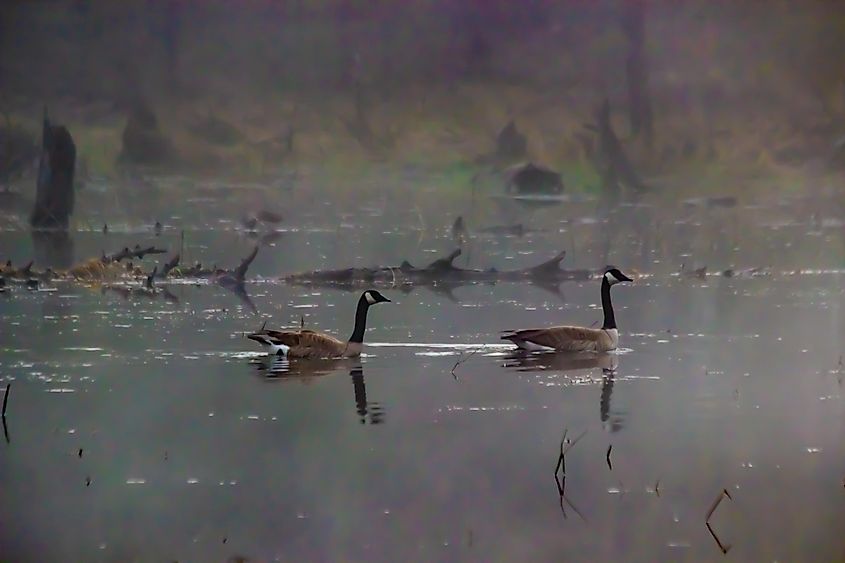 Named for railroad magnate Edward Harriman, Harriman State Park in Idaho offers a remarkable blend of history, wildlife, and scenic beauty. Once the site of the illustrious Harriman family's "Railroad Ranch," it's a haven for fly fishing, bird watching, and exploring unique volcanic geology. The park encompasses the Henry's Fork of the Snake River, known for its superb fly fishing, and is home to an array of wildlife, including moose, elk, and Sandhill cranes. The historic Railroad Ranch buildings provide a glimpse into the past, offering a unique blend of natural and human history that adds depth to any visit.
Franconia Notch State Park, New Hampshire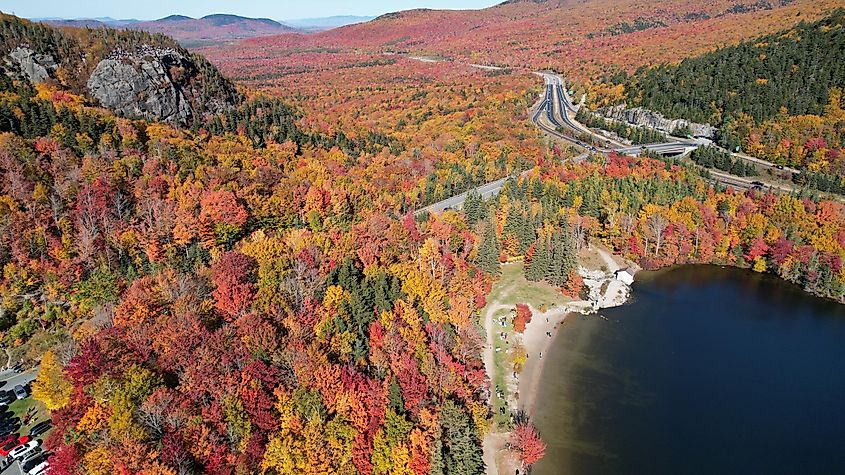 Nestled in the heart of the White Mountains, Franconia Notch State Park is a testament to New Hampshire's stunning natural beauty. Once the home of the "Old Man of the Mountain," a granite profile that sadly crumbled in 2003, the park remains a beloved destination. The Flume Gorge, an 800-foot-long chasm lined with ferns, mosses, and wildflowers, offers an enchanting walk on wooden boardwalks. Visitors can also explore the park's extensive trail network, including a portion of the Appalachian Trail. 
The value of state parks extends beyond their fantastical landscapes and recreational opportunities. They are strongholds of biodiversity, hotbeds of historical knowledge, and spaces where we can reconnect with nature and ourselves. In a world increasingly dominated by technology and commercial development, these parks stand as a reminder of the importance of preserving natural spaces for our civilization's inheritors, both for the wildlife that depend on them and for the human spirit that finds solace and inspiration in their beauty. Through self-education and by physically visiting these locations, one does a service to mankind by adopting a desire to preserve these spectacular regions.