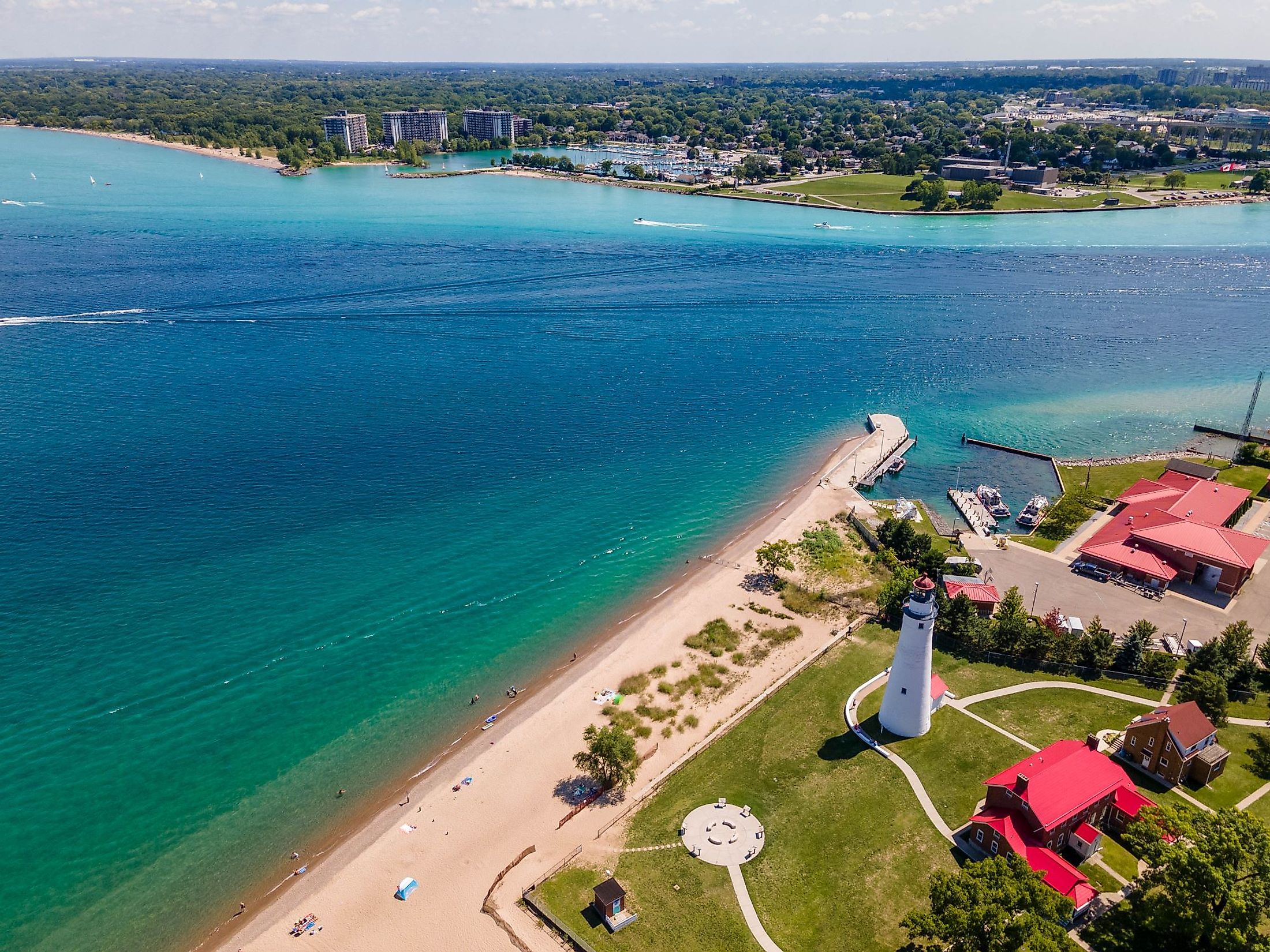 The St. Clair River is a 65.2 km long river that flows from Lake Huron into Lake St. Clair and forms a portion of the international boundary between the US State of Michigan and the Canadian province of Ontario. The St. Clair River functions as a crucial shipping route in the Great Lakes Seaway system. The river is also a source of water supply, a habitat for fish and animals, and a location for fishing, hunting, trapping, swimming, boating, and natural studies.
Geography Of Saint Clair River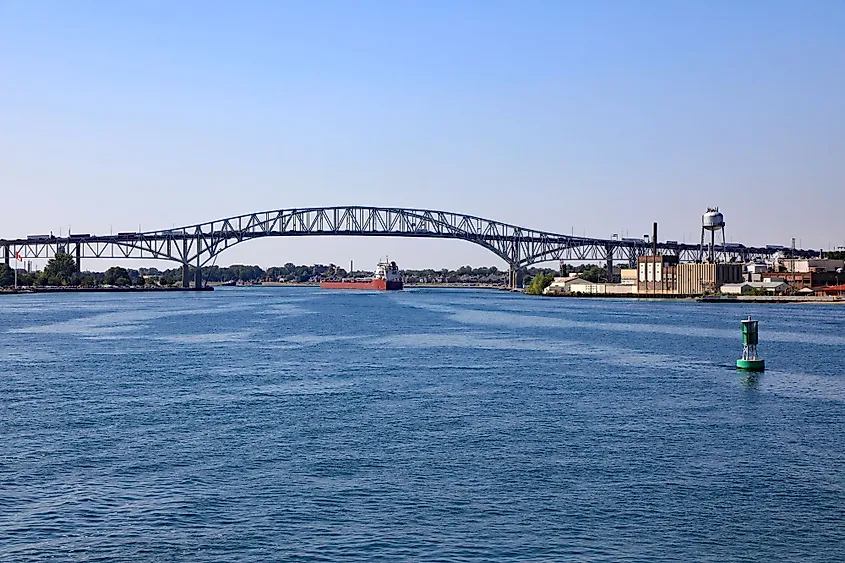 The St. Clair River, which some people refer to as a "strait," flows from the southern tip of Lake Huron to the northern tip of Lake St. Clair in a southerly direction. The river is 65.2 km long, and the elevation change from Lake Huron to Lake St. Clair is 5 feet. The drainage area is 579,000 sq. km, and the average flow rate is around 182,000 cubic feet per second, considering the combined drainage regions of Lake Superior, Lake Huron, and Lake Michigan. The St. Clair River dumps gallons of freshwater into the lower Great Lakes over Niagara Falls and out via the St. Lawrence Seaway to the Atlantic Ocean. 
Near the Blue Water Bridge, the St. Clair River's waters are deep and fast, while those farther down the river are shallow and slow. It divides into several channels close to its mouth in Lake St. Clair, forming the St. Clair Flats, a significant delta region. Many of St. Clair's neighboring villages rely on the river as their primary drinking water supply. The Detroit River and St. Clair River together supply water to between one-third to one-half of Michigan's residents.
History Of Saint Clair River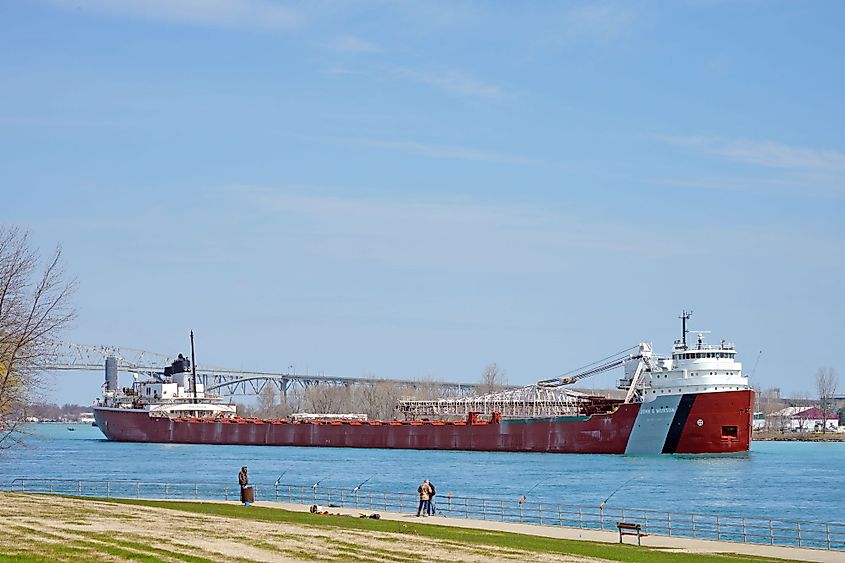 French voyageurs and French-Canadian traders traveled on the river in the 18th century to trade with the Ojibwa and other local Native Americans and bring furs in canoes to important trading posts of the French and British, notably Fort Detroit, constructed in 1701 downstream below Lake St. Clair. Until the 1830s, there was a large market for American furs in Europe. Wooden ships from Port Huron and Marine City, Michigan, built in the middle of the 19th century, ferried immigrants up the river and through the upper Great Lakes to the American West. 
The Thumb of Michigan was used to collect lumber, which was then transported to Detroit in log rafts for processing and export. Early in the 20th century, lake steamers transported people between the little villages lining St. Clair and Detroit rivers as well as all over the Great Lakes. The Great Lakes were traversed by steel-built lake freighters during the 20th century as they transported grain, copper, and iron ore from the Mesabi Range and other agricultural goods. Iron was transported to Ashtabula, Ohio, and other industrial centers for processing and making steel, while grain was frequently transported to important eastern markets like Cleveland and New York City.
Ecology Of Saint Clair River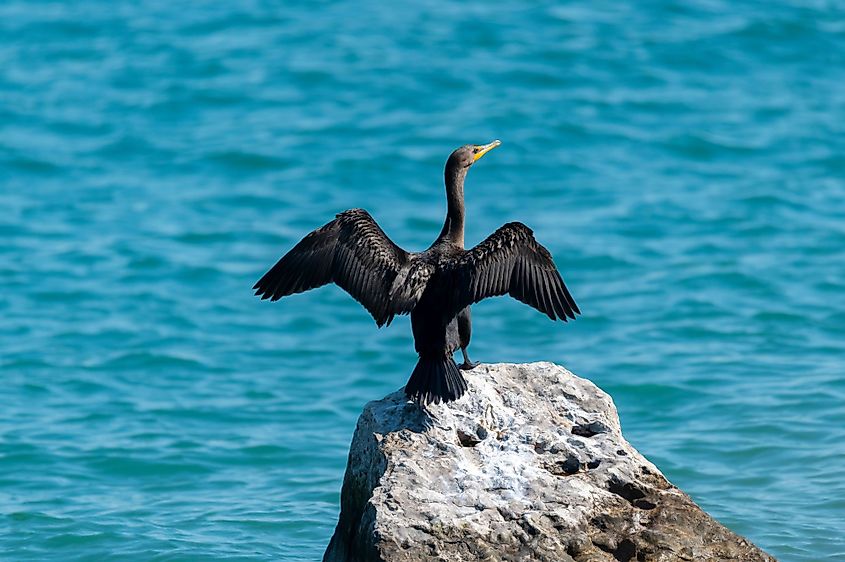 St. Clair - Detroit River System's various habitats are home to 65 species of fish as well as numerous bird, amphibian, reptile, mammal, and mussel species. Among the animal species found along the river are white-tailed deer, ring-necked pheasants, raptors, coyotes, red foxes, squirrels, rabbits, muskrats, numerous amphibians and reptiles, and neo-tropical migratory songbirds. Furthermore, the river offers a vital habitat for a variety of endangered, rare, and distinctive species, such as sandhill cranes, black terns, ospreys, bald eagles, king rails, eastern fox snakes, common loons, short-eared owls, snowy owls, yellow-spotted turtles, and eastern bluebirds.
The river also supports the country's most successful walleye, bass, and Muskellunge sport fisheries. Mooneye, Lake Moreover, Sturgeon, Mudpuppy, Pugnose Minnow, Northern Madtom, Canvasback, Muskellunge, and Smallmouth Bass are some of the important and rare fish species that are found in the St. Clair River.
Threats And Mitigations
The St. Clair River was first designated as an Area of Concern (AOC) in 1987 as part of the Great Lakes Water Quality Agreement between the US and Canada; due to pollution and sediment from heavy metals, toxic organics, and E. coli bacteria that all resulted from the industrial expansion and agricultural activities along the river's both shores. This also led to the deterioration of tributary, wetland, river, coastal, and benthic ecosystems. Consequently, healthy habitats for native fish and animal populations became less readily available.
In-water, benthic, coastal, wetland and upland habitat restorations were the focus of management initiatives that were taken along the St. Clair River. The installation of three fish spawning reefs, securing trees to the streambank, removing 2,200 feet of deteriorating steel barrier, and re-connecting the river's floodplain and wetlands were projects designed to promote healthy habitat for fish populations and benthic invertebrates. In-river breakwaters were built as part of shoreline rehabilitation efforts, and wooden structures and cobble substrates were placed along the shoreline. Native trees, shrubs, and wildflowers were planted in their place, while invasive species were treated and eliminated from the beach and other regions. Additionally, these restoration initiatives also increased the St. Clair River's recreational potential.