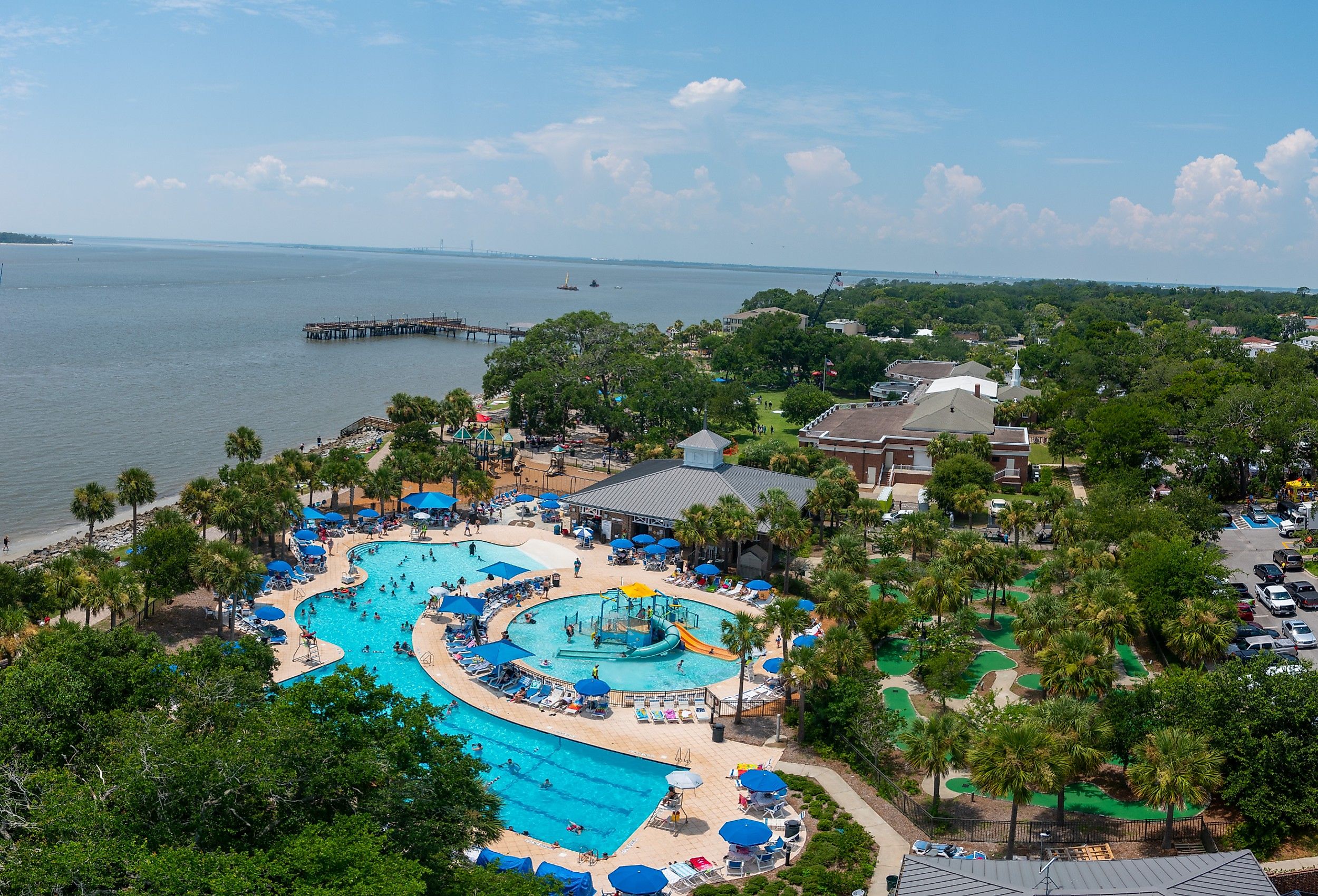 Best Day Trips From Jacksonville to Take This Summer
Escape the hustle and bustle of Jacksonville, Florida, this summer with exciting day trips just a short drive away. Within a few hours by car, you can discover various locations offering diverse experiences. From historic cities and pristine beaches to nature preserves and charming towns, these day trip options have something for everyone. Explore the rich history of St. Augustine, soak up the sun on Amelia Island's beaches, or immerse yourself in the natural beauty of the Ocala National Forest. Whether you are seeking outdoor adventures or a relaxing beach getaway, these day trips provide the perfect opportunity to explore and make the most of your summer.
St. Augustine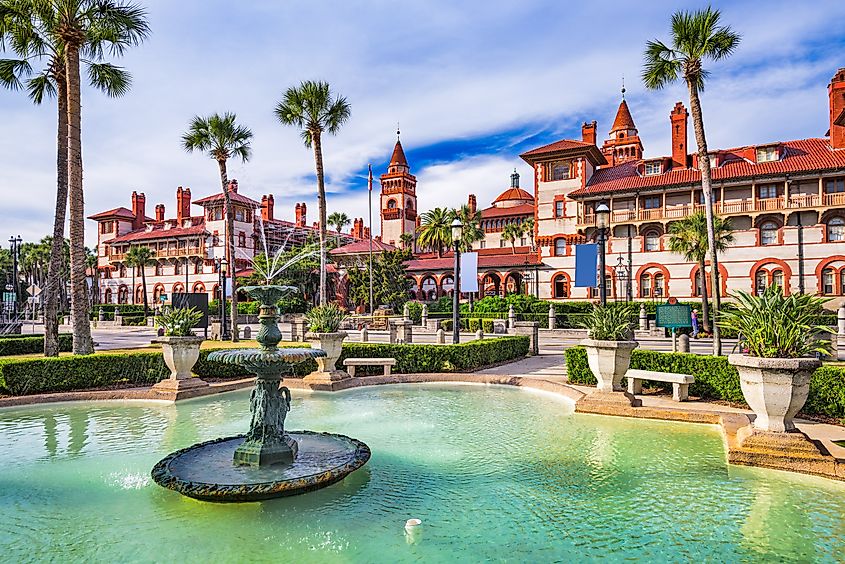 St. Augustine, Florida, is an excellent destination for summer vacation. Castillo de San Marcos, a well-preserved fort, and St. George Street, for its numerous shops and art galleries, are worth visiting. Visit Whetstone Chocolates, a factory, and shop where you can indulge in artisanal chocolates and witness the chocolate-making process. Explore Flagler College's campus, the beaches of Anastasia State Park, and the Lightner Museum, a historic hotel with an intriguing art collection. With its scenic splendor and numerous shopping opportunities, St. Augustine is a lovely vacation for history buffs and shopaholics alike.
Amelia Island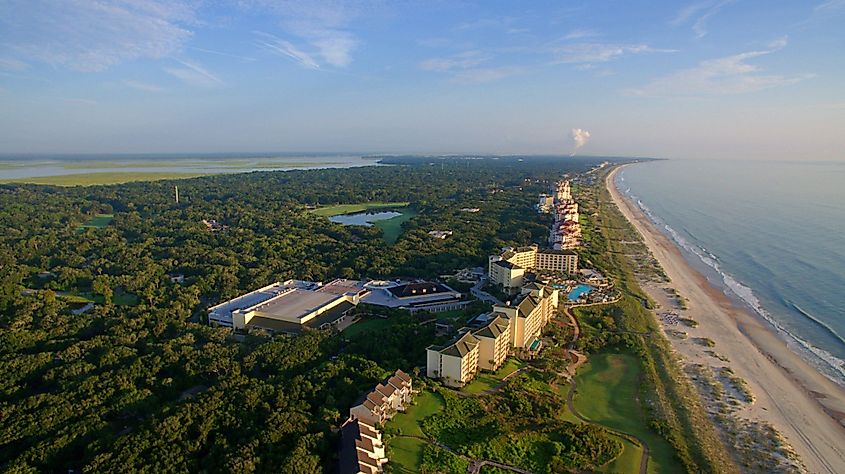 Amelia Island offers natural beauty and retail opportunities. Begin with magnificent beaches, then wander down the Amelia Island Trail and discover downtown Fernandina Beach, packed with stores, boutiques, and art galleries. Explore the Amelia Island Historic District, noted for its Victorian architecture, or enjoy seafood at local eateries. Learn about the island's rich heritage and fascinating stories at the Amelia Island Museum of History. Visit The Book Loft, a  cozy independent bookstore with a diverse collection of books, including local interest titles, bestsellers, and hidden gems. The gorgeous coastal vistas on Amelia Island make it a fantastic day trip adventure.
Gainesville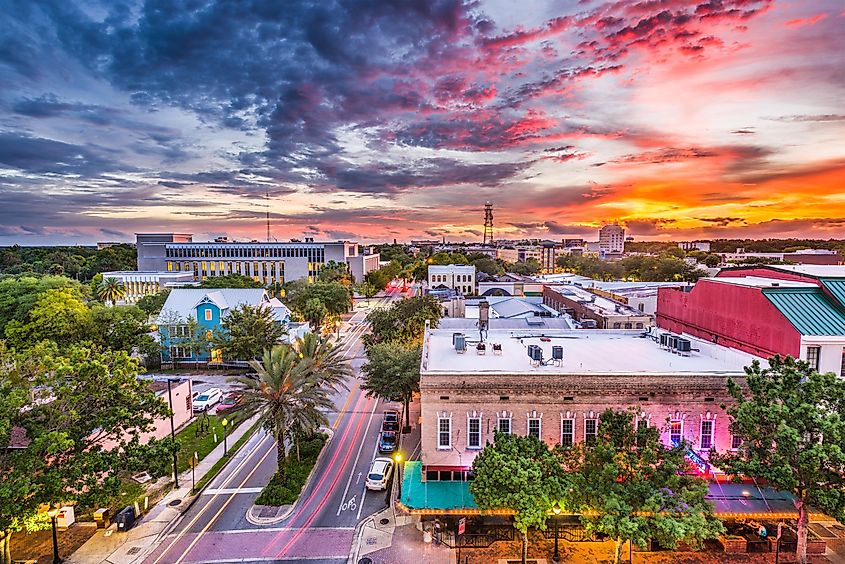 A day trip to Gainesville, Florida, provides various activities and shopping. Begin your journey in Paynes Prairie Preserve State Park, where you may see wildlife, stroll trails, and ride an airboat. Visit the Butterfly Rainforest at the Florida Museum of Natural History, an indoor exhibit displaying tropical butterflies and lush greenery. Explore the historic downtown district, the Hippodrome State Theatre, and the quaint boutiques and bookstores on Main Street. Gainesville's arts and music scene also provides live performances and cultural events for a fun day trip.
Cumberland Island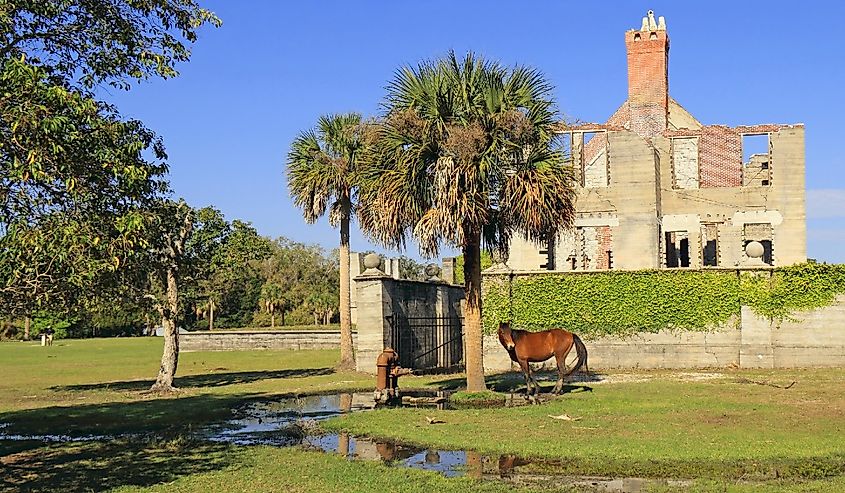 Cumberland Island is a beautiful island that can be reached by ferry from Fernandina Beach. It is well-known for its natural beauty as well as its historical significance. Visitors can explore the island's habitats, including marshes, marine forests, and freshwater lakes, home to various wildlife. The Dungeness Ruins, a large mansion built by the Carnegie family, and exquisite gardens are well worth seeing. Visitors can enjoy a picnic on the beach or take a guided tour to learn about the island's rich history and natural beauty.
Cumberland Island is among the Sea Islands and offers a unique opportunity to escape to a remote and untouched paradise, making it a memorable day trip experience.
Ocala National Forest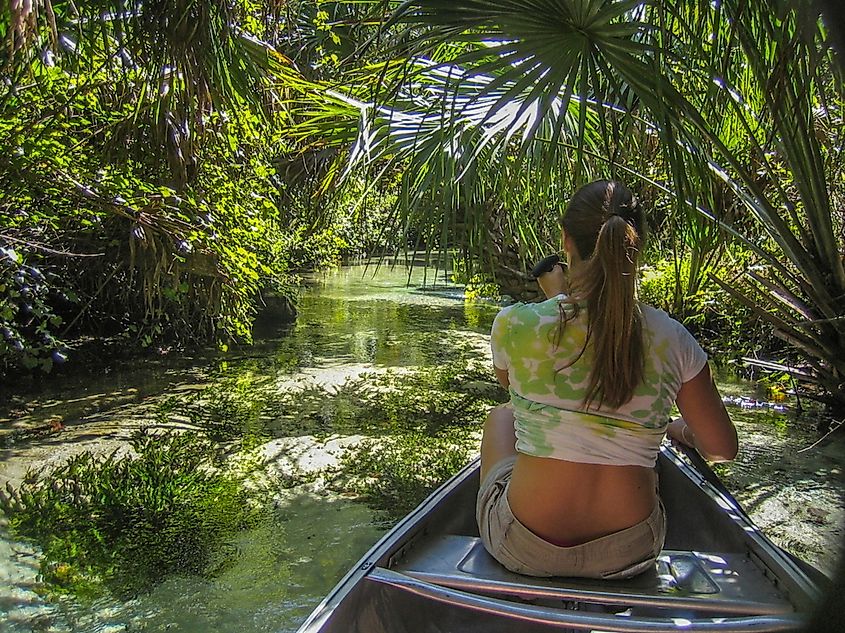 Ocala National Forest, located just outside Jacksonville, is a haven for outdoor enthusiasts and wildlife lovers. It has a variety of sites of interest and locations to explore, such as the crystal-clear springs of Silver Springs and Juniper Springs, picturesque routes, such as the Florida Trail, and designated recreation areas.
Picnics and fishing in one of the forest's many lakes are other popular activities for visitors. Nearby towns like Silver Springs and Ocala offer quaint boutiques, antique stores, and local cafes for post-adventure exploring. The Ocala National Forest is a nature lover's dream, allowing visitors to immerse themselves in its natural treasures and create lifelong memories.
Jekyll Island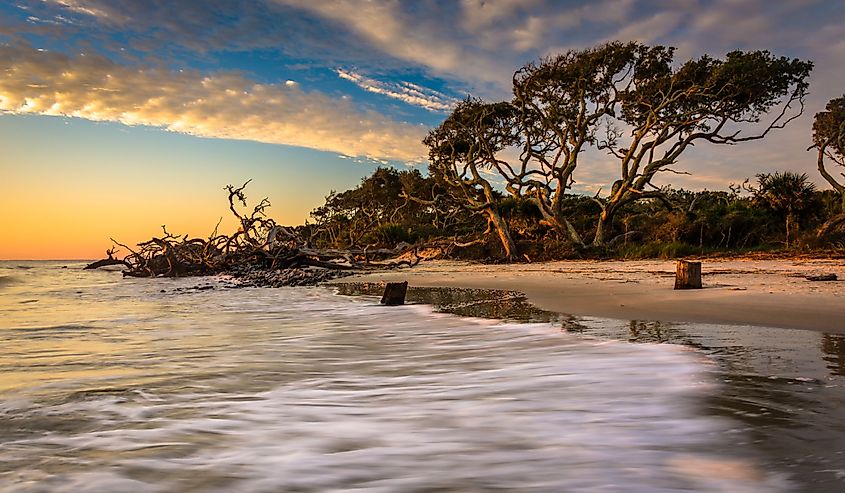 Jekyll Island, Georgia, is a treasure trove for shopaholics seeking distinct finds, the famed Driftwood Beach, and fascinating history. Explore the Jekyll Island Historic District, take a bike ride or kayak through the salt marshes, visit the Jekyll Island Museum and Georgia Sea Turtle Centre, and shop at Beach Village and the Jekyll Island Shopping Centre. The Jekyll Wharf Boutique showcases coastal-inspired clothing and accessories. Stop by the Jekyll Island Arts Association's Gallery and Gift Shop for locally made crafts. Jekyll Island is a pleasant getaway for beachgoers and history buffs, with natural beauty and attractive amenities.
St. Simons Island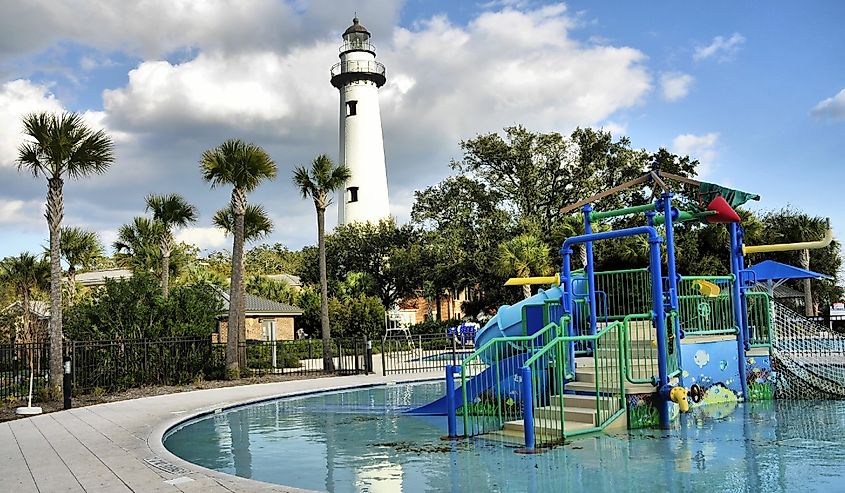 Saint Simons Island, featuring various attractions, starts with the magnificent St. Simons Lighthouse, which provides panoramic views of the island and its surroundings. Explore the beaches of East Beach, Gould's Inlet, and the picturesque St. Simons Pier. Visit Two Friends Boutique, known for its stylish clothing and accessories, and G.J. Ford Bookshop, a charming independent bookstore.
Cannon's Point Preserve offers scenic walks along a six-mile peninsula, stunning views of the saltmarsh, and opportunities to explore maritime forests and wetlands. Learn about the island's history during WWII by visiting the World War II Home Front Museum. With coastal charm, natural beauty, and intriguing attractions, St. Simons Island is an excellent destination for leisure and discovery.
Black Point Wildlife Drive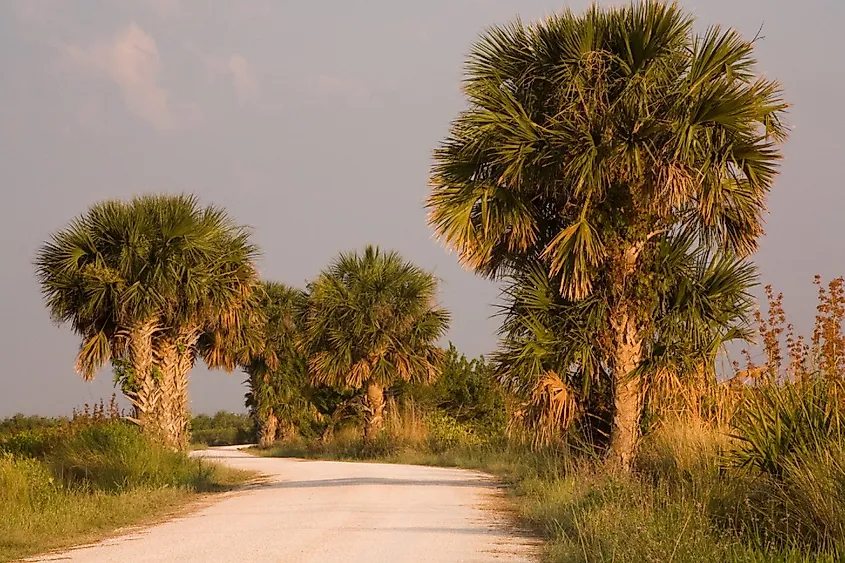 The Merritt Island National Wildlife Refuge's Black Point Wildlife Drive is a beautiful seven-mile drive, about 2 hours outside of Jacksonville, that provides a unique opportunity for wildlife aficionados. The trip takes you through various environments, including marshes, lakes, and pine forests, and offers opportunities to see animals such as bears, alligators, wading birds, waterfowl, and Florida scrub jay. It's prime territory to see a bear.
Visitors may watch wildlife up close and capture the area's natural beauty thanks to designated pull-off sites. Before or after the drive, nearby Titusville provides guests with food options and souvenir shops to explore. Black Point Wildlife Drive is a must-see for nature enthusiasts seeking an immersive experience in Florida's wildlife-rich regions.
Palatka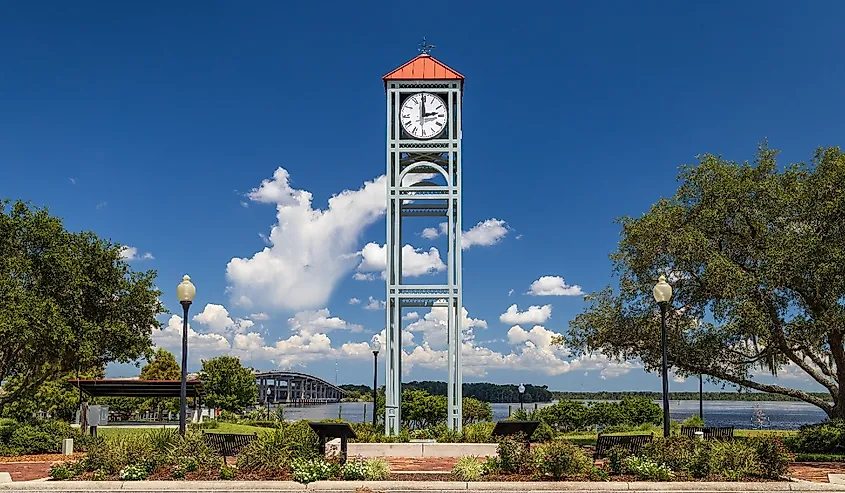 Palatka, Florida, is a hidden gem for shoppers seeking a mix of small-town charm with a combination of historical sites, only about 60 miles outside of Jacksonville. It sits along the St. Johns River and provides visual splendor and outdoor recreational activities. Visitors can wander along the riverbank, take a boat trip, and explore Ravine Gardens State Park, the historic downtown district, and the Palatka North Historic District. The neighborhood has lovely boutiques, antique shops, art galleries, and well-preserved Victorian-era architecture.
The Okefenokee Swamp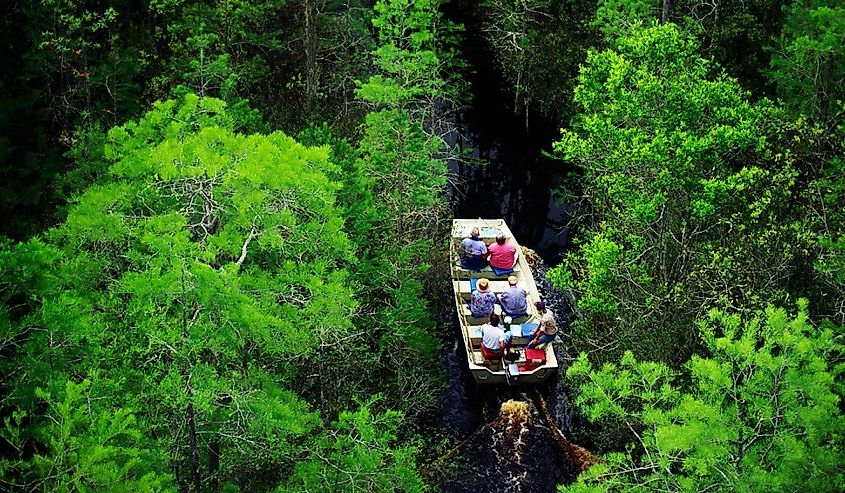 The Okefenokee Swamp, an awe-inspiring natural wonder in Georgia, offers extraordinary wildlife encounters and outstanding exploration opportunities. This large and picturesque marsh supports diverse habitats and an abundance of species. Take a guided boat trip or paddle through the water trails to immerse yourself in the tranquil beauty of the marsh. Watch for alligators, wading birds, and other exciting species.
Walk over raised boardwalks like the Chesser Island Boardwalk for an up-close encounter with the swamp's flora and fauna. While the swamp itself is not a hub for shops, there are nearby towns where visitors can explore local establishments. Visitors can find local crafts and souvenirs at the Okefenokee Swamp Park Gift Shop. The Okefenokee National Wildlife Refuge Visitor Centre offers educational displays and information about the swamp's swamp's heritage. A trip to the Okefenokee Swamp promises an exciting excursion in a natural setting.
With many day trip options within a 1 to 2-hour drive from Jacksonville, your summer adventures are just a short distance away. Whether for a dose of history, outdoor escapades, or a change of scenery, these destinations have you covered. From the historic streets of St. Augustine to the tranquil shores of Amelia Island, each place offers its unique charm and allure.
Embark on a journey through time, indulge in beachside relaxation, or immerse yourself in the beauty of nature. Whatever your preference, these day trips provide an ideal escape from the city, allowing you to create lasting memories and make the most of the summer season. So pack your bags, hit the road, and get ready for unforgettable day trips from Jacksonville that will leave you with a renewed sense of adventure.