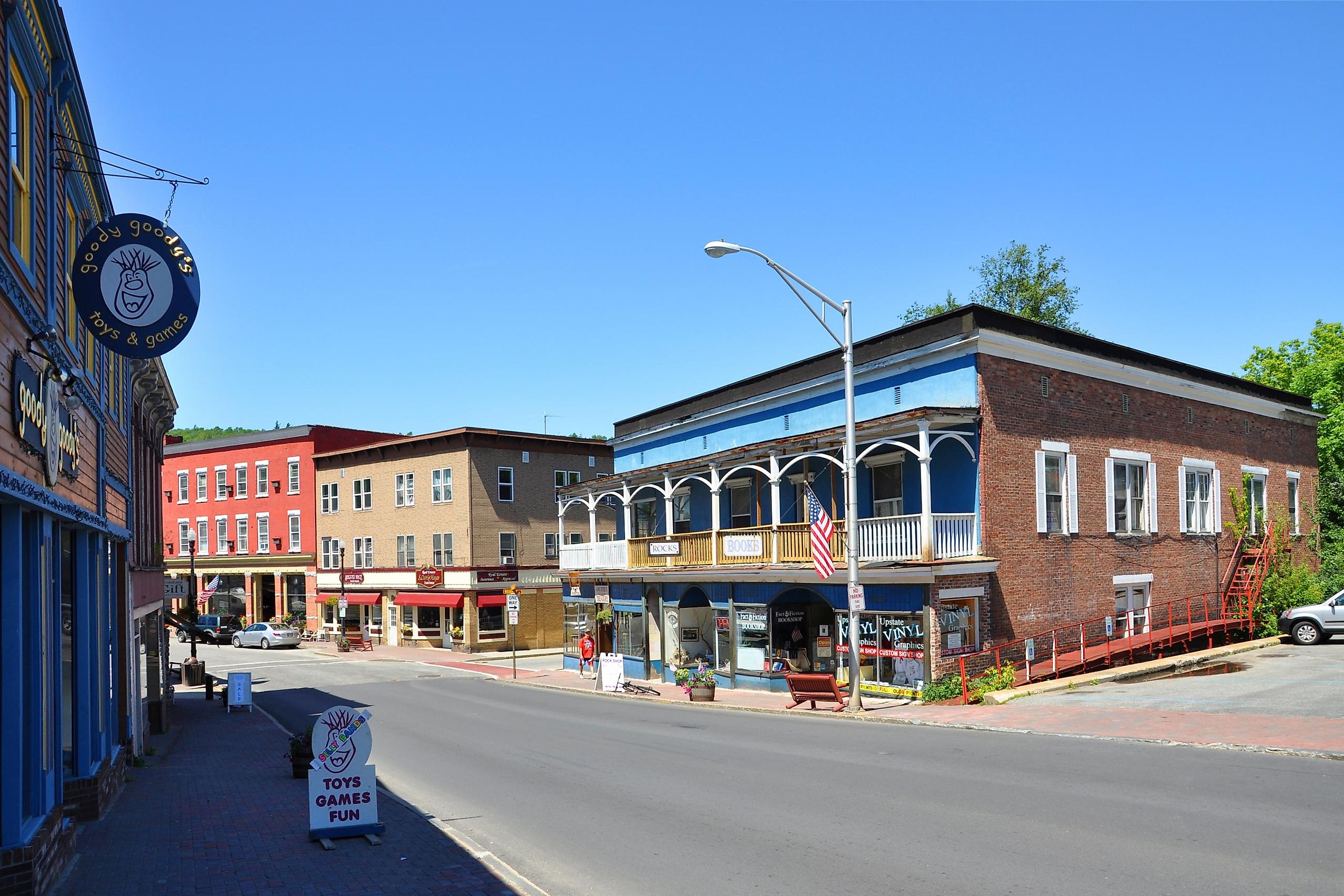 9 Ideal Destinations for a 3-Day Weekend in Upstate New York
Upstate New York, the region of New York State northwest of New York City, is a beautiful destination itself, offering natural beauty, plenty of outdoor activities, and things to do no matter the time of year. The region encompasses a number of popular attractions, each of which offers its own unique adventures and excitement, including Niagara Falls, the Adirondack and Catskill Mountains, the Thousand Islands, and the Finger Lakes.
There are plenty of underrated small towns, many of which are a wonderful choice for a three-day weekend getaway. Whether a wander around the Cornell University Campus piques your interest or the fresh mountain air and amazing views of Lake Placid draw you in, there is something for everyone in Upstate New York.
Seneca Falls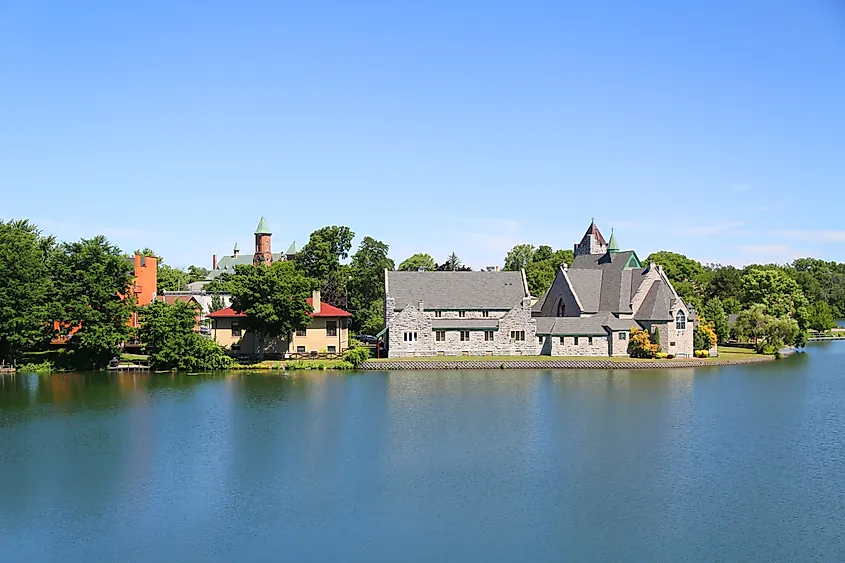 Seneca Falls is a charming hamlet in the Finger Lakes region of Upstate New York, earning the title "Historic Gateway to the Finger Lakes." The town is conveniently situated between Cayuga Lake and Seneca Lake, offering visitors easy access to the surrounding beauty. Historically, the town hosted the nation's first women's rights convention in 1848, where over 300 people gathered, so visiting the Women's Rights National Historical Park and the National Women's Hall of Fame is essential.
For wine lovers, the town encompasses the Finger Lakes Wine Trails which includes over 70 wineries. Popular spots include Cayuga Lake Wine Trail, Seneca Lake Wine Trail, and Keuka Lake Wine Trail. History buffs may wander the main street and harbor of the Seneca Falls Heritage Area, painted with a number of historic homes and buildings. Finally, visitors may try their luck and stay overnight at the exciting Del Lago Resort and Casino.
Ithaca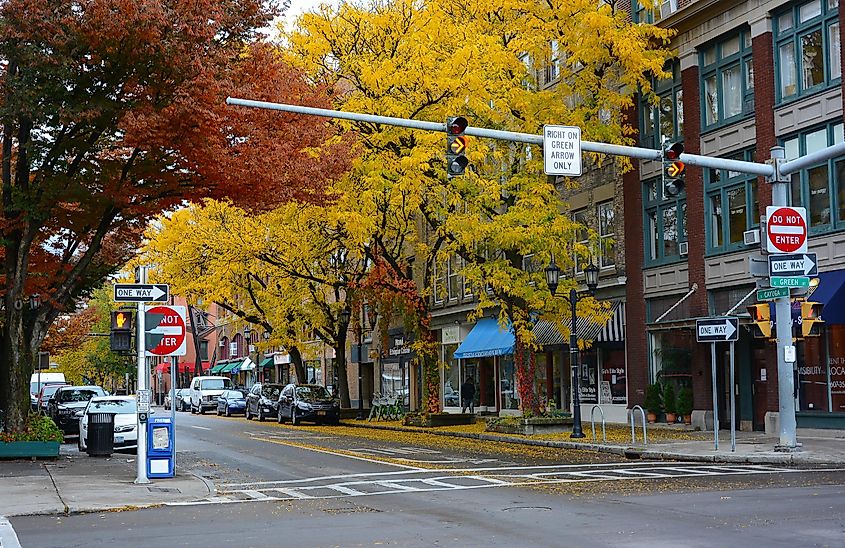 Ithaca, one of the coolest small towns in New York, is just 41 miles from Seneca Falls, situated on the southern end of Cayuga Lake. Home to Cornell University and Ithaca College, the town has a lively energy and centers around a cultural and arts scene. One-of-a-kind shops and restaurants dot the main street, such as Moosewood Restaurant, Buffalo Street Books, and State of the Art Gallery. There are also annual events like the Downtown Ithaca Apple Harvest Festival and Downtown Ithaca Chili Cook-Off. Visitors and locals alike tour the Finger Lakes Discovery Trail, which traverses between eight different museums and attractions. 
The town is also home to several rushing waterfalls, such as Taughannock Falls, Lick Brook Falls, and Triphammer Falls. For those looking to enjoy an outdoor hike or bird watching, trek along the 3-mile loop in Sapsucker Woods. Enjoy an extended stay in a charming bed and breakfast, such as Amazing Grace B&B, A Cayuga Lake Inn & Event Villa, and Benn Conger Inn, or camp out along the Ithaca Trails.
Cooperstown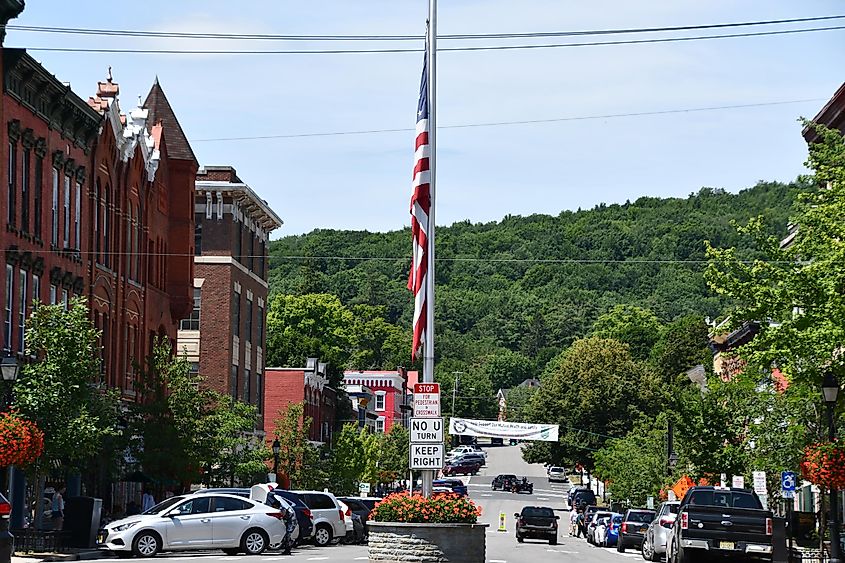 Cooperstown sits on the southern tip of Otsego Lake and is home to the National Baseball Hall of Fame & Museum, an essential stop for baseball fans and those looking to learn a bit about America's favorite pastime. For anyone with a keen interest in history, a visit to the Farmer's Museum offers insight into village life and agriculture in New York State around 1845, while art lovers discover folk art, Native American art, decorative art, and more in the Fenimore Art Museum, which sits within a neo-Georgian mansion. Travelers and locals alike enjoy fresh brews at Brewery Ommegang, Red Shed Brewery, and the Fly Creek Cider Mill, as well as a summer opera or musical theater festival at the Glimmerglass Festival. For an extended stay, camp out in Glimmerglass State Park, where hiking, fishing, and swimming and canoeing are also popular.
New Paltz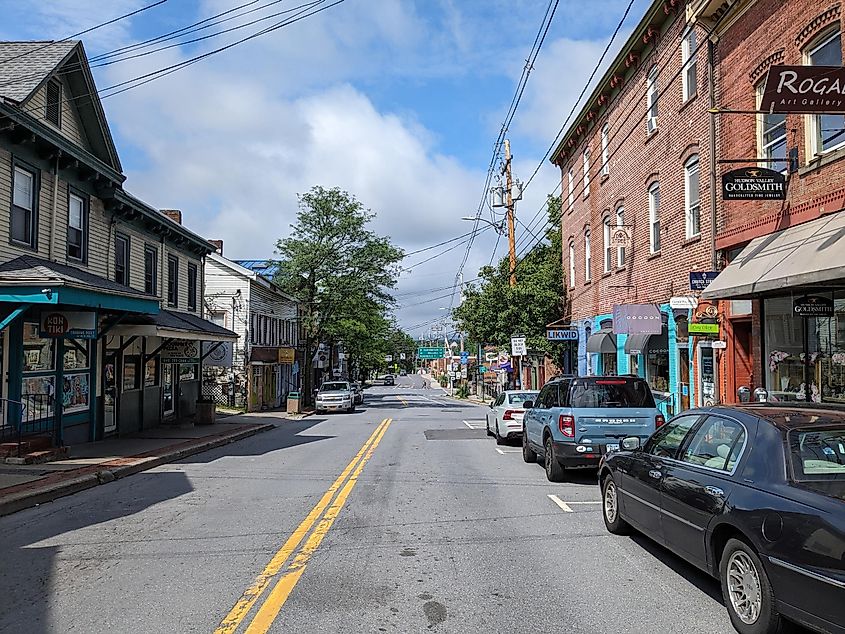 New Paltz is one of the most underrated towns in Upstate New York, and is just 80 miles from the exciting city of Manhattan. Huguenot Street Historic District, featuring over 10 acres of 17th-century homes, and the Mohonk Preserve, covering 70 miles of carriage roads and trails, reveal a glimpse into the town's history. The Testimonial Gateway is another must-see historical spot, featuring a towering stone archway and monolith, having once been the entrance to the Mohonk Mountain House. 
Outdoor lovers enjoy a visit to Mohonk's Lemon Squeeze, where visitors can hike and climb to the top of a rock scramble and enjoy panoramic views of the Hudson Valley. Mohonk Preserve and Minnewaska State Park encompass 50 miles of bike trails, while Water Street Market is a charming destination home to local spots such as Antique Barn, the Cheese Plate, and Main Street Bistro.
Skaneateles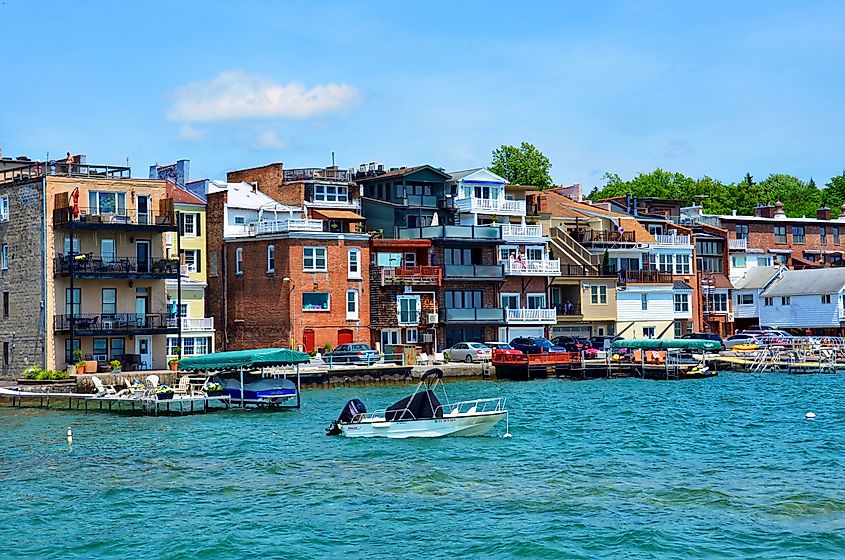 The town of Skaneateles, Iroquois for "long lake," sits on the shores of its namesake lake, which just so happens to be one of the cleanest lakes in the entire country. With such clear blue waters, it is no secret that swimming, boating, and water sports are popular activities. Aside from its sparkly lake, the town boasts a beautiful historic downtown district, featuring shops and restaurants like Pride + Joy, Elephant and the Dove, and the Lakehouse Pub.
Visitors enjoy a 32-mile bike ride or day at the spa at Mirbeau Inn & Spa or free live music at Clift Park every Friday in July. On top of that, hot air balloon rides offer panoramic views of the town and glistening lake. Anyone not interested in heights can head out on the water instead, enjoying cocktails and sunset cruises with Mid-Lakes Navigation. For holiday lovers, the annual Dickens Christmas celebration runs each weekend from Thanksgiving through Christmas.
Saratoga Springs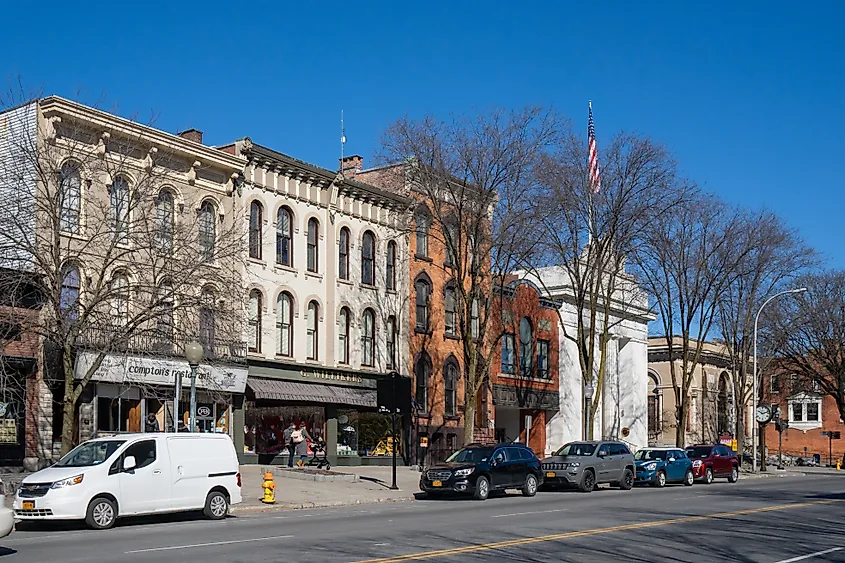 Saratoga Springs is one of the best destinations to visit in Upstate New York, perfect for a relaxing weekend getaway, featuring numerous resorts and spas. The town is most famous for being home to the Saratoga Race Course, a Thoroughbred horse racing track, though visitors can also try their luck at the nearby Rivers Casino & Resort. Of course, the hamlet earns its name from the natural mineral springs in the area, such as the Roosevelt Baths and Spa. For those in search of a revitalizing day on the water, Adirondack Cruise and Charter Company peruses along Saratoga Lake or the Narrows of Lake George. A visit around Halloween calls for Haunted Saratoga Ghost Tours, while other annual events include the Saratoga Food Tour and the Family Hike at Moreau Lake State Park.
Lake Placid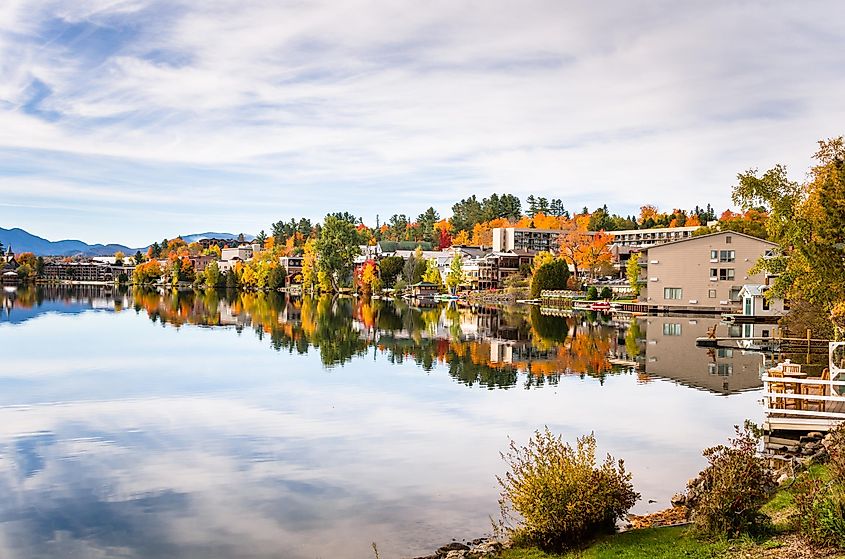 Lake Placid is home to one of the most beautiful lakes in the Adirondack Mountains, which boasts the same name. The town is a nature-lover's oasis, where visitors can easily hike through the Adirondacks, traversing the mountains, valleys, and meadows, and enjoy waterfalls such as Bushnell Falls, Rocky Falls, and Split Rock Falls. Not far from outdoor adventure, locally-owned restaurants and shops line the downtown streets, including Locker Room 5, Dancing Bears Restaurant, and Adirondack Trading Company.
The town also boasts a unique sports culture, having hosted the 1932 and 1980 Winter Olympic Games, with a number of Olympic venues open today, such as the ice skating rinks on Main Street. Aside from being home to beautiful scenery and enticing sports, the art scene is wondrous as well, with annual events including Songs at Mirror Lake, the Lake Placid Film Festival, and performances at the Upper Jay Art Center.
Saranac Lake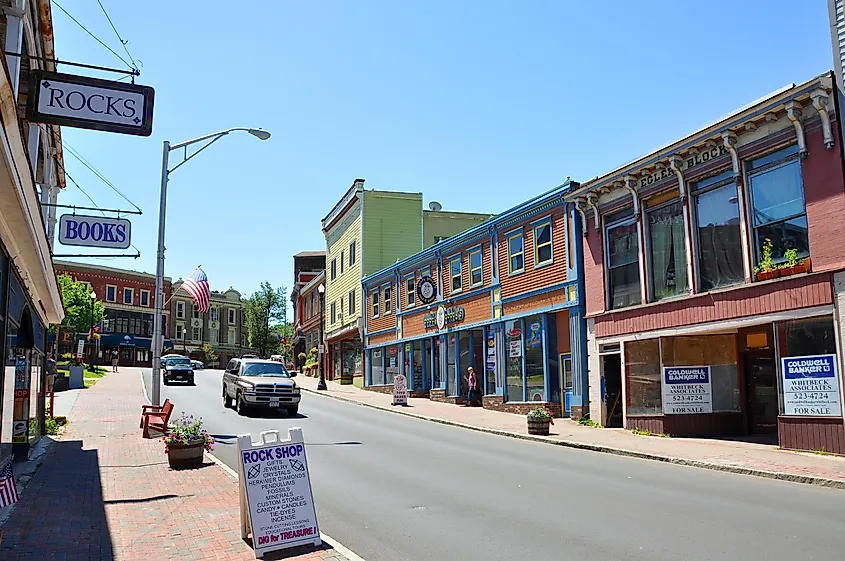 The village of Saranac Lake is just 14 kilometers west of Lake Placid, making for the perfect two destinations on any three-day weekend adventure. The area is especially breathtaking in autumn as fall foliage paints the mountains and lakes, adding warmth and color everywhere you step foot. Visitors can strap on their hiking boots and traverse the Adirondacks and Saranac Lake nature trails. Galleries and shops such as Adirondack Artists Guild Gallery, Adirondack Lakes & Trails Outfitters, and Fusion Market, alongside live music and shows, bring the town to life throughout the year, as do annual events such as its week-long carnival. To truly experience the beauty of the great outdoors in Saranac Lake, camp overnight at locations such as Fish Creek, Rollins Pond, and Buck Pond.
Buffalo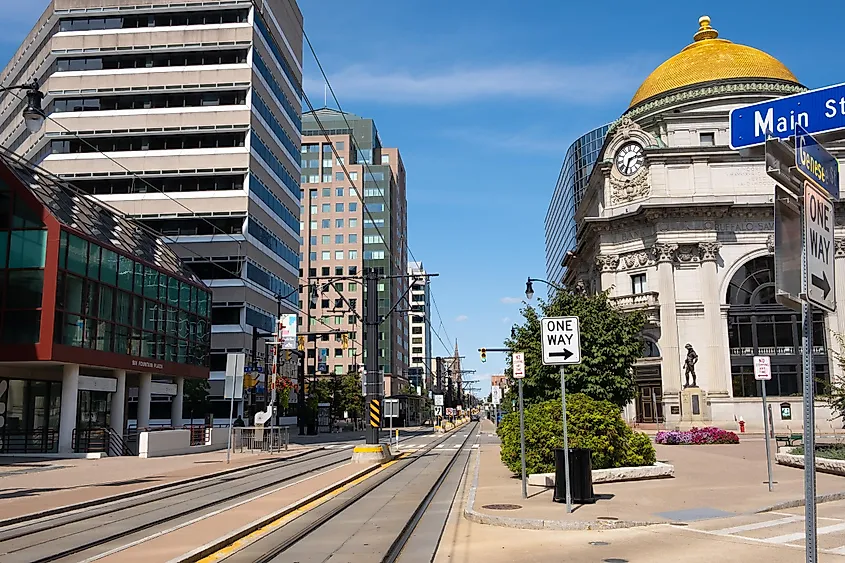 Buffalo earns the nickname "the City of Good Neighbors" for its welcoming environment, but the big city boasts more than that, maintaining a perfect mix of urban life and a tranquil atmosphere. With a population of over 276,000, the city is home to a diverse collection of things to do, ranging from historical sites to art galleries and outdoor adventures. The Buffalo AKG Art Museum is a popular destination for its 50,000 square feet of exhibit space and works spanning the last 160 years of art history.
For refreshments, stop downtown at Lucky Day Whiskey Bar or grab a bite to eat at Marble + Rye. The Elmwood Village Farmers Market offers a more laidback morning, while a tour of the historic Martin House shares a glimpse into the city's history. For an unforgettable stop at one of the most iconic spots, be sure to spend an afternoon at Niagara Falls, taking in the beauty of the rushing falls.
Enjoy a Weekend in Upstate New York!
A three-day weekend in Upstate New York offers the opportunity to explore the beauty of the region, delving into its flowing lakes, charming natural scenery and cityscapes, and its university campuses. Whether a romantic getaway appeals to you, or a girl's trip or family vacation is calling, Upstate New York is the place to be, with opportunities ranging across all interests, including camping, water sports, local charm, hiking, viewing art, and more.