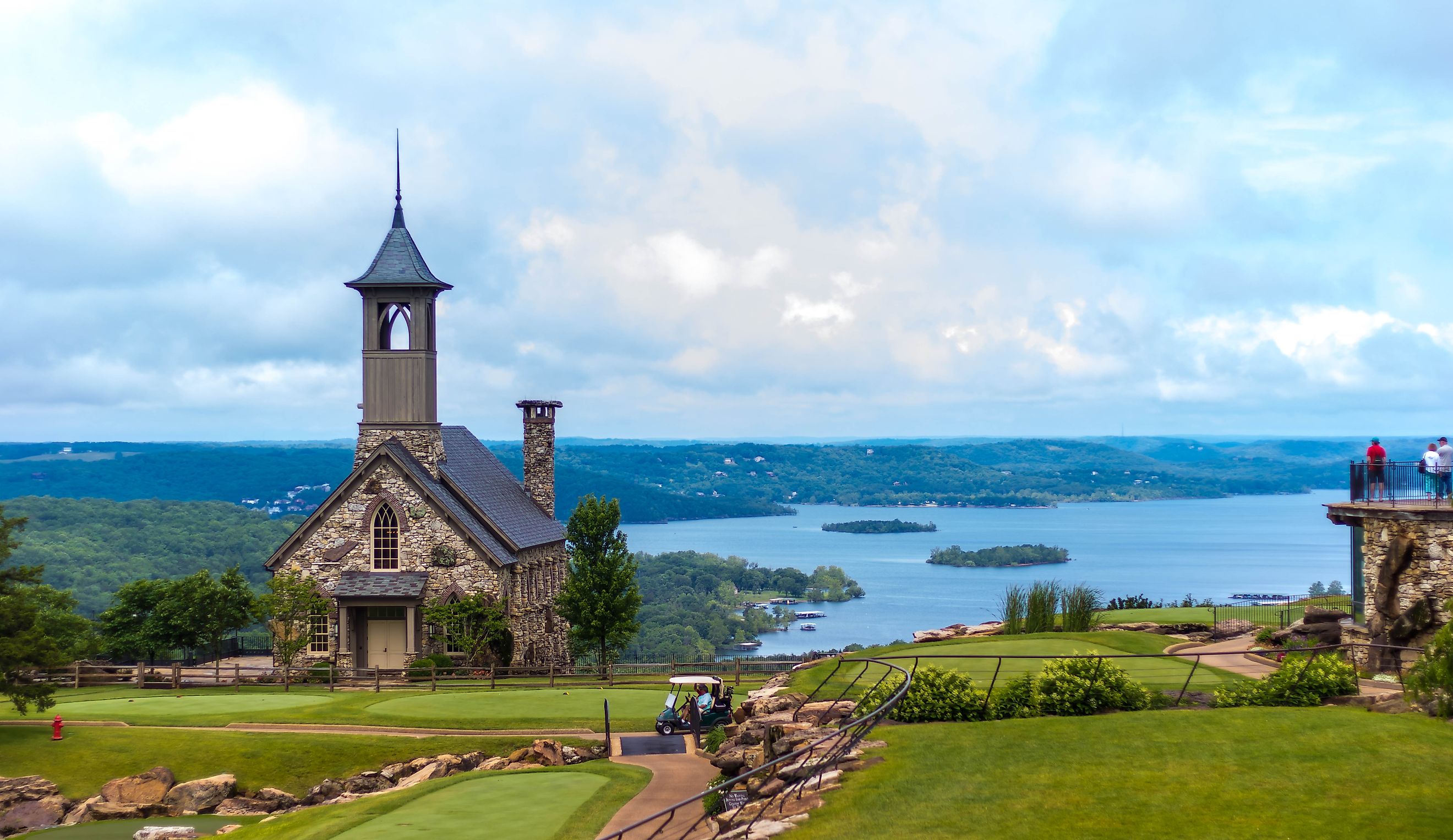 9 Ideal Destinations For A 3-Day Weekend In The Ozarks
The Ozarks represent an ideal cohabitation between wilderness and human settlement. In short, the Ozarks are a mountainous region known for unrelenting beauty that happens to be filled to the brim with history and culture, which makes it perfect for curious travelers. Its borders encapsulate sections found primarily in Arkansas, Missouri, Oklahoma, and a small portion in Kansas. The destinations highlighted here are ideal for spending your next long weekends in pure bliss in the paradisiacal Ozarks region.
Eureka Springs, Arkansas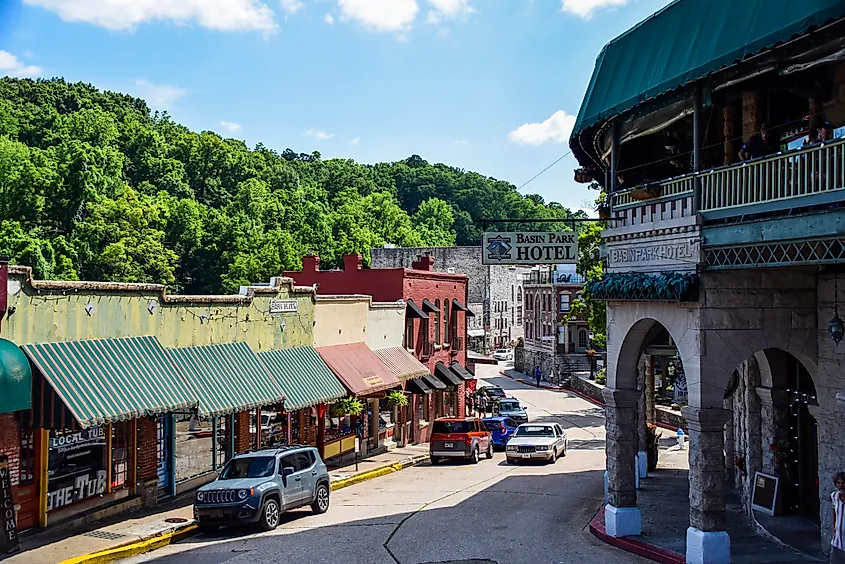 Eureka Springs encapsulates an intriguing history reflected in the town's Victorian architecture. Buildings like the Crescent Hotel, dubbed "America's Most Haunted Hotel," hark back to bygone eras. Downtown offers a multitude of shopping and dining options, where upscale joints like Rogue's Manor beckon famished shoppers.
Religious history is represented by The Great Passion Play, a grand outdoor performance depicting the final days of Christ, and Thorncrown Chapel, an architectural marvel set amidst sprawling woods. Ozark Mountain Ziplines present a thrilling journey through treetops, while Lake Leatherwood City Park is wrought with trails, camping, and boating opportunities. Eureka Springs & North Arkansas Railway offers vintage train rides, and the Blue Spring Heritage Center focuses on indigenous history and also provides examples of the area's natural beauty.
Branson, Missouri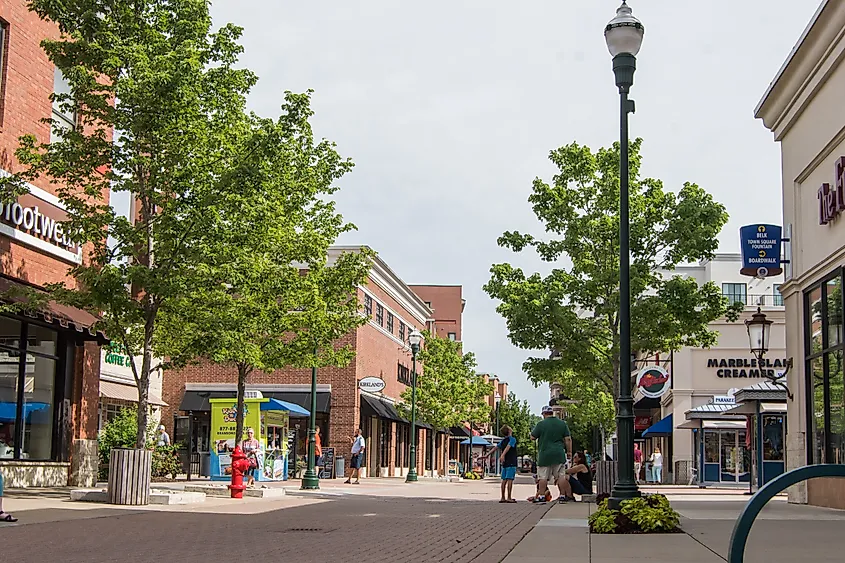 Branson is renowned for its live entertainment shows, from music performances to comedy acts, with Silver Dollar City standing out as an 1880s-themed amusement park. Branson Landing, located on the waterfront of Lake Taneycomo, is a hub for retail shopping and gourmet eats.
Table Rock Lake offers water-based recreational pursuits like fishing and boating, while history buffs can delve into the past at the Titanic Museum, featuring real artifacts from the ill-fated ship. The Butterfly Palace and Rainforest Adventure, with its exotic species of butterflies, offers a peek into a different ecosystem.
Top of the Rock, while adored for its world-class golf, is equally appreciated for its exquisite views. Dolly Parton's Stampede Dinner Show provides a feast for both the palate and the eyes with a variety of musical and equestrian performances. Finally, the Branson Scenic Railway completes the experience with a leisurely tour through the beautiful Ozark foothills.
Buffalo National River, Arkansas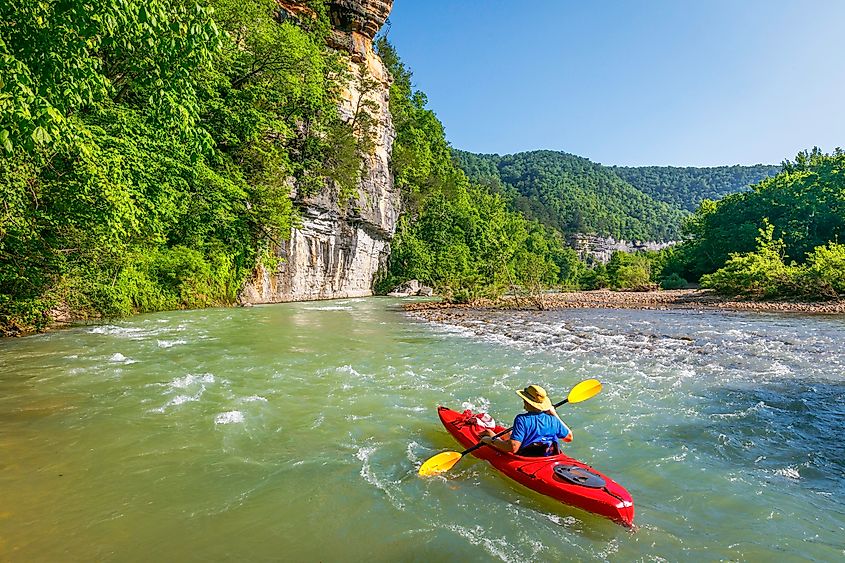 Established in 1972, Buffalo National River holds the prestige of being the first National River in the United States. This area is replete with opportunities for canoeing and kayaking, providing an adventurous experience amid rippling waters and towering cliffs. Alongside these water activities, a network of hiking trails, ranging from peaceful walks to challenging treks, crisscrosses the area. For those wishing to extend their stay, there are camping sites nestled within the lush forest.
Abundant in wildlife, this area offers sightings of elk, white-tailed deer, and multiple bird species, providing a thrilling experience for wildlife enthusiasts. Among its historical landmarks, the Collier Homestead at Tyler Bend stands out, reflecting life in the Ozarks in the 1930s. Annually, the Buffalo River Heritage Festival brings together local artisans, musicians, and food vendors, celebrating the culture of the region.
Fishing in the river's clear waters and horseback riding along the scenic trails are additional attractions. The region also hosts guided tours of significant caves, revealing the hidden geological wonders of the Arkansas Ozarks.
Bentonville, Arkansas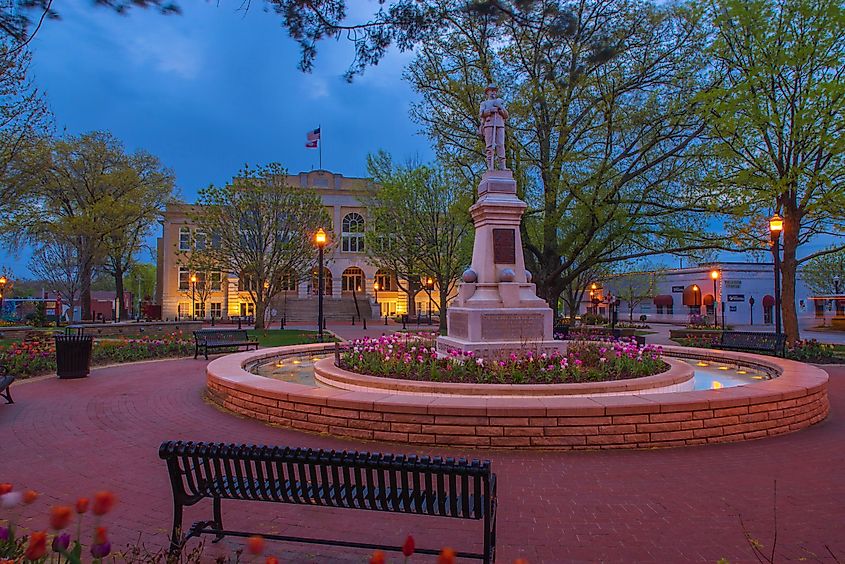 Bentonville rose to global prominence as the birthplace (and still current headquarters) of Walmart, the multinational retail corporation. The town's history is visible in its preserved landmarks, including Sam Walton's original 5&10, now the Walmart Museum. A visit to the Crystal Bridges Museum of American Art reveals a robust collection of American masterpieces spanning five centuries.
For outdoor enthusiasts, Slaughter Pen Mountain Bike Park presents a diverse range of trails and terrain. Bentonville's culinary scene is also noteworthy, with establishments such as The Hive offering refined dishes with a focus on local and seasonal ingredients. Historical sites, including the Peel Mansion Museum & Heritage Gardens, provide insight into 19th-century life in the region.
Adding to the town's artistic allure is the 21c Museum Hotel, an innovative blend of a boutique hotel and contemporary art museum. Furthermore, The Momentary, a satellite to Crystal Bridges, enhances Bentonville's cultural landscape by presenting cutting-edge contemporary art exhibitions and performances.
Springfield, Missouri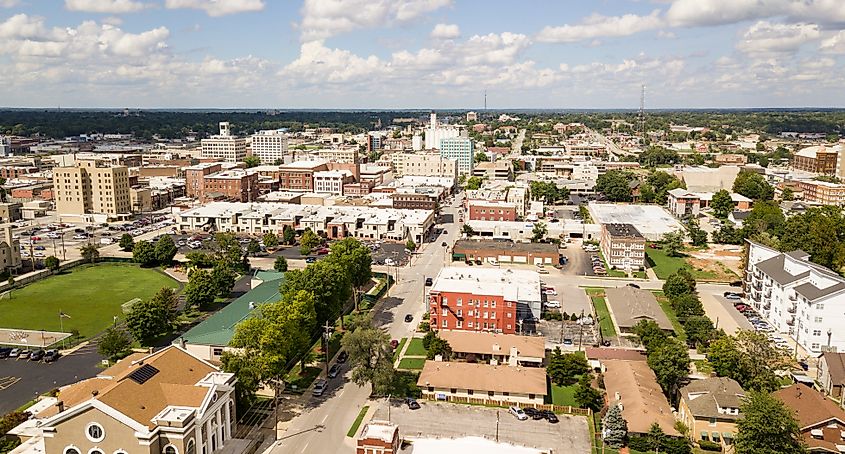 Springfield features a number of interesting sites, including the Springfield Conservation Nature Center, a sanctuary for various wildlife species within its 80-acre site. For retail enthusiasts, Commercial Street Historic District presents a range of specialty shops housed in historic buildings. Car lovers will appreciate the Route 66 Car Museum, home to a collection of vintage and exotic automobiles.
Downtown Springfield bustles with a range of eateries and a lively nightlife scene, providing diverse dining experiences and entertainment options. For encounters with exotic animals, the Wild Animal Safari Park provides a thrilling visit. Rich history resides in Wilson's Creek National Battlefield, the site of a significant Civil War battle.
Another highlight, the Wonders of Wildlife National Museum and Aquarium, offers an immersive tour through wildlife habitats and marine ecosystems. Notably, Springfield also hosts Fantastic Caverns, the sole ride-through cave in North America.
Ozark National Scenic Riverways, Missouri
Ozark National Scenic Riverways, the first national park dedicated to protecting a river system, offers a vast landscape of spring-fed rivers and scenic bluffs. Popular activities include floating and boating, with numerous services offering rentals for river exploration.
The clear, cold waters of Current and Jacks Fork Rivers are ideal for fishing, attracting anglers seeking a variety of game fish. Miles of trails wind through the park for hiking, and numerous natural springs provide refreshing stops along the way. Horseback riding and hunting are additional recreational options permitted in specific areas.
Alley Spring & Mill, a lovely blue spring with a historic red mill, is a site worth visiting. Camping along the riverbanks allows for serene nights beneath the starry Missouri sky. Moreover, the Ozark Heritage Festival is an annual event celebrating the culture and history of the region, featuring live music, craft demonstrations, and local cuisine.
Fayetteville, Arkansas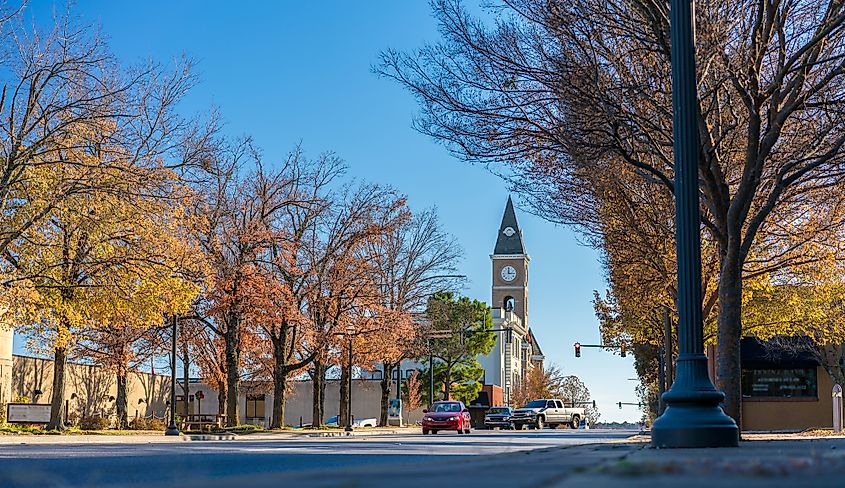 Fayetteville brims with culture and history as the home of the University of Arkansas. The university, founded in 1871, holds notable acclaim for its contribution to academia, particularly in law, engineering, and agriculture. Meanwhile, the Fayetteville Farmers' Market showcases regional agriculture with a vast selection of fresh produce, handcrafted goods, and local artistry. Dickson Street, the heart of Fayetteville's dining and nightlife, hosts an array of restaurants, pubs, and live music venues.
Regarding culture, nature, and history, sites like the Clinton House Museum - the first home of Bill and Hillary Clinton - and the Botanical Garden of the Ozarks enrich the city's historical and natural offerings. Lake Fayetteville, ideal for outdoor pursuits like fishing and bird watching, provides recreational bliss. Craft beer aficionados can follow the Fayetteville Ale Trail, a self-guided tour of local breweries. Artistic fulfillment comes to life at the Walton Arts Center, and, last, the Razorback Greenway offers miles of biking and hiking trails.
The Lake Of The Ozarks, Missouri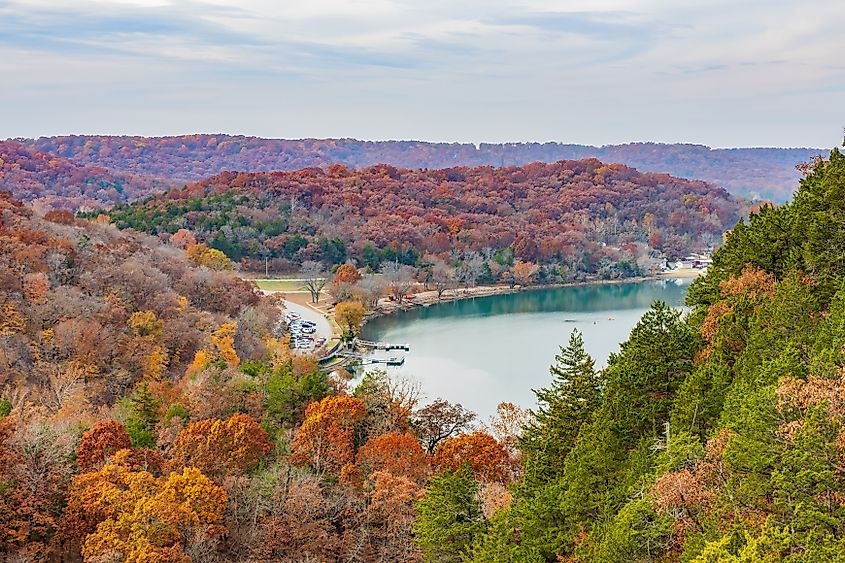 The Lake of the Ozarks is an expansive man-made lake created in 1931 following the completion of the Bagnell Dam. This aquatic oasis is a hub for boating and fishing activities, with abundant bass, catfish, and crappie populations. For those preferring land, the Lake of the Ozarks State Park offers diverse hiking trails amidst dense forests and scenic views. Golf enthusiasts may find delight at Osage National Golf Resort, with its 27-hole course set against the lake's backdrop.
Moving on, the Osage Beach Outlets center caters to shoppers with a multitude of brands and deals. Bridal Cave and Thunder Mountain Park present an opportunity for subterranean exploration, with the former offering guided tours through an enchanting underground world. Bagnell Dam Strip complements its historic gravity dam with diverse dining options and a vibrant entertainment scene. Willmore Lodge, a rustic log cabin dating back to the 1930s, serves as a historical and cultural repository of the region.
Mountain View, Arkansas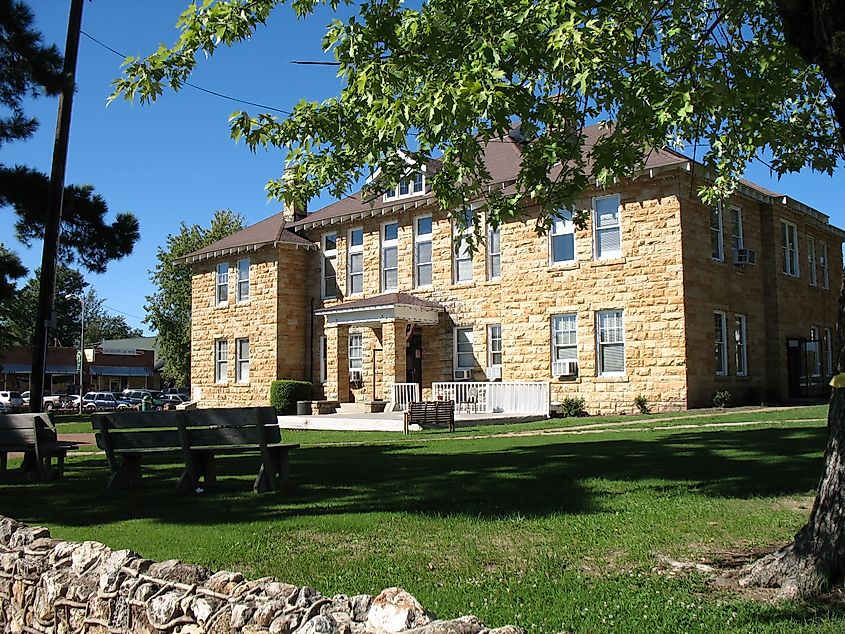 Mountain View, often termed "The Folk Music Capital of the World," maintains an active folk music tradition, with Ozark Folk Center State Park serving as a focal point. Performances there showcase traditional American folk music, highlighting its historical and cultural significance. A short distance away, Blanchard Springs Caverns beckon visitors with a vast subterranean network of limestone rooms and corridors, presenting a stunning geological showcase.
The nearby White River presents opportunities for float trips and fishing, with an array of regional fish species thriving within its waters. Historical architecture pervades Mountain View, with Stone County Courthouse exemplifying this in the heart of downtown. Two signature events—the Arkansas Folk Festival and Bean Fest—embody the spirit of the region, featuring local music, food, and crafts each year.
Loco Ropes offers high-adrenaline zipline adventures, providing unique aerial views of the Ozark forest. Lastly, a trip to the Stone County Museum is a volunteer-run series of exhibits that are built into a schoolhouse, which are perfect for roaming through during quiet afternoons.
Put simply, the Ozarks ultimately present an ideal destination for a 3-day weekend. From outdoor activities like fishing, boating, and hiking to immersive historical and cultural experiences, the Ozarks covers every interest a person could have. Its wealth of natural beauty, coupled with the human touch of innovation and preservation, speaks to a progressive desire to live in harmony with the world around us. So check out what all the fuss is about, and consider planning a trip for an upcoming long weekend here in the limitless Ozarks.