Nearly inconceivable numbers of glaciers are dispersed over North America. These glacial masses that move slowly can be seen looming over lakes, nestling in mountain ranges, and standing high over the oceans. Glaciers and the surrounding scenery make for a picturesque scene that serves as a reminder of nature's majesty and beauty. It is difficult to compile a list of all the best glaciers to see in your lifetime because there are hundreds of thousands of glaciers in the United States alone. However, let's look at some of the most gorgeous glaciers in America that will be a good jumping-off place for your next outdoor trip. 
Mendenhall Glacier, Alaska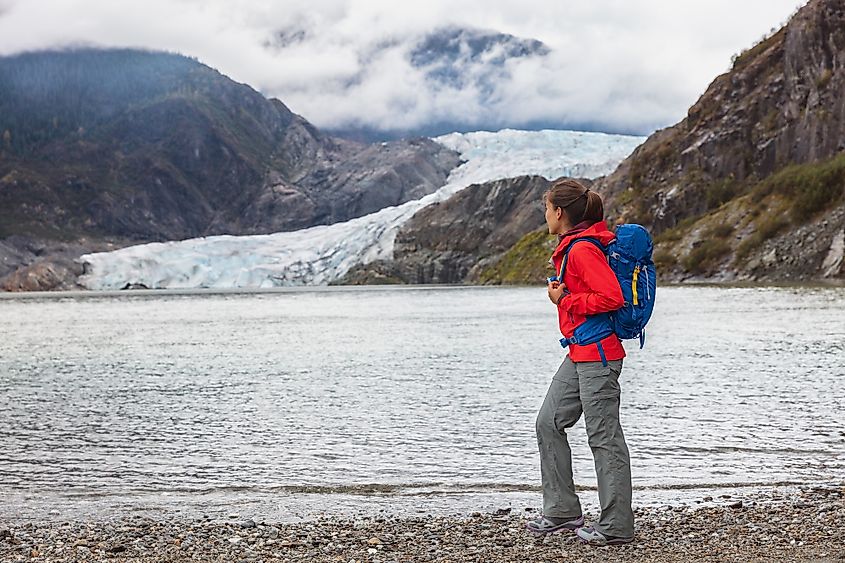 Mendenhall Glacier, one of North America's most magnificent and accessible glaciers, is only 13 miles from Juneau and a few minutes from the airport. It is a 12-mile (19 km) long blue ice sheet in southeastern Alaska, United States. Mendenhall's majestic edifice slides 4,500 feet over 13 miles from the huge Juneau Icefield, making it the only glacier in Southeast Alaska accessible by car. Its dynamic face calves large icebergs and brash into its lake regularly. Since the Little Ice Age, the glacier has been retreating for 300 to 400 years, and it has receded further 1.75 kilometers since 1929. This natural environment is one of Alaska's most stunning and interesting in both summer and winter, and the visitor center is world-class, with museum-quality displays that attract about 500,000 visitors each year. 
Emmons Glacier, Washington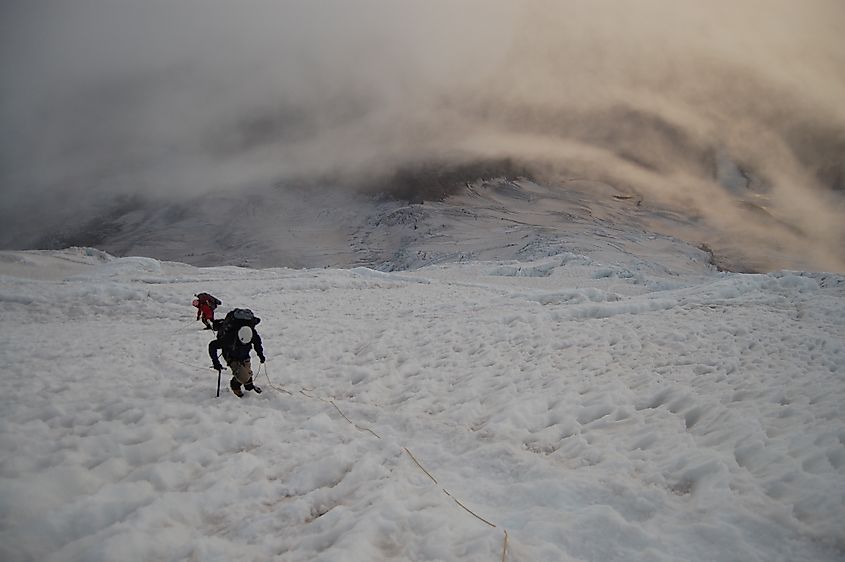 The Emmons Glacier is the largest glacier not just on Mount Rainier but also in the contiguous United States, at 4.3 square miles. It is located on Mount Rainier's northeast flank in Washington. With enormous seracs, massive icefalls, gaping crevasses, and limitless alpine vistas, its size and elevation make for a magnificent alpine experience. After participating in a survey of Mount Rainier in 1870, the glacier was named after geologist Samuel Franklin Emmons. The Emmons Glacier is a tough and rewarding hike with approximately 10,000 feet of elevation gain. It takes an average of 15 hours and 26 minutes to accomplish this trip, which is rated difficult. This is an excellent hiking track.
Ahern Glacier, Glacier National Park, Montana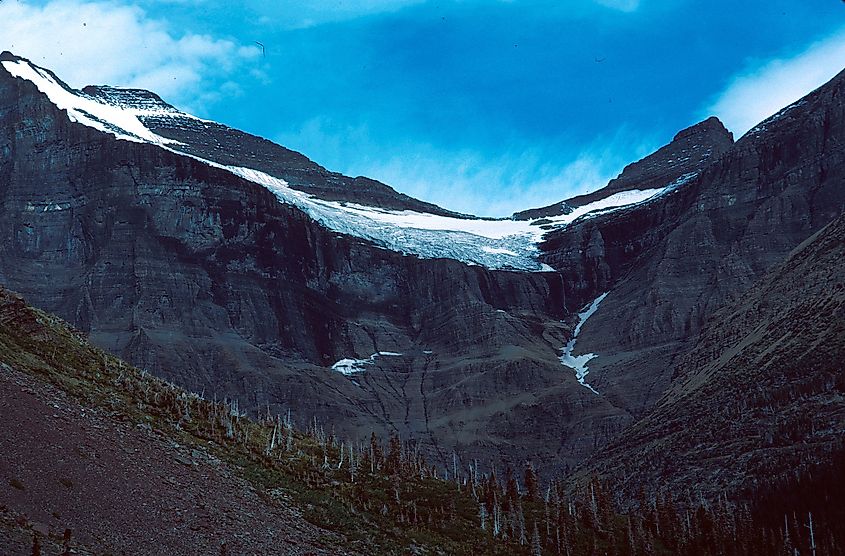 Ahern Glacier is located in Glacier National Park in Montana, United States. The glacier was named after George Patrick Ahern. Ahern Glacier is located immediately east of the Continental Divide on a ridge between Ipasha Peak to the north and Ahern Peak to the south, at an elevation of between 8,800 feet (2,700 m) and 8,000 feet (2,400 m) above sea level. Meltwater from the glacier feeds a waterfall that cascades 1,680 feet (510 meters) down to a talus slope below on its way to Helen Lake. Ahern Glacier lost 13% of its surface area between 1966 and 2005. This trail is ideal for backpacking and hiking, although you're unlikely to come across many other people while doing so. The months of June through October are best for hiking this trek.
Cloud Peak Glacier, Bighorn Mountains, Wyoming 
Cloud Mountain is the tallest peak in the Big Horn Mountains, located in Wyoming, United States. It reaches a height of 13,167 feet (4,013 meters) and offers spectacular views and vistas to all who visit. The western side of the mountain is the most accessible, with trailheads in Battle Park and West Tensleep and a round-trip distance of around 24 miles from both. The Cloud Mountain Wilderness, which covers 189,000 acres (765 km2) in Bighorn National Forest, is home to the peak. Cloud Peak Glacier, the final active glacier in the Bighorn Mountains, is located in a steep cirque on Cloud Peak's northeast slope. Cloud Peak, as the highest point of an isolated range, has a topographic prominence of 7,067 feet (2,154 m). The mountain has the second-highest topographic prominence in Wyoming, just ahead of Gannett Peak, and the fifteenth highest in the contiguous United States. The peak is one of the state's most popular climbs. During the summer climbing season, it is normal to see many parties attempting the climb each day (July and August).
Arapaho Glacier, Colorado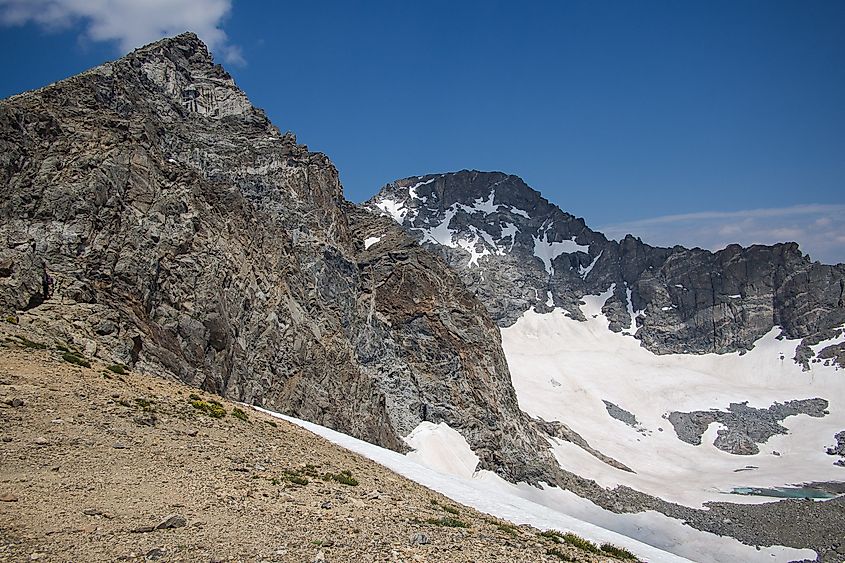 Arapaho Glacier is located between South Arapaho Peak and North Arapaho Peak in the Indian Peaks Wilderness. The Arapaho Glacier is Colorado's largest and the Boulder Watershed's primary beneficiary. It's nearly. Five miles wide, 25 miles long, covers about 60 acres, and is around 200 feet thick in the accumulation zone. It takes an average of 7 hours and 34 minutes to accomplish this course, which is considered difficult. Even though this is a popular climbing, camping, and walking trail, the calmer hours of the day provide some peace. The greatest months to hike this trail are April until October. Geologists define it as a real glacier because it is still moving. 
Hotlum Glacier, California 
The Hotlum Glacier is located on Mount Shasta's northeast flank in California, United States. Even though many visitors to Mount Shasta pass it by without noticing it, the Hotlum Glacier is famous for being the largest glacier on the mountain and the most conveniently accessible glacier and crevasse features for mountaineering activities in California. The Hotlum provides nearly limitless possibilities in a small box. It's a joy to explore throughout the summer, as it provides a pure wilderness experience with few, if any, other tourists. The glacier is a dream come true for skilled alpinists, with multiple crevasses to cross and frozen seracs bursting from the lower, middle, and upper ice falls. It is one of the best-kept secrets in the climbing world of California in the late season. The seracs, smears, and runnels on the glacier are bulletproof by fall, making it suitable for experienced climbers.
Zigzag Glacier, Oregon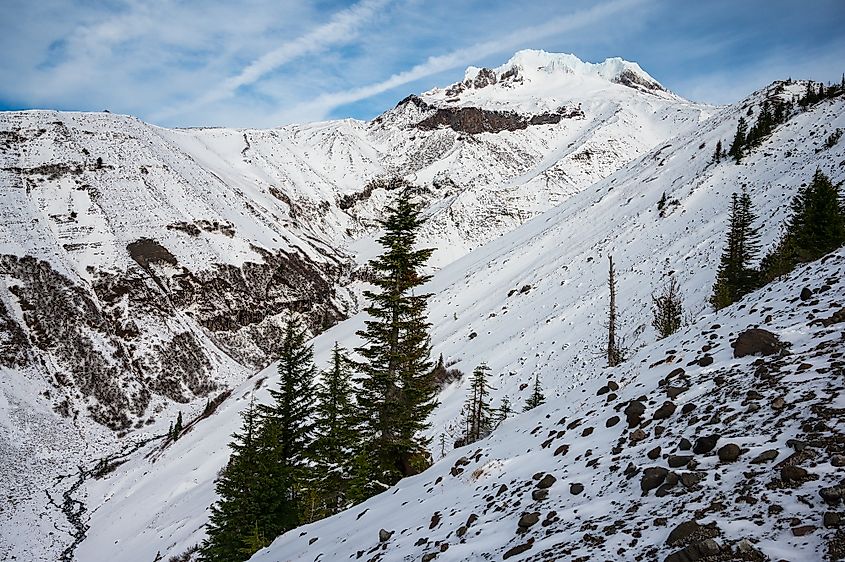 The Zigzag Glacier is a 190-acre glacier located on Mt. Hood's southwest sides, between the Palmer and Reid glaciers. At its end, the glacier runs south to an elevation of about 7,500 feet, where its meltwater feeds the Zigzag River, a tributary of the Sandy River. The Zigzag Overlook offers a breathtaking perspective of the Zigzag Canyon as well as a classic postcard vista of Mount Hood's top, complete with the Zigzag Glacier and Illumination Rock. Because this vista is only 2.2 miles from Timberline Lodge, it's not uncommon to see swarms of casual people trekking the Timberline Trail to it. On a clear summer day, the climb from the lodge trailhead is a terrific family-friendly hike that highlights the alpine majesty that backpackers and visitors alike appreciate. 
Travelers from all over the world have long been drawn to glaciers to marvel at the sheer majesty of these enormous quantities of ice. Glaciers have the potential to be quite strong. They formerly blanketed the majority of North America, sculpted the landscape, and altered the climate. However, judging by how far they have come now, you wouldn't know that. Many of America's glaciers are only a faint memory of what they once were, while many more have lost their glacial status or even perished.