City parks offer an escape from the hustle and bustle of urban life. Stepping out of the busy streets and into the calm and quiet of a city park can be tranquil, and a peace that is often needed in larger cities. From the small to the large, garden filled to recreational, here are 15 of the most impressive city parks in the world.
Balboa Park, San Diego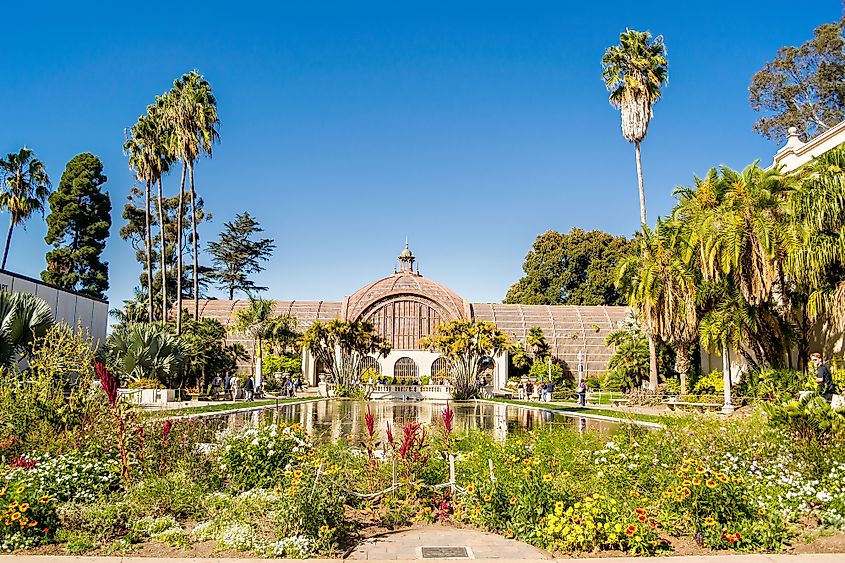 Balboa Park, located in San Diego, California, United States, is a massive 1,200-acre historic urban cultural park. Housing a little bit of everything, this expansive space is extremely popular with San Diegans and visitors alike. Balboa features a variety of outdoor green spaces, from lawns and natural vegetation and hiking paths, to a variety of gardens. The Botanical Building and Lily Pond are prominent and popular for photo ops, as well as the Alcazar garden, Japanese Friendship garden. Other gardens include the cactus garden, rose garden, palm canyon and California Native Plant Garden, to name a few. Aside from gardens, Balboa Park is also home to several museums, such as the natural history Museum of Us, Museum of Photographic Arts, Air and Space Museum, Fleet Science Center, and several others. It's most well known, and most popular attraction, however, is the San Diego Zoo, a world renowned 100 acre zoo that is located entirely within Balboa Park.
Central Park, New York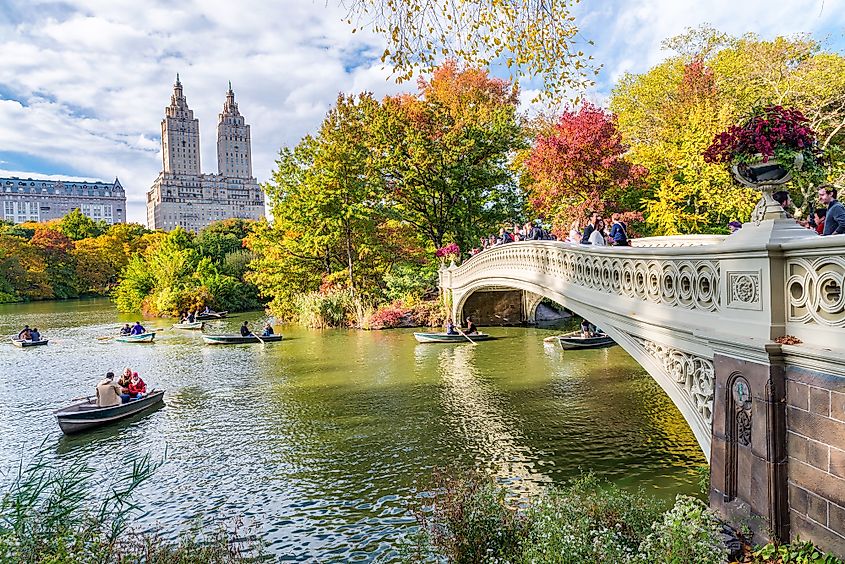 Central Park is one of the most well known city parks in the world. Though perhaps not the most impressive on the list, its status and fame have become synonymous with New York culture and lifestyle. It was first established in 1858, and designed by public landscape design competition winners. An expansive park in the very heart of the city, it offers a break from the bustle of NewYork life, with a variety of green spaces and recreational opportunities. From the Central Park Zoo, to the Water Exhibit at Belvedere Castle; the central park carousel or the Hans Christian Anderson statue, there are lots of sights to be seen. Additionally, natural areas include the Shakespeare Garden, bike, rollerblading and walking paths, woodland areas, baseball diamonds, and a Conservatory Garden.
Forest Park, St. Louis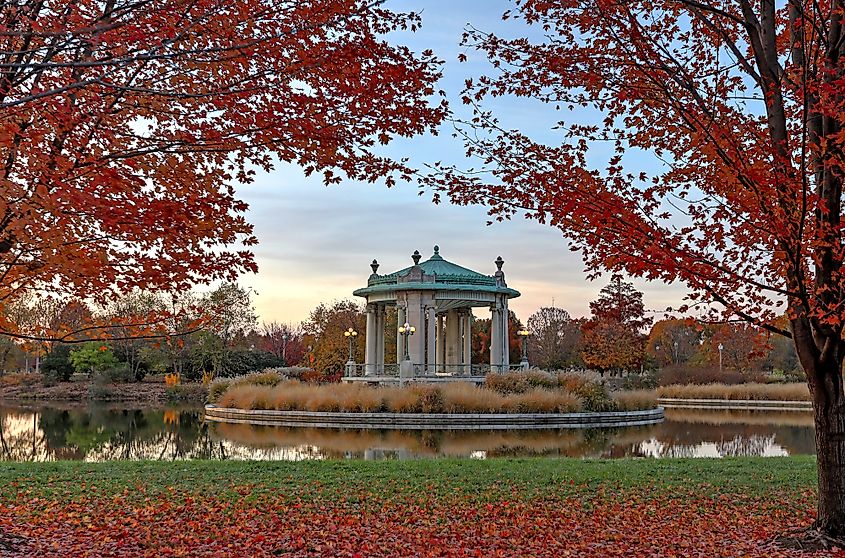 Forest Park is located in the state of St. Louis, U.S.A. and covers an area of a little over 5 square kilometers. The park first opened in 1876 and houses a number of attractions and centers, and is often referred to as the "heart of St. Louis".  Within the park borders are the St. Louis Zoo, the St. Louis Art Museum, the Missouri History Museum, and the St. Louis Science Center. Other recreational attractions include a skating rink, two golf courses, a tennis court, greenhouses, gardens and pavilions. Additionally, the park has hosted a number of important events of the years, including both the Louisiana Purchase Exposition in 1904, and the 1904 Summer Olympics.
Hong Kong Park, Hong Kong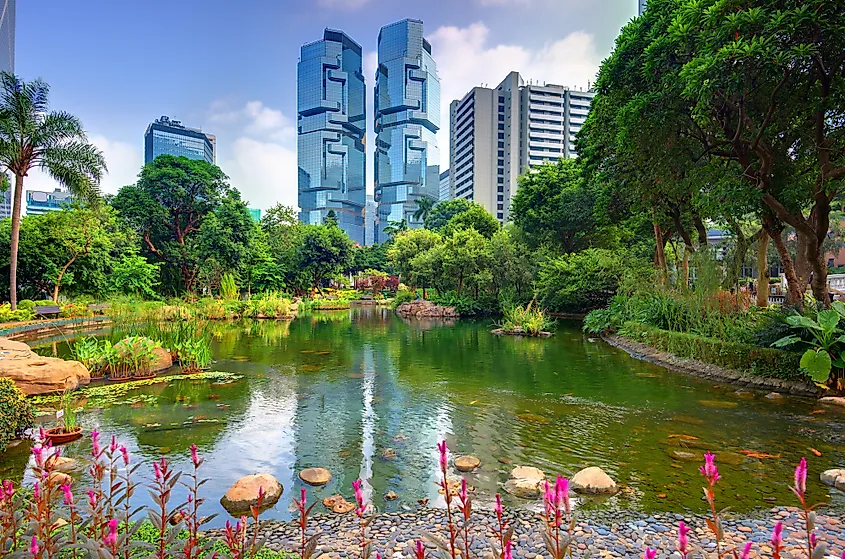 Deep in the heart of Kong Kong city, nestled between giant skyscrapers and busy metropolitan life, is Hong Kong Park. The park opened in 1991, and is and has an area of eight hectares. Despite it;s smaller size, though, the park is an impressive display of landscaped lawns and gardens, with historic buildings such as the Museum of Tea Ware. The park is a beautiful oasis in the city, full of flower gardens, trees, ponds and waterfalls, as well as a prominent lake which is home to giant carp and a large number of turtles. Aside from the natural areas, the park also includes Hong Kong Visual Arts center, Edward Youde Aviary, a children's playground, a panoramic viewing tower, and a greenhouse including some 2,000 rare plant species.
Hyde Park, London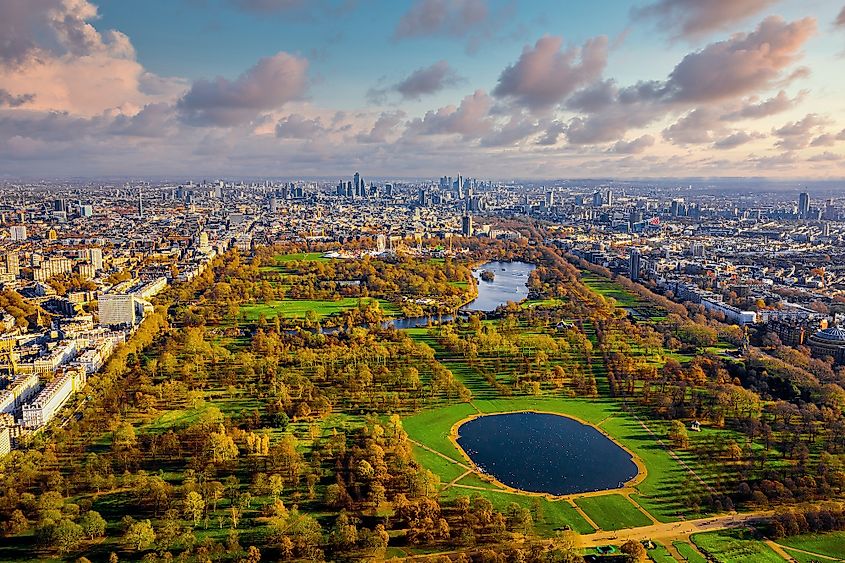 Hyde Park is one of the largest and most famous parks in London. It is situated in the heart of the city, and is popular with both tourists and locals who come to take a break from busy city life, enjoying the gardens, lawns and green space amidst busy London. Hyde Park is also extremely old, being first established in 1536 and later turned over to the general public. It features a variety of gardens like the rose garden and Italian water garden, as well as greenhouses, various sculptures, and the the Princess Diana Memorial and London Holocaust Memorial. 
Ibirapuera Park, Sao Paulo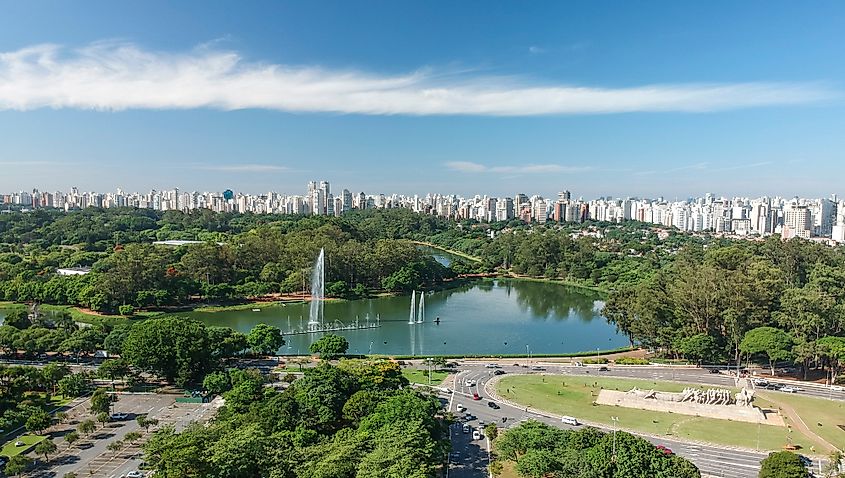 Ibirapuera Park is located in the heart of São Paulo, and measures some 390 acres. It is the most popular park in all of South America, averaging roughly 14 million visitors annually. It is an iconic park in South America, and has a variety of features and uses. The park serves as an oasis amidst the large city, and includes various recreational activities such as jogging paths and exercise centres. The park is also home to a music hall and museums, as well as historical gardens and ampel green space. On top of its natural features, the park is also a strong cultural hub, and large scale events are often held here, including São Paulo Fashion Week.
Kings Park, Perth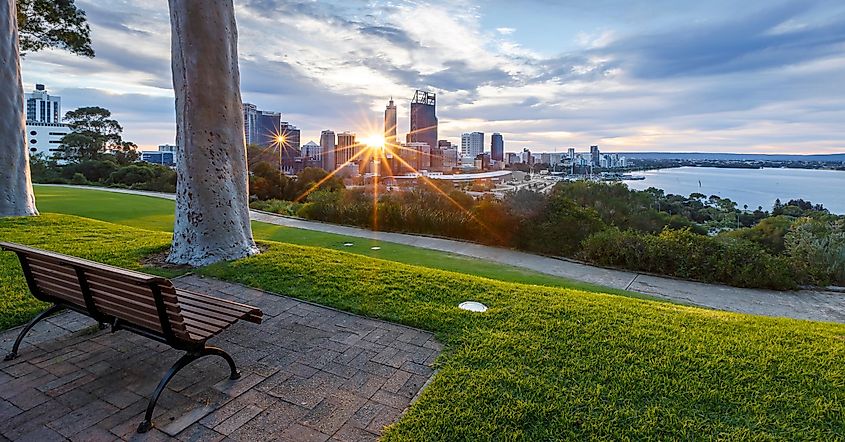 Kings Park is located in Western Australia and covers an area of 4 square kilometers.  It borders Perth Water and the Swan River, and also includes the area of Mount Eliza. Kings Park is known for being a park that emphasizes Australian wildflowers and native plants. It has a beautiful botanical garden that can be visited year round, which houses roughly 2000 plant species. Additionally, Kings Park also hosts the famous Kings Park Festival, which is a month-long celebration of the flowers and plants of Western Australia that is visited by an estimated 500,000 guests each year.
Lincoln Park, Chicago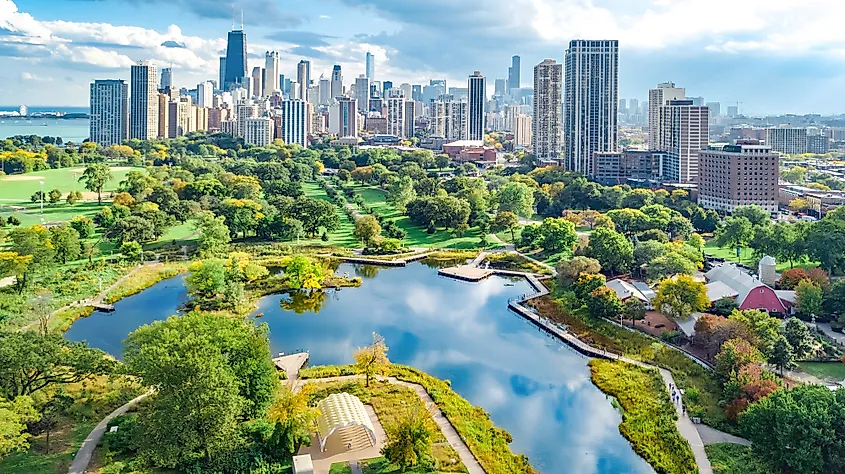 Lincoln Park is located along the northern edge of Chicago, Illinois, and borders lake Michigan. It is the city's largest park, and is 11 km long. The park was originally established in 1860, and later renamed to commemorate the late Abraham Lincoln. As a city park, Lincoln Park contains both green spaces and waterfront, as well as the Lincoln Park Zoo, Nature Museum, History Museum, and a flourishing conservatory with a wide range of plants and flowers. Its natural spaces also provide homes to various local animals and birds like beavers, foxes, herons, warblers and hawks.
Lumpini Park, Bangkok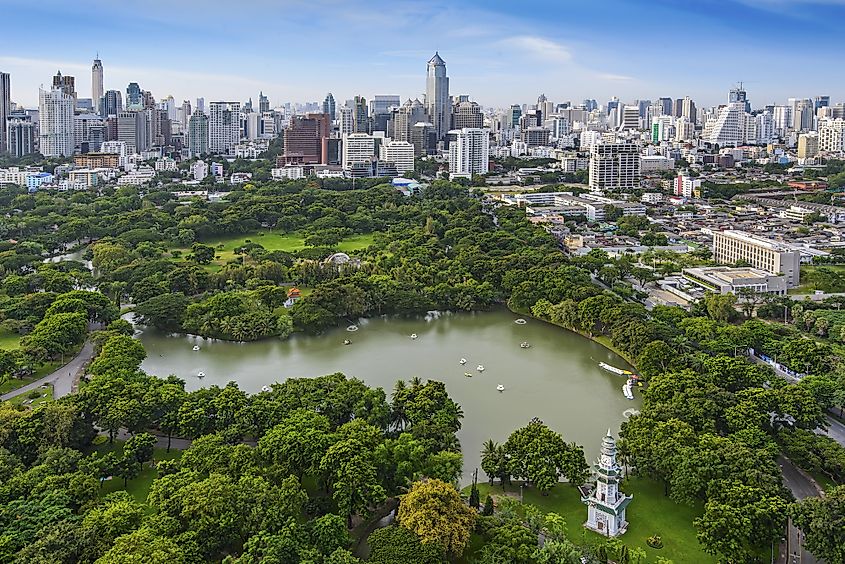 In the heart of the loud and bustling city of Bangkok, Thailand, lies Lumpini Park, a 0.6 square kilometer area of green spaces and recreation centres. The grounds were once owned by King Rama, whose statue still stands in the park. Today, it is accompanied by a number of centres such as the Lumpini Park Library, the Home of Hope children's refuge, a youth center, Elder Citizen's club, and the Smiling Sun Ground. In addition to the various recreational and aid centers, Lumpini Lake and surrounding grounds are filled with flowering bushes, palm trees and, famously, giant monitor lizards.
Luxembourg Garden, Paris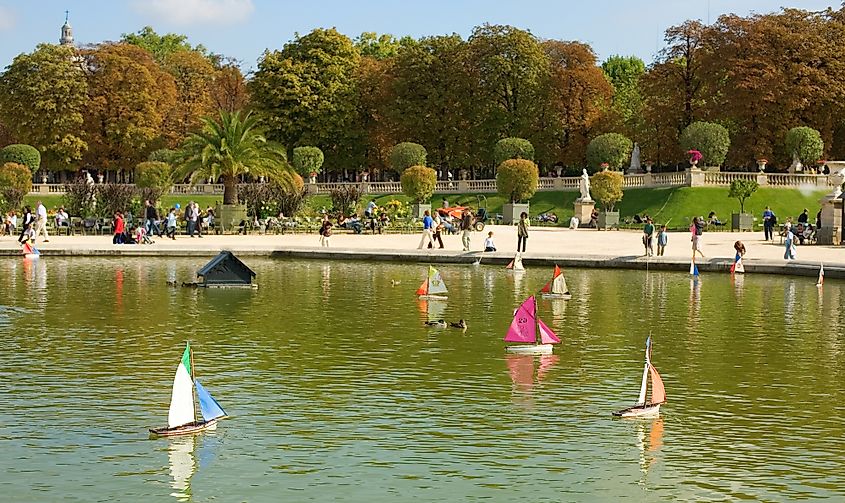 This Parisian Garden dates all the way back to 1612, and was originally the grounds of the Luxembourg Palace. Now a public garden in the 6th arrondissement of Paris, it is a lush escape from the city for both tourists and locals. Like many older villa or palace gardens, Luxembourg is a mixture of green space and impressive architecture - from the beautiful Medici Fountainto the palace  and Grand Bassin. Along with these impressive structures are green lawns, iconic tree-lined promenades, flower gardens, and model sailboats, all of which add to the rich atmosphere of the stately park. Well worth a visit for both locals and tourists, the Luxembourg Garden is a stunning display amidst the bustling urban city.
River Valley, Edmonton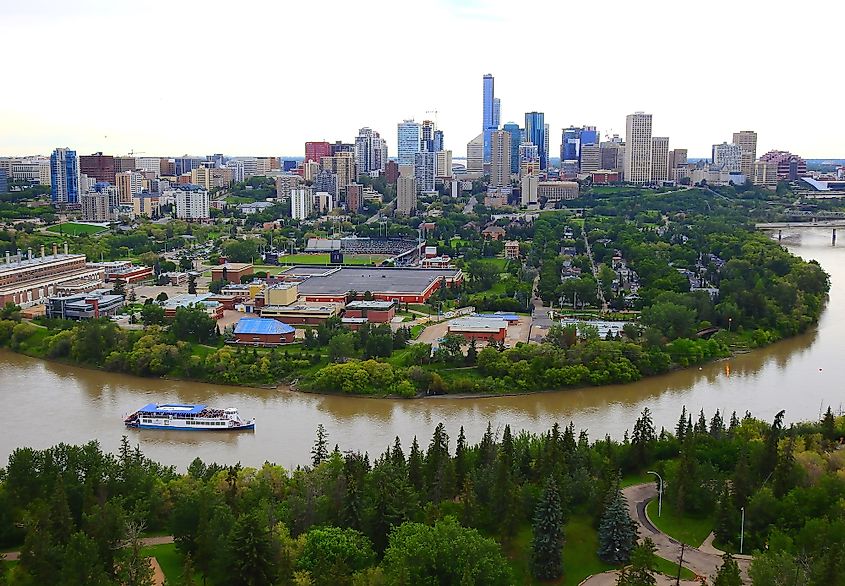 River Valley Park in Edmonton is the largest urban park in Canada. It is situated along the edge of the North Saskatchewan River, and contains a large expanse of river front and green space. The park is popular for various outdoor activities, and has 160 kilometers of pathways for walking, jogging, cycling or mountain biking. Additionally, visitors can canoe in the river, or enjoy snowshoeing and cross-country skiing in the winter months.Attractions in the park include the historical Fort Edmonton Park, the Edmonton Valley Zoo which is home to over 300 animals, the Muttart Conservatory, and the John Janzen Nature Centre.
Royal Botanic Gardens Victoria, Melbourne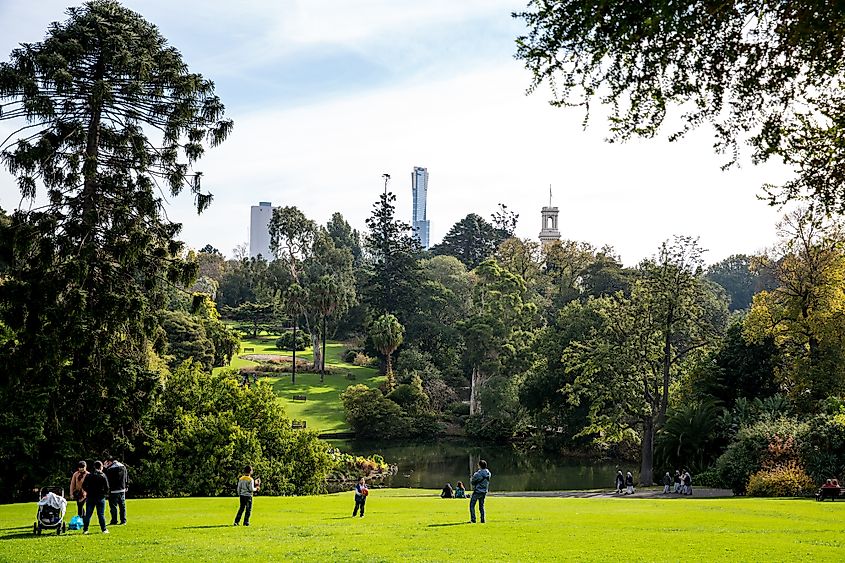 The Royal Botanic Gardens is one of the most visually stunning city parks in the world. Located in Melbourne, Australia, it covers just under 100 acres of land in inner-city Melbourne. The park is a beautiful display of plant life and horticulture, and provides an area for recreation, education, conservation, and more generally an escape from city life. Roughly 8,500 species of plants can be found within the park, many of which are from all over the world. From succulents and cacti to camellias and rainforest plants, herbs, endangered species and local species can all be found in this impressive park.
Sanjay Gandhi National Park, Mumbai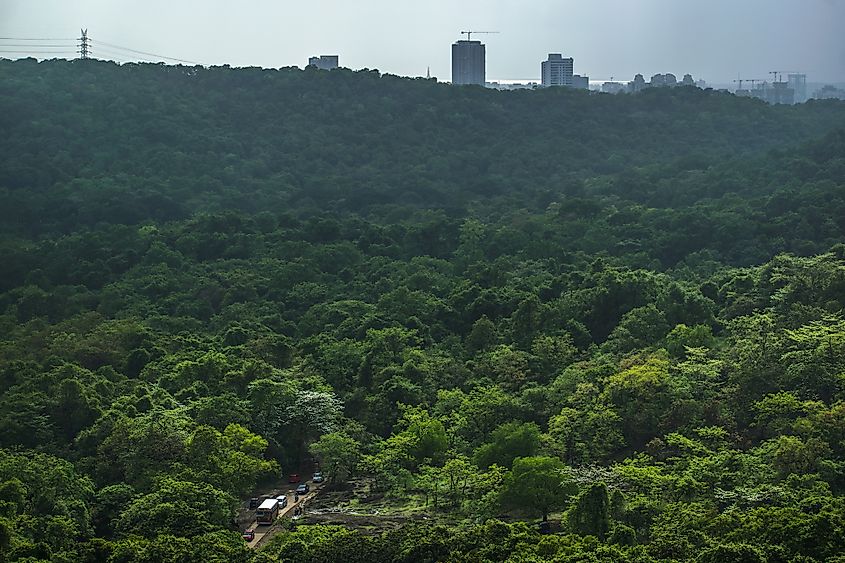 Established in 1996, Sanjay Gandhi National Park is 87 square kilometers of protected area in Mumbai, Maharashtra State in India. It is extremely popular with locals and tourists, and has an average of 2 million visitors each year. Though only recently established, the park has a rich history, some of which can still be seen today. The Kanheri Caves feature buddhist carvings from between the 9th and 1st century BCE. The caves also include a learning centre about Buddhism and the cave sculptures. Additionally, the park is rich in wildlife. More than 1,000 different plant species, 251 species of migratory, land and water birds, and some 40 species of mammals can all be found within the park. Dense forests and plants such as Kadamba, teak, karanj, shisham, acacia, ziziphus, euphorbia, flame of the forest, red silk cotton all grow in abundance in Sanjay Gandhi. Famously, the Karvi plant, which flowers once every eight years, can also be found in the park and is very popular with visitors. Interestingly, the park is also known for its population of around 40 wild leopards living right in the midst of the bustling metropolis of Mumbai.
Stanley Park, Vancouver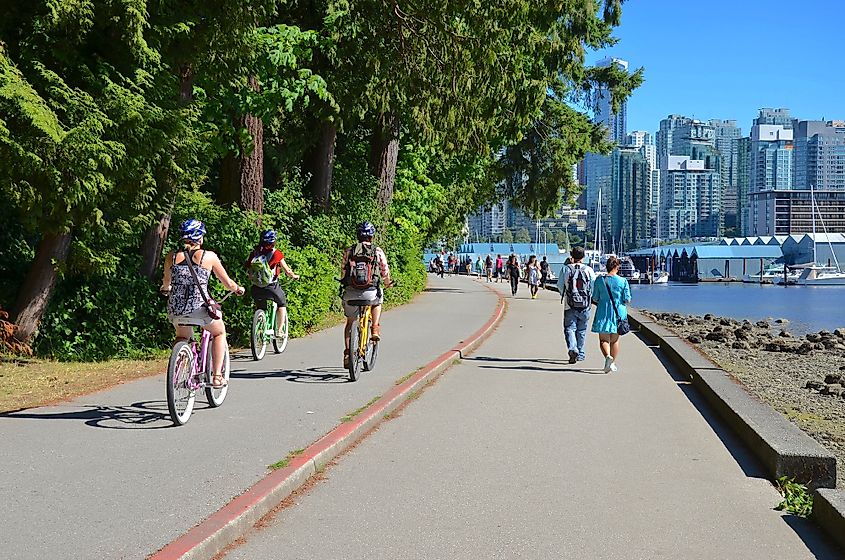 Stanley Park covers an area of 4 square kilometers and occupies roughly half of the downtown peninsula in Vancouver, British Columbia, Canada. Being on  the tip of the peninsula, it is almost completely surrounded by the Burrard Inlet and English Bay, in the pacific ocean. Stanley is the first, the largest, and one of the most popular urban parks in Vancouver, and offers various activities and attractions. The famous seawall offers a boardwalk-style path along the water's edge where visitors can stroll or bike, taking in the views of the city, the sea, and the West Coast forests. Stanley Park also offers impressive views of the nearby mountain range, which towers over Vancouver and much of B.C. with its whitecaps peaks. Famous for its fresh air and views, Stanley Park is a great way to get outdoors and enjoy the natural beauty of Vancouver.
Yoyogi Park, Tokyo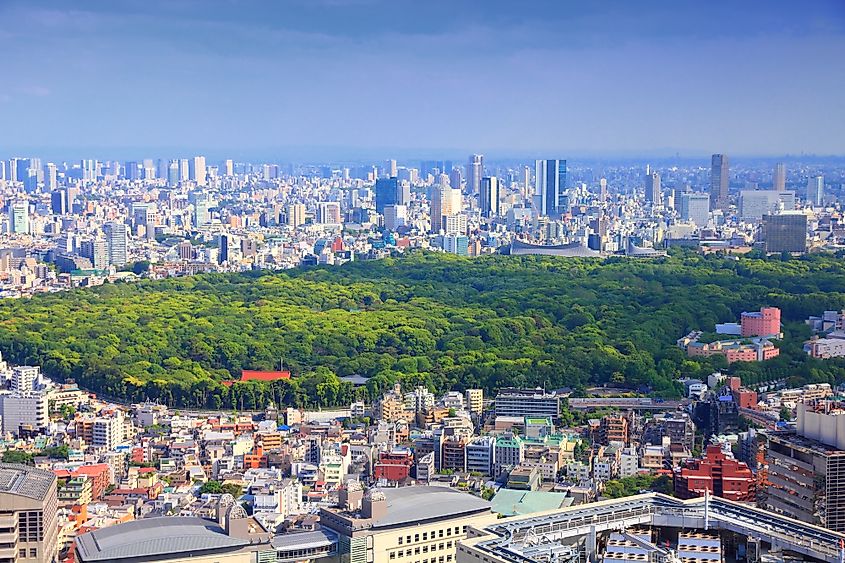 Yoyogi Park is in one of the most popular areas of Tokyo, Japan. It provides a green space where city dwellers and tourists can escape the urban life and take a break beside lakes, ponds, or water features, or just lounge in the gardens and lawns. The park also has a natural forested area that lets guests soak in the beauty of Japanese nature. Some cherry blossom trees and a large expanse of Ginko trees colour the park seasonally, with soft pink blossoms or golden hues, respectively. 
Whether seeking a peaceful respite from urban life, or a cultural hub of activity, these City Parks hold an impressive array of attractions and sights. From stunning floral gardens and greenhouses to zoos, museums and rec centres, these examples of city parks from around the world show the importance of having a green space in even the most urban of areas.