Forest Park is part of the city of St. Louis, Missouri, United States. It measures an area of a little over 5 square kilometers. The park first opened in 1876 and is home to a number of attractions and centers. As a cultural and physical center, it is often referred to as the "heart of St. Louis."
History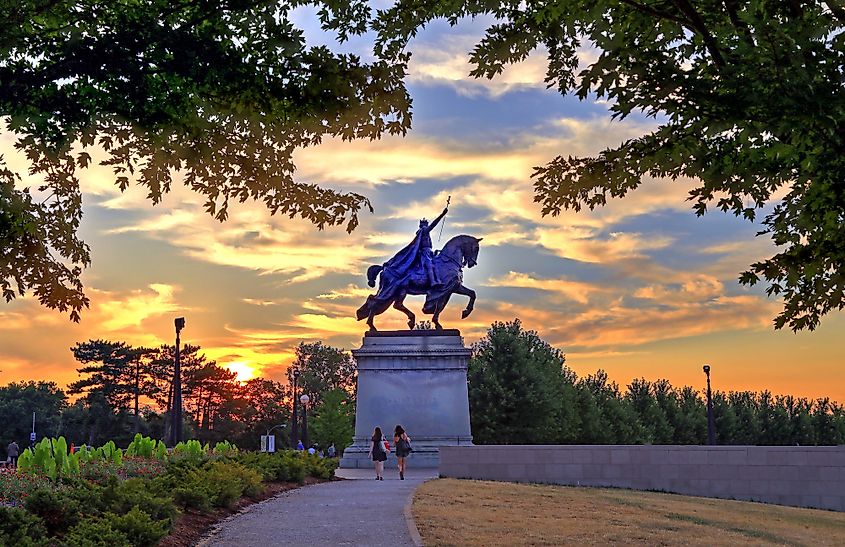 Though the idea for the park was first suggested in 1864, due to various complications and resistance, it was not opened until 1876. At the time of dedication, some 50,000 visitors came to enjoy the celebrations. In 1890, a streetcar line was built that reached the park, allowing for on average, 3 million visitors a year. Additionally, the park has hosted a number of important events of the years, including both the Louisiana Purchase Exposition in 1904, and the 1904 Summer Olympics, including  diving, swimming, and water polo events.
Because of these prominent events, much in the park was changed. The wetland area was drained and converted to water features and lakes, while much of the event infrastructure and facilities were left in the park for public use. Additionally, a great number of trees were planted in planned areas, and vistas were sculpted. In the early 2000s, efforts were made to restore the original landscape, and the formerly drained wetlands were restored. This resulted in a resurgence of natural wildlife throughout the park. Green spaces include Kennedy Forest and Kennedy Woods, the Brickline Greenway, and Government Hill.
Wildlife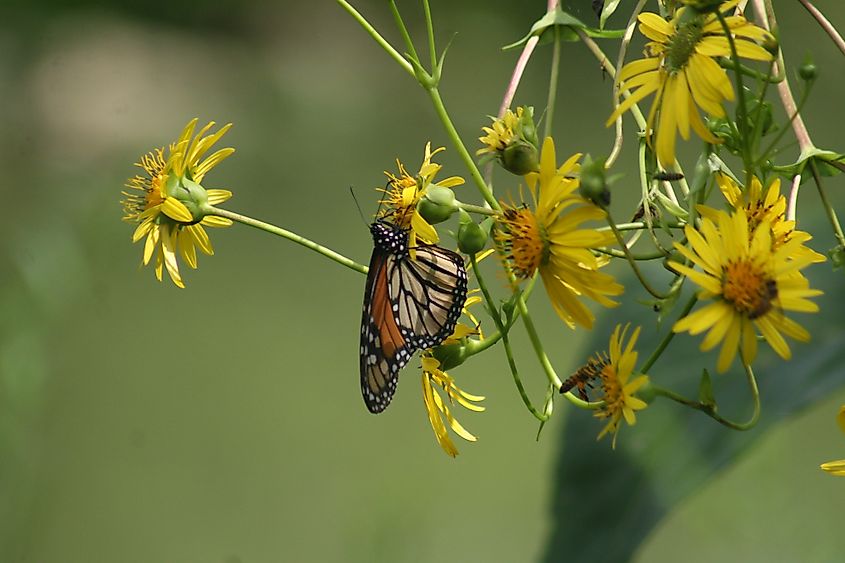 Forest Park is home to a large variety of plants and animals, which are continuing to grow in diversity thanks in large part to the return of the natural wetlands in the area. Roughly 600 different species of plants can be found here, from trees to grasses to moss, as well as 200 bird species (some of which are migratory only). Pollinators are also abundant in this area, and there have been around 200 species recorded from the bee, butterfly and moth families. Mammals are less common, but making a resurgence, and animals such as mink, foxes, deer and coyotes can all be found in the region.
Attractions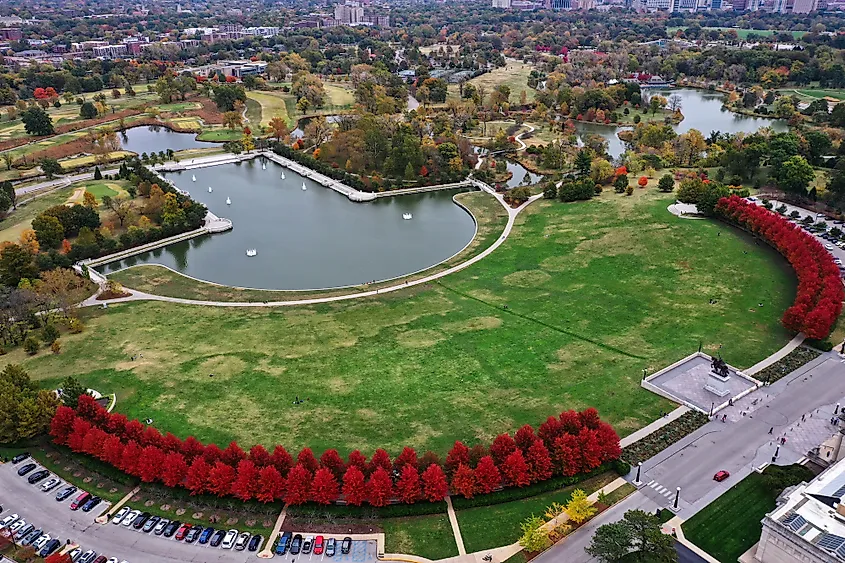 The park holds many attractions, including recreational attractions such as skating rinks, two golf courses, a tennis court, greenhouses, gardens and pavilions. It is also home to the St. Louis Zoo, which has operated in the park since 1910. It is home to roughly 18,000 animals, which are divided into five zones. the River's Edge, The Wild, the interactive Discovery Zone, Red Rocks, and the Historic Hill, which is the oldest part of the zoo.
The park also houses several cultural museums, such as the St. Louis Art Museum, the Missouri History Museum, and the St. Louis Science Center, the Muny (Municipal Theatre Association of St. Louis), The Jewel Box, an art deco greenhouse, turtle park sculpture park, and the world's fair pavilion.
Since the late 1800s, Forest Parks has been an oasis for St. Louis locals looking to step out of the city and into the peace of a natural forest space. Now full of various attractions and recreation areas, the park is not only a greenspace, but a practical area of activity and culture. Tourists and locals alike can take advantage of all the Forest Park has to offer, from the St. Louis Zoo to the Jewel Box.