Yoyogi Park is located in Yoyogikamizonocho, Shibuya, Tokyo, Japan, and is one of the city's largest urban parks. The park features a mixture of green lawns, lakes and ponds with an impressive water feature, and treed forest areas where city dwellers can escape the hustle and bustle and enjoy the peace and calm of nature. The park is open to visitors every day of the year, and require no admission fee.
History
Yoyogi Park has an interesting history. It is first known as the location of Japan's first successful powered aircraft flight, which took place in 1910. In 1945 during the Allied occupation of Japan, the park was the location of a US military barracks known as Washington Heights. In 1964, the site had another important role, as it became part of the Olympic village and housed the Yoyogi National Gymnasium during the summer Tokyo Olympics. Basketball, diving, and swimming events all took place here. Again, during the 2020 Olympic summer games - which actually took place a year later due to the Covid-19 pandemic - Yoyogi National Gymnasium hosted the handball events.
Location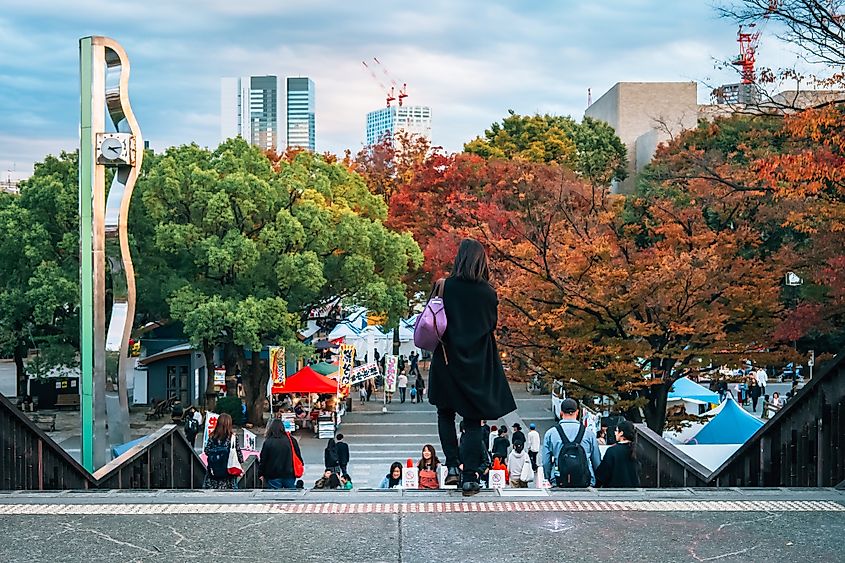 Yoyogi Park is located in one of the more popular areas in Tokyo, especially for tourists. It is across the street from the beautiful and historic Meiji Shrine, as well as the culture and fashion district Harajuku, and the bustling Shibuya area. It is easily accessible by train or public transport, and with so many popular tourist areas around, it is a must-see for any traveller.
Events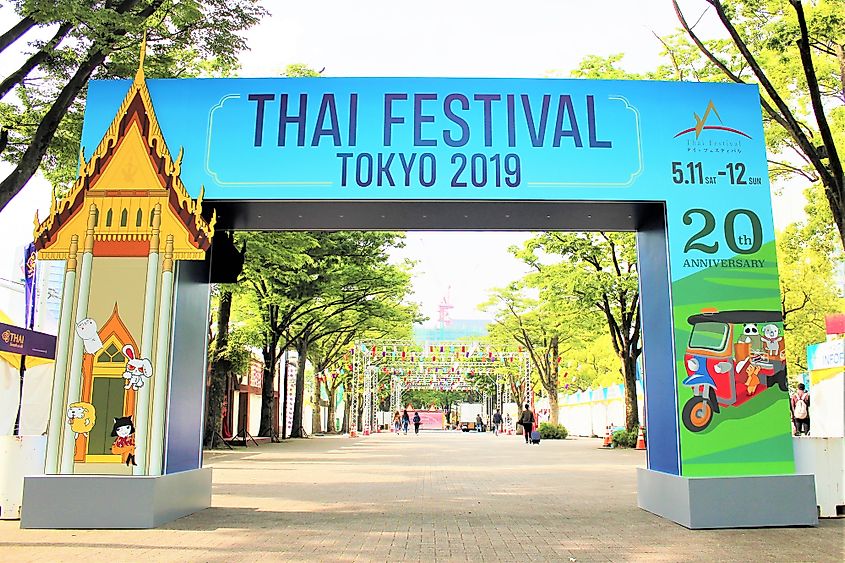 Yoyogi is also known for being a cultural hub of public events. World festivals are common here on weekends, and there are celebrations and festivals of all sorts in the grounds. Visitors may stumble upon food fairs, annual Earth Day celberationds, Gay Pride festivies, and various enter tianers and peakers on the open-air stage.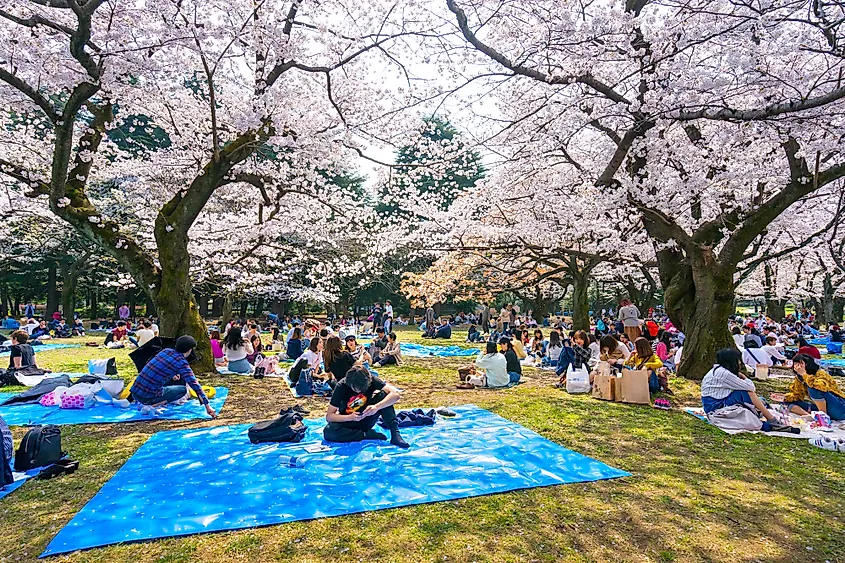 And while not the most  impressive place for cherry blossoms within Japan, it is still a popular choice for locals or those wanting to see some of Japan's famous cherry blossoms (or hanami) with a little less of a crowd.
Flora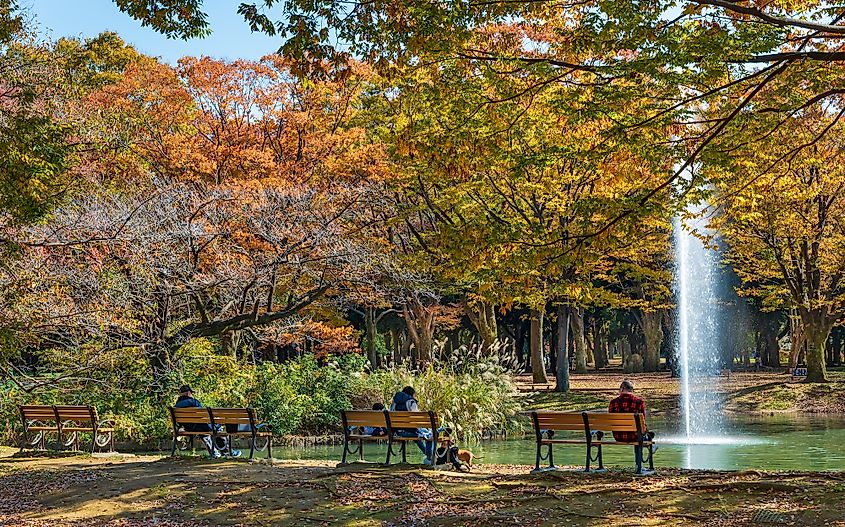 Green space is abundant in Yoyogi park, and many city dwellers or workers will come to spend time during lunch breaks, or go on an outdoor date with a significant other. While its cherry blossoms may be less abundant, Yoyogi is much more famous for its large population of Ginko trees. In autumn, this forest turns various shades of gold and orange, showering the park in a golden light that is truly spectacular to see. Other native species include crape myrtle woods, large button balls, Japanese zelkovas, large soapberries, Japanese honey locusts, camphor trees, and Japanese chinquapin.
During the 1964 Tokyo Olympics, an area known as the 'Sample Garden' was also created, where each country was asked to bring a tree seed from their home country. Twenty-two different countries obliged, offering a species of plant native to or representative of their homeland. The seeds were planted in this area, and now a variety of trees stand side by side as a show of friendship and unity. 
Fauna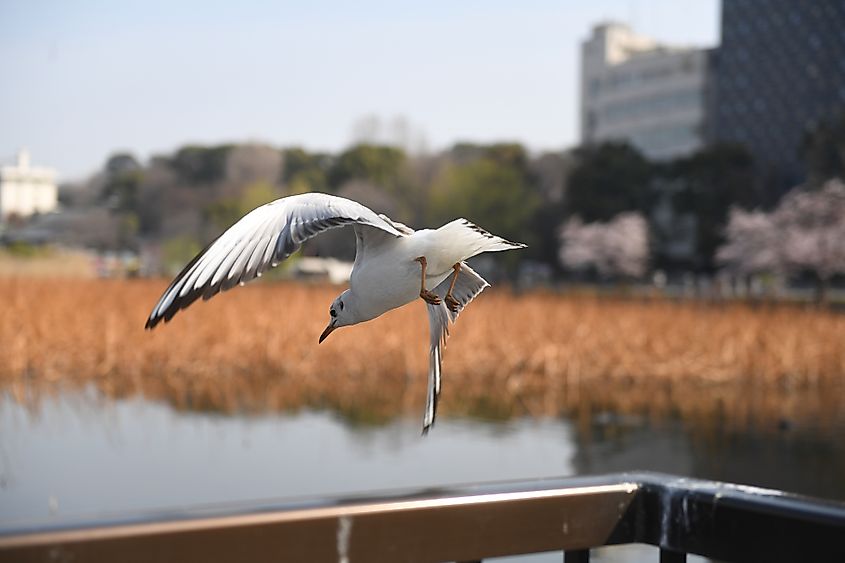 While there is not a large amount of wildlife in the park due to its urban setting, there is a fenced area of the park designated as the Bird Sanctuary. Within the area, native plants and fruits which local birds favour are planted and protected to entice avion visitors and provide them with suitable home and food. The intention here is to keep this area as much like the original natural climate as possible, given that most of the region has been taken over by urban development or cultivated lawns and gardens.
Yoyogi is an interesting location, bringing together culture, history, and nature in one eclectic location. From Olympic villages to ginkgo trees and flight monuments, the park has something for everyone to enjoy, and offers a break from the large bright urban city around it.