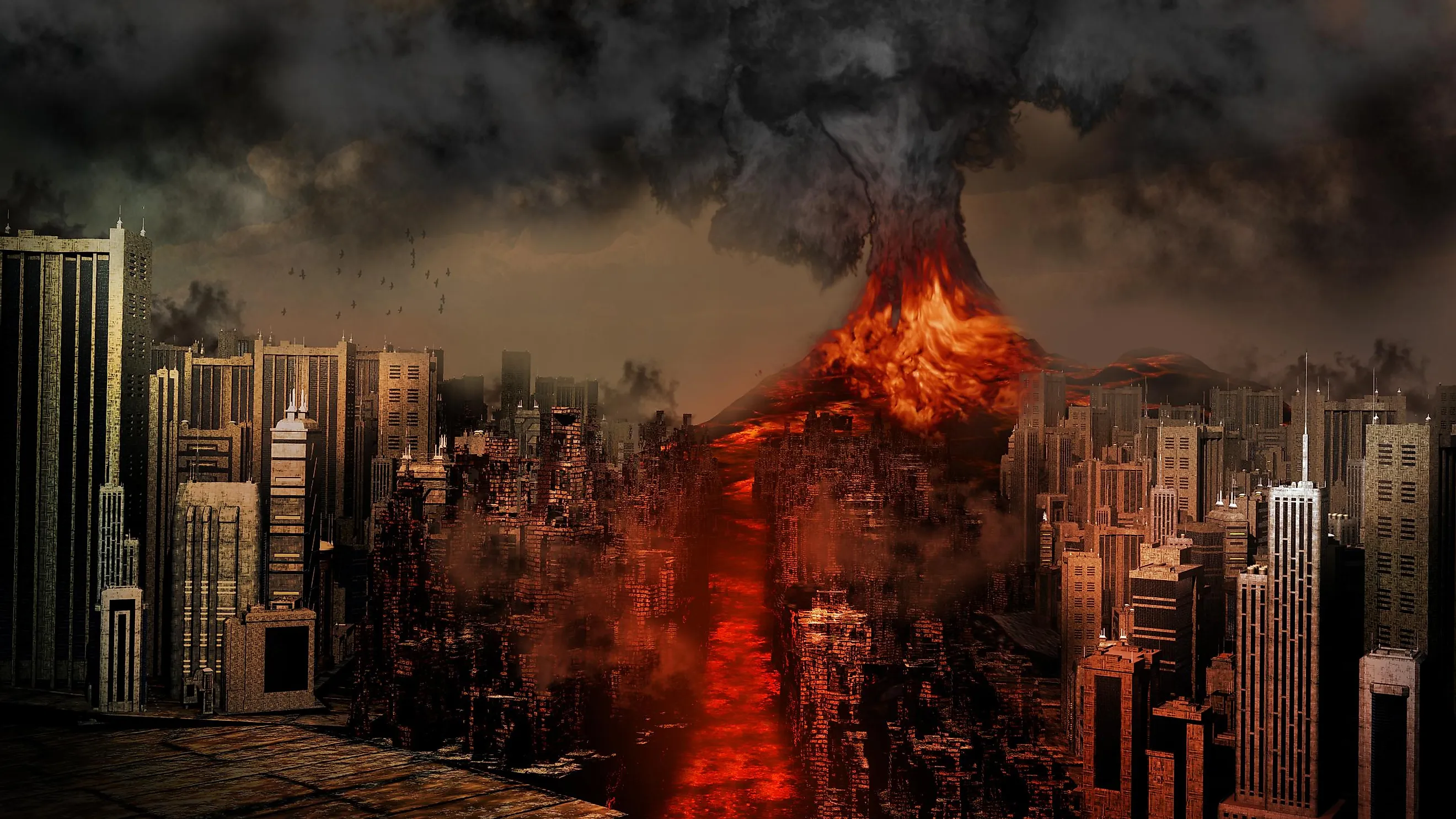 9 Cities That Could Be The Next Pompeii
The Ancient Roman city of Pompeii is widely known as one of the most famous victims of a deadly volcanic eruption. Indeed in the year 79 AD, Mount Vesuvius' eruption totally destroyed the city, covering it completely with ash, molten rocks, and poisonous gas. With the preserved remains of many victims excavated in the ensuing centuries, Pompeii remains a warning for other modern cities in the shadow of volcanos. Though scientific breakthroughs have enabled us to better understand volcanic activity and warnings can be issued far in advance, several cities continue to live with a potentially dangerous situation. Situated next to diverse volcanic fonts, these 7 Cities all look to avoid the same fate as Pompeii.
Legazpi, Philippines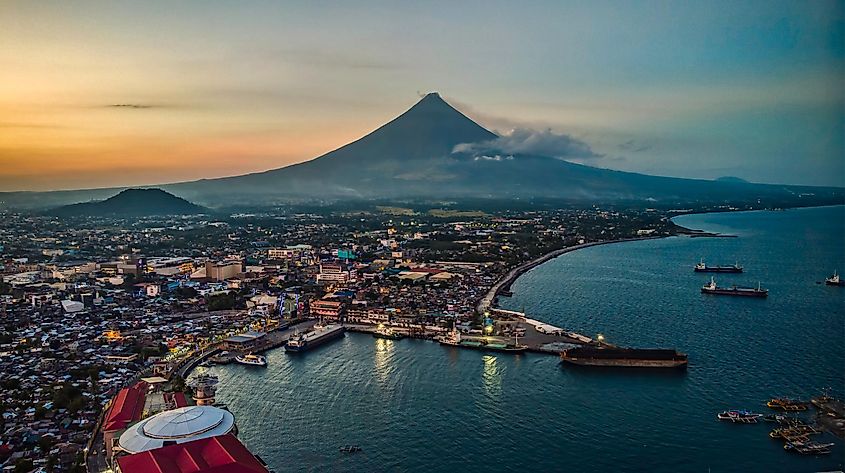 The active stratovolcano Mount Mayon, the nation's most active volcano, is located just outside the borders of the Filipino city of Legazpi. Thus, the residents of Legazpi are always on alert for a potentially dangerous major eruption. Over the years, lava flows and air vents of varying severity have led to evacuations in the area, but a serious volcanic event has thankfully not yet materialized. Hence, while tourists and inhabitants may enjoy Legazpi's beautiful beaches and weather, vigilance is always required in when the shadow of the mighty Mount Mayon. 
Hilo, Hawaii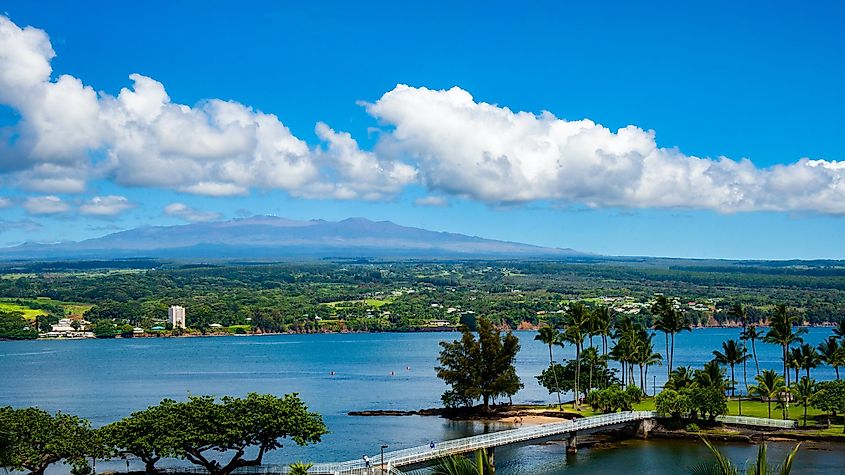 On the biggest of the Hawaiian Islands, Hilo overlooks two volcanoes, Mauna Kea and Mauna Loa respectively. While the former is considered dormant, the latter is an active volcano, and lava outflow has reached perilously close to town several times. Considered the largest volcano on Earth, Mauna Loa has a high rate of lava production and numerous vents close to Hilo city center. Indeed as recently as 1984, lava flow came as close as 8 kilometers to Hilo, making its residents always mindful of a potentially dangerous volcanic event. 
Shimabara, Japan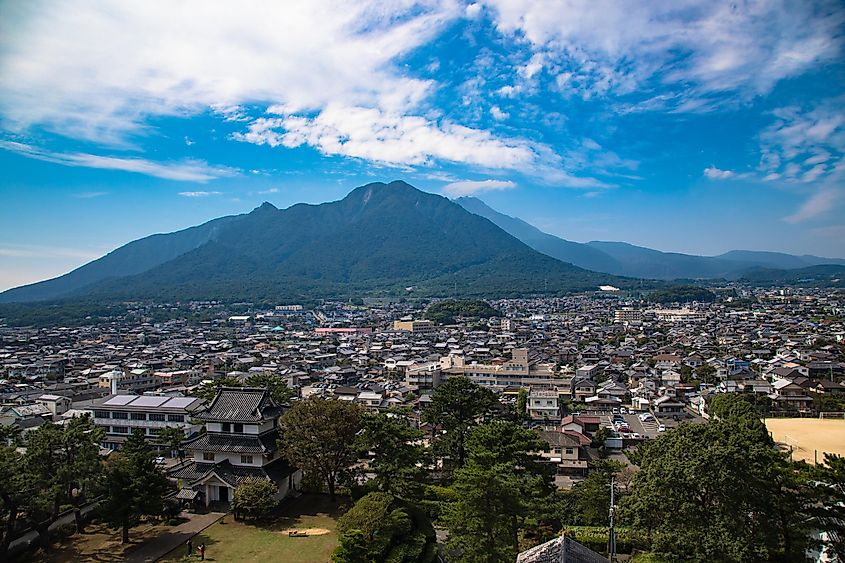 Situated on the island of Kyushu, the Japanese city of Shimabara is a historically fascinating locale that also lies within the shadow of Mount Unzen. While tourists can marvel at the traditional Japanese architecture and learn more about the rise of the famous Samurai Warriors in Shimabara, one should also be wary of the active volcano. Although Mount Unzen was thought dormant after its major eruption of 1792 killed 15,000 people in the resulting tsunami, the volcano awoke again in 1991. Since then, it has continuously spewed hot gas, ash falls, and mudflows while avoiding a major eruption. Still, scientists in the area constantly monitor the volcano, and Shimabara residents are always aware of the potential for a highly fatal volcanic event. 
Pasto, Colombia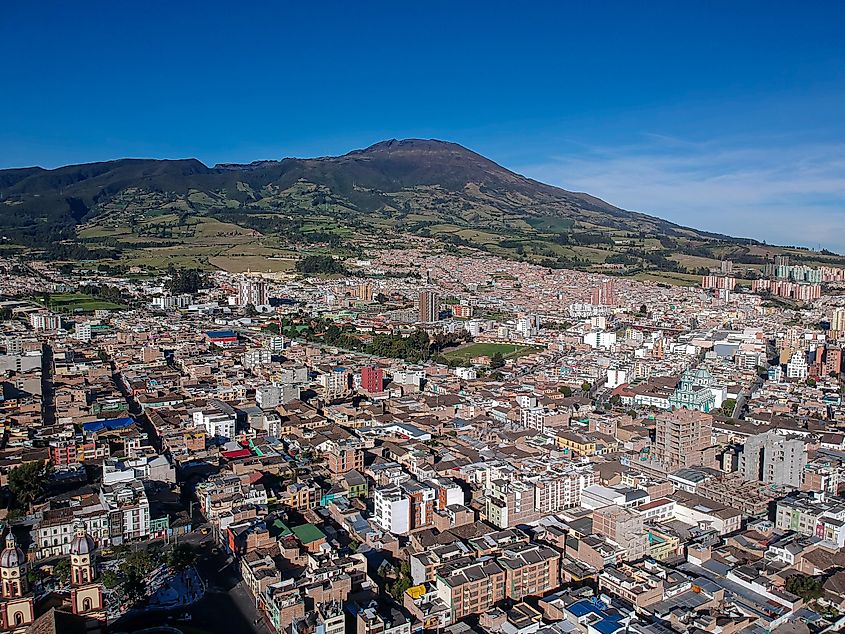 One of Colombia's oldest cities, Pasto, was founded in 1537 and inhabited by Indigenous peoples for many centuries before that. Located within the Andes Mountain range, this city of nearly 400,000 residents is also located at the foot of the Galeras Volcano. This active stratovolcano's last major eruption occurred in 1580, but it has constantly been releasing hot gases, ash, and lava flows. Numerous minor eruptions have been observed as recently as 2014. Volcanologists are particularly worried about potential rock slides, lava ejections, and ash plumes that could also adversely affect the air quality of the city and surrounding area. 
Catania, Italy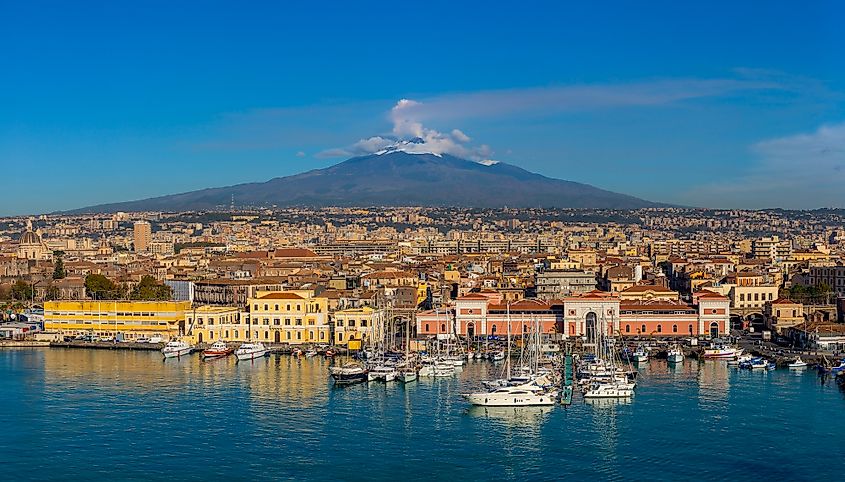 Catania is near one of the world's most famous and active volcanoes, Mount Etna. On the Mediterranean's largest island, Sicily, Mount Etna has kept scientists and the public fascinated for centuries with its brilliant lava eruptions. But while its magma flows may certainly be beautiful to look at, residents of Catania know that with every eruption, the potential for a catastrophic event exists. In the past, artistically inclined residents have used volcanic rock and ash to fashion vases, stones for buildings, and even wine flasks, and much of Catania's cultural appeal is indeed linked to the volcano. Still, a duty for vigilance is required, for there is rarely an extended period of time when Mount Etna is not active. 
Arequipa, Peru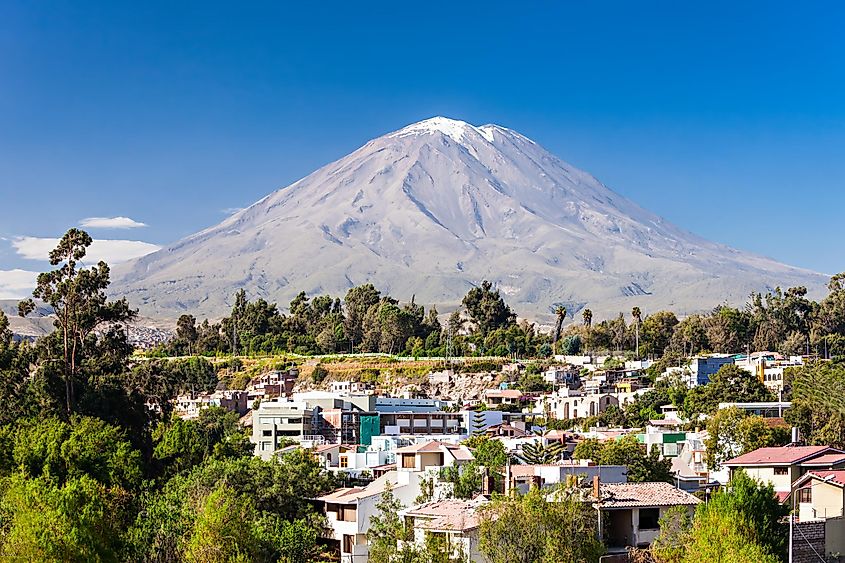 Peru's second largest city and its legal capital, is a tourist magnet. Its historical city center is a UNESCO World Heritage Site displaying Spanish art and architecture in their finest form. This spectacular city is, however, at the mercy of the El Misti volcano that rises above it as a forever reminder that everything can end should nature desire to end it. The last major eruption of this volcano occurred in the 15th century but although less active than most volcanoes on this list, there is no guarantee that it will not get angry again and spew its lava and ash on the city of Arequipa. As of now, it contributes to the beauty of the city by adding glamor to its cityscape.
Goma, Democratic Republic Of The Congo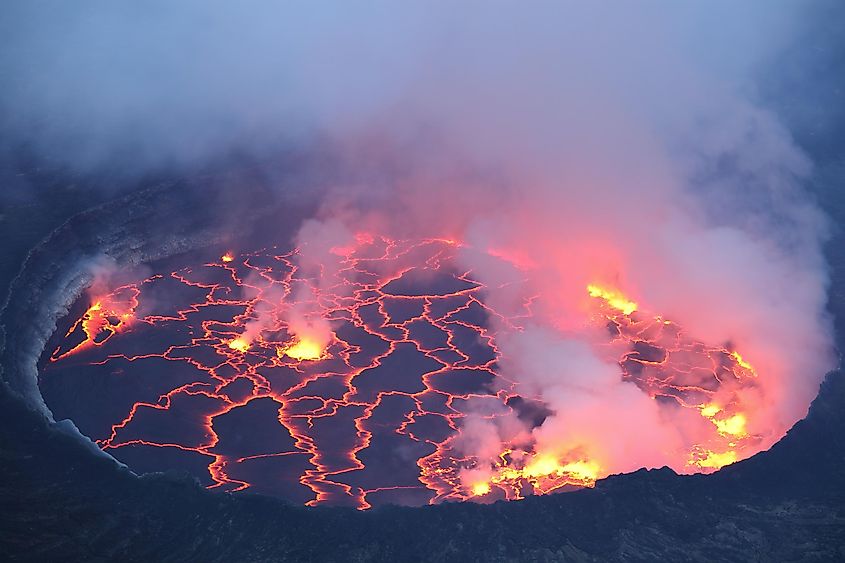 Goma, a city located on the northern shores of Lake Kivu in the DRC has seen bad days in recent times. Not only did it suffer from the atrocities of the Rwandan genocide of 1994, but in 2002, it was nearly completely destroyed by the volcanic action of Mount Nyiragongo. This dangerous volcano is located only around 13 to 18 km from Goma and hosts the world's largest lava lake. In 2002, lava from this volcanic lake spilled over to wipe out the airport of Goma and 4,500 buildings in the city, and caused 147 deaths due to carbon dioxide inhalation.
Quito, Ecuador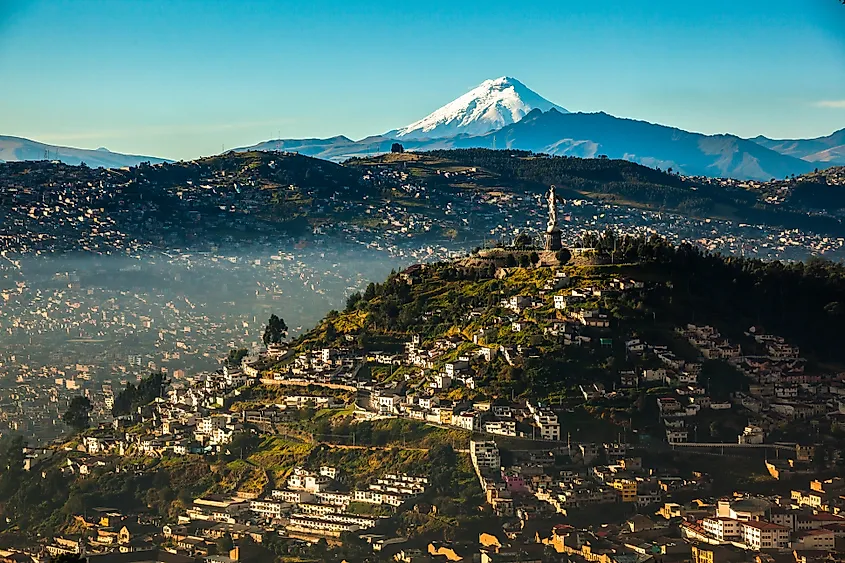 Ecuador's capital city is situated at an astonishing elevation of 9,350 feet, which makes it the world's second-highest city. Within the Andean Mountain range, Quito is close to several stratovolcanoes, but its biggest potential threat comes from Pichincha, which lies just outside the city's eastern boundary. Although long thought to be dormant, this volcano erupted again in 1999 and subsequently covered Quito with several inches of ash and molten debris. Further minor eruptions between 2000 and 2002 alerted volcanologists to the potential of a greater volcanic event. Indeed those in Quito are acutely aware that their giant neighbor could unleash something devastating. 
Santorini, Greece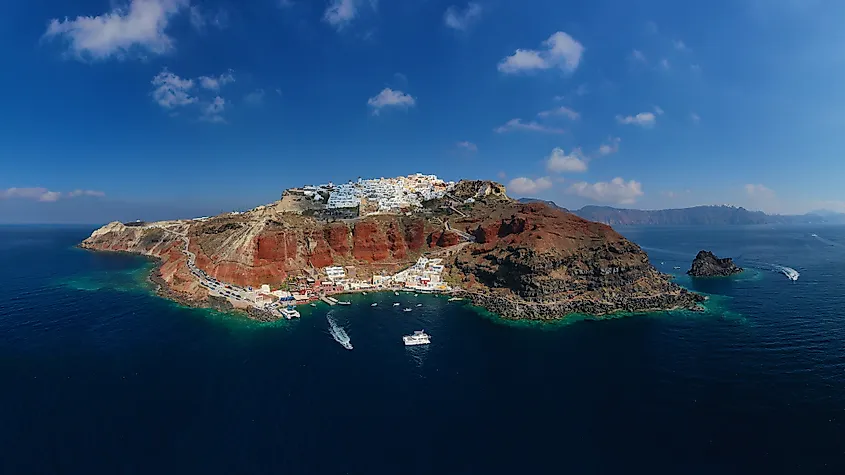 The Greek island of Santorini was the site of one of the world's largest ever recorded volcanic events, the Minoan Eruption, some 3,600 years ago. In fact, this area of the Aegean Sea is full of dormant and active volcanoes, and given Santorini's and other Greek islands' immensely popular tourist industry, a cause for concern is always present. Amongst the volcanoes of note are Kolumbo, a sub-marine caldera that could cause a devastating tsunami if an eruption is forceful enough. While volcanism may be responsible for creating one of Greece's most stunning locales, it also threatens to create much destruction, making Santorini indeed a place of natural contradictions.
Many beautiful cities worldwide find themselves with a most unique and ominous neighbor: volcanoes. With the reminder of the tragic events of Pompeii in 79 AD, scientists and residents are keenly aware that an eruption could indeed spell the end of their beloved homes. While a major volcanic event like Mount Vesuvius has not been projected, the cities on this list remain vigilant, knowing that their futures may indeed depend on what their next-door volcano decides to do.