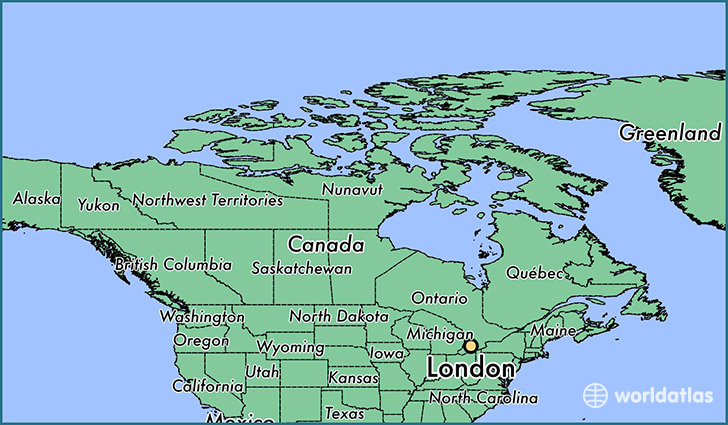 London is a city found in Ontario, Canada. It is located 42.98 latitude and -81.23 longitude and it is situated at elevation 252 meters above sea level.
London has a population of 346,765 making it the 9th biggest city in Ontario. It operates on the EDT time zone, which means that it follows the same time zone as Toronto.
Quick facts
| | |
| --- | --- |
| Country | Canada |
| Province | Ontario |
| Population | 346,765 |
| Elevation | 252 m over sea level |
| Time Zone | EDT |
| Longitude | -81.233040 |
| Latitude | 42.983390 |

London is located in Southwestern Ontario, and is a city largely characterized by the Thames River. The area was formed when the glaciers of the last ice age melted, leaving London and the surrounding area full of marshes and agriculturally productive farmland.
Although the land was set aside in 1793 for the future capital of the province, London was not founded until 1826. Neighboring Toronto is the provincial capital.
London's rich culture is responsible for attracting tourists. Full of historical sites, beautiful parks, and numerous festivals, the city has something to offer everyone who visits. Although London is home to quality restaurants, great entertainment venues, and professional sporting events, the Canadian city still has a small town ambiance.

London is referred to as the Forest City because of its abundance of wooded parks and green spaces.
Famous Ontario native Guy Lombardo (1902- 1977), leader of the 'Royal Canadian's' during the Big Band Era and famous for his yearly New Year's rendition of "Auld Lang Syne", was born in the city of London.
Actress Rachel McAdams, starring in Sherlock Holmes, The Notebook, and State of Play, is another famous native of London, Ontario.

Take a look at these great things to do on yourCanada vacation:
Museum of Ontario Archaeology
Located next to Canada's on-going excavation and reconstruction site of an Iroquoian village, the Museum of Archaeology houses artifacts and information about 12,000 years of southwestern Ontario's native culture. The museum's libraries, galleries, and collections offer information onOntario's history. Site structures on the museum grounds include palisades, a maze, earthworks and native longhouses. The museum offers both summer camp and hands on educational programs, specifically designed to work with school curriculums for grades 2 to 12.
Museum London
Housing collections of art, photography, and historical artifacts, Museum London is the ideal place to go to learn about the city's heritage. The art collection contains more than 5,000 regional Canadian pieces and boasts an impressive collection of over 25,000 historical London artifacts. The museum offers interactive children's programs, and travelling art shows from the best talents in Canada, including Erik Atkinson, Kelly Wallace, Aidan Urquhart, and southern Ontario cartoonist, Seth.
The Grand Theatre
Opening its doors in 1901, The Grand Theatre has built a century-long reputation of hosting elegant and professional performances. Known for its architectural beauty and traditional theatrical design, the Grand Theatre has hosted numerous famous performers, including Sidney Poitier, Sarah Bernhardt and Maggie Smith. The Grand Theatre features both a main stage for large play and musical productions and the smaller McManus Stage, for productions for young people and works of local writers through the Playwrights Cabaret.
Maps
This page was last updated on October 2, 2015.