Often referred to as the "Mighty Mac" or "Big Mac," the Mackinac Bridge is currently the world's 25th-longest suspension bridge with a total length of approximately 8,038 m. Besides the Golden Gate Bridge and the Verrazzano-Narrows Bridge, it is also the United States' third-longest suspension bridge.
Where Is The Mackinac Bridge?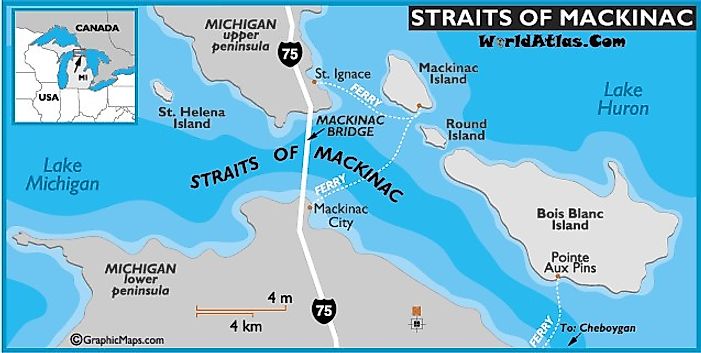 The Mackinac Bridge is officially a part of Interstate 75 and spans the Straits of Mackinac, connecting the Upper Peninsula with the Lower Peninsula in the US state of Michigan. This toll bridge also links the city of St. Ignace on its northern end with the village of Mackinaw City on its southern end.
About The Bridge
The Mackinac Bridge measures 2,543 m between its main anchorages and is regarded as the longest suspension bridge between anchorages in the entire Western Hemisphere. The main bridge cables are made from 68,000 km of wire and the towers stand at 168 m above the water and have a maximum depth of about 64 m below the water. The longest span between the two towers measures 1,158 m which is further stiffened by a truss that has a depth of about 11.6 m. The total width of the bridge's roadway is about 16.5 m with each of the two outside lanes about 3.7 m wide and the two inside lanes measuring 3.4 m each. The height of the roadway at mid-span is approximately 61 m above the water level. This suspension bridge has been designed in such a way so that it can withstand high winds and changes in temperature and weight.
Brief History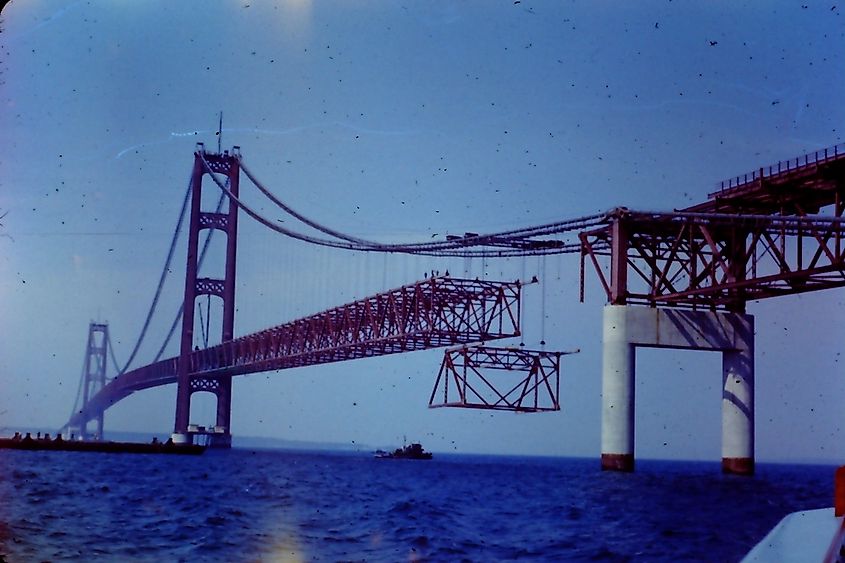 The Mackinac Bridge was designed by the famous American civil engineer David B. Steinman and was opened to traffic on November 1, 1957. This modern engineering marvel took more than 48 months to complete and over 3,500 skilled workers were involved in its construction. The total estimated cost for the entire project was about $95 million, which would be equivalent to $739 million in 2019. The American Society of Civil Engineers designated the Mackinac Bridge as a "National Historic Civil Engineering Landmark" in 2010.
The Mackinac Bridge serves as a major tourist destination for several bridge enthusiasts and photographers during the summer months. The Mackinac Bridge Walk is an annual event that is held every year on Labor Day.