These ten most beautiful lakes in New England offer some of the most pristine waters in America and a few are among the cleanest lakes in the world. A visit to any of these gems on the east coast of the United States guarantees to captivate you with the natural beauty and plentiful water activities. Outdoor enthusiasts enjoy swimming in some of the deepest freshwater bodies in North America while observing the plentiful wildlife and exploring some of the same environments that the dinosaurs did. Paddling, boating, and fishing are also popular activities while basking in the untouched beauty of some of the best-preserved natural sites in America.
Lake Winnipesaukee, New Hampshire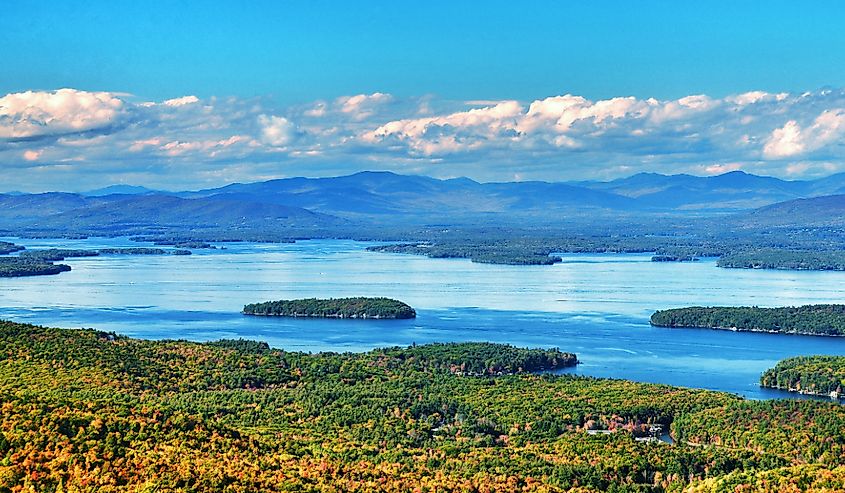 Lake Winnipesaukee is one of the most scenic lakes in New England. You can find it in the Lakes Region of central New Hampshire, which has tons of waterbodies scattered throughout the region. Lake Winnipesaukee itself has a surface area of 72 square miles and is a sight to see for several reasons, one of which are its plentiful islands. The lake has a total of 264 recognized islands, although some argue that there are upwards of 365, and many are so rugged that they are uninhabitable. You can explore them all for yourself by paddling or boating around. There are tons of interesting sights to see, including four historic castles that have been there since the 1800s.
Kezar Lake, Maine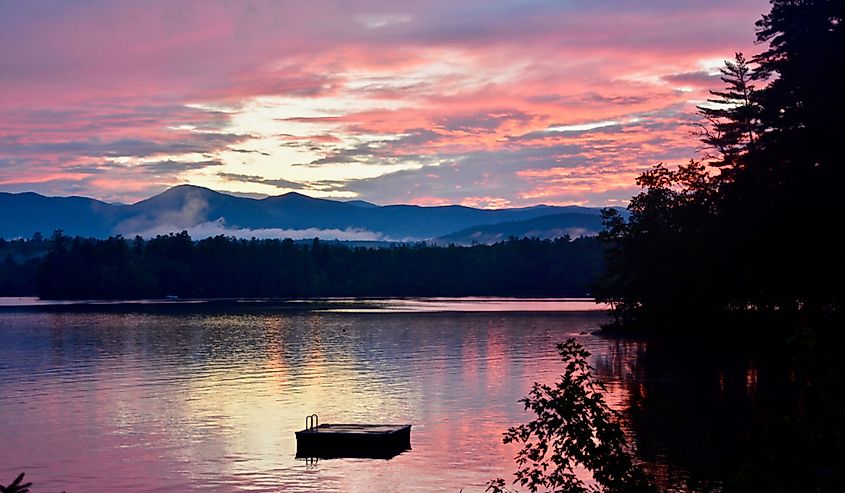 The crystal-clear waters of Kezar Lake are a highly recommended pitstop in western Maine. The backdrop features a stunning view of the White Mountains, while the lake is at the foothills. You can enjoy water sports, observe the wildlife, or even go freshwater fishing. It is one of the best places for bass fishing in the country and has trout and salmon as well. In recent years, a catch-and-release mentality has kept the sport of fresh-water fishing thriving. The lake is also a significant nesting area for loons, which are plentiful in the area. Moose are also often spotted in shallow waters in the area, and they reportedly love playing among the waterlilies. The lake spans nine miles from north to south and has a median depth of 160 feet. It is also considered one of Maine's cleanest lakes, boasting pristine water quality that is perfect for swimming.
Lake Willoughby, Vermont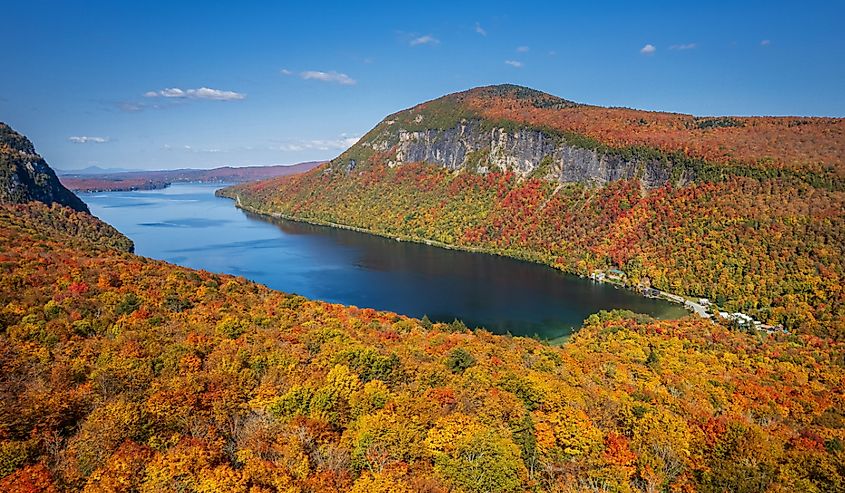 Lake Willoughby is a spectacular destination if you are looking for a scenic lake to visit. It resembles a Norwegian fjord, which is a narrow passage of water that flows in between cliffs. The cliffs stand at 2648 feet and 2751 feet on either side, adding a majestic backdrop to the area. The lake's waters are also some of the deepest in northeastern America, with depths reaching up to 308 feet. The water in the lake is unusually crystal clear due to underwater springs which the lake is constantly fed by. These springs make the water cool and transparent for several feet below you.
Rangeley Lake, Maine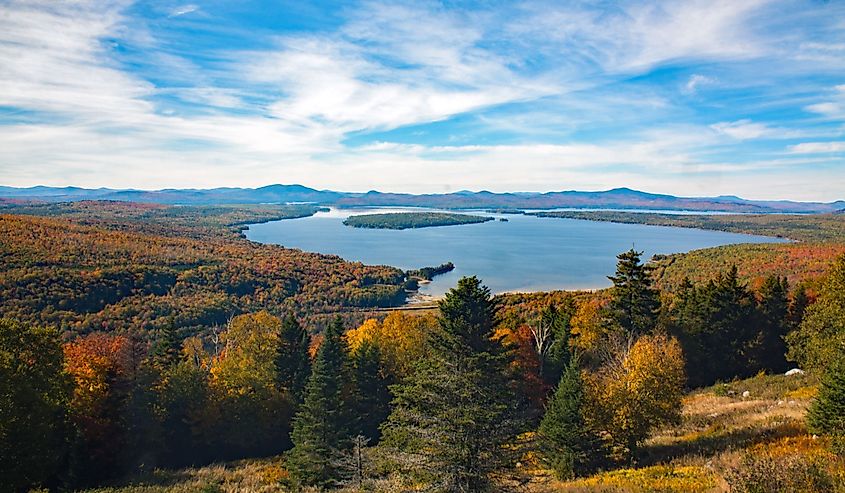 Be sure to visit the awe-inspiring shores of Rangeley Lake while you are driving through northwestern Maine. It is a picturesque visit in any season, with an environment that accommodates a variety of outdoor sports. The lake is also known for its landlocked salmon and brook trout for those who love to cast a line. The lake covers around 6,000 acres and is 149 feet deep. The surrounding scenery is breathtaking, with tall mountains and fir and spruce trees covering the terrain. There are also plenty of accessible shorelines and boat, kayak, and canoe rentals available. The lake is part of a state park of the same name, with abundant wildlife to observe and enjoy.
Walden Pond, Massachusetts
Contrary to its name, Walden Pond is a lake found about 19 miles outside of the city of Boston, Massachusetts. It is a must-visit for literature and nature lovers alike. The famous American writer and naturalist Henry Thoreau famously gained inspiration from Walden Pond while working on his book, Walden. Henry Thoreau immortalized the entire surrounding area in his writings about getting immersed in the natural beauty of Walden Pond. The area is a great place to enjoy pristine shorelines, and lush hikes among the foliage, and you can even visit a replica of the Cabin that Thoreau lived in while writing Walden.
Purity Lake, New Hampshire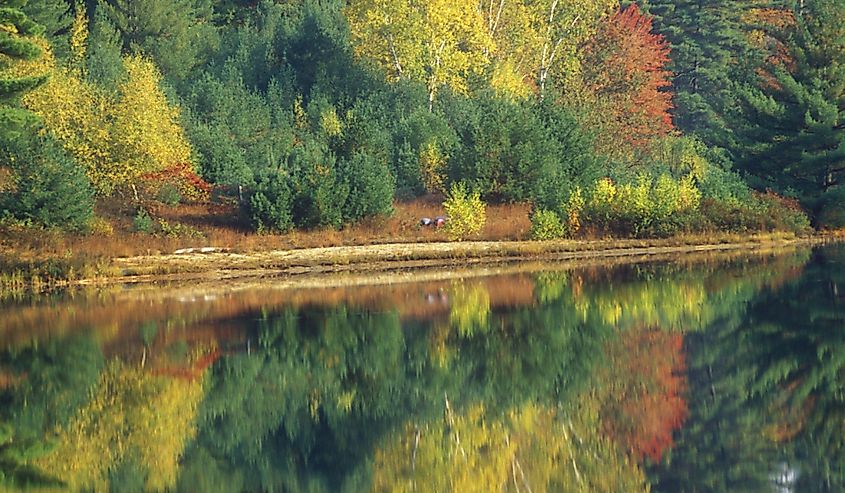 You will find Purity Lake in The Lakes Region of New Hampshire. It has been an immaculate vacation spot for 110 years and it boasts everything that picturesque lake living has to offer, including water sports as well as winter sports when the water freezes into ice. It is a private lake with a cozy, family-owned resort to relax in and enjoy lake living in style. During your stay, there are tons of water activities starting in the early morning and continuing throughout the day. The lake covers a mass of 75 acres, with a maximum depth of 55 feet. Due to the smaller size of the lake, motorized boats are only used one at a time, and smaller boats such as kayaks, canoes, and paddle boats are best suited to exploring the waters.
Lake Champlain, Vermont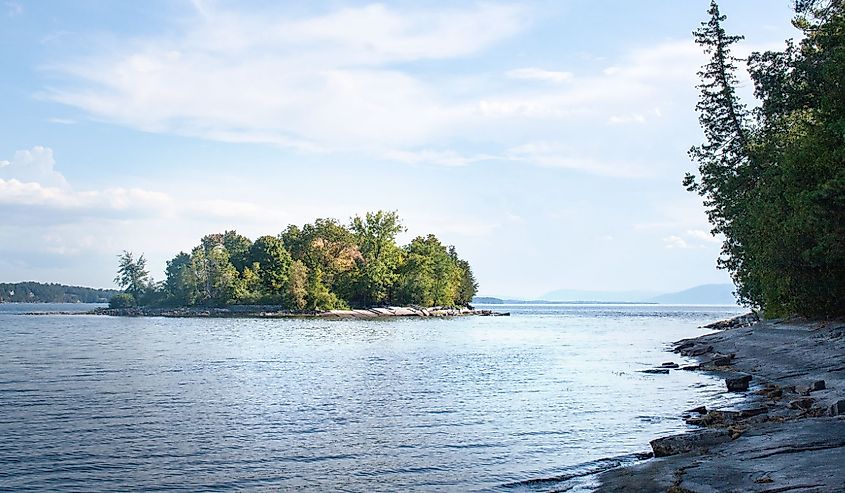 Lake Champlain cuts through the border of New York and Vermont and is a must-visit destination because it is home to the oldest fossil reef on earth, which is between 420 to 480 million years old. There are also rumors that a dinosaur-like creature similar to the Loch Ness monster still resides in the lake. The surface area of the water is 435 square miles, and has an average depth of around 64 feet, while the deepest point reaches up to 400 feet. There are 71 islands to explore, with 587 miles of shoreline in total. Lake Champlain is a freshwater lake that provides drinking water to 200,000 people.
Newfound Lake, New Hampshire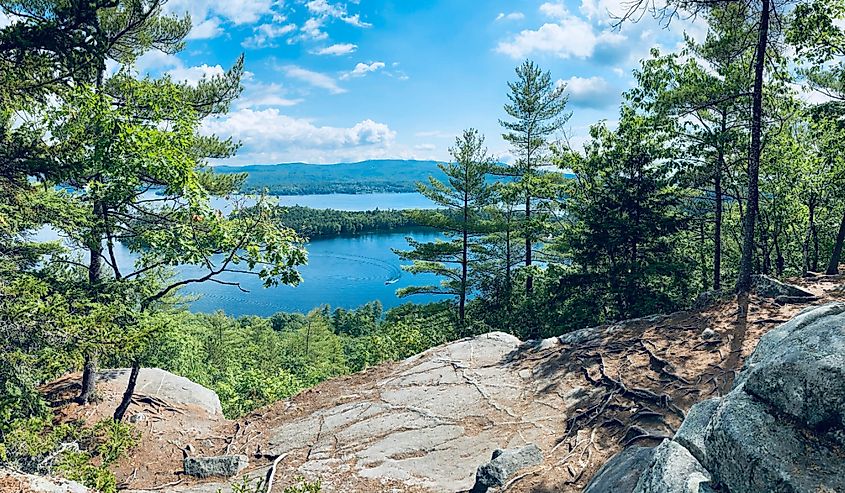 Newfound Lake is the cleanest lake in New Hampshire and even one of the least polluted in the world. It is definitely worth a stop if you are in the Lakes Region of the state. The lake itself is on mainly undeveloped land, allowing for pristine conditions and immaculate water with plenty of salmon and massive lake trout swimming by. There are 22 miles of shoreline to explore, and you can go boating, hiking, swimming, and freshwater fishing. The lake is about 183 feet deep, making it one of the deepest in the state. There are eight freshwater springs that feed into the lake, allowing for its well-kept condition. There are also two picturesque lighthouses that you can visit and admire.
Moosehead Lake, Maine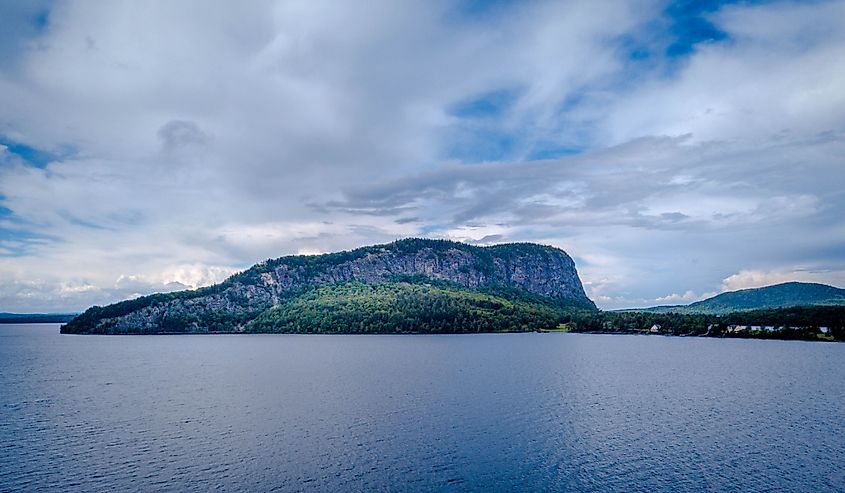 Moosehead Lake is a fantastic location in northern Maine for lovers of pristine natural beauty. You can go birding, fishing, hiking, and even moose-watching on and around the shores of this massive body of water. There are also interesting historic sites to visit in the area, such as wilderness lodges and inns that are still standing after many generations. There are 117 square miles of lake to explore by boat, and you can even go ice fishing in the winter. It is the largest lake in the state, one of the largest freshwater lakes in the United States, and has over 80 wild islands scattered throughout the terrain that is waiting for you to explore.
Lake Saint Catherine, Vermont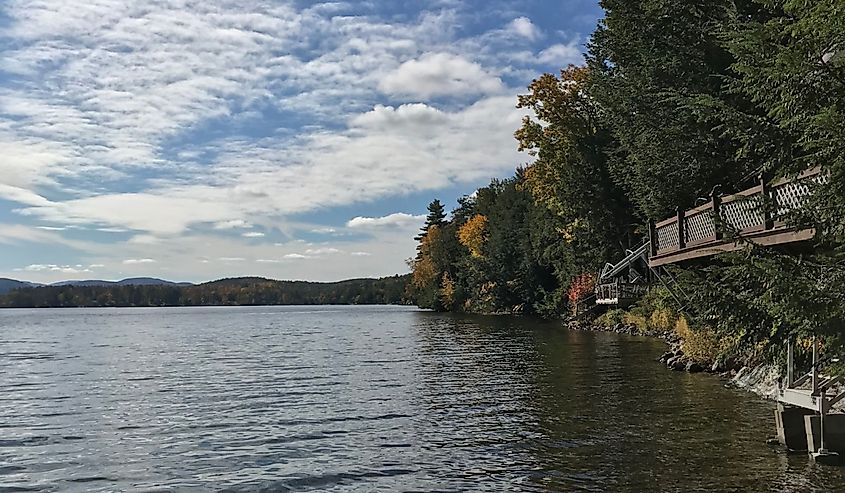 Lake Saint Catherine is near the New York border of Vermont and is a five-mile system of three separate lakes (Big Lake, Little Lake, and Lily Pond) which are connected by channels of water. Fishing is a popular water sport in the region, with bass, trout, catfish, and other species that reside in the lake. Swimming is open to the public, with the deepest point of the water reaching 68 feet, while the average depth is around 32 feet. The northeastern shore of the lake is part of the Lake Saint Catherine State Park, and visitors can go camping or picnicking on the grounds, which are at the foot of a mountain range that was once carved out by glaciers.
Enjoy the Plentiful Lake Activities!
A visit to any of these ten most beautiful lakes in New England will guarantee to be a scenic adventure full of outdoor sports in any season. Fishing, boating, ice skating, and more are readily available at these serene locations, as well as an abundance of natural history and wildlife that you can learn about during your visit. You can bask in the natural luxury of the unbelievably clean waters in these pristinely protected lakes in New England. Some of the waters run deep and are home to a plethora of wild animals and untouched islands that you can access with boats, kayaks, canoes, and more.