World Facts
The 10 Largest Lakes In Maine
Moosehead Lake is Maine's largest lake, occupying an area of 305.3 km2.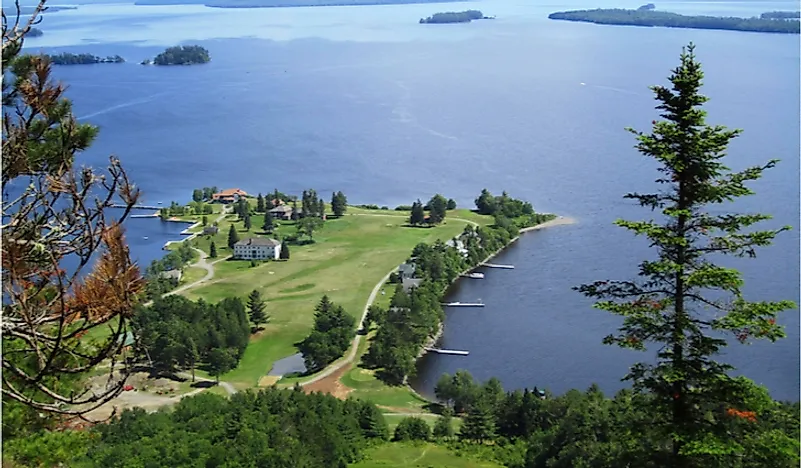 Maine is a US state located in the northeastern part of the country, within the New England region. The state contains a variety of geographical features, including a large number of lakes, both natural and artificial. These lakes have numerous purposes such as commercial and sport fishing, recreation and tourism, and supplying water for irrigation and domestic use. Artificial lakes or reservoirs also help control downstream flooding and store water.
1. Moosehead Lake
Moosehead Lake is Maine's largest lake, occupying an area of 305.3 km2. Additionally, situated at an elevation of 314 m above sea level, it is also the biggest mountain lake in the eastern United States. Moosehead Lake is located in the Longfellow Mountains region of Maine and features more than 80 islands. The Moose River and Roach River are the lake's primary inflows, while the Kennebec River is its primary outflow. The scenic beauty of Moosehead Lake makes it a favorite spot among tourists.
2. Sebago Lake
With an area of 123.5 km2, Sebago Lake is Maine's second largest lake by surface area. It has a maximum depth of 96 m, ranking as the deepest lake in the state. Additionally, since the surface of the lake is 81 m above sea-level, the bottom of the lake is located below sea-level. Sebago Lake is located in Cumberland County and serves as one of the primary sources of water for the Portland Water District. Created in 1938, Sebago Lake State Park is along the shores of the lake. Several species of fish inhabit the waters of Sebago Lake, including Atlantic salmon, lake trout, brown trout, largemouth bass, and northern pike.
3. Chesuncook Lake
Maine's third largest lake is an artificial reservoir that covers an area of 101.9 km2. The reservoir, named Chesuncook Lake, was formed through the construction of dams along the West Branch Penobscot River. The reservoir was built to store water for dry spells, as well as to generate hydroelectricity. Chesuncook Lake is part of the Northern Forest Canoe Trail, and Chesuncook Village was along its shores. The lake serves as a popular start point for whitewater rafting along the Penobscot River.
4. Flagstaff Lake
Flagstaff Lake is Maine's fourth biggest lake, encompassing an area of 82.15 km2 across the border between Franklin County and Somerset County. The North Branch Dead River and South Branch Dead River are the lake's primary inflows, and the Dead River is its primary outflow. Flagstaff Lake is relatively shallow, reaching a maximum depth of 15 m, and many parts are marshy.
5. Spednic Lake
The fifth biggest lake in Maine, Spednic Lake, covers an area of 69.68 km2. The lake is on the international border between the US state of Maine and the Canadian province of New Brunswick. Prior to the construction of a dam, Spednic Lake existed as three separate lakes. Spednic Lake is popular for sport fishing, especially smallmouth bass, landlocked salmon, and white perch.
List of the 10 Largest Lakes in Maine by Surface Area
| Rank | Lake | Area (km2) |
| --- | --- | --- |
| 1 | Moosehead Lake | 305.3 |
| 2 | Sebago Lake | 123.5 |
| 3 | Chesuncook Lake | 101.9 |
| 4 | Flagstaff Lake | 82.15 |
| 5 | Spednic Lake | 69.68 |
| 6 | Mooselookmeguntic Lake | 65.96 |
| 7 | East Grand Lake | 64.41 |
| 8 | Graham Lake | 37.97 |
| 9 | Umbagog Lake | 31.77 |
| 10 | Rangeley Lake | 25.5 |
About the Author
Oishimaya is an Indian native, currently residing in Kolkata. She has earned her Ph.D. degree and is presently engaged in full-time freelance writing and editing. She is an avid reader and travel enthusiast and is sensitively aware of her surroundings, both locally and globally. She loves mingling with people of eclectic cultures and also participates in activities concerning wildlife conservation.
This page was last updated on April 11, 2019.
Citations
Your MLA Citation
Your APA Citation
Your Chicago Citation
Your Harvard Citation
Remember to italicize the title of this article in your Harvard citation.