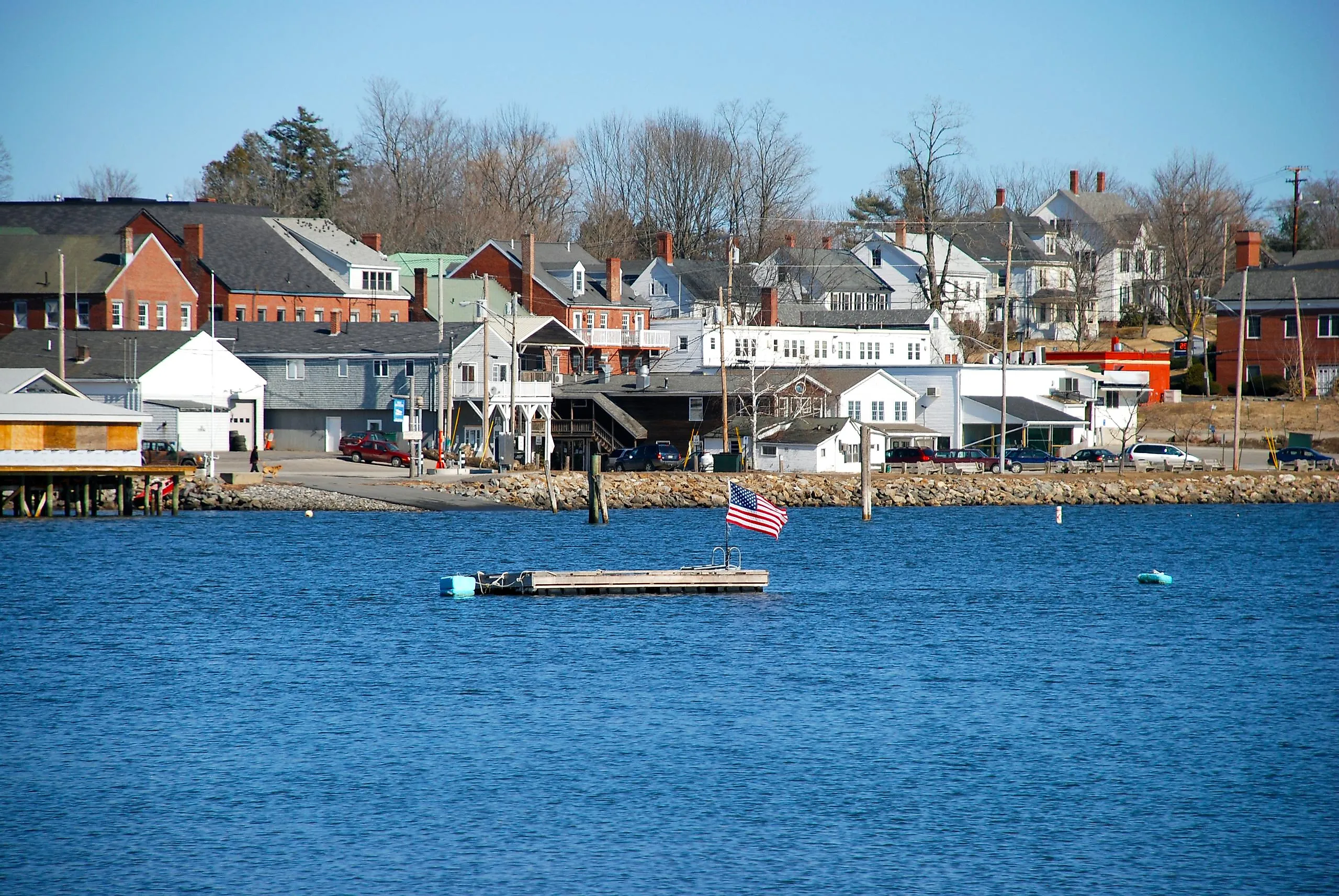 9 Quaint Inland Towns In Maine
Maine's seashores are alight with seafood dining, scenic boardwalks, and rich port history. The state shines brightly from within, where heartland towns boast the state's best inland nature, lakeside locales, and quaint inland living. These nine towns bursting with finesse and flavor, comprise a perfectly accessible getaway of a lifetime for any purpose and seasonal pursuits. 
Bangor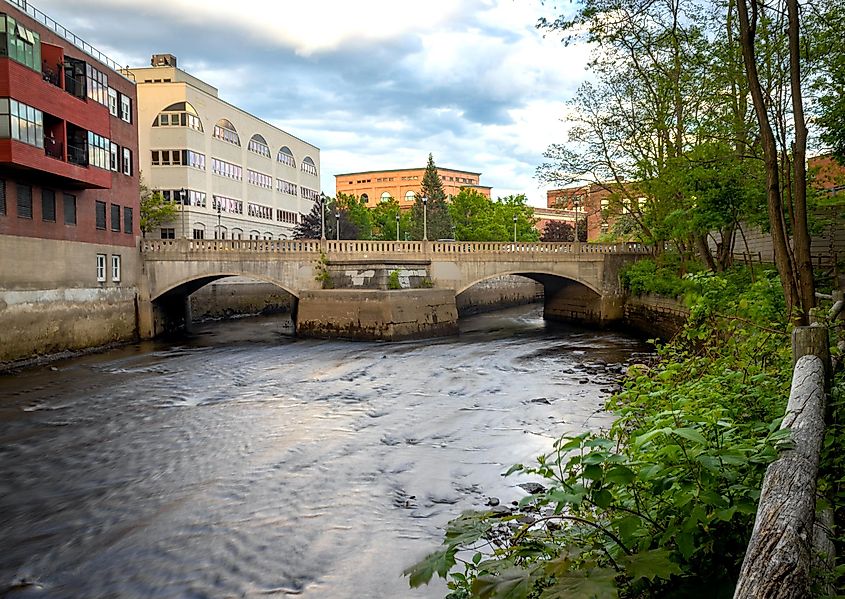 Bangor is a cute inland town bursting with "city life" at the seams amidst ice-cream trucks for the coziest, all-inclusive getaway. Make sure to stop for an ice cream treat at the popular Treworgy Family Orchards, an atmospheric farmstead with a view, creative corn mazes, fall-time apple picking, and a petting zoo. The Bangor Waterfront comes with cute sculptures, an amphitheater, and a great food scene at the Sea Dog Brewing Company to enjoy in-between scheduled events.
Bangor is an excellent base for the outdoors, surrounded by remote, scenically-wild nature, like the Bangor City Forest to the north with trails, beavers, and deer. The Main Street boasts a towering statue of a lumberjack Paul Bunyan from local folklore, reminiscing the town's timbering past. Families love interactive exhibits at the Maine Discovery Museum with everything from nature to science and the arts. Culture fans will appreciate a vast collection of modern and contemporary works at the University of Maine Museum of Art.
Bethel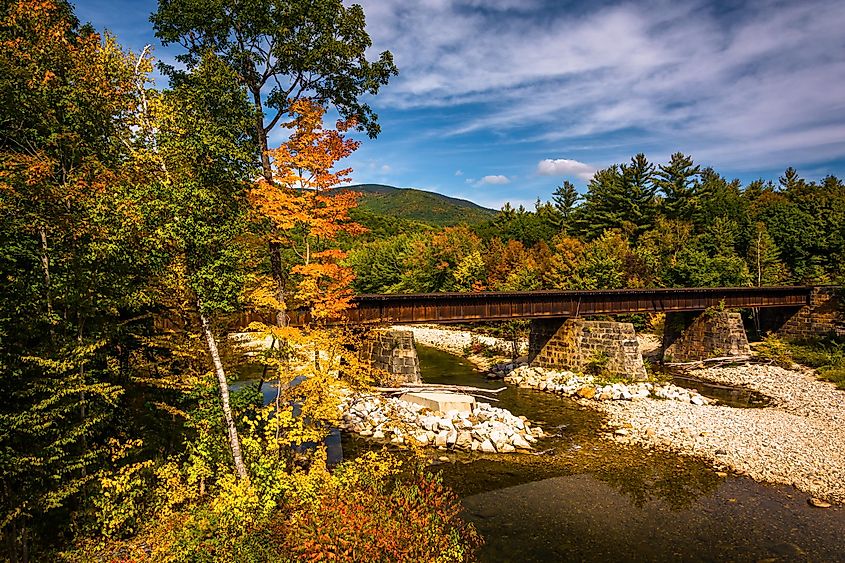 The quaint town of Bethel at the edge of the White Mountain National Forest boasts some of the state's best inland nature. A scenic drive leads to a galore of active or relaxing pursuits for all tastes during anytime visit. There is hiking, kayaking, fishing, and the town's own Sunday River Ski Resort for all winter sports and snowy fun into March. The Nearby Grafton Notch State Park is galore of waterfalls for the most relaxing and refreshing time, following some scenic exploration via excellent trails.
The in-town boasts fantastic stops to peruse, like unique shops for memorabilia and galleries, including the must-visit Elements Art Gallery with exclusively local-made works. There is a wide choice of dining options, with Sunday River Brewing Company an absolute must for dinner or drinks afterward. It is known for artisan-fired pizzas, freshly-fried donuts, and craft beer to remember forever. The town is dotted with quaint B&Bs, including waterfront, friendly hotels, and a nearby mountain inn, to get the best night's rest before a new, scenically-charged day.
Damariscotta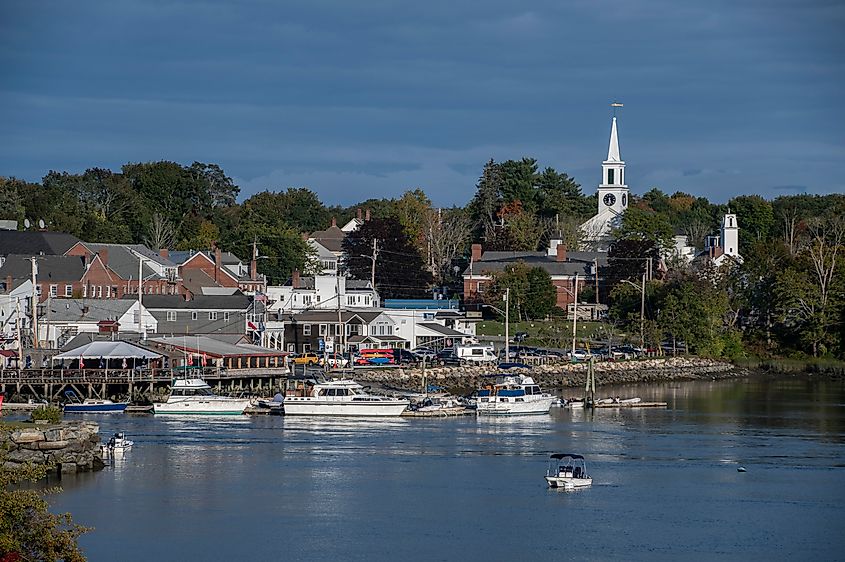 The town 20 miles upriver from the open ocean prevails with a scenically-quaint vibe set along the undulating Damariscotta River and the charming shores of Lake Pemaquid. It is the essence of laid-back lakeside living and vacationing with feel-good outdoor pursuits like swimming, sunbathing, boating, and fishing. Despite an inland locale, it is ranked top for seafood on par and sans the glitz of the coastal big-city restaurants in the state. One can fine-dine everything from pemaquid oysters to local mussels in a cozy atmosphere with a homey vibe.
Damariscotta's coziness is elevated with the slew of historic buildings like the town's oldest Chapman-Hall House from 1754 and the must-visit, brick-built Lincoln Theater. The Maine Coast Book Shop and Cafe is a beloved place for locals and tourists for a quaint pastime view over a cup of tea. There is also a gallery for art enthusiasts and the Lincoln County Community Theater for more fine art culture. Moreover, the charming town with a laid-back beach vibe comes with a notable Whaleback Shell Midden dumping of oyster shells for the most unique "Maine-made" experience over 2,000 years ago.
Farmington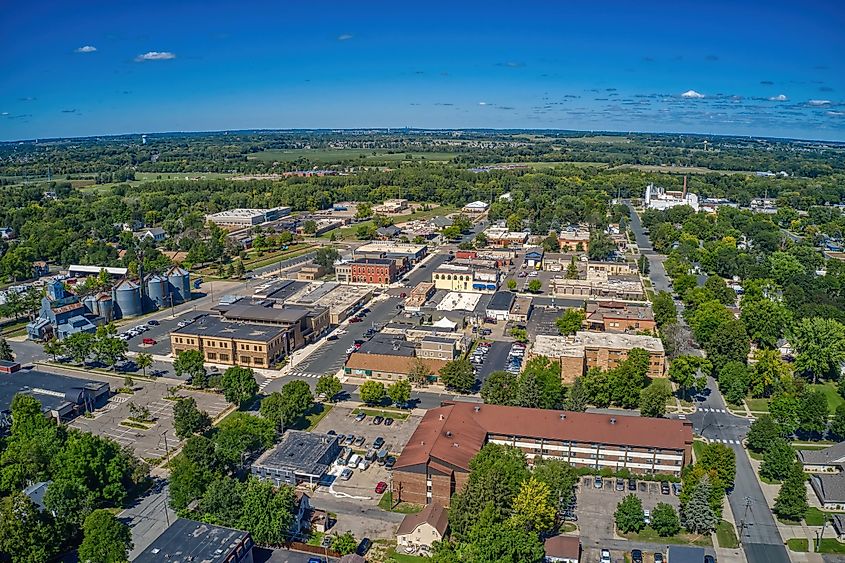 Farmington is a former agricultural center-turned quaint college town with a lively vibe from the University of Maine Farmington. It hosts regular cultural events with locals and tourists partaking in activities, mingling, and people-watching. The downtown houses various indie shops, art galleries, and restaurants, with modern décor and the freshest food options including catches from the coast. The unique Chester Greenwood Day honors the native in town who invented earmuffs in a fun celebration.
There are excellent hiking trails to explore the town from all sides, like the Village Woods and Flint Woods walking trails. The Whistle Stop Trail's 14 miles along the bed of the old Androscoggin Railroad is also thoroughly enjoyed by cyclists and horseback riders who even see ATVs, snowmobiles, and dogsleds in winter.
Greenville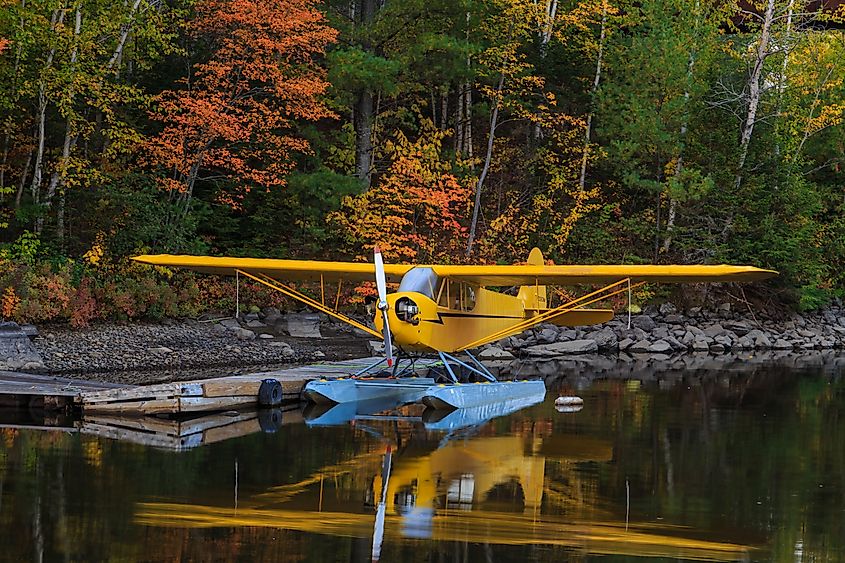 The quaint town on the southern shore of Maine's largest lake, Moosehead Lake, is a popular getaway into the state's renowned northern wilderness. Tourists love the variety of choices for waterside recreation and activities, from serene boating on the tranquil lake to a relaxing summer day with a fishing rod.
With hikes to the top, the nearby Mount Kineo offers unparalleled views for 360 degrees. Wintertime brings about dog-sledding, ice fishing, and cross-country skiing, while the region's rich wildlife becomes most active during springtime when it is common to catch a sight of moose.
Kingfield
Despite being a small scape nestled in the mountains of western Maine, the town with a telling name is one spread of immense natural and cultural attractions. Kingfield sits in the shadow of Sugarloaf Mountain, a famed skiing destination, along with the neighboring Carrabassett Valley, perfect for snowshoeing and summertime hikes with picnics. There is also a great Ski Museum of Maine dedicated to preserving the history of Maine's contributions to the sport with exhibits of early equipment, other memorabilia, and photos of present-day and historic ski areas.
The Stanley Museum delves into the history of the "Stanley Steamer," the first steam-powered automobile, and those who invented it. There's also the six-mile Narrow Gauge Pathway trail along the Carrabassett River for bike rides and hikes with water views and cross-country skiing during winter, with great outlets for fly fishing in the warmer months. The first trailhead of the Maine Huts and Trails comprises 80 miles of year-round paths dotted with European-style "huts" or lodges, offering an unforgettable night's rest and meal service.
Rangeley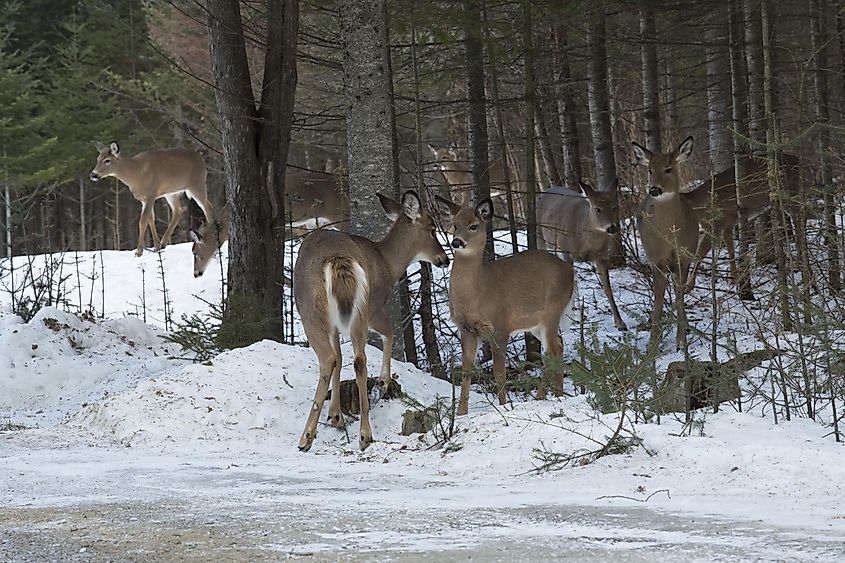 Rangeley is a postcard-worthy town near the border with New Hampshire, bursting with nature and history along the streets. It was found by sawmill workers and farmers, while tourists started trickling in by the late 19th following rumors of the inland town with boundless nature to relax and go fishing. The town's unique shopping ops include Ecopelagicon with locally-made maple syrup and jams or Rangeley Balsam's natural skin care products. The Loon Lodge Inn is a popular place to stay the night, with a delicious, locally-sourced menu.
The Rangeley Lakes region, with tranquil surroundings and spectacular lakes, continues to be on the radar for big-city residents. Despite its ever-growing popularity, the humble town is full of non-fussy Maine charm. It is all about the outdoors and pursuits like canoeing, boating, swimming, hiking, and sighting wildlife like moose in the summer months. Wintertime brings snowshoeing, cross-country skiing, fat biking, and ice fishing to the region. The notable Rangeley Lakes Scenic Byway boasts Maine's best fall foliage. 
Waterford
The wonderful town of Waterford is hidden inland, just 90 minutes from Portland's coast. It bursts with Maine's best heartland nature, including many lakes with plenty of recreational opportunities. An atmospheric stay at the Crooked River Tiny House fits nicely with a peaceful and quiet theme on a getaway.
The town dates back to 1775, settled as a community of three villages around orchards and small wood products businesses. It was incorporated by the end of the century from Waterford Plantation and expanded with land from Albany in 1811. There's the Artemis Ward House, the birthplace of the famous 19th-century humorist Charles Farrar Browne. The nationally-recognized historic district comprises late 18th- and early 19th-century structures around the focal Town Common. The main town on the scenic shore of Keoka Lake is accessible via State Routes 35, 37, and 118. It is also a summer destination with campsites dotting the countryside and lakefronts of McWain Pond, Bear Pond, and Mud Pond.
Wiscasset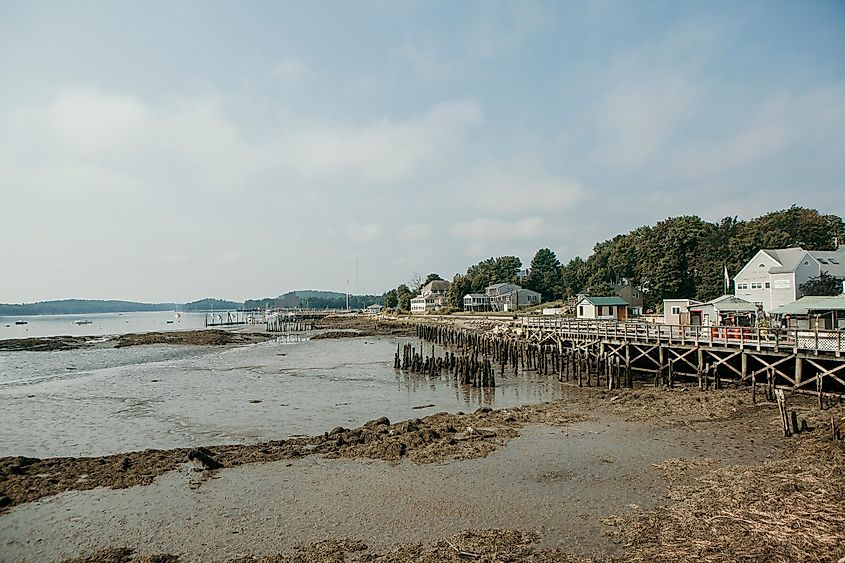 Just 1 hour inland from Portland, Wiscasset is a thriving town with diverse culture, unique attractions, and modern amenities for its small scape. There's the beautiful waterfront with dining ops for all tastes and shops selling everything from antiques to organic food. Make sure to hit some of the historic sites of national significance for some actively-cultural time. The town is home to first-class accommodations with easy access to all the recreational and outdoor pursuits. Its theaters, white-sanded beaches, shopping centers, concert venues, sports arenas, best seafood, and even the world's smallest church are bound to find appropriate fans.
Wiscasset is an incredible inland place to visit for the water fans, with an immense Sheepscot River to the southeast that may as well be an ocean's shore. The complementing waterfront is one of Maine's most vibrant, abuzz with summertime recreation, lobstering, and sport fishing, and a waterside galore for dining. Wiscasset bursts with cultural and historical sights from rich heritage amidst thriving arts and artisan communities. The Red's Eats serves award-winning lobster rolls, while the Federal-style ancient mansion of the Nickels-Sortwell House and Castle Tucker is scenically perched on a hill over the river for the best Instagram op.
Life slows down in these towns to match the tranquil lakes, sturdy mountains, and the ebb and flow of rivers. The idyllic locales inspire to fill each moment and feel it to the fullest while seizing the days of precious vacation time. Even the active who enjoy wintertime skiing inaccessible along the coast will kayak slowly and stroll the hiking trails of some of the state's scenically-prized recreational areas during summer.