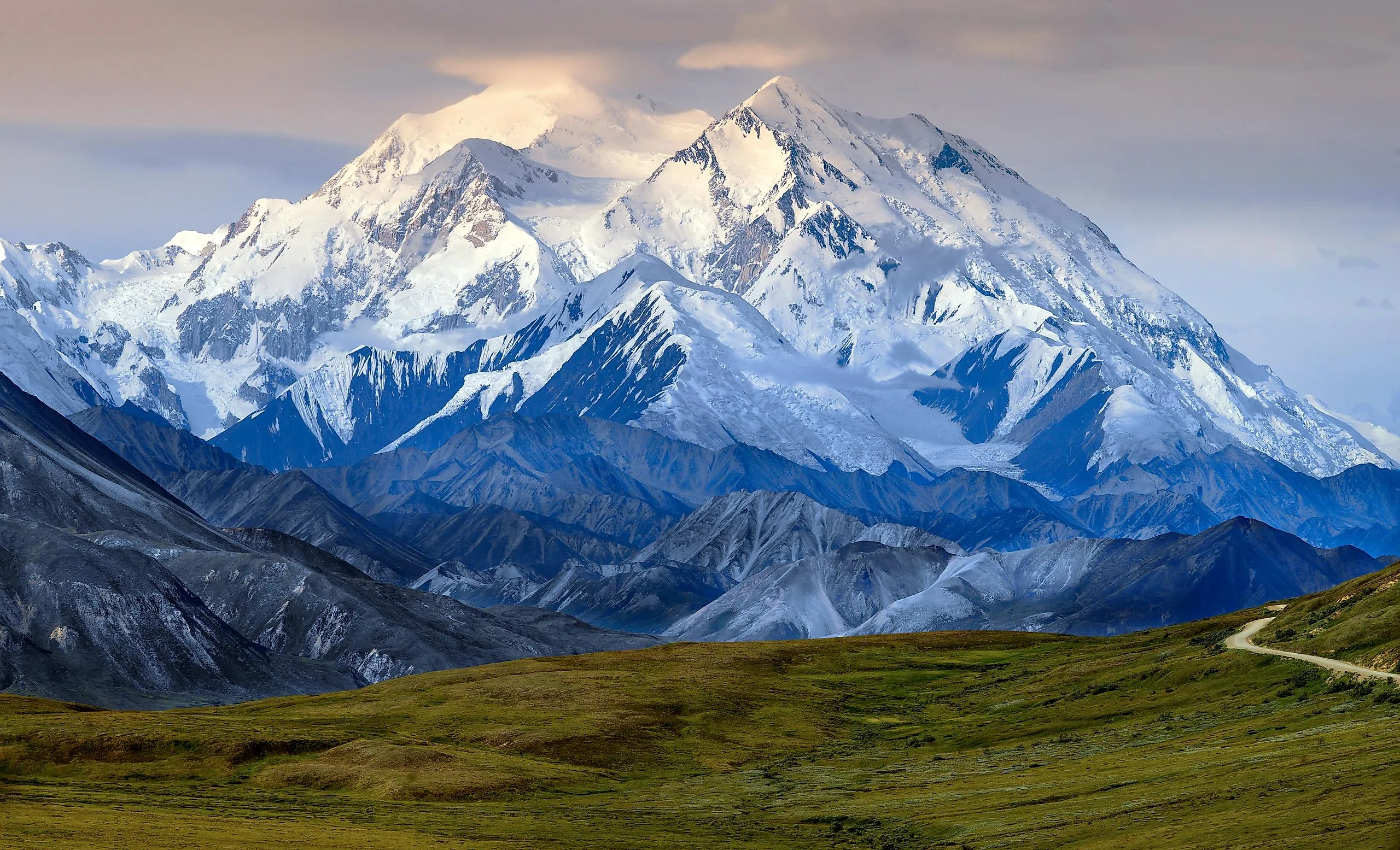 The Highest Point In Every US State
There is something undeniably alluring about summiting the highest point in the land, whether it is kids playing King of the Castle or adult adventurers trying to check off major lifetime goals, sending that ultimate apex taps into an ancient reward system. Perhaps those who reach the Seven Summits (i.e., the highest point on each continent), bag all the 8,000-meter peaks in the Himalayas, or the 14ers throughout Colorado have a hunter-gather scout in their ancestry. Reaching an unsurpassed lookout reveals unrealized resources, unexplored lands, arresting views, and, of course, bragging rights amongst your tribe. So, for those who are beckoned ever upwards, why not attempt to stand on the highest point in every U.S. state? But beware, these first five will be no cakewalk. 
1. Mount Denali, Alaska (20,310 ft)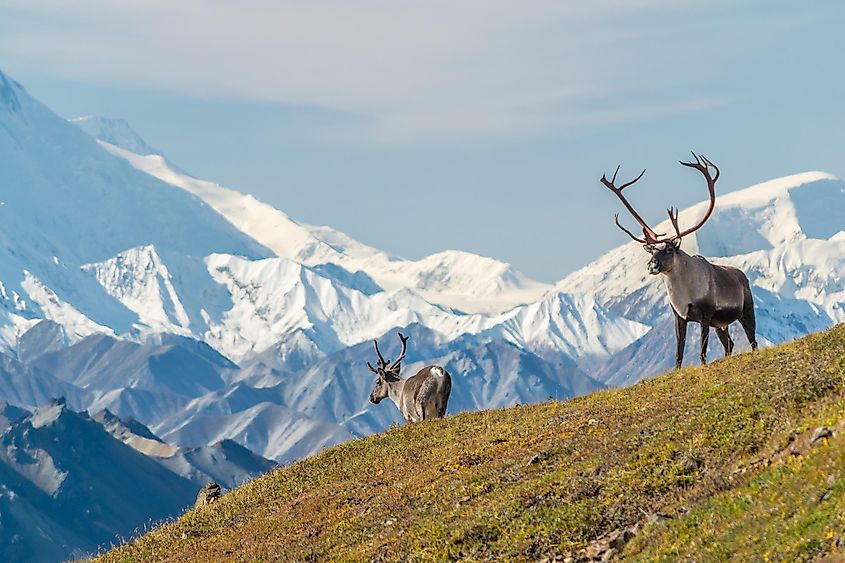 The highest point in the United States/North America is also the third tallest of the Seven Summits, behind Asia's Mount Everest and South America's Aconcagua. While the longstanding estimate placed this South-Central Alaskan peak at 20,320 feet above sea level, more recent measurements have trimmed ten feet off (20,310 feet). Nonetheless, Denali (formerly known as Mount McKinley but renamed to reflect the original Koyukon name) poses a formidable challenge. For starters, it is isolated within the 6-million-acre Denali National Park – an almost entirely undisturbed wilderness with but one road running through it. Secondly, from base camp to summit, Denali puts forth a greater elevation difference than Everest (i.e., roughly 18,000 feet vs. 12,000 feet, respectively). And finally, one of the biggest obstacles that has kept the annual summit rates comparatively low is the brutally capricious weather. In other words, climbing Denali is a feat reserved for only the upper echelon of mountaineers. 
2. Mount Whitney, California (14,494 ft)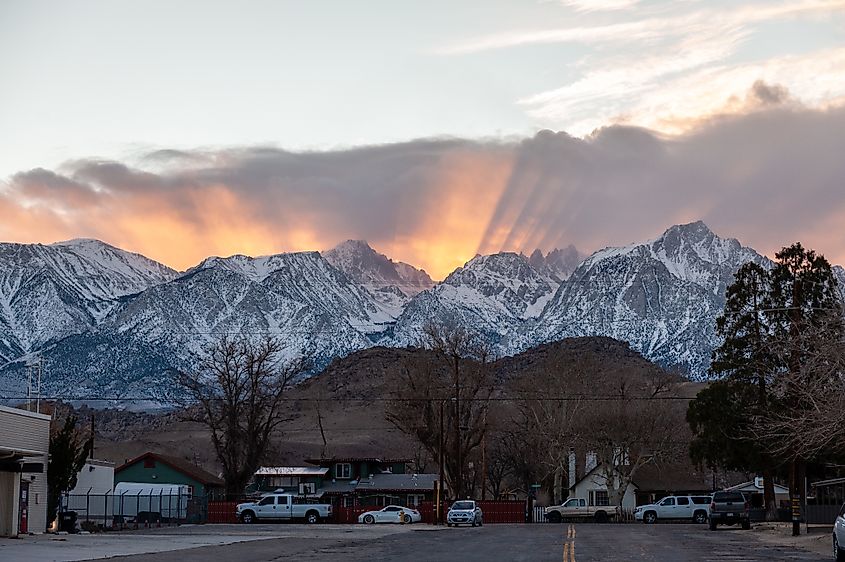 The highest point in the contiguous United States is California's Mount Whitney. Amazingly, despite this crown, it is the most frequently climbed peak in the Sierra Nevada range. The 14,494 (sometimes listed as 14,505) foot peak can be reached via a 21.5-mile (round-trip) trail – beginning at the Whitney Portal Trailhead in Inyo National Forest. During the off-season, only skilled climbers possessing ice axes and crampons can reach the summit, but between about mid-July and early October, the trail is relatively non-technical and can be undertaken by any well-stocked and fit hikers. In fact, so many people attempt this admirable goal that a permit system had to be put in place. Nevertheless, the logistics and physical effort are well worth the stunning views of Sequoia National Park (of which the mountain borders). 
3. Mount Elbert, Colorado (14,433 ft)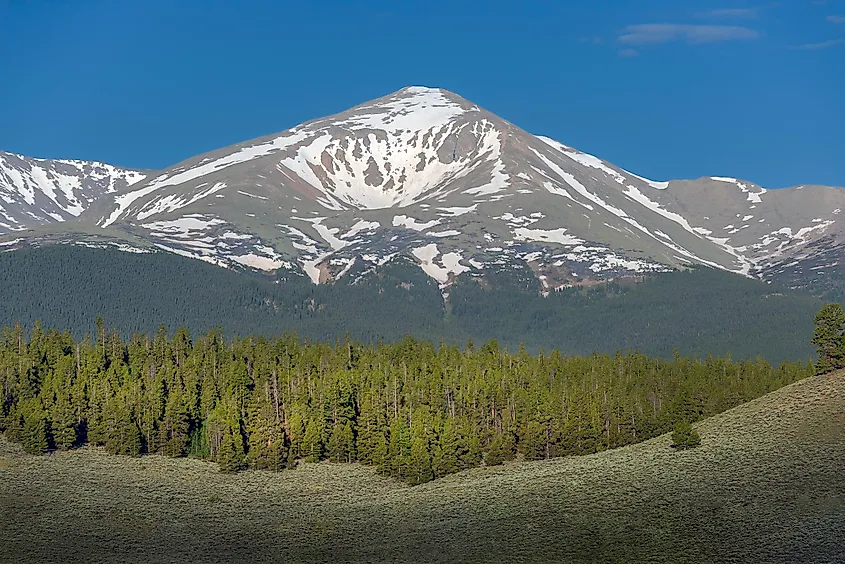 Mount Elbert is the highest point in the famed Rocky Mountains. This hefty, 14,433-foot (though a more recent survey posits a height of 14,440) mound is part of Colorado's Sawatch Range and has two well-trodden summer trails leading to its summit – both of which can be accessed a short distance from the old-mining town/adventure-racing hub of Leadville. The South Elbert Trail is 5.8 miles (one-way) and gains 4,800 feet in elevation, while the North (or "Main") Elbert Trail is 4.3 miles (one-way), with 4,400 feet of elevation gain. Despite the foot traffic, unlike Mount Whitney, these hikes do not require a permit, except for commercial and other organized groups (for whom it can be obtained at the Leadville Ranger District Office). Come wintertime, ski mountaineers take advantage of Mount Elbert's low-avalanche-risk slopes for a whole new kind of adventure.
4. Mount Rainier, Washington (14,410 ft)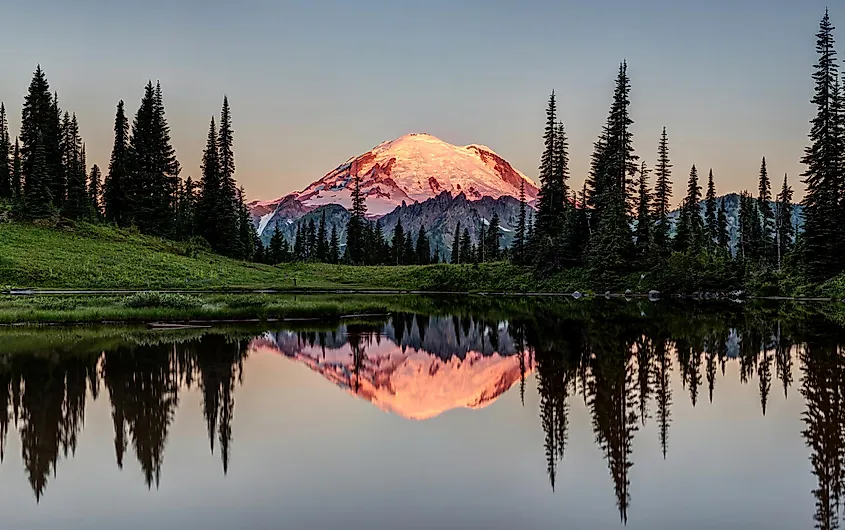 The titular peak of Mount Rainier National Park is a snow-capped stratovolcano that rises 14,410 feet above the surrounding evergreen forests, bright green meadows, and crisp alpine lakes. This West-Central Washington landscape constitutes one of the oldest national parks in the country – an initiative largely driven by the beautiful behemoth at its core. Thousands of people successfully reach its summit each year, but that figure only tells one side of the story. Mount Rainier is one of the most potentially dangerous volcanoes in the country (even though its last eruption phase ended around 1,000 years ago), and it is the most heavily glaciated mountain in the lower 48 states. But with the right know-how, Mount Rainier can be conquered via four main trailheads (Paradise, Westside Road, White River, and Mowich Lake) – all of which involve technical mountaineering/glacier-crossing skills, over 9,000 feet of elevation gain, and north of 10 miles of round-trip distance. Alternatively, consider hiking the 93-mile Wonderland Trail, which delivers nearly constant, astonishing views as it circumnavigates the mountain.  
5. Gannett Peak, Wyoming (13,804 ft)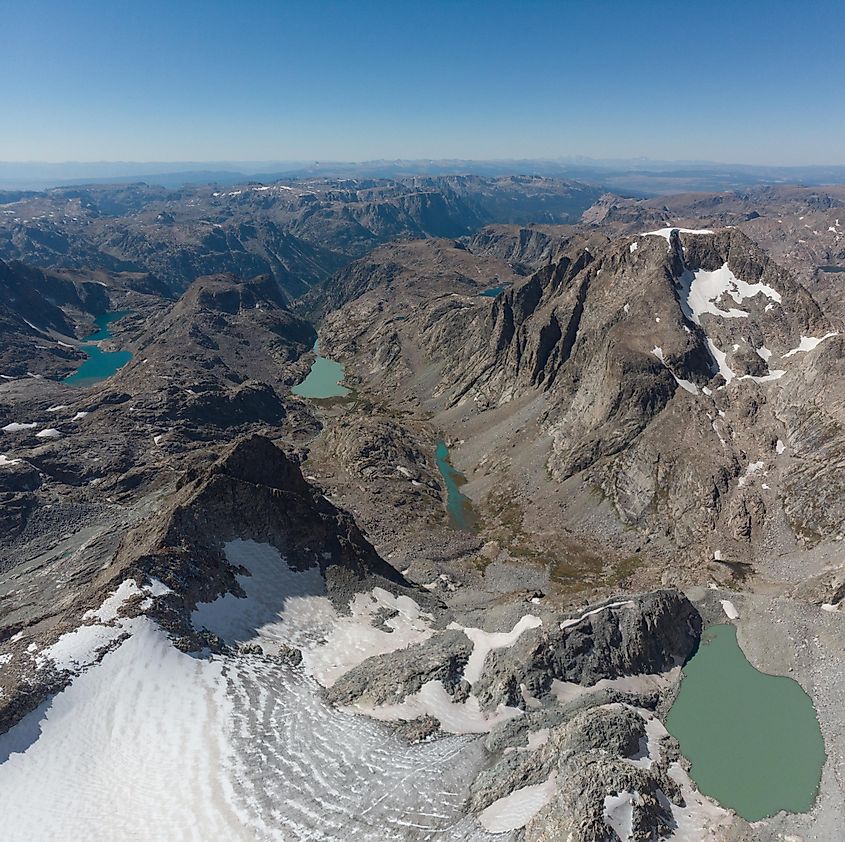 Gannett Peak may look manageable on paper, but in reality, it is buried deep within the wilderness of Wyoming. This 13,804-foot peak is part of the Northern Wind River Mountain Range and sits within the Fitzpatrick and Bridger Wilderness Areas, as well as the Bridger-Teton and Shoshone National Forests. Just getting to its base requires backcountry treks through additional mountain passes. Once there, the mountain puts up one of the biggest challenges out of all 50 states (probably second only to Denali). Multiple routes have been established – all of which demand tens of miles of horizontal distance and somewhere in the neighborhood of 9,000 - 10,000 feet of elevation gain. It should also be noted that the 869-acre Gannett Glacier is the largest single glacier in the American Rockies. This presents technical obstacles, as well as campsite limitations. 
While these first five peaks might sound out of reach, starting at the bottom of the list and working up from there will surely build the necessary confidence and experience over the years. For instance, the five flattest states post high points under 1,000 feet – with Florida's Britton Hill (345 feet) being but a leisurely stroll. So perhaps, in time, you can join the 273 documented people to summit the highest peak in each state. And if anyone is wondering, the speed record is currently held by Colin O'Brady. It took him just 21 days! Better get started. 
The Highest Points In Every US State
| Rank | Mountain | State | Feet Above Sea Level |
| --- | --- | --- | --- |
| 1 | Denali (Mount McMinkley) | Alaska | 20,310 |
| 2 | Mount Whitney | California | 14,494 |
| 3 | Mount Elbert | Colorado | 14,433 |
| 4 | Mount Rainier | Washington | 14,410 |
| 5 | Gannett Peak | Wyomming | 13,804 |
| 6 | Mauna Kea | Hawaii | 13,796 |
| 7 | King's Peak | Utah | 13,528 |
| 8 | Wheeler Peak | New Mexico | 13,161 |
| 9 | Boundary Peak | Nevada | 13,140 |
| 10 | Granite Peak | Montana | 12,799 |
| 11 | Borah Peak | Idaho | 12,662 |
| 12 | Humphrey's Peak | Arizona | 12,633 |
| 13 | Mount Hood | Oregon | 11,239 |
| 14 | Guadalupe Peak | Texas | 8,749 |
| 15 | Harney Peak | South Dakota | 7,242 |
| 16 | Mount Mitchell | North Carolina | 6,684 |
| 17 | Clingmans Dome | Tennessee | 6,643 |
| 18 | Mount Washington | New Hampshire | 6,288 |
| 19 | Mount Rogers | Virginia | 5,729 |
| 20 | Panorama Point | Nebraska | 5,424 |
| 21 | Mount Marcy | New York | 5,344 |
| 22 | Mount Katahdin | Maine | 5,268 |
| 23 | Black Mesa | Oklahoma | 4,973 |
| 24 | Spruce Knob | West Virginia | 4,863 |
| 25 | Brasstown Bald | Georgia | 4,784 |
| 26 | Mount Mansfield | Vermont | 4,393 |
| 27 | Black Mountain | Kentucky | 4,139 |
| 28 | Mount Sunflower | Kansas | 4,039 |
| 29 | Sassafras Mountain | South Carolina | 3,553 |
| 30 | White Butte | North Dakota | 3,506 |
| 31 | Mount Greylock | Massachuesetts | 3,491 |
| 32 | Backbone Mountain | Maryland | 3,360 |
| 33 | Mount Davis | Pennsylvania | 3,213 |
| 34 | Magazine Mountain | Arkansas | 2,753 |
| 35 | Cheaha Mountain | Alabama | 2,405 |
| 36 | Mount Frissell | Connecticut | 2,372 |
| 37 | Eagle Mountain | Minnesota | 2,301 |
| 38 | Mount Arvon | Michigan | 1,979 |
| 39 | Timms Hill | Wisconsin | 1,951 |
| 40 | High Point | New Jersey | 1,803 |
| 41 | Taum Sauk Mountain | Missouri | 1,772 |
| 42 | Hawkeye Point | Iowa | 1,670 |
| 43 | Cambell Hill | Ohio | 1,549 |
| 44 | Hoosier Hill | Indiana | 1,257 |
| 45 | Charles Mound | Illinois | 1,235 |
| 46 | Jerimoth Hill | Rhode Island | 812 |
| 47 | Woodall Mountain | Mississippi | 806 |
| 48 | Driskill Mountain | Louisiana | 535 |
| 49 | Ebright Azimuth | Delaware | 442 |
| 50 | Britton Hill | Florida | 345 |