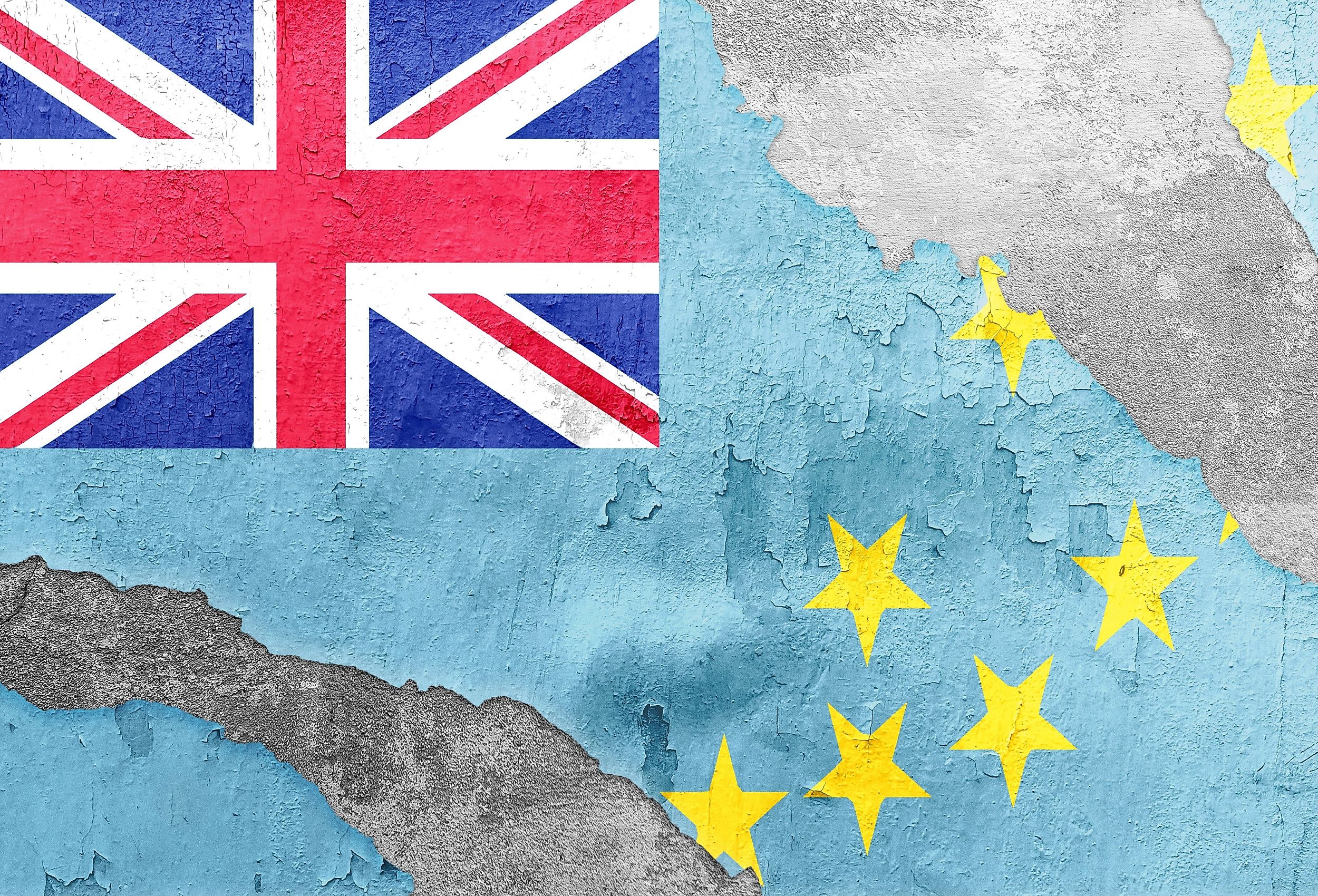 Countries with the Lowest GDP
The stock markets are down, inflation is high, and the world economy is heading deeper into a recession. For rich nations, the changes and effects are going to be much more apparent. However, for some, it might just be more of the same. Sadly, the nations' economies with the lowest gross domestic product (GDP) in the world, according to the International Monetary Fund (IMF), have been struggling for a lot longer than a couple of years. The IMF is a financial agency of the United Nations that provides yearly statistics on the worldwide economy.
1. Tuvalu - 0.07 Billion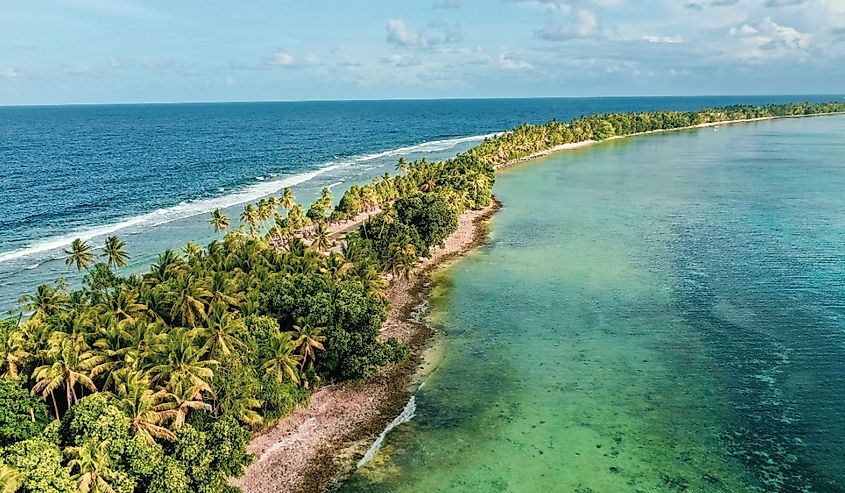 The small island nation of Tuvalu has the lowest GDP in the world. The poor economic standing of Tuvalu is mostly due to a lack of industries and natural resources within its territories. Tuvalu is also one of the smallest countries in the world (26 Km2) and has an estimated population of only 12,000 people. Its isolation and small population severely limit how much money the nation can generate. Tuvalu's main sources of revenue are tourism and fishing. The 2020 pandemic decimated its tourism industry and is just now starting to recover. As travel restrictions lift globally, there is still hope for growth in the future.
2. Nauru - 0.14 Billion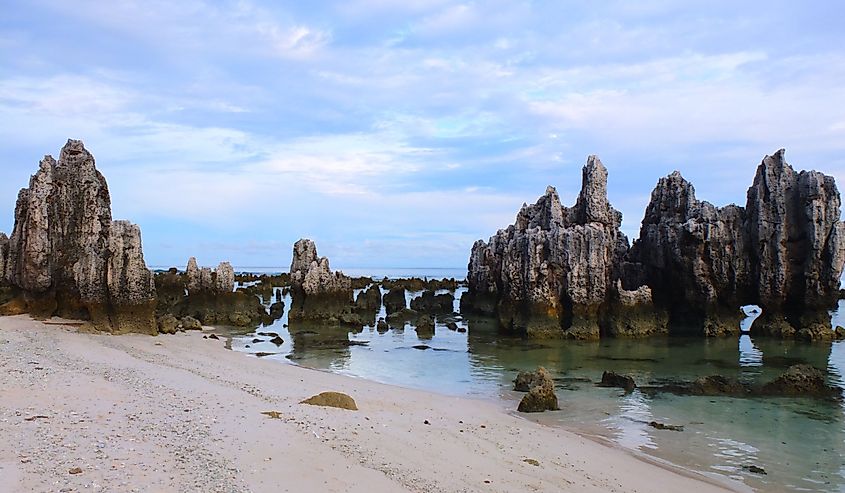 Once boasting one of the highest GDPs in the world in the 1980s, Nauru has seen better days. The mountain of phosphate that fueled the Nauruan economy has evaporated over the last decade leaving one of the smallest nations on earth scrambling to refocus its economy. Agriculture, fishing, and tourism are now the main staples of Nauru's economic prospects.  However, it is unlikely that these industries will bring the island the same amount of wealth it once enjoyed. Like many of the other nations on this list, Nauru's microscopic GDP can be partially attributed to its small size and population.
3. Kiribati - 0.22 Billion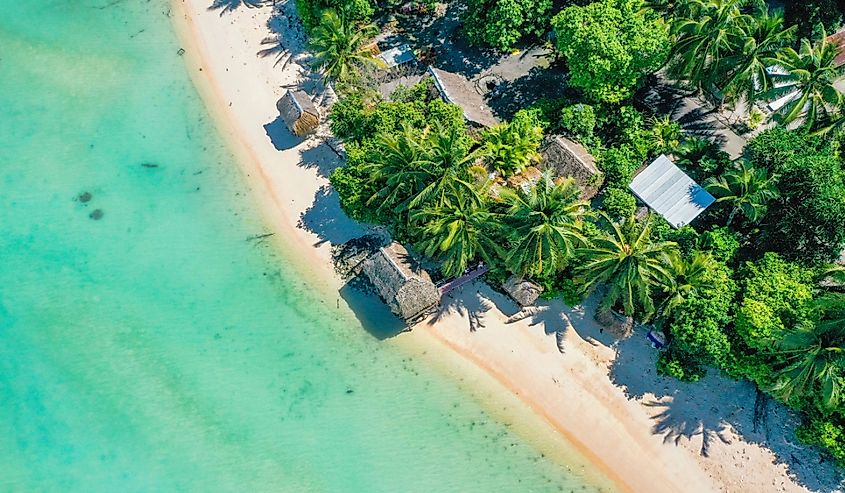 Lying in the middle of the Pacific Ocean, Kiribati is one of the most isolated countries on Earth. A story similar to Nauru, Kiribati has fallen victim to the mismanagement of its phosphate reserves. The precious resource ran dry in 1979 and the nation has continued to slide ever since.  A small manufacturing sector exists on the island but it is severely limited. Kiribati imports the majority of supplies, especially food, from foreign nations. Some experts paint a bleak future for this tropical paradise. The small amount of territory that Kiribati does hold onto is constantly under threat due to rising sea levels, providing little hope for further development. 
4. Palau - 0.27 Billion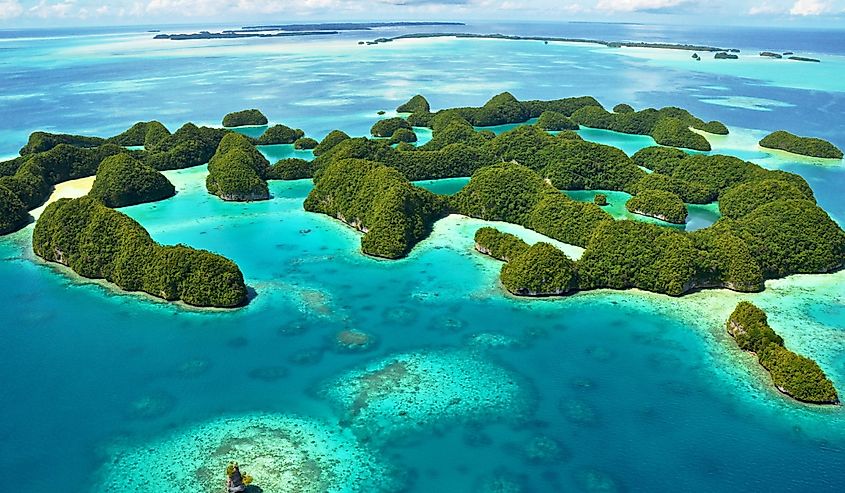 Another Oceanic nation in dire economic strains, Palau's economy has stagnated over the past few decades. Palau's main exports are fishing, primarily tuna, as well as handmade clothing. Palau uses the US dollar as its currency and relies on the United States for financial relief. Taiwan and the Philippines are hotspots for Palauans to emigrate to due to the limited number of jobs available in Palau. Similar to other Pacific nations, Pala's tiny population has hamstrung any attempts to grow its economy in any meaningful way. 
5. Marshall Islands - 0.29 Billion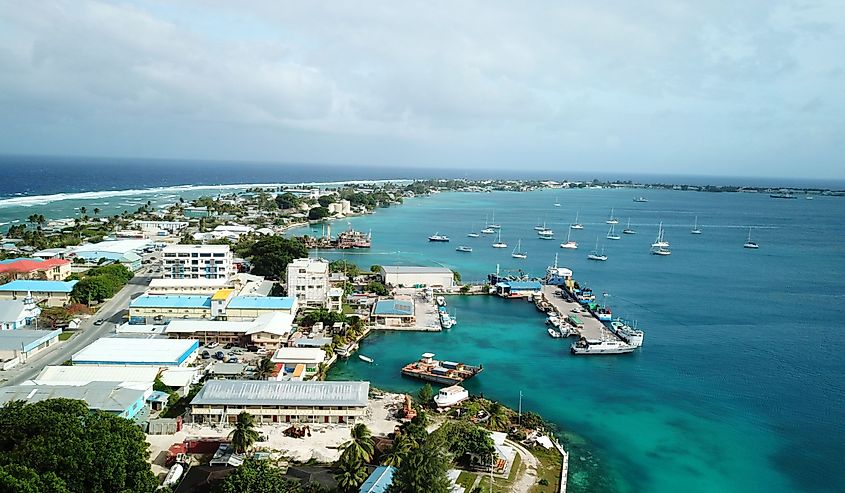 The Marshall Islands, along with Palau, are on the list of the Compact of Free Association, which holds the United States responsible for defense and financial assistance. Similar to Palau, the Marshall Islands also receive economic support from the United States in the form of subsidies. The islands themselves have a sizable fishing and farming industry, particularly pigs and chickens. Major food crops are grown here, however, the Marshall Islands' largest import is still food from larger countries such as Japan and Australia. Limited space on the islands has made it practically impossible to build any kind of meaningful industry. It is unlikely that we will see the Marshal Islands climb these rankings anytime soon. 
6. Micronesia - 0.45 Billion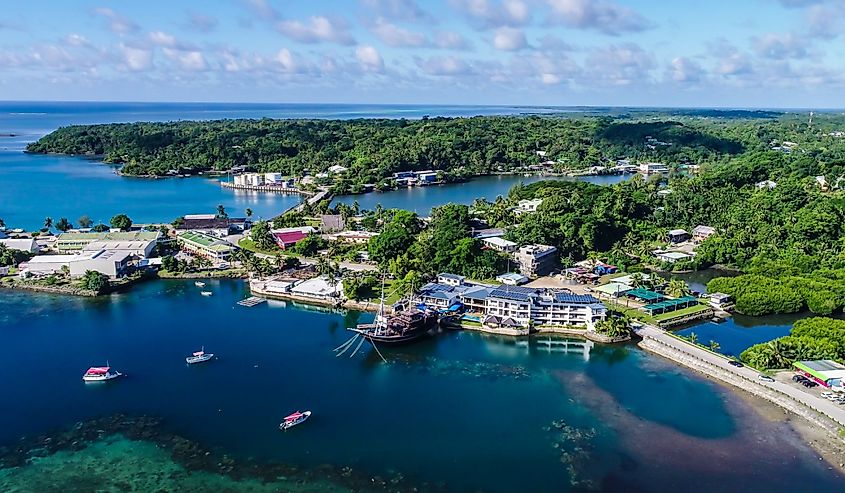 Another Pacific Island nation under the economic yoke of the United States, much of Micronesia's economy relies on American subsidies. The farming of pigs and cultivation of coconuts, bananas, cassava, and sweet potatoes make up the majority of Micronesian exports. Commercial fishing and a budding tourism sector make up the lion's share of the revenue for this remote country. Micronesia has long struggled with the issue of emigration to other countries. Nations like Australia and the American state of Hawaii remain popular destinations for Micronesians in search of better employment. Naturally, most of the people who leave tend to be younger and more skilled, leaving behind an aging and inexperienced workforce. 
7. São Tomé and Príncipe - 0.53 Billion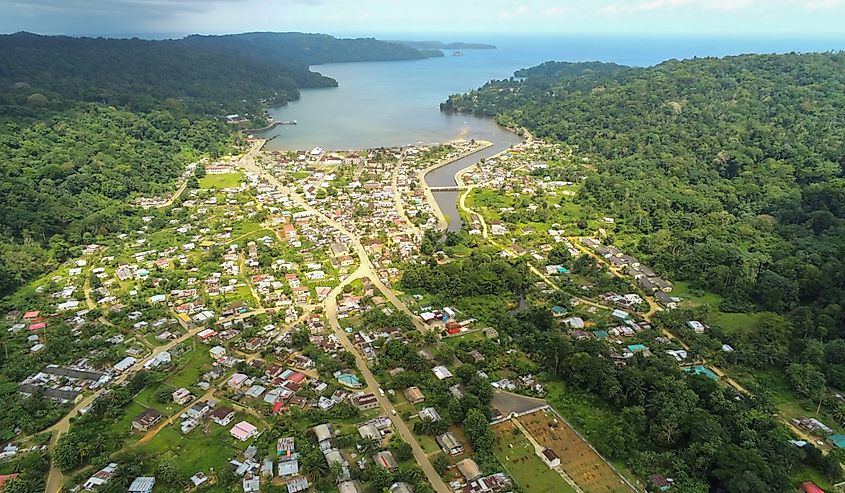 Located off the western coast of Africa, this former Portuguese colony takes in some of the highest foreign aid per capita in the world. Stricken by a lack of infrastructure and skilled labor, São Tomé and Príncipe have leaned heavily into their robust fishing industry to get them by. Tuna and other valuable fish are in plentiful supply off the coasts of São Tomé and Príncipe. There is also the possibility of large amounts of deepwater hydrocarbon reserves in its territorial waters which could help to tip the scales.
8. Tonga - 0.54 Billion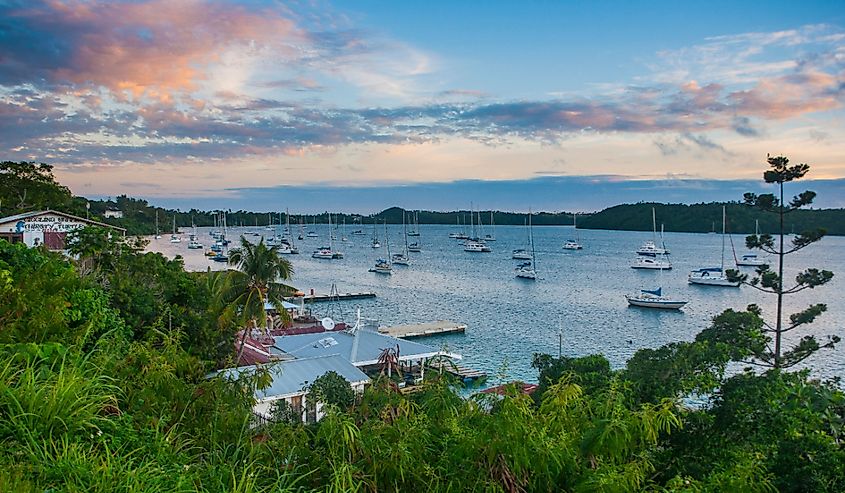 Despite Tonga's international fame and recognition, the island's economy has seen better days. Agriculture and tourism are the two largest industries in Tonga. However, the last few years of restricted travel due to COVID-19 have decimated the tourism industry. The agriculture sector focuses on yams, taro, pineapples, and other tropical fruit. The large amount of food that Tonga produces annually is almost always exported. Tonga is still very much reliant on other nations such as New Zealand and Australia. The largest import into Tonga is ironically food.
9. Dominica - 0.66 Billion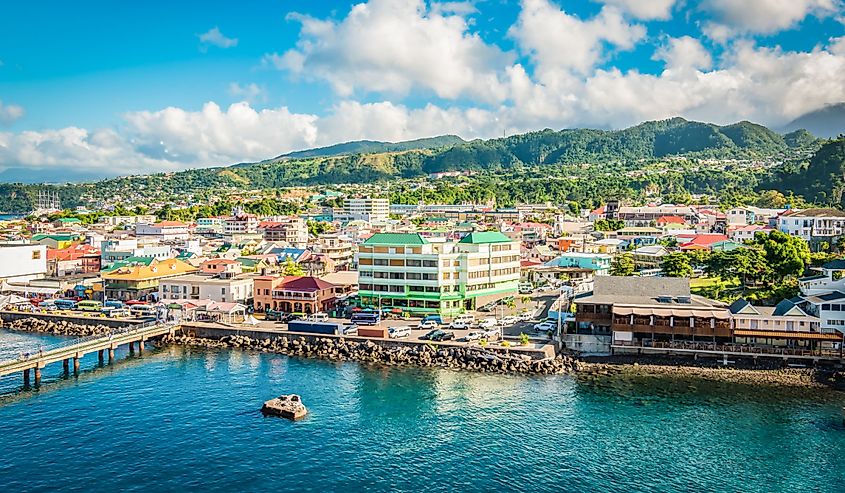 One of the poorest countries in the Caribbean, Dominica's main source of economic growth is agriculture. The main issue with this is due to the geographical location of Dominica it is under constant threat of hurricanes which decimate crops. Dominica annually battles with Mother Nature to try and keep their main source of income alive with varying degrees of success. There has been an attempt to shift from farming to tourism in an attempt to diversify. Dominica is also in the early stages of setting up what could become a promising offshore financial sector.
10. Samoa - 0.84 Billion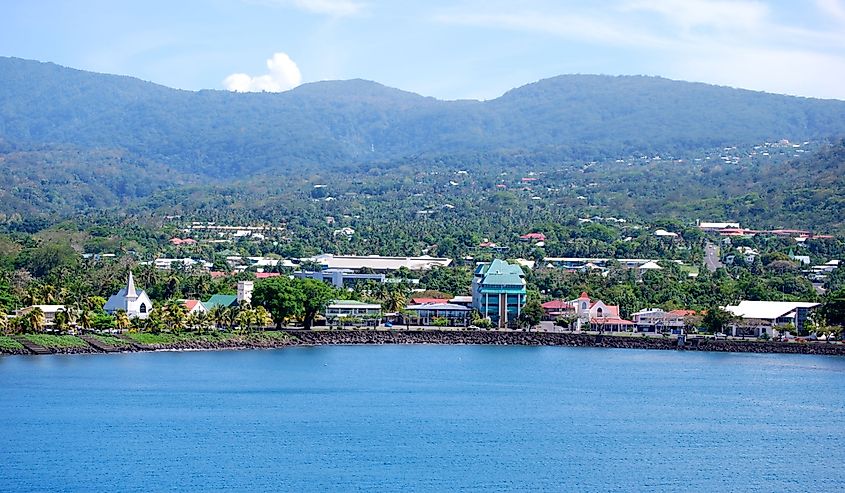 Samoa has long been the poster child nation for Polynesia. Its white sand beaches and the easygoing nature of the locals have made it an ideal destination for a vacation. Tourism makes up the majority of the economy. Interestingly enough, nearly one-sixth of household income in Samoa comes from relatives sending money back home from working abroad. The lack of economic opportunities has led many young Samoans to leave their nation of birth for greener pastures in the United States, New Zealand, and Australia. With record numbers of young people leaving the country, Samoa has had a great issue finding new people to replace older Samoans nearing retirement. 
11. Vanuatu - 1.04 Billion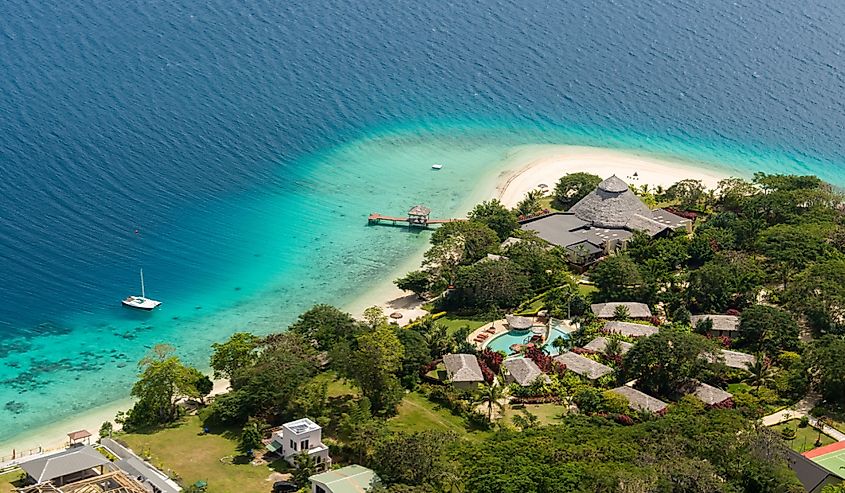 The final Pacific nation on this list is Vanuatu. Boasting a much more lively economy than its Polynesian brothers Vanuatu is still quite poor by global standards. Its economy focuses on the export of kava, beef, copra, timber, and cocoa to larger markets in Australia and East Asia. Tourism has also taken off since the early 2000s along with a robust offshore financial service. Again, due to its size and geographical isolation, it has become difficult to build any kind of industry other than what is given to the island in terms of natural resources. 
12. Saint Vincent and the Grenadines - 1.05 Billion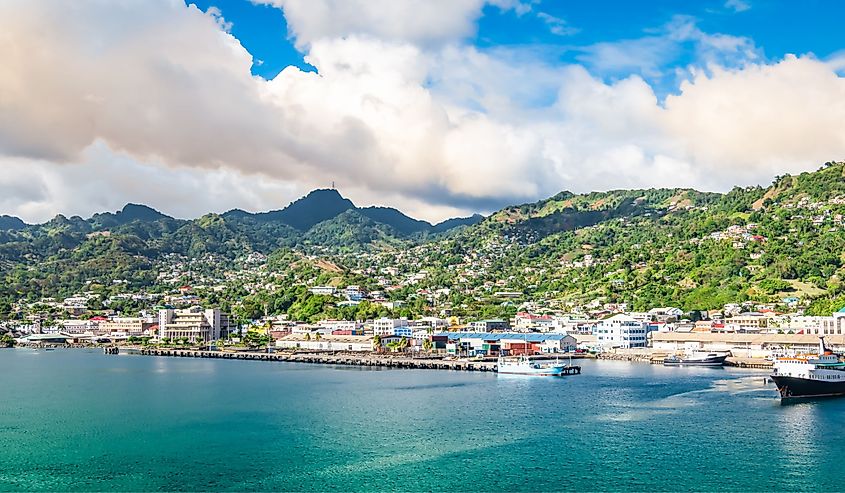 One of the many island nations in the Caribbean, Saint Vincent and the Grenadines has always had a heavily agrarian economy since its inception. Once a juggernaut of cotton and sugar production, Saint Vincent and the Grenadines have turned toward the production of bananas and other tropical fruit. While bananas and other tropical fruits are still desired around the world they simply do not have enough production to make a sizable impact on their GDP. Despite its low GDP, this small nation is one of the few places on earth that make arrowroot, a key ingredient in many cooking and baking recipes.
13. Saint Kitts and Nevis - 1.20 Billion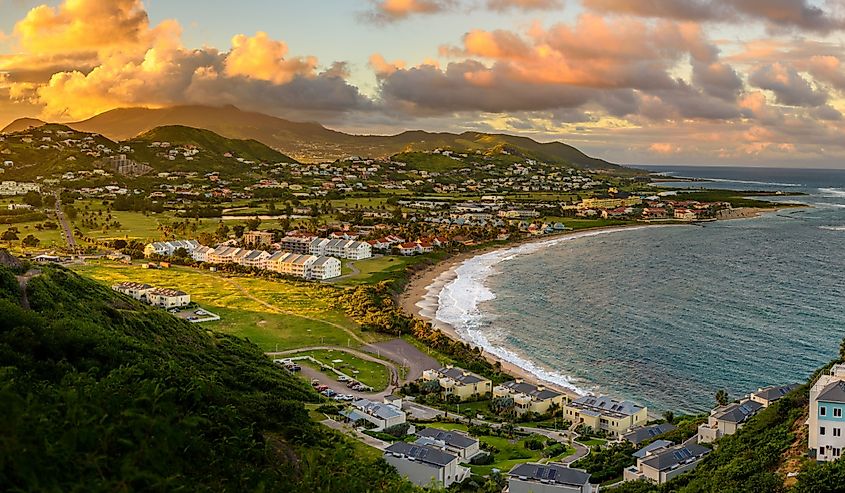 Once a titan of the sugarcane industry, Saint Kitts and Nevis ceased all production in 2005 as global markets started to stall. This sudden refocus of the national economy sent shockwaves throughout the country. Since then, a focus on tourism has become the main driver of its economy. The stunning weather and beaches have not been hard to sell to tourists, but an overreliance on foreign money spelled disaster in 2020 and onwards. Farming is another small sector and income also comes from remittances from others who are living abroad in places such as the United States and Canada.
14. Grenada - 1.28 Billion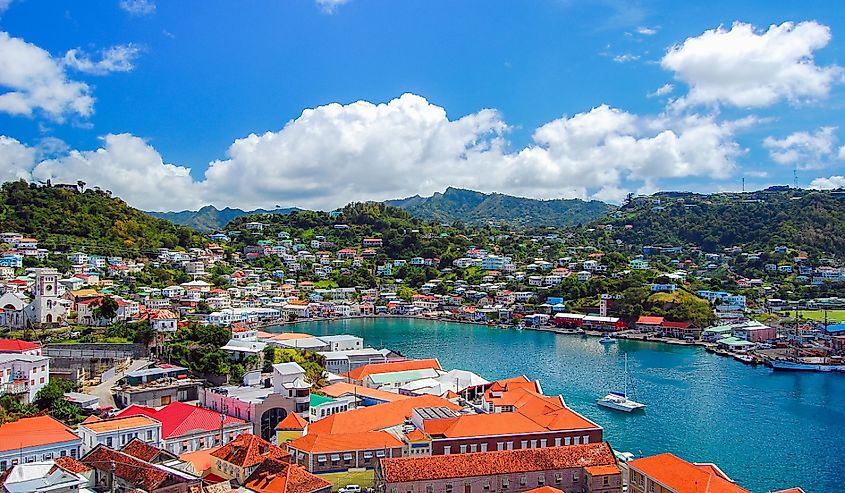 Known as the Isle of Spice, it should be no surprise that Grenada is a nation that relies on its agricultural sector for survival. Exotic spices such as cocoa, cinnamon, nutmeg, and mace are all commonly grown on the island. Despite its production of expensive and rare spices, Grenada is still reliant on foreign aid from the United Kingdom and other foreign aid to stay afloat. A declining birthrate on the island and aging population has lead to a stagnation in Grenada's GDP. 
15. Comoros - 1.29 Billion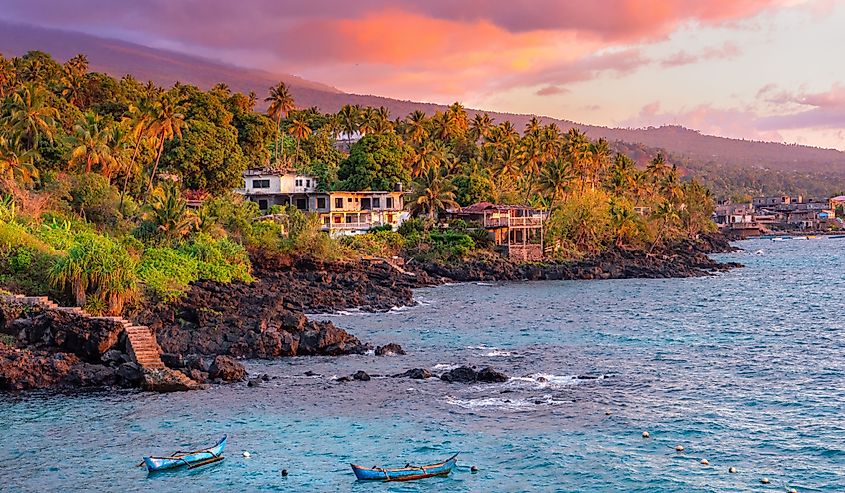 An island chain off the coast of East Africa, not many people have heard of Comoros. One of the poorest nations in Africa, the economic future of this nation is not looking bright. Comoros continues to suffer from severe overpopulation and unemployment. Those who are able to find work do so in the agricultural sector. The cultivation of vanilla and coconuts continues to be Comoros's main national export along with maize and bananas. Sadly due to poor weather conditions and drought, it is not uncommon for annual harvests to come up short.
According to the IMF, the world economy is set to grow in 2023. Hopefully, some of this projected prosperity is able to reach the nations on this list. There are likely many other nations that are in similar or worse economic situations but due to factors such as war or corruption, it is hard to compile conclusive worldwide data.
The 25 Countries with the Lowest GDP
| Rank | Country | GDP in Billions of US dollars (2023) |
| --- | --- | --- |
| 1 | Tuvalu | 0.07 |
| 2 | Nauru | 0.14 |
| 3 | Kiribati | 0.22 |
| 4 | Palau | 0.27 |
| 5 | Marshall Islands | 0.29 |
| 6 | Micronesia, Fed. States of | 0.45 |
| 7 | São Tomé and Príncipe | 0.53 |
| 8 | Tonga | 0.54 |
| 9 | Dominica | 0.66 |
| 10 | Samoa | 0.84 |
| 11 | Vanuatu | 1.04 |
| 12 | Saint Vincent and the Grenadines | 1.05 |
| 13 | Saint Kitts and Nevis | 1.2 |
| 14 | Grenada | 1.28 |
| 15 | Comoros | 1.29 |
| 16 | San Marino | 1.62 |
| 17 | Guinea-Bissau | 1.69 |
| 18 | Solomon Islands | 1.7 |
| 19 | Antigua and Barbuda | 1.87 |
| 20 | Timor-Leste | 2.09 |
| 21 | Seychelles | 2.13 |
| 22 | Cabo Verde | 2.14 |
| 23 | Saint Lucia | 2.15 |
| 24 | Gambia, The | 2.33 |
| 25 | Lesotho | 2.58 |