Gertrude Stein was an American writer and highly-regarded art collector in Paris. Though she was raised in Oakland, California, Stein was born in Pittsburgh, Pennsylvania on February 3, 1874. At the age of 29, she moved to Paris where she would live as an expatriate for the rest of her life. Stein might be best known for her salon at 27 Rue de Fleurus, which hosted the foremost artists and authors of modernist art and literature. Her regular guests included Pablo Picasso, Ezra Pound, Henri Matisse Ernest Hemingway, F. Scott Fitzgerald, and Sinclair Lewis. Though the circles she entertained regularly were legendary, Stein was also an early proponent of same-sex relationships which she wrote about in her bestselling book, The Autobiography of Alice B. Toklas, written as her life partner, Alice B. Toklas.
Historical Significance and Legacy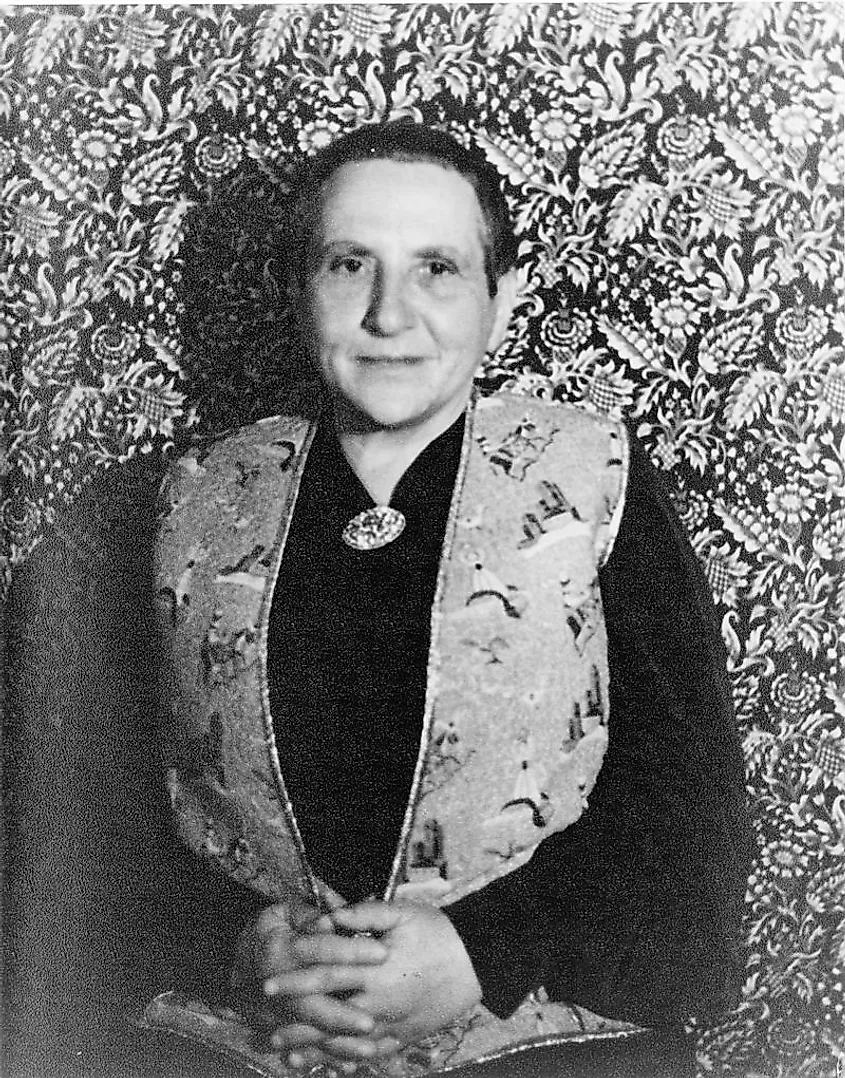 Gertrude Stein in 1934. From the Carl Van Vechten Photographs Collection. 
Before she was known for her collection of art and people, Gertrude Stein was historically significant for her works written about lesbian romance. Her books about same-sex love, which sometimes included Stein's friends, include Q. E. D., Fernhurst, Three Lives, and The Making of Americans. Stein also wrote about lesbian sexuality in Tender Buttons. All of her works were penned after her relocation to Paris in 1903.
Stein is also of notable historical significance as a Jewish woman living in Nazi-occupied France during World War II. Many suspect Stein was only able to continue living in Paris as an art collector because of Bernard Faÿ, a high-ranking official in the Vichy government and a Nazi collaborator that ensured her safety throughout the war.
Art Collection
Again, Gertrude's impressive collection of art and the people she filled her home with are among the most remembered contributions she impressed upon Paris in the early 20th century. So as to avoid interruptions during her days writing, Stein set aside Saturday evening to host a formal gathering to receive and socialize with her roster of artists of various mediums. While Stein entertained the talented men at the legendary 27 Rue de Fleurus salon, her life partner, Alice B. Toklas would host the wives, girlfriends, and mistresses of the men in a separate room.
Prior to her salon with Alice B. Toklas, Stein, along with her older brother Leo Stein, had filled their studio with paintings by Pierre Bonnard, Henri Matisse, Pablo Picasso, Paul Cezanne, Pierre-Auguste Renoir, Henri Manguin, and Henri de Toulouse-Lautrec by the start of 1906, just three years after moving to Paris. The pair contributed to two of the most famous art exhibits during their time together in Paris by lending pieces from their collection and sometimes by attending the featured artists in the exhibits.
It's all in the Family
Though Stein was clearly gifted with an eye for choosing the next great artists, the ability to identify and invest in talented artists was a family trait. The oldest Stein brother, Michael, and his wife Sarah were also art collectors. The couple favored Henri Matisse and reflected their affection for his art by emphasizing his works among their collection. A collector of his work as well, Gertrude Stein's salon was filled with more works by Renoir, Picasso, and Cezanne than Matisse.