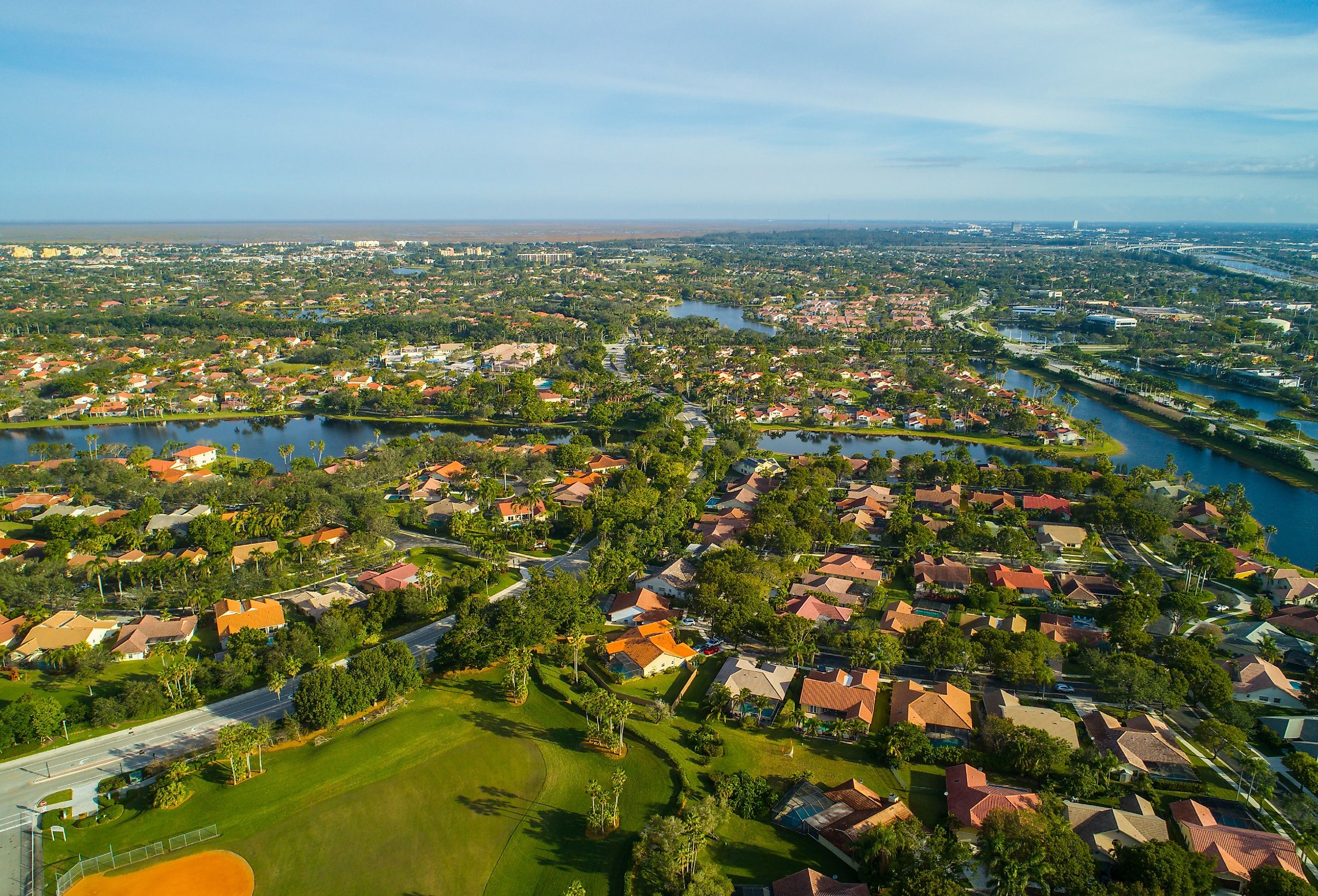 Richest Cities In Florida
Tuscan golf courses intersect with alligator-infested ponds across this wild state, but do not let those reptiles fool you—Florida knows how to live it posh. The gentle hills of this shockingly flat state provided ample opportunity for historic developers to design dream cities, and even Walt Disney himself tried to get in on that action. Several of those investment opportunities accomplished their goals and successfully tamed the Florida Jungle into a resort for the rich. The following cities possess populations over 50,000, which guarantees that something interesting is occurring at all hours, as well as the top median household incomes in the state.
7 Richest Cities In Florida
Weston — $122,929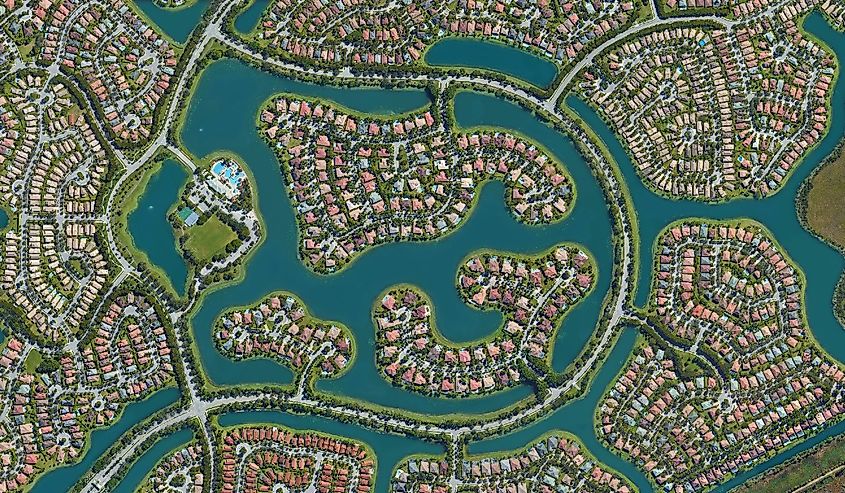 Weston has only recently been a magnet for affluent individuals. Before and up until the 1940s, the indigenous Seminole people inhabited it for 4,000 years. Weston's history of wealth generation dates to the mid-20th century when the city's strategically-chosen location near Fort Lauderdale provided ample opportunities for trade and commerce. It does not hurt that the Everglades it sits next to is still as stunning today as it was then. Currently, the median household income in Weston is a whopping $122,929.
In the '50s, Weston emerged from the same creative genius that developed Walt Disney World. The presence of an array of opulent mansions and homes designed by famed architects further testified to the affluence of its residents. Moreover, the city's financial dominance has been linked to the track records of its leaders, alongside its accumulation of workers in financial industries. One of Weston's most luxurious locations is the Weston Town Center which hosts artisanal shops and salons. This destination is legendary for its mix of classic car rallies and wine-tasting events, alongside craft shows and fine dining.
Palm Beach Gardens — $99,734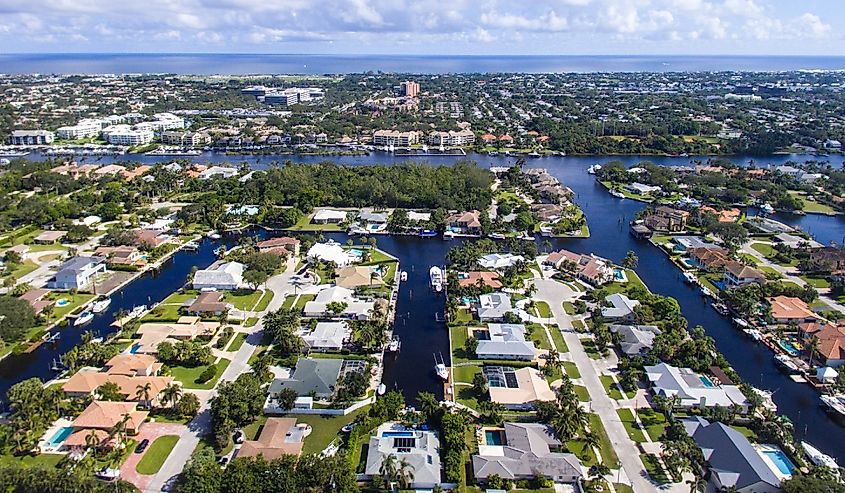 Palm Beach Gardens was a vast cattle ranch until John D. MacArthur, a wealthy insurance magnate, purchased the property in the late 1950s. MacArthur planned and developed the city by envisioning an upscale, residential, and commercial community. Situated in Palm Beach County, the location offered easy access to other regions such as Palm Beach and West Palm Beach. Additionally, Palm Beach Gardens provided access to the Atlantic coast with a priceless waterfront. The influence of that cash influx is evident in the city's median household income of $99,734.
One of the most notable locations in Palm Beach Gardens is the BallenIsles Country Club. This private club, originally the PGA National Golf Club, has three championship golf courses, world-class tennis facilities, and a modern fitness center. Another epitomizing location is The Gardens Mall. With over 1.4 million square feet of retail space, the mall houses brands such as Chanel, Gucci, and Louis Vuitton. Its architecture, landscaping, and art collections create a shopping experience for high-end clientele.
Wellington — $98,163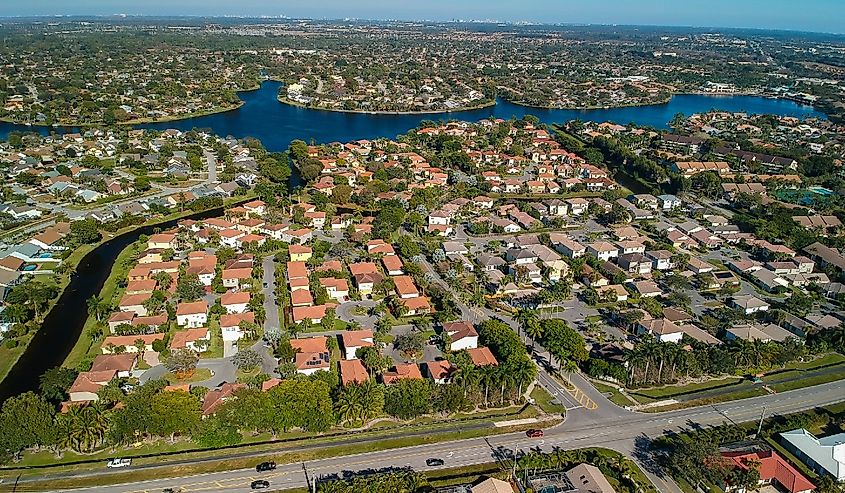 Wellington, a prestigious suburban community in Palm Beach County, boasts an impressive financial landscape. Established in the mid-20th century, its transformation from a sleepy farming area into a residential enclave can be attributed to two factors: the development of equestrian facilities and the development of gated communities.
In the 1970s, the village's equestrian scene took shape when founder Charles Oliver Wellington set aside large tracts of land specifically for equestrian purposes. This idea paved the way for Wellington to become an internationally recognized equestrian destination. Today, the village hosts the Winter Equestrian Festival, a 12-week event attracting competitors and spectators from around the globe. As a result, the equestrian industry generates millions of dollars annually for the local economy and appeals to high-net-worth individuals seeking equestrian properties. That net worth is apparent in the town's median household income of $98,163.
In response to the influx of type-A residents, developers invested in and built private communities with expensive homes, such as the exclusive Palm Beach Polo & Country Club and the upscale Versailles neighborhood. These properties include security and amenities like golf courses, tennis courts, and private clubhouses. Overall, Wellington has managed to attract celebrities, professional athletes, and successful entrepreneurs.
Jupiter — $94,121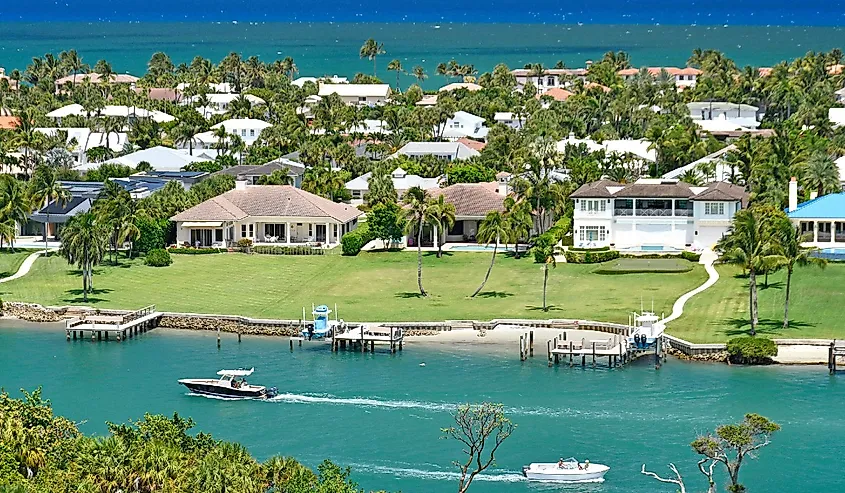 Jupiter Town rests along the Loxahatchee River, close to the Atlantic Ocean. In the early 20th century, Jupiter's coastline, coupled with the development of the Jupiter and Lake Worth Railway, enticed wealthy northerners seeking a winter escape (otherwise known as "snowbirds"). The town's flourishing economy mainly stems from diverse industries, including tourism, marine activities, and real estate. Jupiter's real estate market offers a variety of waterfront properties, convincing wealthy buyers with scenic views, private docks, and easy access to the Atlantic Ocean. These residents, with a median household income of $94,121, contribute to the town's economic well-being by creating and investing in local businesses.
Jupiter Inlet Colony, a small coastal community, exposes some of the most opulent residences in the area. Its gated entrance, private beach club, and marina appeal to the elite seeking a fantastical environment. Many prominent figures, like Tiger Woods, own estates in this enclave, further elevating the town's reputation as a haven for the "blessed." Another location, The Bear's Club, was founded by legendary golfer Jack Nicklaus. It offers an 18-hole championship golf course and a 40,000-square-foot clubhouse. Members join for its amenities, including fine dining, a state-of-the-art fitness center, and spa-esque locker rooms. 
Boca Raton — $89,776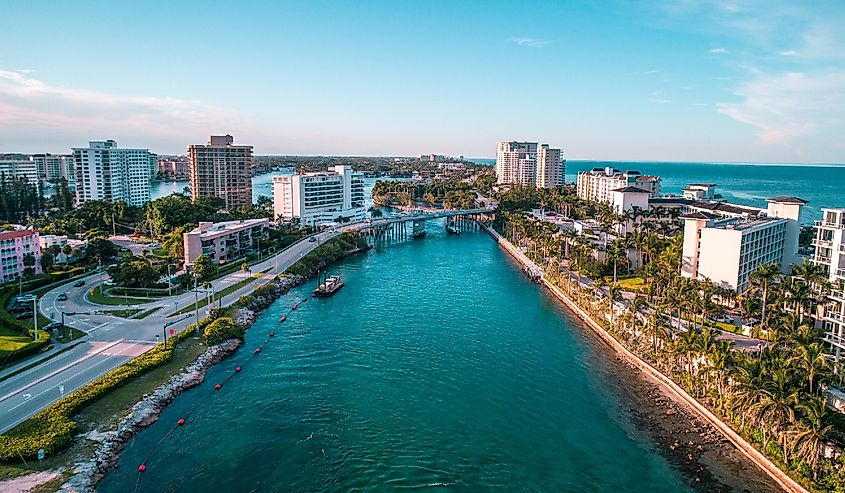 Boca Raton's roots as a luxury destination trace back to the 1920s when architect Addison Mizner envisioned it as a premier resort community. Mizner's designs, characterized by Mediterranean Revival architecture, attracted affluent individuals seeking opulent homes and exclusive social circles. The city's positioning between Miami and West Palm Beach solidified its appeal, as it provided an escape from urban centers. Over time, Boca Raton's reputation grew, as well as its median household income, which is currently $89,776.
A diverse mix of industries like technology, finance, and healthcare drives Boca Raton's economy. These sectors fuel the city's growth, offering high-paying jobs and drawing in skilled professionals. The city also benefits from low property taxes and no state income tax, making it an appealing destination for affluent residents. Mizner Park serves as a prime example of Boca Raton's offerings. This open-air center combines high-end retail, fine dining, art galleries, and a cultural center. Another ritzy spot is the Boca Raton Resort & Club, a beachfront property that has been around since 1926. This resort grants access to two golf courses, a spa, and a private marina. 
Alafaya — $85,056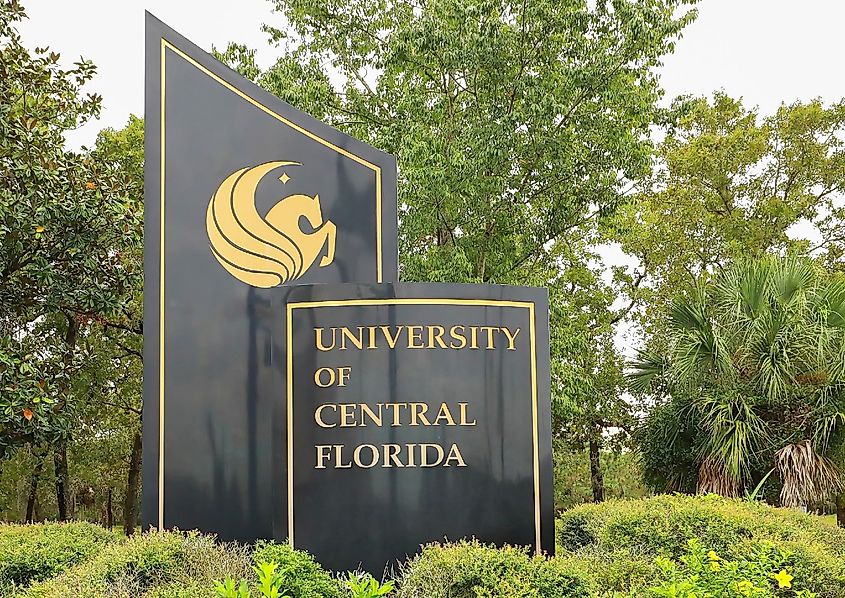 Alafaya, in Orange County, was originally a small agricultural community. Alafaya blossomed because of its neighborhoods and proximity to commercial centers that targeted high-income earners. The growth of Alafaya's economy owes much to the establishment of Walt Disney World in the 1970s. This expansion of the nearby Orlando roped in professionals seeking job opportunities in technology, defense, and aerospace industries. As a result, property values surged, and Alafaya gained a median household income (MHI) of $85,056.
The housing market in Alafaya caters to high net-worth individuals, with gated communities such as the Estates at Lake Pickett and Waterford Lakes. These communities feature custom-built, upscale homes with a wide range of amenities, such as swimming pools, fitness centers, and clubhouses. The neighborhoods ensure children attend top-rated schools, which further bolsters future MHI statistics.
Coral Springs — $81,944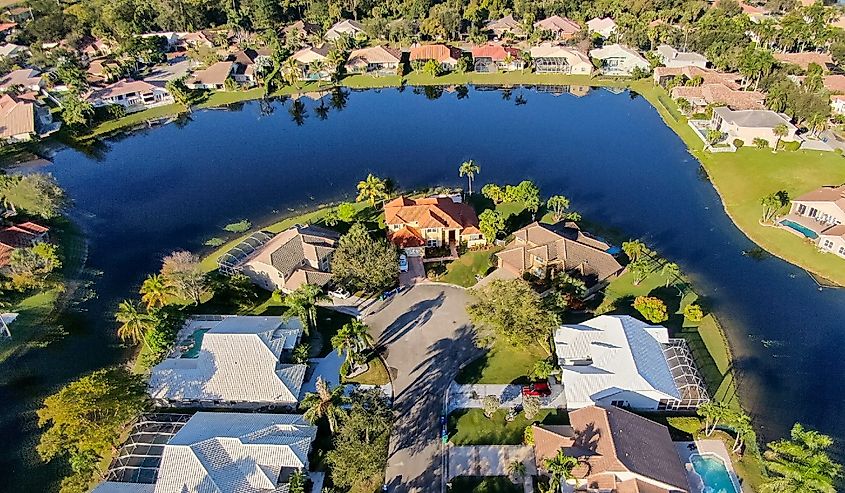 Coral Ridge Properties first purchased the land in 1953, which is how Coral Springs emerged. The city lies between Miami and Palm Beach, which provides a strong economic base, drawing businesses and affluent residents. Its low crime rates and strong school system further contribute to its reputation. These features did not come about by coincidence or chance. The developers of the original town intended for the community to be well-financed since its creation.
Over the years, Coral Springs has implemented effective financial management strategies, maintaining a stable tax environment. As a result, the city has garnered a AAA bond rating, making it a profitable destination for investors and high-net-worth individuals. The well-maintained public spaces, recreational facilities, and cultural centers continue to enhance the city's image. Overall, Coral Springs stands steady with a median household income of $81,944. The Coral Springs Center for the Arts highlights the city's ability to foster culture and the arts, a factor that has historically drawn well-off patrons. This modern facility hosts concerts, theatrical productions, and art exhibitions.
Florida's richest cities continue to attract the wealthy, with each offering royal experiences like equestrian sports, waterfront properties, and high-end shopping centers. It is safe to say that these cities have managed to create a perfect balance between maintaining their natural beauty and catering to the affluent. The only thing left to wonder is if golf courses are the real currency among the Florida elite.
Richest Cities In Florida
| Rank | City | Median Household Income (in 2021 US dollars) |
| --- | --- | --- |
| 1 | Weston | $122,929.00 |
| 2 | Palm Beach Gardens | $99,734.00 |
| 3 | Wellington | $98,163.00 |
| 4 | Jupiter | $94,121.00 |
| 5 | Boca Raton | $89,776.00 |
| 6 | Alafaya | $85,056.00 |
| 7 | Coral Springs | $81,944.00 |
| 8 | Plantation | $79,893.00 |
| 9 | Riverview | $79,213.00 |
| 10 | Kendall | $78,868.00 |
| 11 | Davie | $77,453.00 |
| 12 | Miramar | $75,200.00 |
| 13 | The Hammocks | $73,597.00 |
| 14 | Pembroke Pines | $73,024.00 |
| 15 | Delray Beach | $69,804.00 |
| 16 | North Port | $69,265.00 |
| 17 | Port St. Lucie | $68,647.00 |
| 18 | Coconut Creek | $68,024.00 |
| 19 | The Villages | $67,239.00 |
| 20 | Fort Lauderdale | $66,994.00 |
| 21 | Tamiami | $65,355.00 |
| 22 | Cape Coral | $65,282.00 |
| 23 | Brandon | $64,401.00 |
| 24 | Palm Harbor | $64,222.00 |
| 25 | Kendale Lakes | $62,729.00 |
| 26 | Palm Coast | $61,847.00 |
| 27 | Sunrise | $61,830.00 |
| 28 | Tampa | $59,893.00 |
| 29 | Town N Country | $59,263.00 |
| 30 | Miami Beach | $59,162.00 |
Source: US Census Bureau, 2017-2021.