Top 10 Small Towns In France For A Memorable Summer Vacation
The world's most visited country, France, is an undisputed jewel of Europe that is home to centuries of history, culture, fine cuisine, music, fashion, and unforgettable natural wonders. While its capital Paris is renowned across the globe, the small towns of France have their own tremendous beauty and charm that will surely satisfy any visitor. From stunning hilltop views, majestic examples of human architecture, and an abundance of the best in local French cooking, small French towns give anyone a unique and beautiful experience of France. This article looks at the ten small towns in France to visit for a memorable summer vacation.
Bayeux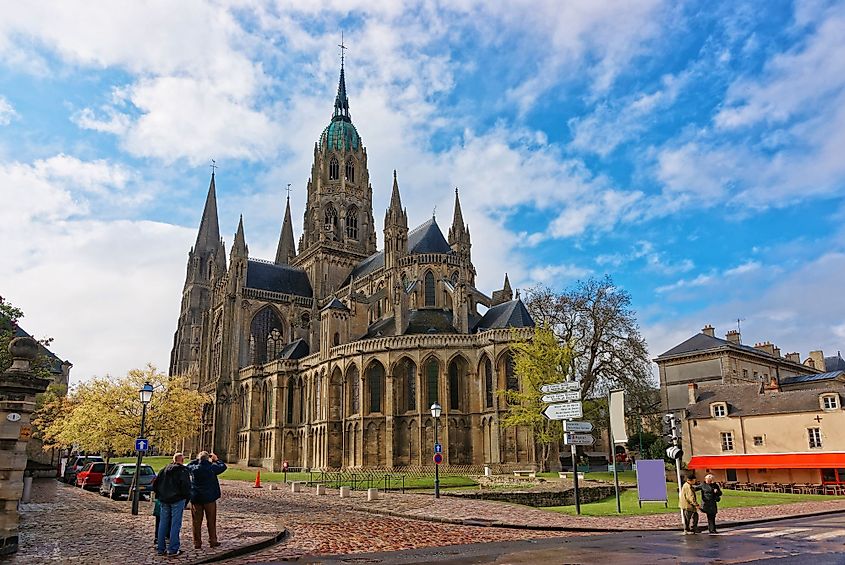 Well known for the Bayeux Tapestry, a medieval embroidered cloth from 1066, Bayeux is a beautiful town in the famed Normandy region. Due to its geographic location, during the Second World War, it was amongst the first French towns liberated by the Allied forces in 1944, and today offers its residents and visitors a mix of old and modern history. Tourists will marvel at the Bayeux Cathedral (consecrated in 1077), which dominates the local skyline while visiting the Jardin Botanique de Bayeux (a 3-hectare botanical space) established in the 1860s gives any passerby a serene atmosphere. On the way out, a stop at the Bayeux War Cemetery will provide a moving experience for all, with nearly 5,000 burials. The cemetery poignantly honors the memory of all those lost to the cruelty of war.
Hunspach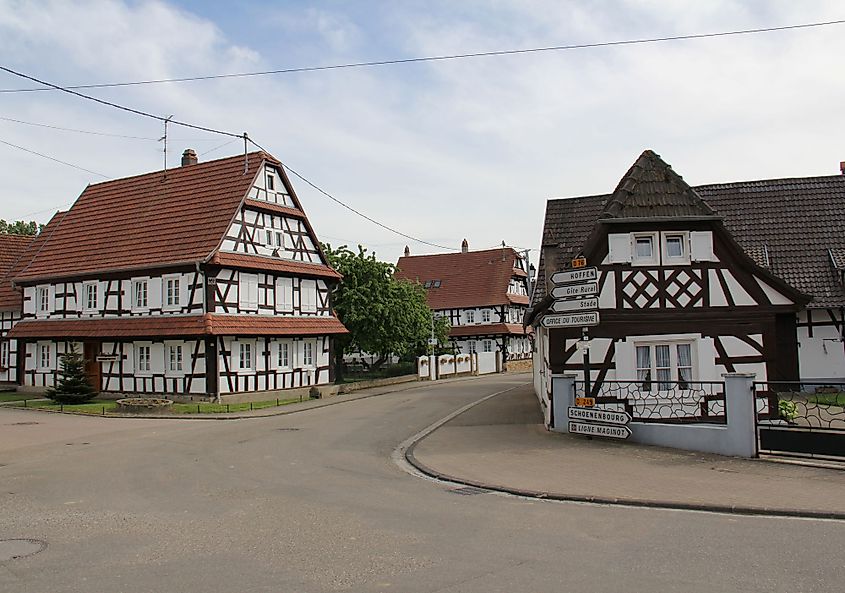 Voted as France's "favorite village" in the television program Village préféré des Français, Hunspach is a cute little town in the Alsace region, near the country's border with Germany. Celebrated for its timber houses lined with flower boxes, this village may have a population of only 632 inhabitants but is filled with quaint postcard imagery. Mix in leisurely walks on its main streets, friendly locals, and an excellent selection of taverns and restaurants, and any sojourn in Hunspach will definitely be the highlight of a road trip in France.
Cassis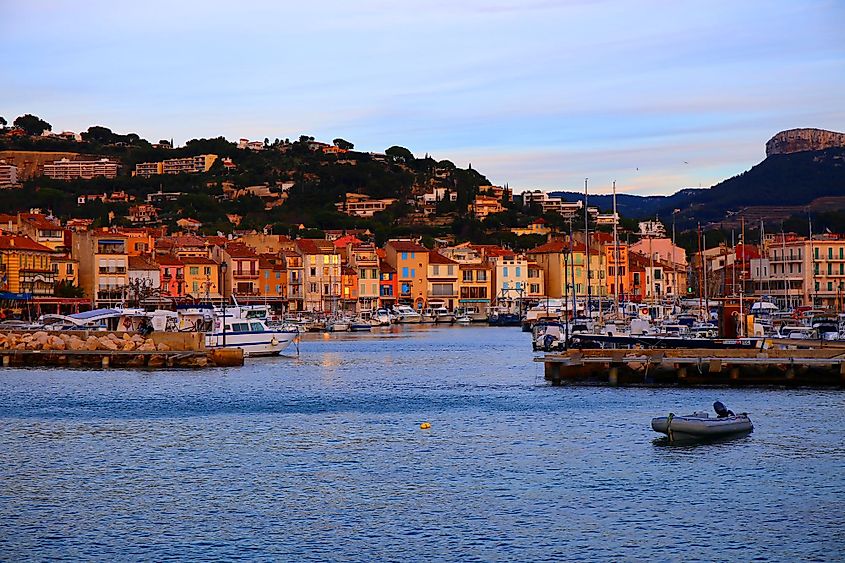 Just a 30-minute drive from France's second-largest city Marseille, Cassis is a tiny coastal town on the famed French Riviera. Though often overlooked by other similar destinations like Saint-Tropez and Nice, Cassis offers all the same beauty with a noticeably quieter atmosphere. A beautiful fishing port surrounded by pebble beaches and steep limestone cliffs, the views in Cassis are second to none. Add in beautifully colored buildings, a great selection of restaurants and cafes, and of course, the warm Mediterranean sun, Cassis is the perfect place to enjoy Southern France in a less congested center. And naturally, any visitor will not want to miss a glass of famous Cassis wine!
Eguisheim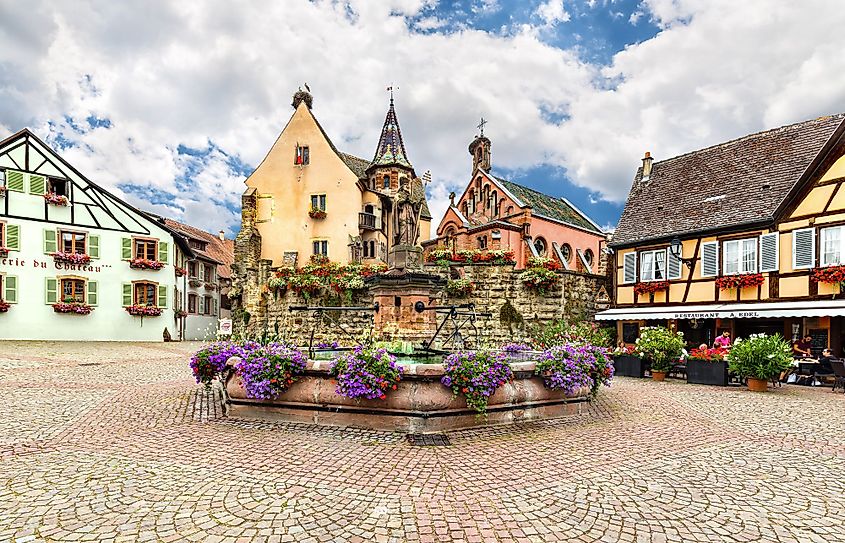 Another small village near the German border, when visiting Eguisheim, tourists will experience a lively taste of Medieval history. Filled with narrow cobblestone streets, timber houses, and stone buildings, all with roots in the Middle Ages, Eguisheim is a most fascinating pitstop for those in the Grand Est region. The town is also renowned for being a stop on the famous Alsace Wine Route, an approximately 170-kilometer-long road that crosses the main wine-producing vineyards of the region. But when not marveling at Medieval history or enjoying top-quality wine, visitors can also enjoy an assortment of hiking and biking trails around town, which include sights such as Chateau Hagueneck and Pflixbourg.
Les Baux-de-Provence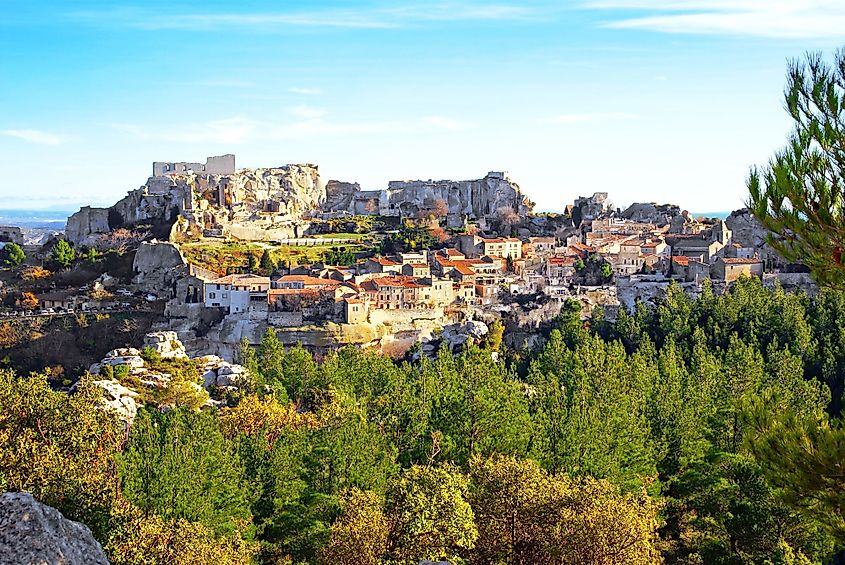 Located right in the Alpilles Mountains of Southern France, Les Baux-de-Provence has frequently been called the country's one of the most beautiful villages. It sees over a million visitors descend on it every year, even if the permanent population is just under 400 inhabitants! But it is not hard to see why so many flocks to this commune; stunning lavender-filled fields are a staple of the summer months, while several vineyards and olive oil producers call the town home. Les Baux-de-Provence is certainly the place to be for some of the very best in local French food delicacies. Meanwhile, art lovers will surely appreciate the Carrieres de Lumieres, a former quarry that today features a variety of artworks projected onto underground cave walls! Add in some beautiful French music in the background, and it is a truly fantastic experience.
Chamonix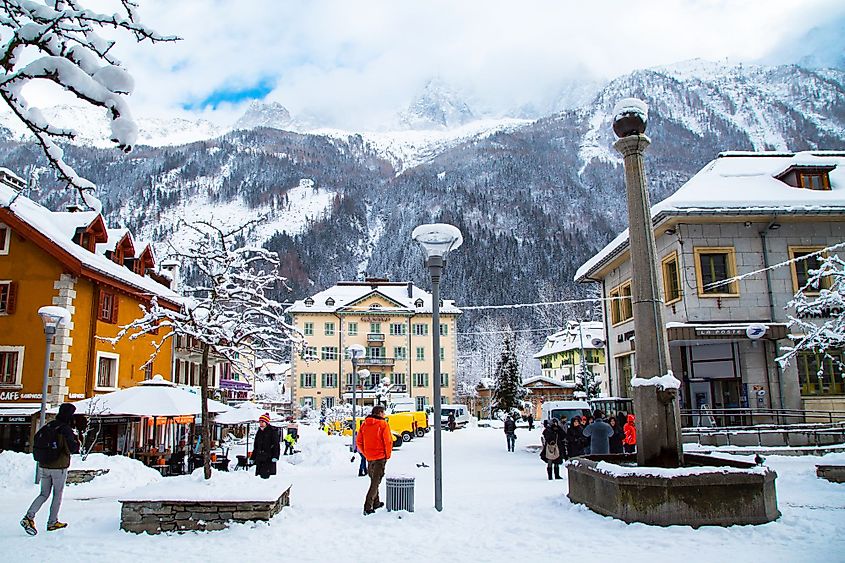 The site of the first Winter Olympics, Chamonix (or Chamonix Mont Blanc), is celebrated for having some of the best skiing in Europe. Located immediately north of Mont Blanc, the highest peak in the Alps, the town of Chamonix is also a stone's throw away from the Italian and Swiss borders, making day trips to these countries a most popular excursion. Visitors who do not partake in skiing will still enjoy all the alpine beauty of the area, however, especially with a ride on a cable car. Take a ride to the summit of Aiguille du Midi at an elevation of nearly 4,000 meters for a view of the mountains and valleys that will create incredible memories and photos!
Vogue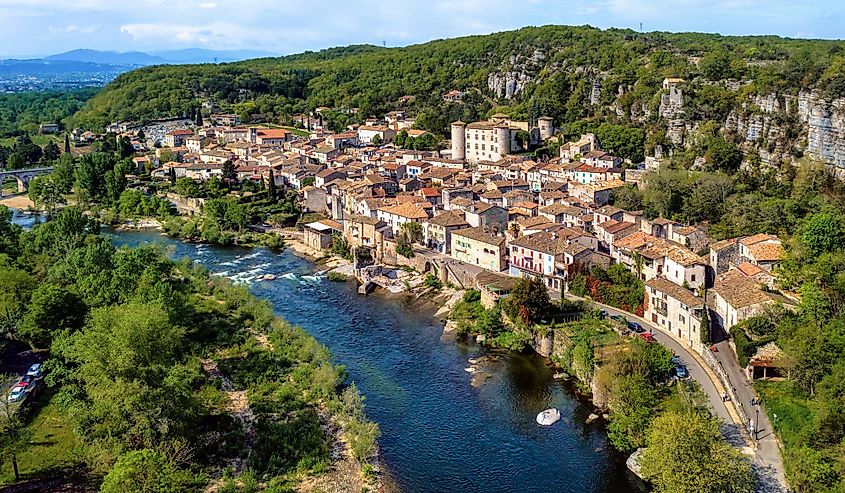 Situated on the banks of the Ardeche River, Vogue has a population of just 1100 inhabitants, but its small size is deceiving. A picturesque village that includes a Medieval castle, timber buildings, cobblestone streets, and of course, charming little cafes and bars, Vogue lives up to its fashionable name! Surrounded by exquisite limestone cliffs that seem to jut out from the water, the town is also next to the Parque Natural Regional de Los Montes de Ardeche. A beautiful nature preserve with hiking trails, rolling pastures, and on-site accommodation, a stay in this small French village will not disappoint.
Ile de Porquerolles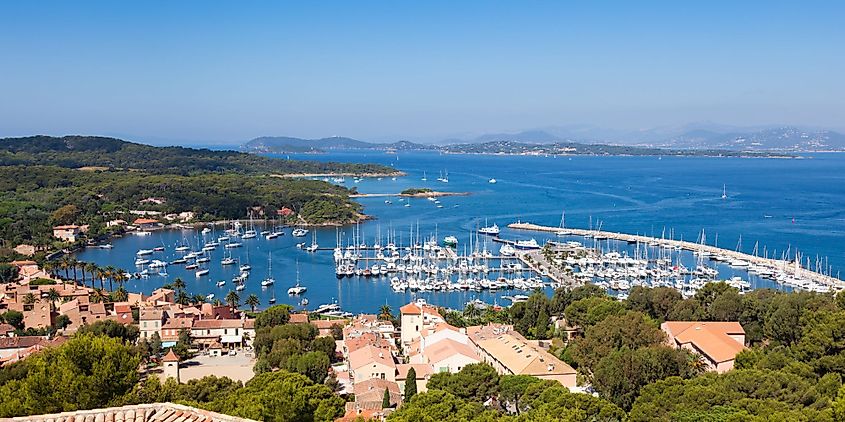 The largest of the four Hyeres Islands off the coast of Southern France, Ile de Porquerolles, is a short ferry ride from the city of Toulon. Stunning views, clear waters, sandy beaches, and warm sun make it a very popular destination for visitors to the French Riviera. Host of an annual summer jazz festival, much of the island is a part of the Port-Cros National Park, which ensures protection from the French state from overdevelopment. Some 500 acres of vineyards exist on the island, which was first planted in 1912, allowing visitors to enjoy famed southern French wine once more in a beautiful locale.
Arcachon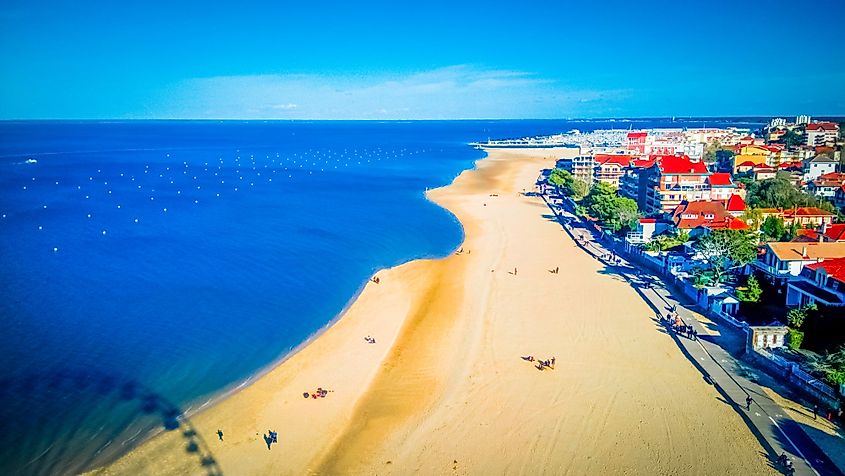 An hour's drive from the city of Bordeaux, Arcachon lies inside the Bay of the same name on the Atlantic Ocean. Its mild climate has long been sought after for people with pulmonary illness, and the sandy beaches and ocean breezes make it a most pleasant excursion. Arcachon is also known for its local oysters, which make for excellent seafood back in the town's main square. While enjoying this great cuisine, any tourist can also lay back and take in the views of appealing 19th-century buildings and villas, a beachfront promenade, and an assortment of local artists and artisans. A glass of Bordeaux wine will be sure to cap off any visit to this most charming coastal town.
Biarritz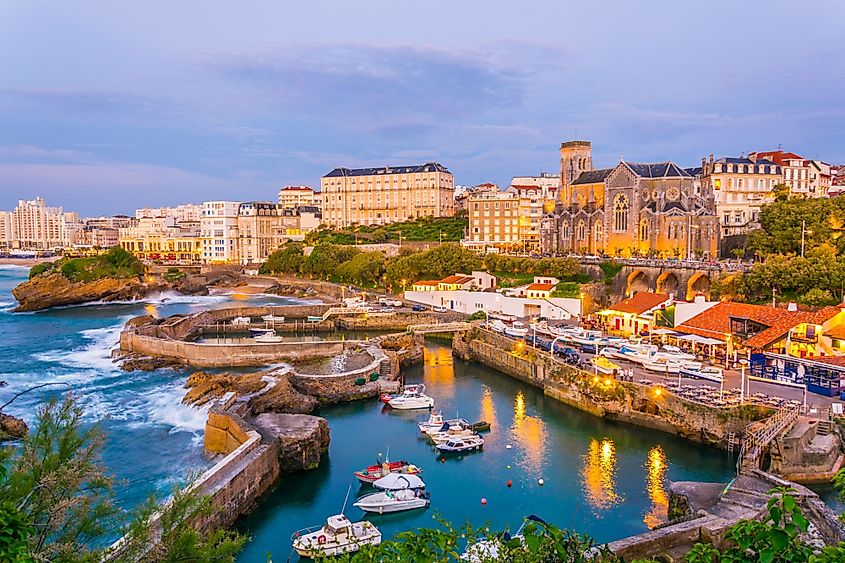 One of France's most popular ocean resorts, Biarritz, is centered on the Bay of Biscay, just 35 km from the Spanish border. Once a small fishing port, Biarritz became a popular summer retreat after Emperor Napoleon III built a lavish villa (Hotel du Palais) there in the 1850s. Biarritz has been a hot spot for European royalty throughout the 19th and 20th centuries and into the modern-day while gradually growing into a locale for exciting nightlife, cuisine, and fine art. From casinos, world-famous surfing beaches, and an array of museums celebrating the local history, Biarritz is a true vacation wonder. Hot sun, stunning ocean views, and a sea of culture will surround any visitor who comes to Biarritz's shores, no matter how long their stay.
France is amongst the most culturally rich nations in Europe, which is only rivaled by the vastness of geography and natural wonders. Though its main cities continue to attract the majority of visitors, a journey through the country's small towns reveals a charming side of French society and history that can be easy to overlook in the major urban centers.