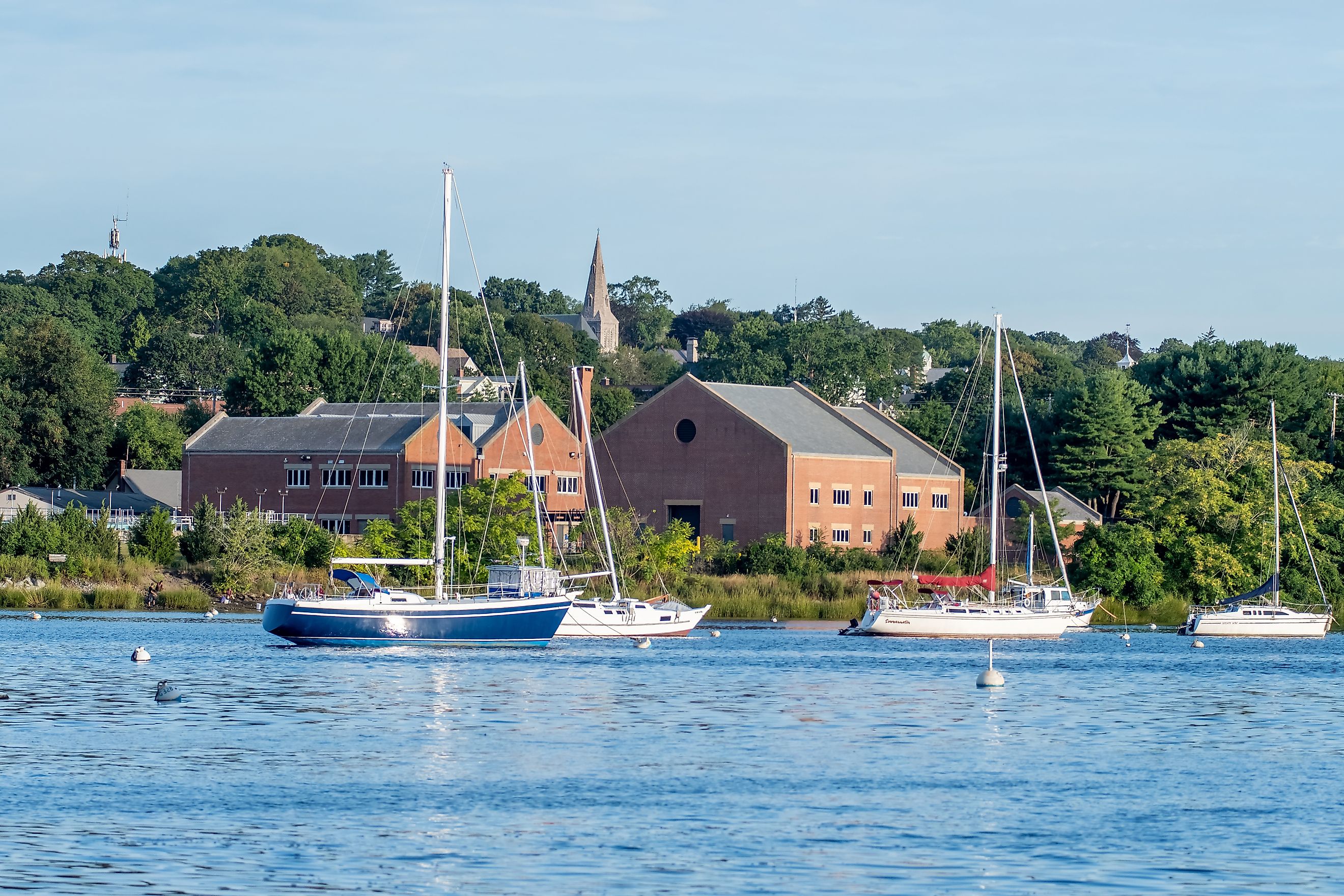 These Towns in Rhode Island Have The Best Main Streets
The state with the smallest land size in the continental United States, Rhode Island more than compensates with its over 400 miles of shoreline. Replete with scenic beaches, and featuring the iconic lighthouses and dockside lifestyle that highlights its maritime way, there is plenty to do in Rhode Island. The state itself features an impressive history, where the colonial buildings intermingle with mansions from the Gilded Era, it's a diverse area for such a small landmass. Because of its small size, Rhode Island has a massive number of ecosystems that interweave. With forests, farms, and a stunning coastline, it's an idyllic island. These ten Rhode Island towns have the best main streets, giving a unique insight into the culture and personality of each town. 
Jamestown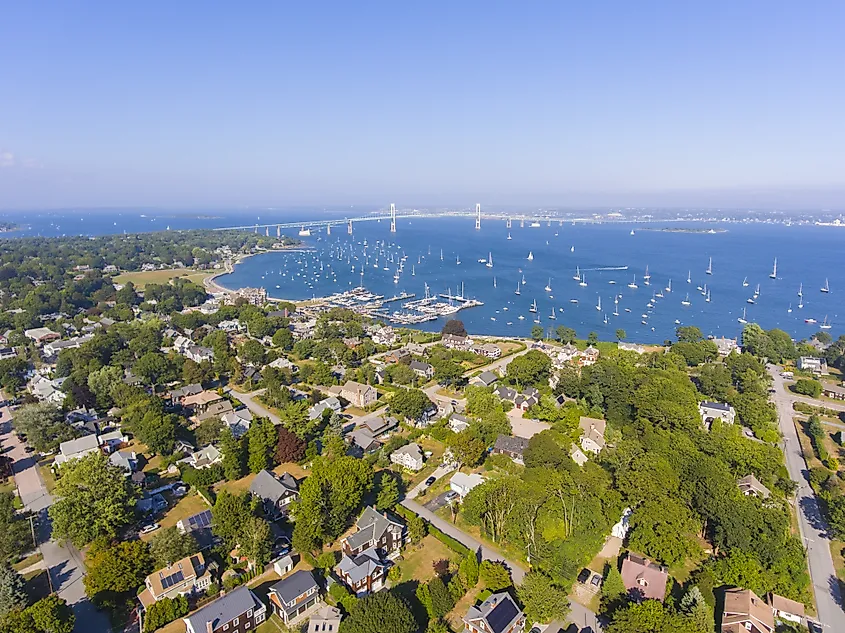 Jamestown provides access to the gorgeous waterfront. It provides visitors with a view of the Newport Bridge, the architecture juxtaposes with a purely natural landscape to create a unique experience. Its main street is replete with historic significance, including the Conanicut Battery and the Jamestown Windmill. Visitors can enjoy the Jamestown Newport Ferry, the local arts center, and learn about glass blowing at Clancy Designs. Right alongside Narragansett Bay, its position on Conanicut Island gives it a unique scenery that features a real panorama. For hiking enthusiasts, it connects with Beavertail State Park, known for the pursuit of the lighthouse. Mainstreet highlights all these virtues with its charming walkways, bakeries, eateries, and shops. Home to approximately 5,400 residents, Jamestown has a charming main street.
Westerly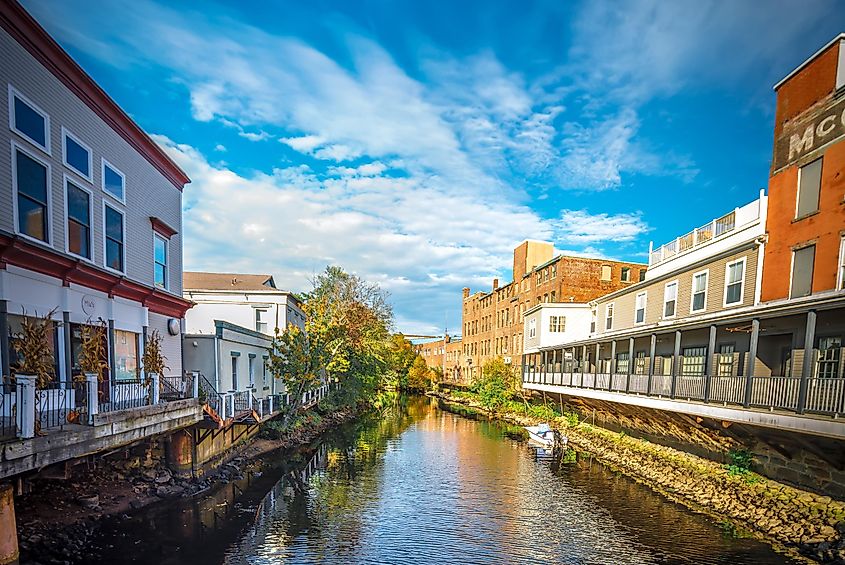 Westerly is home to Atlantic Beach Park, a popular tourist attraction. It lets visitors work up an appetite for other spots like the Knickerbocker Music Center or Ella's Food & Drink. The main street benefits include access to Watch Hill Lighthouse. For those looking to adventure, visitors can enjoy HeliBlock Helicopter Adventures. A quieter take leads to the Savoy Bookshop and cafe. The town abuts the Connecticut border and looks out into various beaches. Its main street focuses on the Pawcatuck River, using natural wonder to create a positive experience for residents and visitors. With 22,200 residents, Westerly is a proud town with an impressive history. It boasts the Babcock-Smith House Museum, a veritable mansion that exemplifies colonial architectural work. Replete with the original furnishings, it preserves history to provide visitors with a unique experience. 
Charlestown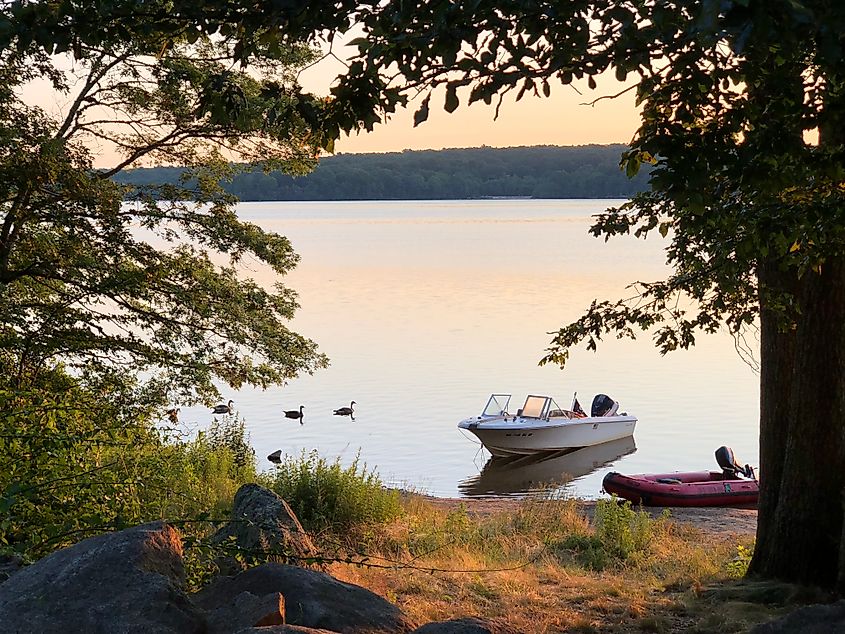 Unmistakable in its unique natural beauty, Charlestown features an observatory and a national wildlife refuge. Its main attractions include the Frosty Drew Observatory and Science Center, the Breachway Grill, and Simple Pleasures, a gift shop. Whether seeking a taste of the past at the Vintage Cigar Lounge & Club or looking for some calm at Quonny Yoga, there's something for everyone. Charlestown's coastal geography includes the Ninigret Pond, technically a lagoon that allows people to fish and swim. Its natural ecosystems attract birds and a range of fauna. Charlestown's main street is calm, matching the town's size. The shops and dining options line the main section that looks out to the beach, enticing visitors to engage in nature and nourishment. Home to approximately 8,100 individuals, Charlestown is a small but mighty part of Rhode Island. 
South Kingstown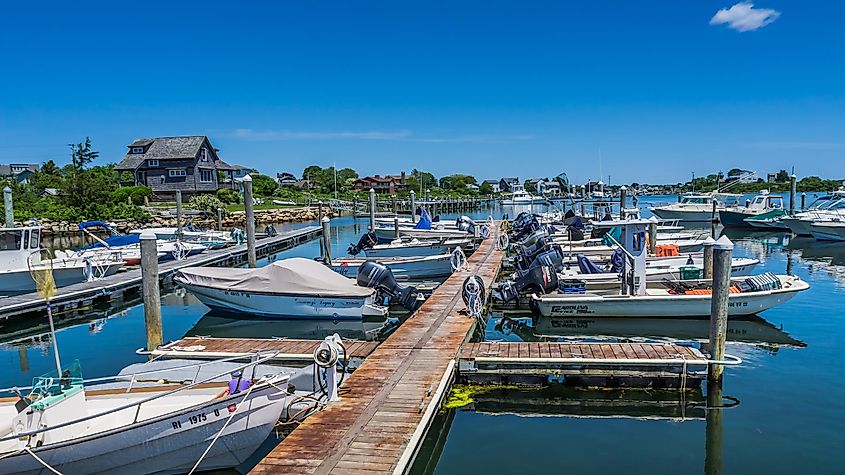 Many of the smaller Rhode Island towns incorporate history, but outside of the museum and the South Kingston old jailhouse, it mainly focuses on the natural beauty of the area. This shows in its Kinney Azalea Gardens, the Farmer's Daughter garden center, and the Old Mountain Field Park. With invigorating energy, the geographical landscape incorporates farmlands and sprawling hills that provide a picturesque view of the ocean. Its main street highlights this serenity, with local boutiques and non-chain eateries like the Matunuck Oyster Bar. During the right season, it hosts a theater by the sea each year and features play that call on history and current local talent. Otherwise, you can visit the All South County Luxury Cinemas to escape a rainy day. Also known as Wakefield-Peacedale, Southern Kingstown is unique in its quiet presence, despite its population of around 30,000 people. 
Warren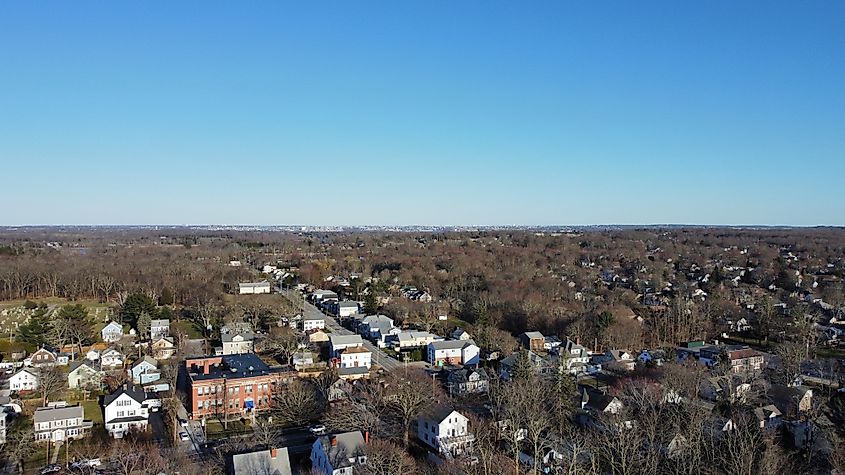 Warren is aptly named because it nestles up to the side of Warren River. The town features a quaint main street that blends a variety of building styles. Despite the largely Victorian or Georgian presence of architecture throughout the state, a unique feature is the Greek Revival style in Warren. Its main street incorporates art galleries that feature local talent, antiquities stores, and cafes to allow visitors to relax in a comfortable environment. The Galactic Theatre features live music, while the Waterdog Kitchen + Bar shows the culinary style of Warren. A trip to Imagine Gift Store makes a nice outing, with Market Street Pub and La Piñata Mexican Grill + Bar rounding out a trip with food. With approximately 10,500 residents, it has everything from US classics like The Square Peg eatery to originals like Burrs Hill Park. 
East Greenwich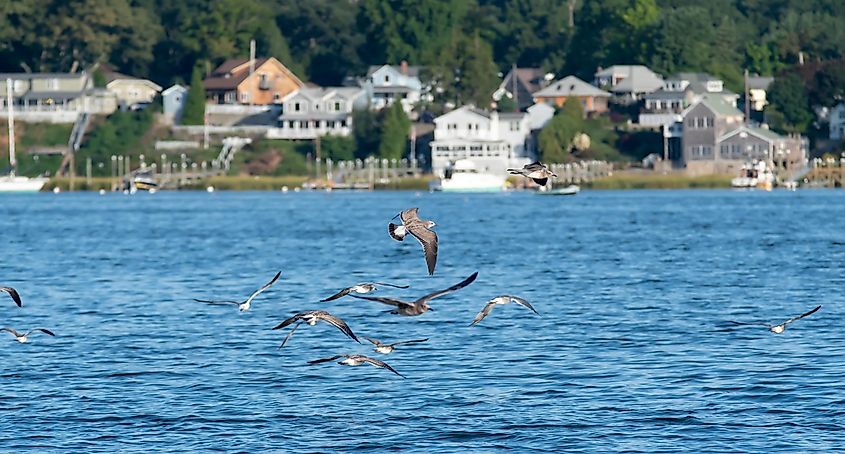 East Greenwich is a Rhode Island town with an impressive main street. Its attractions mirror the pristine conditions of the town's surroundings. The Varnum House, the Memorial Armory, and the New England Wireless Steam Museums all speak to local culture. Science buffs can face a challenge at the RI Riddle Room With around 13,200 residents, this East Greenwich is active and engaging during any season. These attractions include gorgeous views of the west part of Narragansett Bay and allow for a perfect sunrise or sunset on this small island state. Spread across a broad area, the town's design matches the geography. East Greenwich has a range of history, including colonial and traditional architecture. Complete with high-class cuisine, it provides ample opportunity to explore the outdoors and return to the main street with an appetite. Visitors can find great options at Clementine's Homemade Ice Cream or Wild Harvest Breads and Cafe, sitting back and embracing the quintessential Rhode Island experience.
North Kingstown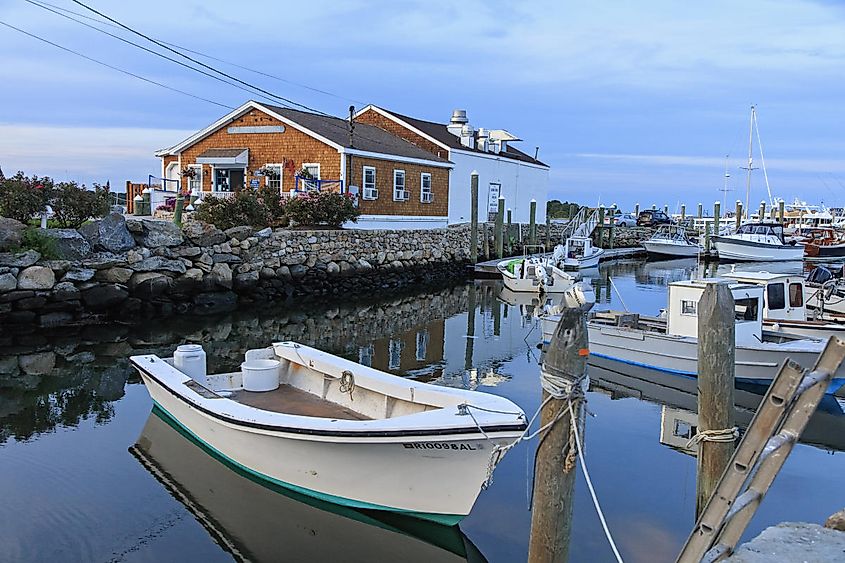 Positioned along the south end of Rhode Island, it boasts a population that ranges around 26,100 people. The result is a quaint main strip that includes Wilson Park and access to Martha's Vineyard Fast Ferry and the Gilbert Stuart Museum. The town provides a charming blend of suburbia and rural influences. Its official Main Street, also called Tower Hill Road, is a high-energy zone filled with shops, diners, and various events in the community. For fresh produce, Casey Farm is a must-see historic site. Adventure seekers can enjoy the Wide World of Indoor Sports and work up an appetite for El Tapatio, Inside Scoop, or Shayna's. North Kingstown stands out for its fortified farmhouse, dating back to the 1600s. Known as Smith's Castle, it shows the resilience of the area through time. Complete with museums, mainly with a focus on the navy and aircraft, North Kingstown provides opportunities for relaxing, learning, and embracing nature. 
Bristol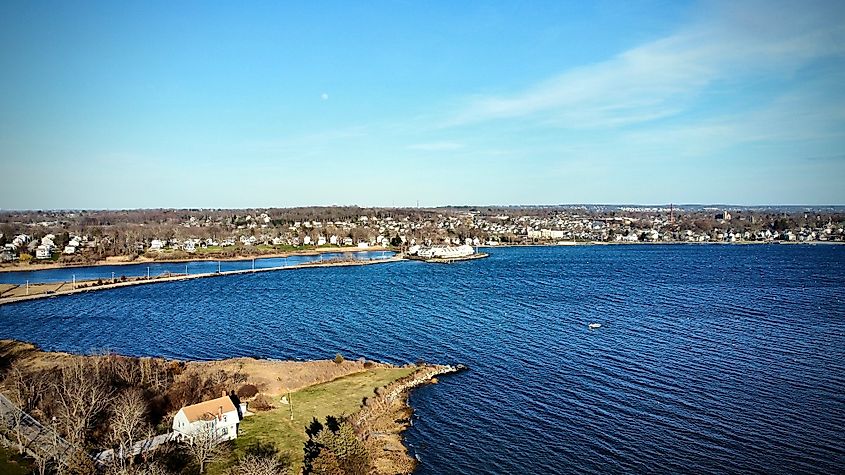 Bristol has a lively main street, featuring unique eateries like Mt Hope Farm, the Wood Street Cafe, and Twelve Guns Brewing. Museum fans can embrace the Blitehewold Mansion, Gardens & Arboretum, while history buffs can take a stroll through Independence Park. For families, Bristol has a Play Town that keeps tots engaged and lets parents relax. Home to around 24,600 people, the town of Bristol has incredible significance in Rhode Island and the USA. It hosts a renowned July 4th parade, the longest continual Independence Day event in the United States. The main street incorporates impressive shops and boutique options, paralleling the pride it shows in history and culture. With landmarks like the Arborium and Blithwold Mansion, its eastern location provides unique access to Narragansett Bay. It's a major tourist attraction for its beautiful views and high-quality amenities.
Newport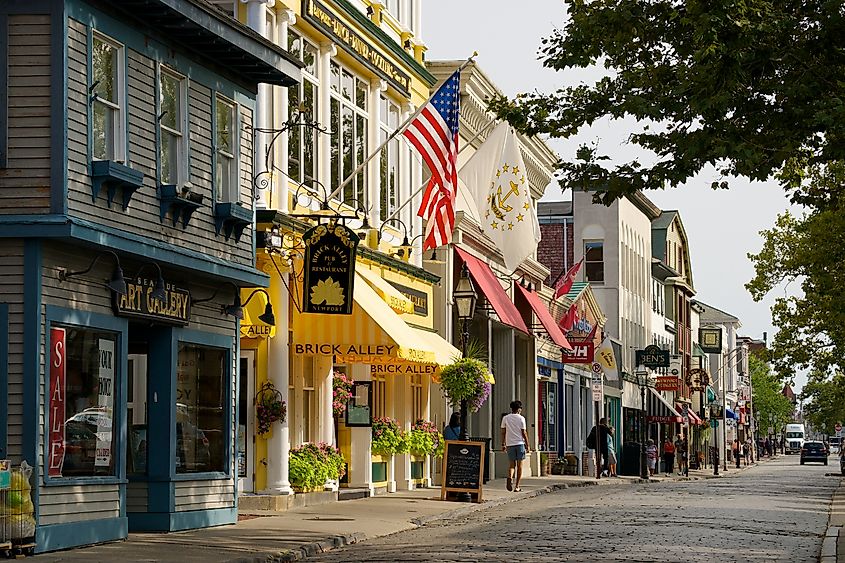 Newport boasts an impressive main street,  featuring the Marble House, the Touro Synagogue National Historic Sight, and Rough Point, each a museum drawing active interest from tourists. After gathering an appetite, there are plenty of fine-dining options, such as The Mooring or the Black Pearl, ideal spots for New England Classics. With approximately 24,700 people in the town, Newport is a well-known area that features a unique blend of city and small-town energies. Its historical value is clear through the mansions that scatter the town, including Marble House and The Elms. These reminisce of 1800s wealth through the Gilded Age designs. Its position on Aquidneck Island gives a beautiful perspective to the bay while also showing a vast coastline that makes any sunset idyllic. Because the town has a fair population, it features many attractions for tourists along the main street, particularly for fine dining and high-end shopping.
Little Compton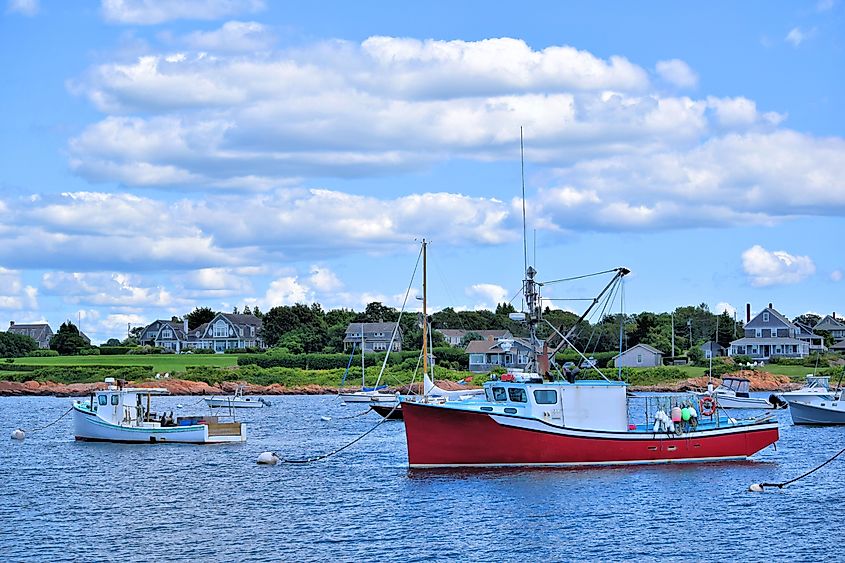 Little Compton packs a big personality, focused on farming and nature. It features the Young Family Farm, Carolyn's Sakonnet Vineyard, and the Wilbor House. The Barn Restaurant makes a perfect breakfast spot before heading off to the Whitehead Preserve at Dundery Brook. A quaint town positioned in the southeast corner of Rhode Island, its population comes to approximately 4,000. Despite being a small town, the charm comes through with its rural access to Rhode Island. Its farmer's markets and stands, local eateries, and pristine parks make it a special part of the ecosystem. It does feature many beaches and an Atlantic view, but the real gem is inwards. The main street showcases this with attractions like Peckham's Greenhouse, allowing visitors to return to a calmer time and enjoy time and nature at its purest.
Final Notes
Despite being petite, Rhode Island has no shortage of opportunities for any taste. From scenic views of the Atlantic coast to boating and fishing, its culture shifts slightly between towns but remains evanescently maritime in spirit. Rich in history and tales of the past, its architecture blends with the natural scenery for an almost surreal blend of past and present. Ideal for a visit during the warm season, Rhode Island has sharp winters, a period when tourism naturally dips. Even so, these ten towns' main streets can have any Rhode Island visitor engaged. Suitable for all ages and interests, these towns represent some of the best of what the state has to offer.