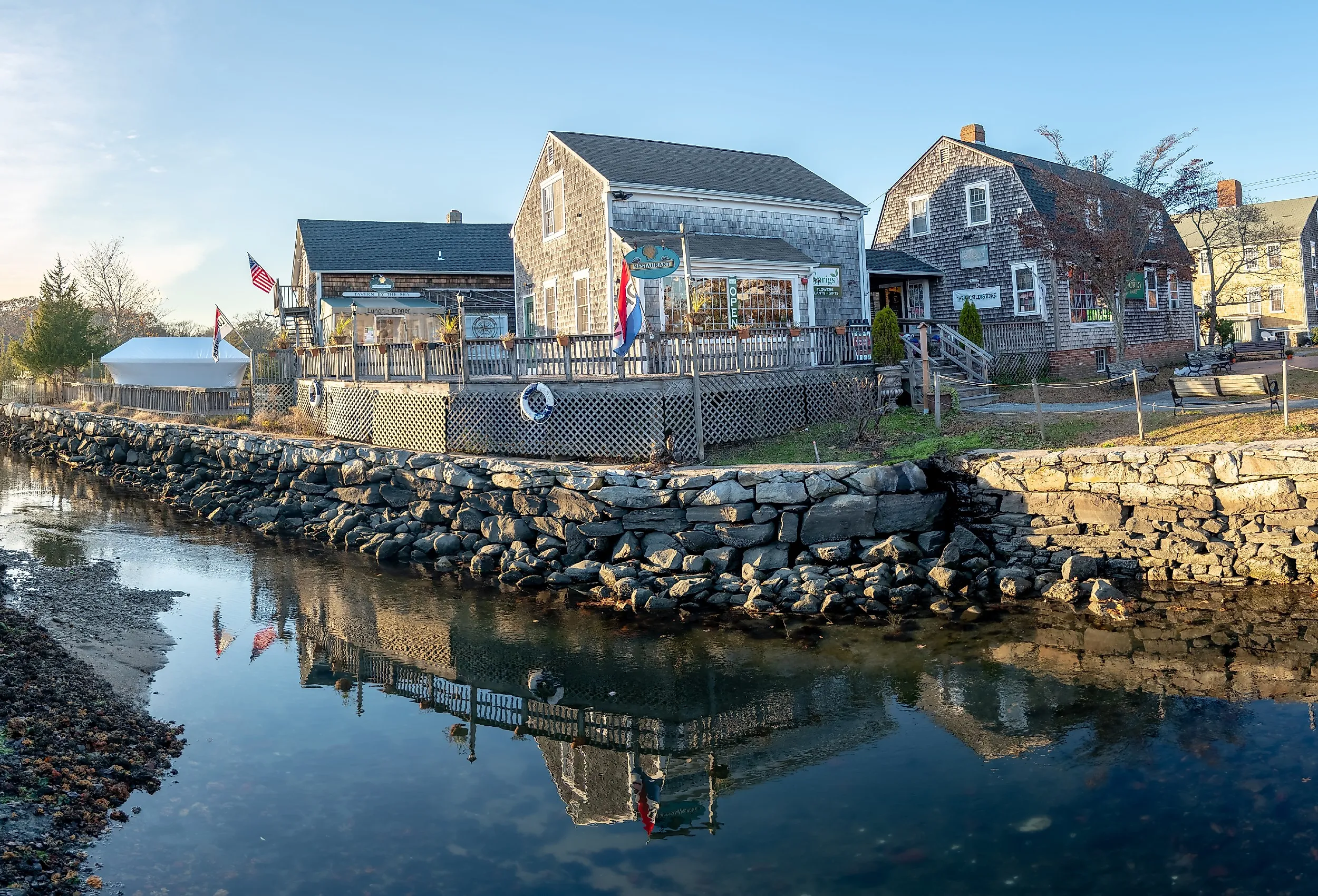 The Best Small Towns in Rhode Island To Chill Out
Nestled within the New England region of America, Rhode Island is a beautiful state along the eastern coast. It is the smallest state by area but has a lot of charm that makes it one of the best to visit and chill out in. This charm is visible through the immense cultural heritage and historical sites spread throughout the region. Along with this, Rhode Island is also home to a bustling silverware and jewelry industry known throughout the country. So, with all these unique attractions combined with the beauty of the waterside, there is a limitless array of places to see in Rhode Island. Moreover, the state is home to many small towns that can help you get away from urban life and chill out in the sun.
North Kingstown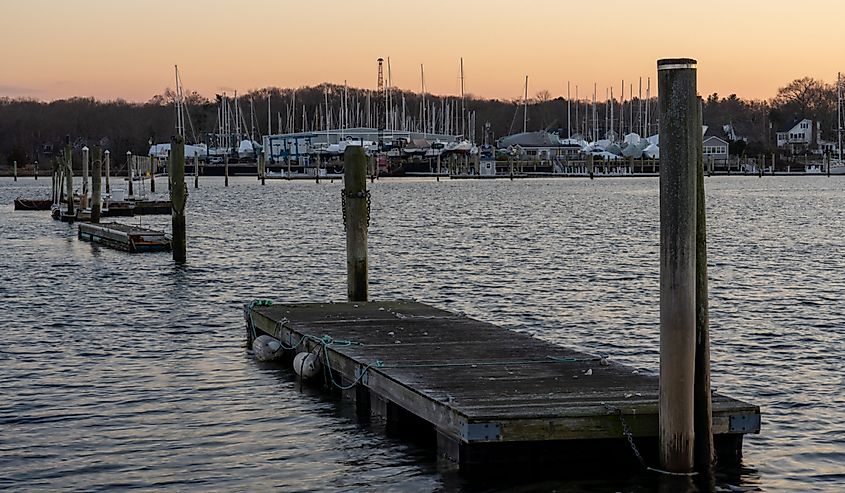 Known for its rich history, North Kingstown is a beautiful town in Washington County, home to 27,700 people. The city was first settled in the late 1600s and includes many historical landmarks and sights. Most prominently, the most famous historical area is Wickford Village, a small village located within North Kingstown. This village was initially settled as a trading post and houses dozens of sites from the 17th and 18th centuries. Take a walk down the street for a view of breathtaking houses preserved amazingly for more than two centuries. Moreover, green trees adorn the streets, giving the entire village a positive appeal that anyone can enjoy. After taking in the historical sights, Wickford Village also has many shopping options ranging from antiquities to home decor and more.
Apart from the neverending array of historical sights, North Kingstown's 58 square miles (151 sq. km.) area is also home to many fun-filled activities. For nature lovers, take a trip to the John H. Chafee Rome Point Preserve, which combines both forests and water for a magnificent wilderness experience. If you are lucky, you can also witness seals basking along the rocks on the shore. On the other hand, for foodies, check out Frankie's Restaurant & Pizzeria. This eatery is famous for its high-quality and delicious Italian cuisine, which is popular with both locals and tourists. So, if you are looking to chill out and take in Rhode Island's history, North Kingstown is the perfect place to visit.
Burrillville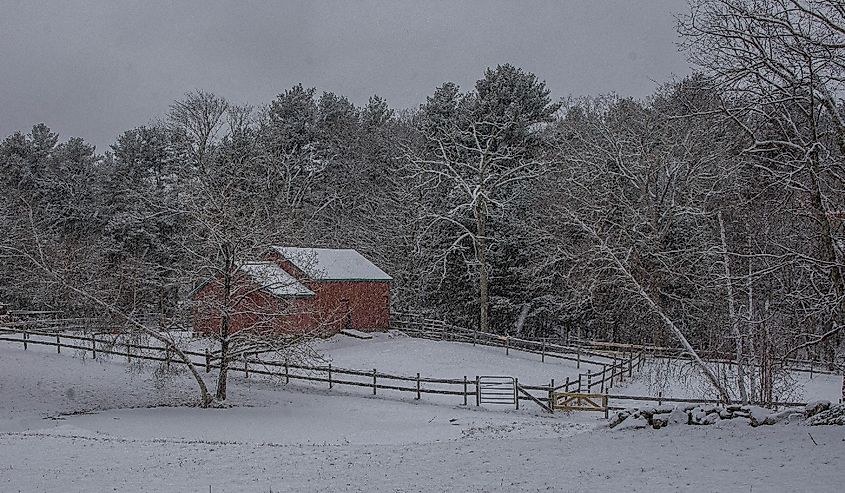 Nestled along northern Rhode Island in Providence County, Burrillville is an enjoyable and scenic town to chill out in. It is home to a quaint population of 16,150, and you can always find someone friendly to strike up a conversation with. However, what truly makes Burrillville unique is "The Conjuring" haunted house which inspired the famous horror film franchise. Located at Round Top Road, this house was home to many atrocities and paranormal events and is one of the region's most haunted places. So, for any lovers of the horror genre, this house is sure to be on your list of attractions!
Apart from the horror element of Burrillville, the town has much natural beauty and historical value. When it comes to natural sights, visitors can spend their day at White Mill Park, a scenic area that has playgrounds, hiking trails, and fishing sites. If you are more into the hands-on experience, visit Mapleville Farm, a family-owned establishment with fresh veggies and lovely animals to meet. Settled in 1662, you can find multiple historic sites within its 57 square miles (148 sq. km.). One of the most popular is Moses Taft House, constructed in 1786, which features a beautiful Cape-style design. Similarly, the Bridgeton School is on the National Register of Historic Places and has been active for more than a century! All in all, Burrillville may not offer the waterside sights, but it still has everything you need to relax!
Warren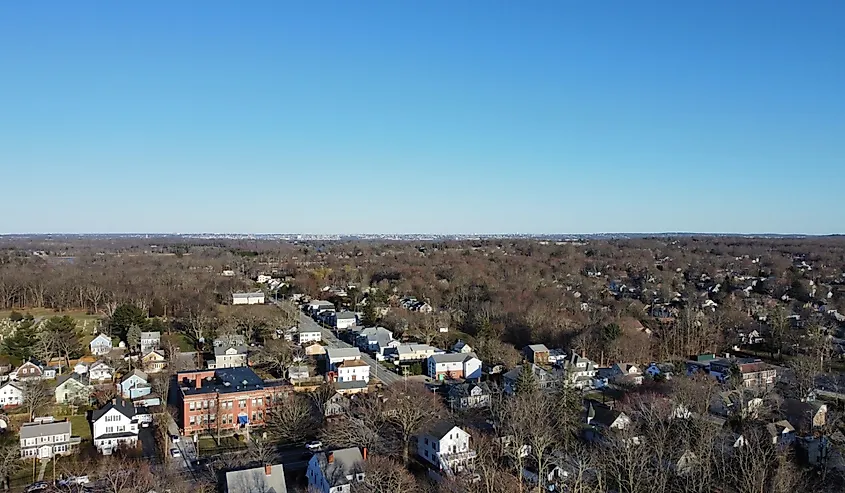 Home to a population of 11,150, Warren is a small and relaxing town in Bristol County. It has an area of just 8.7 square miles (22.4 sq. km), with enjoyable things to do and a beautiful coastline. To take advantage of the coast, spend your day at Warren Town Beach, which has a 1,000-foot shoreline with a load of useful amenities and activities. For example, there are picnic tables, fishing sites, and a professional lifeguard so you can enjoy yourself in the water! On the other hand, Warren also houses the Audubon Touisset Marsh Wildlife Refuge, a large and scenic preserve that is famous for its bird watching. This refuge has hiking and walking trails that are easy to cover and fun for everyone!
Walk further into town, and there is a whole other range of attractions that can help you chill out. For example, the Warren Waterfront Historic District is in the city center and features many historic sites. Surrounded by residential and commercial buildings from the 1800s, the streets showcase the rich past of Warren as a whaling and shipbuilding center. Another great way to de-stress in Warren is biking along the well-known East Bay Bike Path. This path covers a distance of 14.5 miles (23.3 km) through bridges, coastal areas, and the town making it the perfect way to enjoy all of Warren's beauty!
Westerly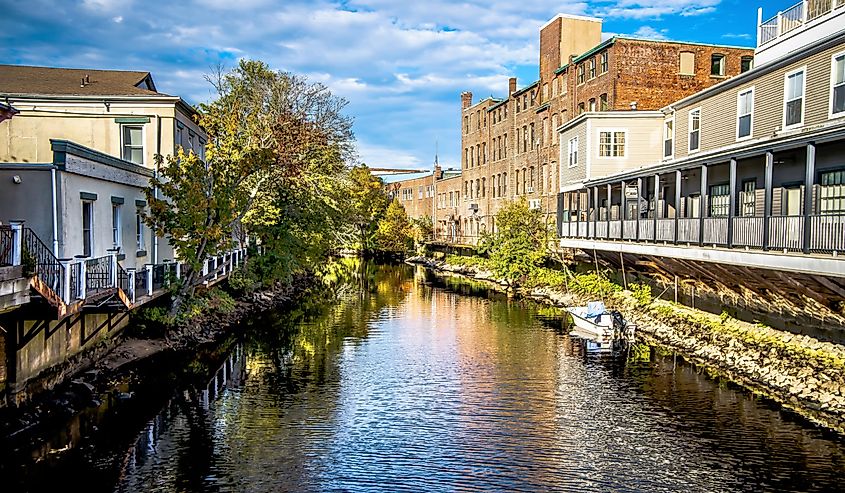 Nestled along the southern coast of Rhode Island, Westerly is a stunning waterside town. Filled with tranquil beaches and coastal sights, it is an ideal place for anyone who wants to chill out. One of the most popular places in town is Misquamiucut State Beach which offers a clean and peaceful environment to take in the waves. Moreover, the beach is perfect for swimming, with gentle waves and lovely views. For a more authentic experience, you can visit the Watch Hill Lighthouse along Westerly's shore. This lighthouse was built in 1807 and offers a panoramic view of the coast while also having a unique history of its own. 
Further away from the coast into Westerly's 75 square miles (194 sq. km.) area and you will find many attractions influenced by the waters. One such sight is Living Sharks Museum, a unique establishment by Kieth Cowley which showcases a large collection of sharks. The exhibit also houses many fossils and memorabilia that you are sure to enjoy. The town's food also shares a similar influence with many amazing seafood restaurants spread throughout the streets. If you do plan on having seafood, be sure to check out Guytanno's International Restaurant, which offers an amazing experience with some of the best Italian and seafood options. While the waters are beautiful, Westerly is also home to a plethora of cultural and historic attractions that will take weeks to explore. Moreover, with a lively population of 23,300, it is the perfect place to relax and cool off from urban life!
Hopkinton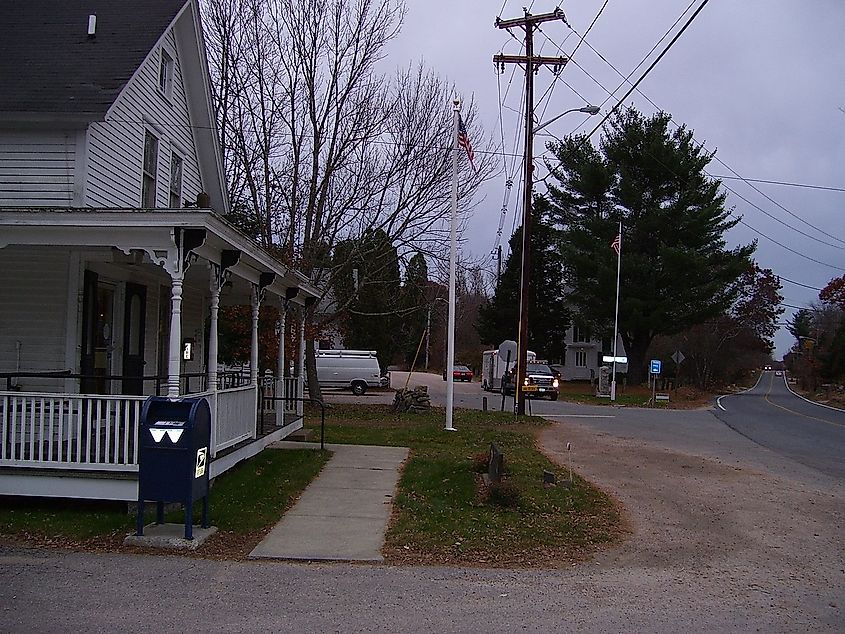 Named after Stephen Hopkins, governor of the colony of Rhode Island and the Providence Plantations, Hopkinton is a lovely town in Rhode Island. Located in Washington County, the town is home to 8,400 people and is known for its historical vibe and amazing natural scenery. To this end, there are many historic sites that hold immense culture and importance in Rhode Island. One such attraction is Black Farm, a historic 264-acre farm that has been in use for more than three centuries. Along with this, you can visit the Hopkinton City Historic District, filled with unique buildings from the 18th century that showcase the Greek Revival and other unique architecture.
While Hopkinton's 44 sq. miles (114 sq. km.) area has enough to keep anyone intrigued, the town is also surrounded by amazing geographical sights. Specifically, the 14,000-acre Arcadia Management Area is just next to town and is Rhode Island's largest recreational area. Here tourists can take in the forested beauty of the state as well as spend their time along miles of clean and relaxing coastline. Along with this, Arcadia Management Area offers a range of outdoor activities ranging from hiking and camping to fishing and swimming, so anyone can have a blast in the sun! All in all, Hopkinton is a cool mix of both history and nature that is ideal for anyone and everyone.
Glocester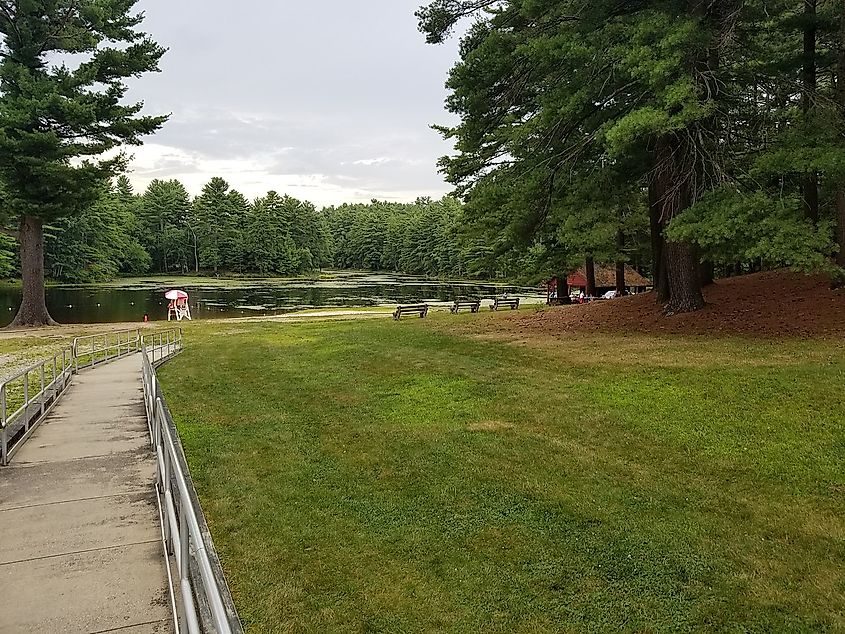 Taking a unique approach to Rhode Island's charm, Glocester offers amazing culture and enjoyable experiences. This bustling town is in Providence County and has a lively population of 10,000 people. Throughout the town center, there are a number of amazing stores and eateries. For example, antiquities, arts and crafts, souvenirs, and many other shops line the streets for an amazing shopping experience. After spending the day shopping, many visitors tend to relax in the evening at the famous Mulberry Vineyards. A short distance from town, these vineyards are known for their unique Rhode Island grapes and offer amazing tasting sessions during the weekends!
Glocester's positive vibe is a major reason for its fame, but along with this, the town is also a great place to take in the state's greenery and beauty. Specifically located within the town is the Pulaski State Park and Recreational Area, which houses 100 acres of fun-filled and protected land. The park has an amazing vibe and is popular with both locals and tourists. Along with this, it features the 13-acre Peck Pond, where people can swim to cool off some steam. Moreover, for outdoor enthusiasts, the park also offers fishing, hiking, and more!
Little Compton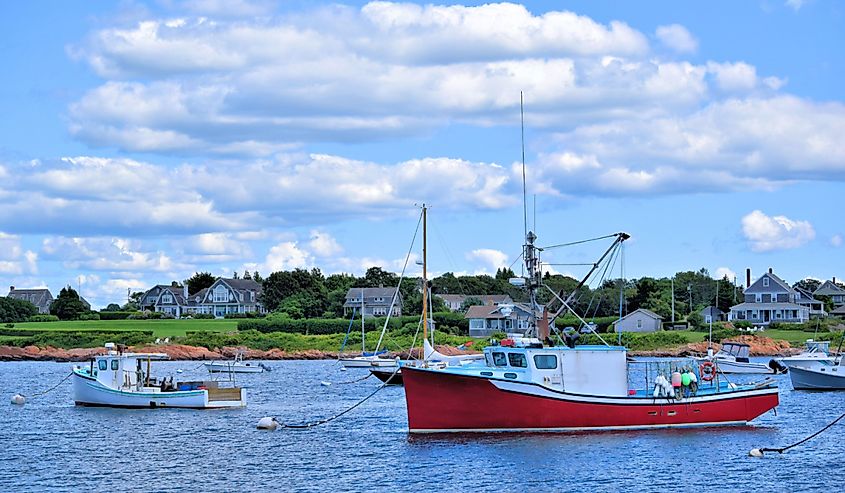 Little Compton is rich with unique sights to see and places to visit. Settled in 1675, this town of 3,600 is home to buildings from the 17th and 18th centuries. For example, Wilbor House is a famous site constructed more than 300 years ago! The quaint house has now become the meeting place for the town's historical society. Apart from this, Little Compton has more than 57 cemeteries, each of which has its own past and interesting history. With these attractions and the entire town commons listed on the National Register of Historic Places, history buffs are sure to enjoy themselves in Little Compton.
Fast forward to the present day, and the town's coastal location in Wilbur County makes it an amazing place to relax. On one side, you can find the ocean, while on the other runs the Sakonnet River. So, surrounding most of Little Compton are coastal views that put into perspective the true beauty of Rhode Island. Parallel to this, the waters are crystal clear, making them ideal for swimming and fishing throughout the year. After all this, take a trip to the nearby Carolyn's Sakonnet Vineyard for wine and music to end the day.
With its unique range of history, culture, and natural beauty, Rhode Island is the perfect place to chill out. Not only do each of these towns have a range of attractions, but every place has something unique to offer. Thanks to this, Rhode Island has an abundance of hidden and stunning small towns where anyone can relax and get away from urban life!