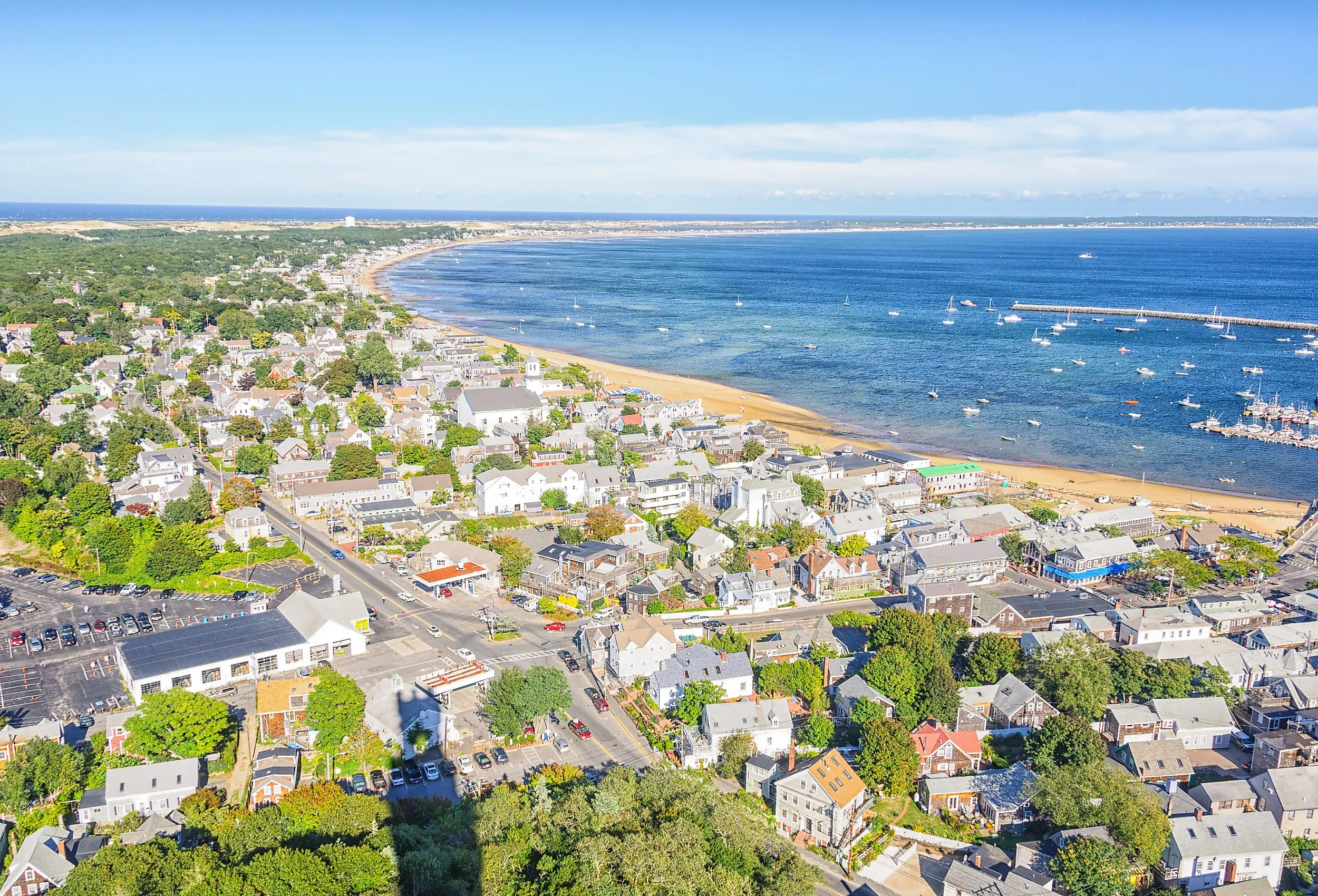 7 Most Beautiful Towns in Rhode Island
Rhode Island often referred to as The Ocean State, is home to some of the most stunning coastal towns in the United States. From Newport and Narragansett with their picture-perfect sailing harbors to Westerly and Block Island, whose sandy beaches have become a summer paradise for many, there is something magical about each of these tourist destinations. Renowned for its historical sites amidst its breathtaking scenery, Jamestown is a popular locale and South Kingstown provides an idyllic spot for outdoor recreation with myriad activities such as fishing, boating, biking, and more. With plenty of cultural attractions, restaurants, and boutique shopping opportunities throughout these thriving communities, Rhode Island's seven most beautiful towns offer unparalleled beauty and endless fun.
Newport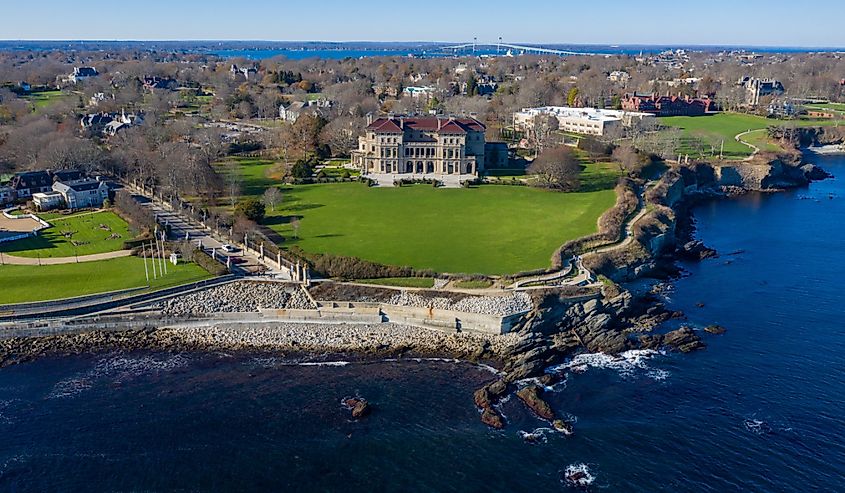 Newport is a coastal city located in the southeastern part of the state. Newport's expansive waterfront area has become well-known for its sailing and naval history. The original settlement of Newport dates back to 1639, and it was one of the earliest cities to join the Union in 1776. Newport remains a popular tourist destination due to its unique charm and character. It is home to numerous historical sites such as Fort Adams State Park, Touro Synagogue, and Marble House Mansion. Additionally, Newport prides itself on its stunning beaches and renowned mansions built during America's Gilded Age.
The city also hosts many diverse cultural attractions throughout the year, including Jazz festivals, Waterfront Concert Series, Shakespeare in the Park performances, and international food festivals. Newport has become an important port for leisure and commercial activities and visitors come for the vibrant nightlife along Thames Street. The Newport Harbor is home to several prominent yacht clubs that offer exciting recreation opportunities, such as sailing regattas attended by world-class sailors.
Newport is a historic city still recognized for its maritime legacy. It continues to attract millions of tourists yearly with its beautiful beaches, diverse cultural events, and remarkable yachting experiences offered by experienced sailors at local yacht clubs.
Bristol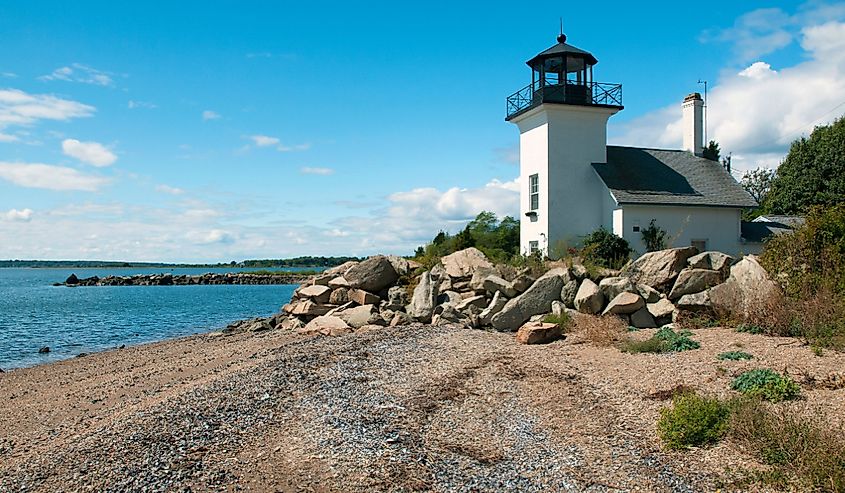 Bristol is a small seaside town situated in the easternmost part of Rhode Island with a population of around 22,000. Located on Narragansett Bay and Mount Hope Bay, Bristol makes for a picturesque and tranquil setting with its rolling hills lined with foliage and abundant open coastal space. Its commercial district centers around Thames Street, home to many quaint shops, restaurants, and galleries that attract visitors all year round.
Bristol proudly claims to be "America's Most Historic Town" due to its numerous connections to early American history. It was one of four settlements established by Roger Williams in 1638. Bristol hosted several significant Revolutionary War battles and is home to Colt State Park and numerous other preserved structures. Today, Bristol hosts summer festivals, such as Fourth of July fireworks over the bay and town, as well as other celebrations throughout the seasons. It also hosts renowned sailing events like The Ida Lewis Distance Races, which draw competitors from across the country each year. Bristol is a small yet vibrant New England town that offers something for everyone—from history buffs to outdoor enthusiasts—making it an ideal travel destination in any season.
Narragansett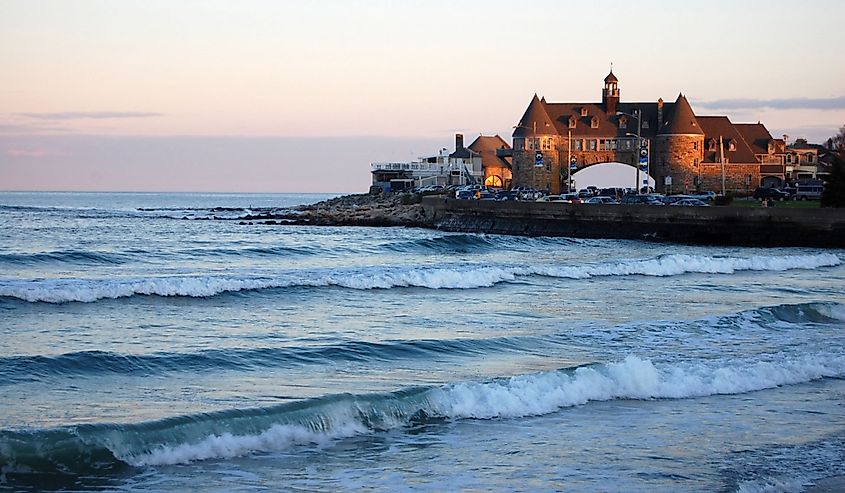 Narragansett is a town in Washington County along Narragansett Bay and is part of the Providence metropolitan area. The municipality has a population of approximately 14,532 as of the 2020 census. The land that makes up modern-day Narragansett was initially inhabited by several Native American tribes, who were subject to displacement following European settlement in the area. It has been a popular vacation spot for Rhode Islanders for centuries, known for its numerous beaches and boating opportunities.
Narragansett's economy is primarily based on tourism and related services. However, the town is best known for its seafood and shellfish industry, which produces lobsters, scallops, and quahogs for local consumption and export to other US markets. Narragansett also contains a thriving art scene and abundant natural beauty like wooded areas, wetlands, and salt marshes.
The town also houses various educational institutions, such as the University of Rhode Island Graduate School of Oceanography. Public transportation options include bus service through RIPTA (Rhode Island Public Transit Authority). In addition, this town offers year-round activities ranging from fishing to shopping, making it an ideal destination for tourists and residents.
Westerly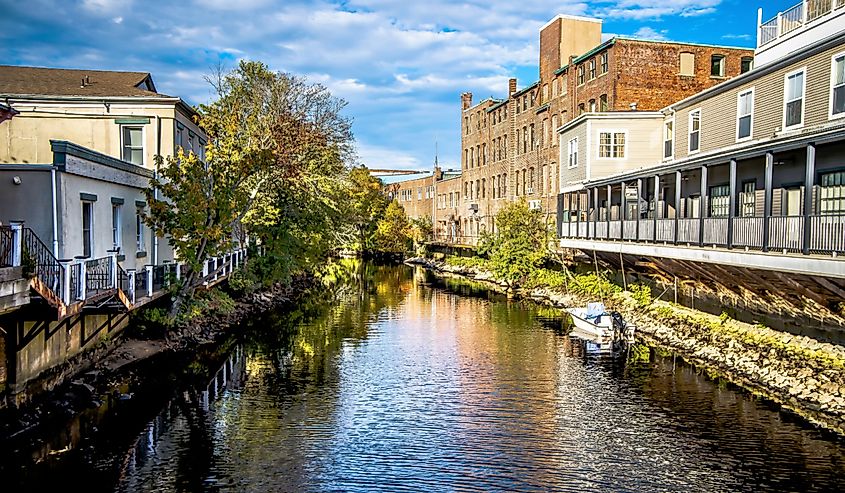 Westerly is another town in Washington County on the southwesternmost tip of the state. With a population of over 17,000 people and an area of nearly 75 square miles, this town serves as a popular resort and beach destination. The history of Westerly dates back to 1661 when colonists established the westernmost Rhode Island settlement. From there, the territory was incorporated in 1669, becoming known as Westerly. Throughout its rich history, Westerly has served numerous purposes, such as being home to a vital fishing industry and having many favored beaches for summer recreation.
Today, visitors to explore Westerly's coastal region stuffed to the brim with beautiful beaches, marinas, and boatyards for sailing enthusiasts. The downtown area boasts Victorian-era architecture surrounded by shops, restaurants, and galleries that all come together to create a vibrant culture. Along with historical attractions like Wilcox Park and Babcock Smith House Museum, nature lovers can explore excellent wilderness trails in one of the nearby State Parks or National Wildlife Refuge areas, including Ninigret National Wildlife Refuge, John H Burlingame State Park, and more.
In recent years, Westerly has grown in popularity due to its many amenities like golf courses, fine dining establishments, day spas, and various recreational activities, from kayaking to sailing charters. It is no wonder that tourists flock there year after year, it is a special place for vacationers.
New Shoreham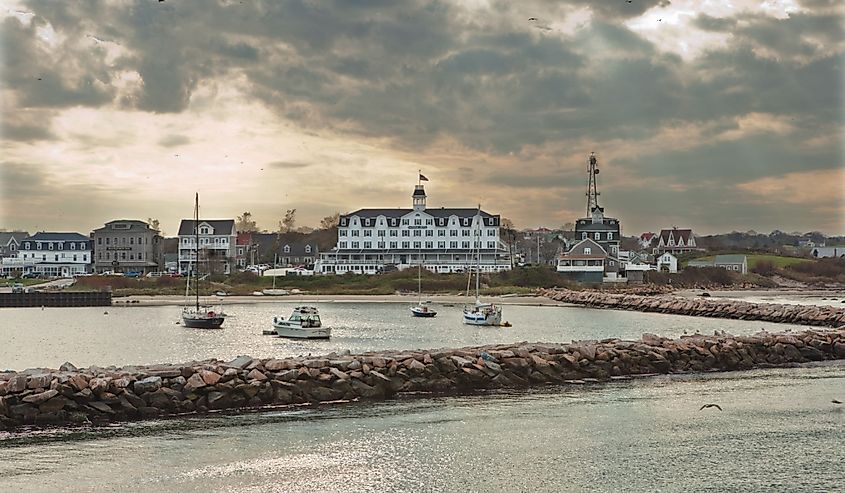 New Shoreham is the only town on Block Island which is 13 miles south of mainland Rhode Island in the Atlantic Ocean. The island measures seven miles long from north to south and three miles wide from east to west. It is home to numerous beaches, cliffs, coves, lighthouses, and marshes. The geography of Block Island is diverse and dramatic, with much of its landmass preserved as public lands under the auspices of the Nature Conservancy and Block Island National Wildlife Refuge. As a result, a combination of large swaths of open fields, shrublands, and forests has led to a rich biodiversity on the island.
Block Island's history dates back to 1614 when explorer Adriaen Block visited the area. In 1664 it joined the English Colony of Rhode Island and Shoreham was incorporated as a town in 1672. By 1856 it was home to several hundred people primarily working in either fishing or farming industries. Today, tourism has become a significant component of the economy, along with manufacturing and commercial fishing businesses that provide goods ranging from fishcakes to cement masonry blocks for buildings around New England. In addition, every summer, tourists flock to Block Island to enjoy activities such as sailing, swimming, cycling, and birdwatching.
In total, there are about 1,000 year-round residents living on Block Island today across several villages, including Old Harbor (the population center), New Harbor (a fishing village), and Rodman Hollow (an area known for its fern-covered rocky terrain). Unsurprisingly given its size, this tight-knit community features various small local businesses, including restaurants run by locals offering seafood dishes crafted with ingredients caught off the island's coastline. A stay at Block Island is rememberable for a lifetime thanks not only to its beautiful beaches but also its unparalleled hospitality that comes from some of America's most unique personalities found anywhere in the country.
South Kingstown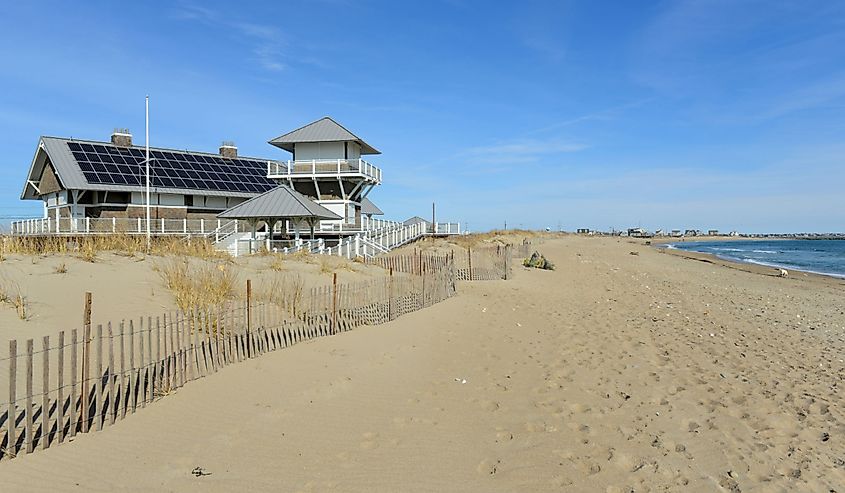 South Kingstown is a coastal town located in Washington County with a population of over 30,000. It covers an area of 79 square miles, and Narragansett Bay bounds the city to the west. It is home to the University of Rhode Island, known for its well-known Graduate School of Oceanography. The town has much to offer visitors and locals alike, with excellent recreational sites, beaches, parks, and historical buildings. South Kingstown is also close to numerous museums and art galleries, including the Gilbert Stuart Birthplace Museum. In addition, murals throughout town highlight South Kingstown's history as well as its thriving arts scene.
Residents benefit from many educational programs, such as private schools and vocational centers. As a result, there are plenty of job opportunities for those seeking employment in healthcare, retail businesses, or hospitality services. In addition, South Kingstown provides access to major roads such as Interstate 95, making it convenient for commuters traveling from nearby cities like Providence or Newport.
Overall, South Kingstown is a vibrant community characterized by its small-town charm combined with a rich cultural history atmosphere for all ages to enjoy. With easy access to Providence's urban amenities and busy suburban living, residents enjoy both urban benefits without sacrificing their peace of mind.
Jamestown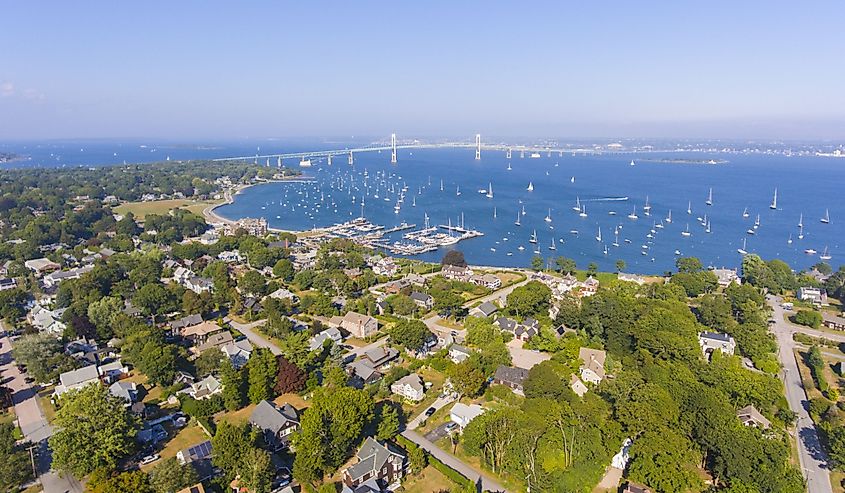 Jamestown is a thriving coastal community located in Narragansett Bay. Founded in 1678, Jamestown is one of the oldest towns in the United States and was first inhabited by the indigenous Narragansett tribe. Today, Jamestown is a picturesque getaway filled with quaint and historic homes and natural attractions such as several beaches, rocky shores, and local islands for boating and fishing. With several marinas along its bay coast and dozens of miles of biking trails available along its waterways, Jamestown offers an abundance of recreational activities to explore.
The town also has a rich architectural history, including many pre-revolutionary era buildings still standing today, such as the Quaker Meeting House (rebuilt in 1786) or the 200-year-old Beavertail Lighthouse. The village also contains numerous historical sites, such as Fort Dumpling, used during King Philip's War in 1676. Jamestown offers visitors an array of cultural amenities with numerous events held yearly, such as arts festivals, music performances, and more. With unique restaurants serving local cuisine, boutique shopping, and plenty of outdoor opportunities, this charming New England haven has something for everyone.
Rhode Island is home to some of the most beautiful towns in the United States. From Bristol to Westerly and everything in between, Rhode Island has something for everyone. Narragansett offers stunning beaches and coastal views, while Westerly has a vibrant downtown area. Block Island boasts an idyllic feel with little villages and natural beauty. South Kingstown is most well-known for its picturesque harbor and scenic village green. Lastly, Jamestown provides a classic New England charm with quaint shops, art galleries, and delicious seafood restaurants. Whether you are looking for adventure or relaxation, there is undoubtedly something unique in these seven towns. Rhode Island offers a fantastic blend of history, culture, recreation, and nature that shines brightest throughout the state's many beautiful towns.