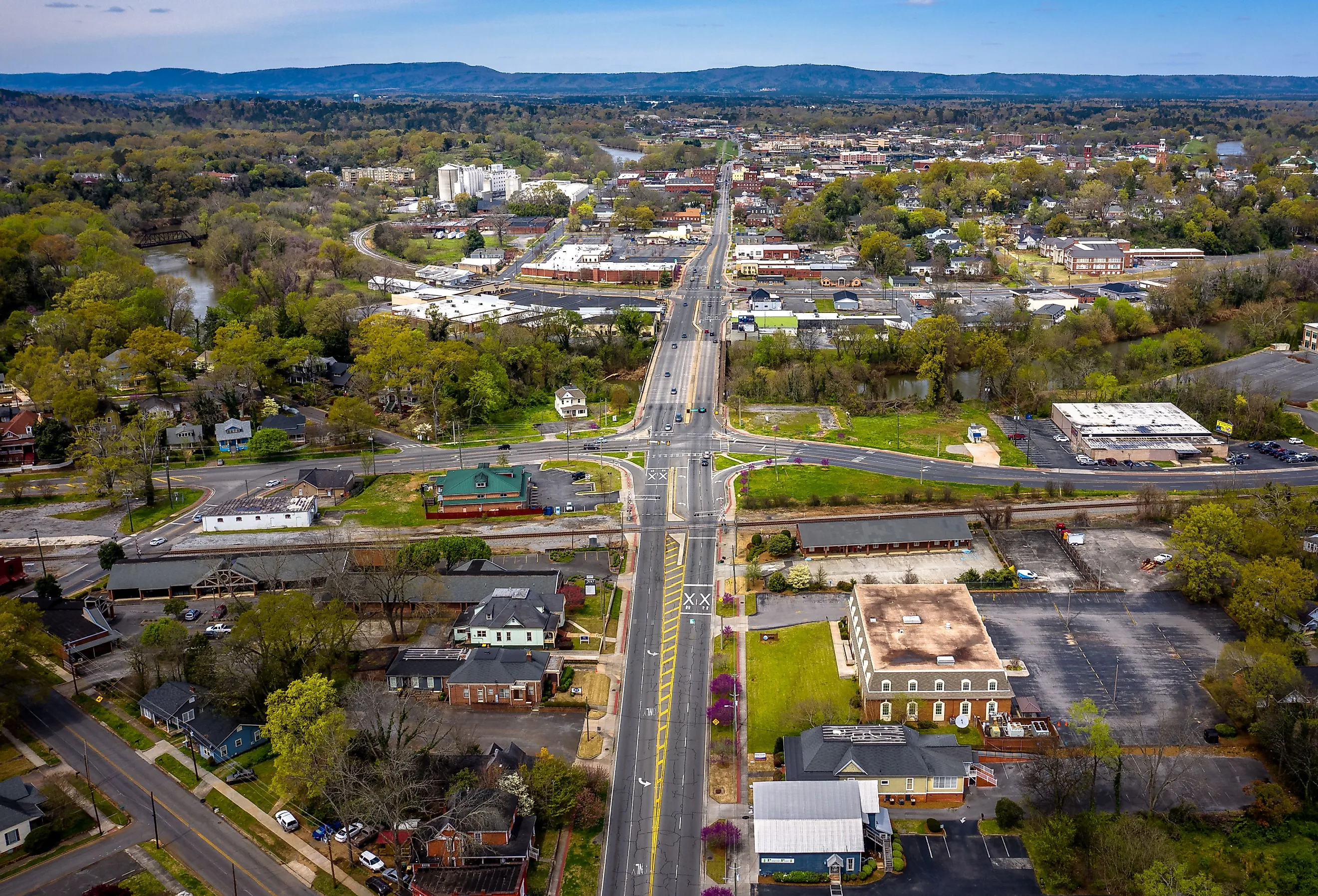 These Towns in Georgia Have The Best Main Streets
The main street of any town is the heart of the community and where all the action happens. Usually filled with unique markets, live music, vendors, or small businesses, exploring a main street in Georgia, United States, can make for an exciting day trip or evening out. These small towns in Georgia have the best main streets, filled with historic architecture, perfect for daytime shopping pursuits and nighttime walks to watch the sunset. 
Thomasville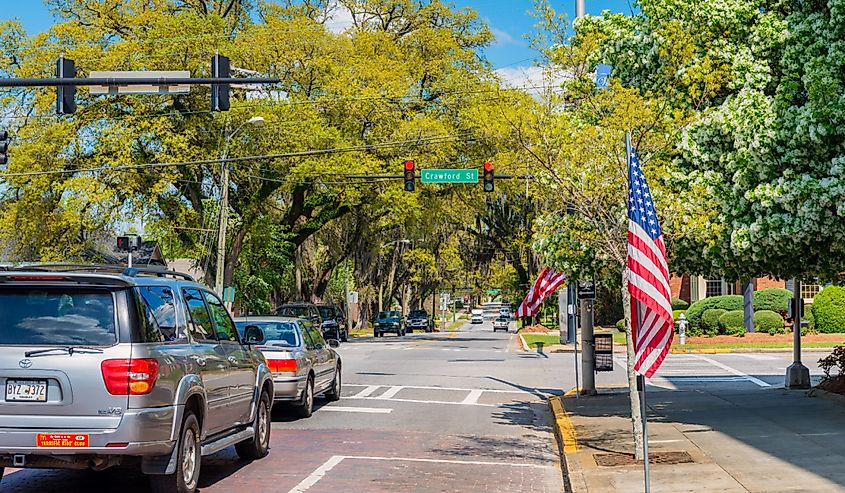 With a quaint population of around 18,000 people, this town is nicknamed the "City of Roses" due to its yearly Rose Festival that happens every April. Take to the downtown main street, Thomasville Main Street, and witness a festival like no other. Rose Festival has been around since 1922 and is a perfect opportunity to bring the community and tourists together to view local markets, flower shows, and car shows. The energy and sense of community are contagious. Even if you do not visit Thomasville in April, its main streets hold many attractions. Check out 1861 Distillery and try a locally curated charcuterie board, or visit Bass Ring, a local antique store that replenishes fixtures and furniture. You may spot a one-of-a-kind item to decorate your home with. For a delightful outdoor experience, take to Cassidy Pond and lay out a picnic under the trees. Some other parks to explore include Cherokee Park (330 Covington Avenue) and Ethel Flowers Neel Park (301 East Jackson Street).
Rome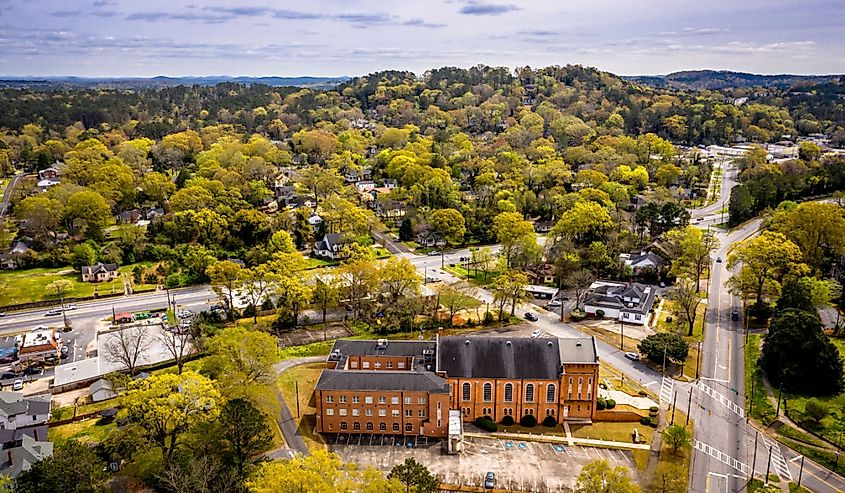 Rome, Georgia, certainly gives off European vibes as it resides at the base of the rolling Appalachian Mountains. With a population is 37,000, it is a metropolis hub, and the downtown core and its main streets are full of history. The town has been around since 1834 and originally served as a produce and cotton farm area. Now the streets include antique shops, eateries, and lodging accommodations. One of the top attractions on the main streets is the City Clock Tower, which has been around since the 1800s. Walk up its 109 steps and see an overarching view of the entire town. There is also a museum inside showcasing the original clockwork. Additionally, explore one of the most popular parks in the area, Heritage Park, nestled behind Second Avenue near Etowah and Oostanaula Rivers. The park contains a gazebo and shaded trees, making for a perfect picnic and fishing experience.
Bainbridge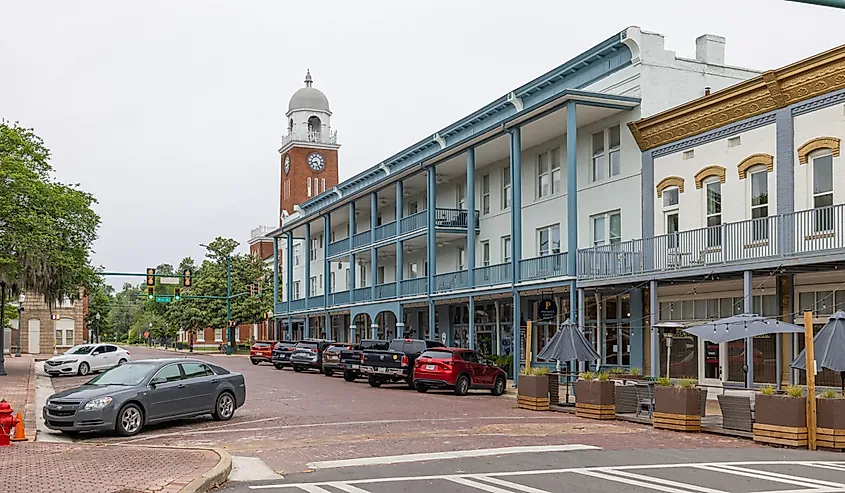 With a population of 14,000, Bainbridge, Georgia, resides in Decatur County. Since 2009, this town has been labeled as the "Bass Capitol of Georgia" thanks to its abundance of fish in Flint River and Lake Seminole. While amateur and professional anglers flock to this town to catch the best fish in tournaments, the main streets have a lot to offer too. Check out Southern Philosophy Brewing Company on Broughton Street. Get a group of friends together and enjoy specialty craft beer and wood-baked pizza.  Also, stop by the local theater, Bainbridge Little Theater, on East Troupe Street, and see if there is a production. They put on four shows every year.
Toccoa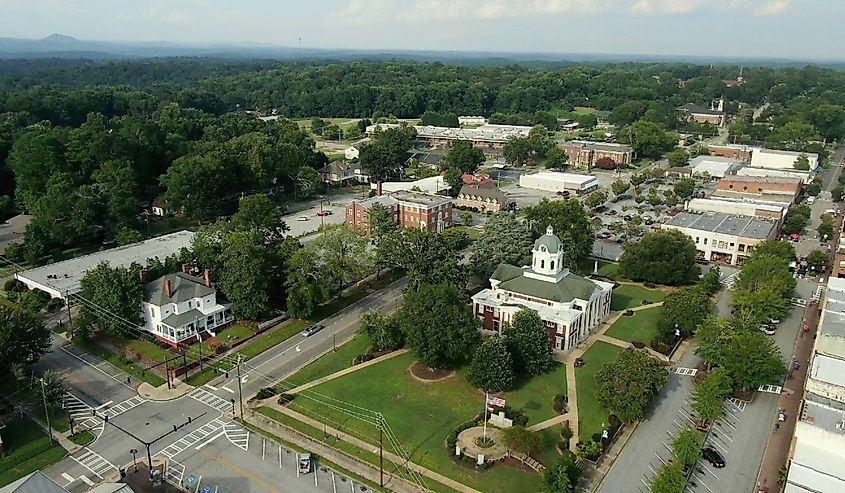 Residing in northeast Georgia, Toccoa borders South Carolina and has picturesque views of Henderson Falls Park, which houses a famous waterfall, Toccoa Falls. The view is so stunning that many couples use the location for engagement and wedding photos. Nestled into the Blue Ridge Mountains, it has an award-winning downtown core with several stores and shopping centers. There are also art galleries to explore, as well as a renovated courthouse. Rich in history, the downtown main streets house Currahee Military Museum, which pays tribute to soldiers who trained in Camp Toccoa. After exploring, you must visit some of the local restaurants offering delicious food recognized by The Food Network.
Milledgeville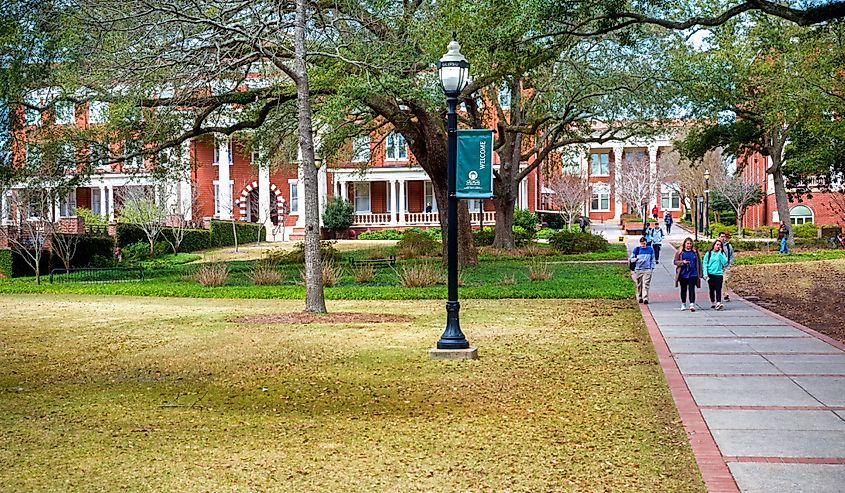 In Baldwin Country resides a charming and modern town, Milledgeville, Georgia, with a population of 17,000. A bustling college community, the town is also known for its pre-Civial War history. Students love exploring at night or on the weekend, and Milledgeville's main streets have tons to offer. Many of the town's restaurants cater to nightlife and remain open until 2:00 a.m. Check out Music Bingo at Amici or try Open Mic Monday at Buffington's. You are sure to have a blast. This town also houses majestic Lake Sinclair, where the public can swim, fish, boat, and camp. Enjoy the waters and the reflections of a golden, warm setting sun.
Greensboro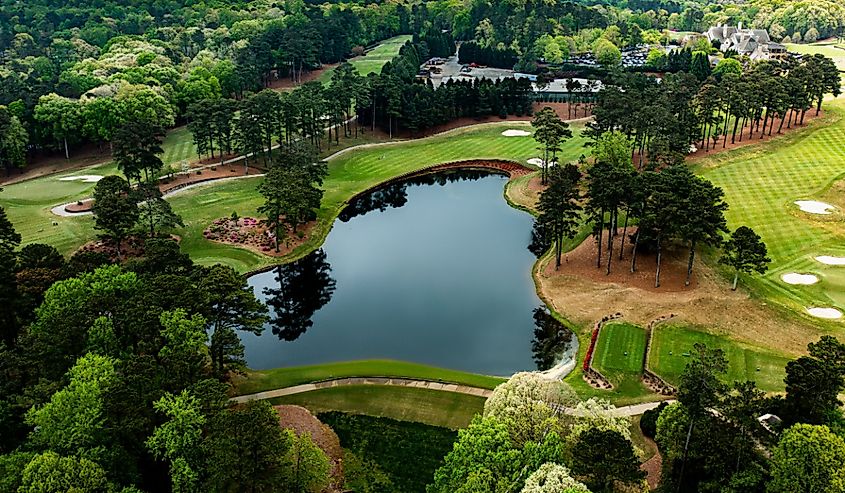 Between Atlanta and Augusta in Greene County resides Greensboro, a town rich in Southern history and home to Lake Oconee. Surrounding the lake are blooming trees, golf courses, and lake houses. While you can tour the antebellum houses, you will want to check out the downtown's main streets that house antiques, clothes, and even jewelry. One of the most famous boutiques in this town on Main Street is Maggie's Lane, and you are sure not to walk out with empty arms. Inside you will find chic outfits and accessories. Next, hit up PJ's Coffee, a café and tea house that serves lattes, cold brews, and green tea blends. Greensboro makes for the perfect, peaceful weekend getaway.
Madison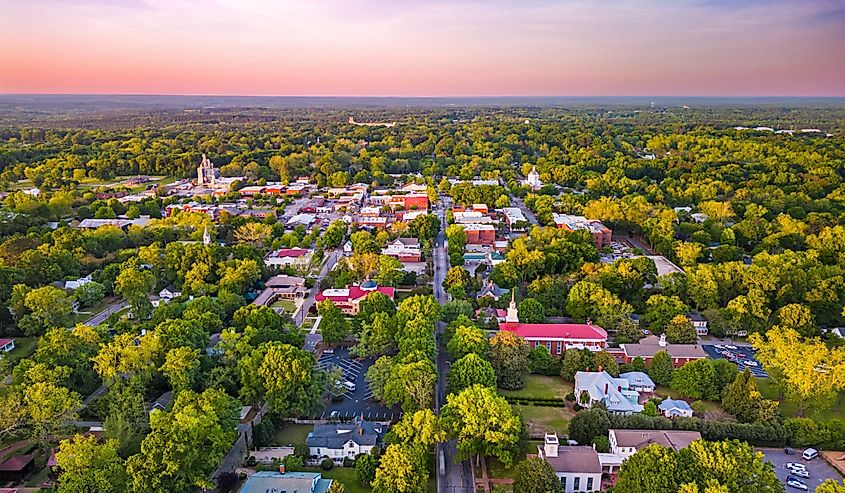 While Madison, Georgia, has a mere population of just under 5,000, it offers a great experience. If you want a true Southern experience, then this is the place to stop, as it is an "authentic Southern town," with its main streets boasting local restaurants, more than 45 stores, and 160 antique dealing ports. If you love tacos and enjoy Mexican cuisine, then stop at MAD Taco, which serves tacos, taco bowls, and burritos. Additionally, explore their iconic Heritage Hall, which offers historic museum and trail tours. For an outdoor experience, take in the most-visited park in Madison: Hill Park. It contains 4 acres of playground, tennis courts, grilling areas, and picnic tables. 
Blue Ridge
With a population of 1,200, picture treetops and the silhouettes of rolling mountains in the distance. Blue Ridge, Georgia, boasts a one-of-a-kind nature experience as it houses the Blue Ridge Mountain Range. Spanning over 34,000 square miles, expect to see mountain peaks, rivers, national forest areas, lakes, and even waterfalls. This beautiful landscape is open to the public, and people can fish, kayak, and whitewater raft. While it is a mountain town at heart, its main streets hold a small-town charm that will make you never want to leave. Check out the Sweet Shoppe Bakery that sells old-fashioned candy, like Jolly Ranchers and Now & Laters. Indulge in homemade items like cupcakes, cheesecake, and muffins. If you still have the appetite, try out the most renowned restaurant in town, Harvest on Main. Locally cooked by chefs, they offer gluten-free and vegan meals.
Some of these towns' main streets bounce with energy, while others offer a quiet, toned-down experience. This means there is something for everyone. Whether it be unique antique stores, trolly tours, or massive clock towers, there is an attraction in each of these towns' main streets that is sure to amaze you.