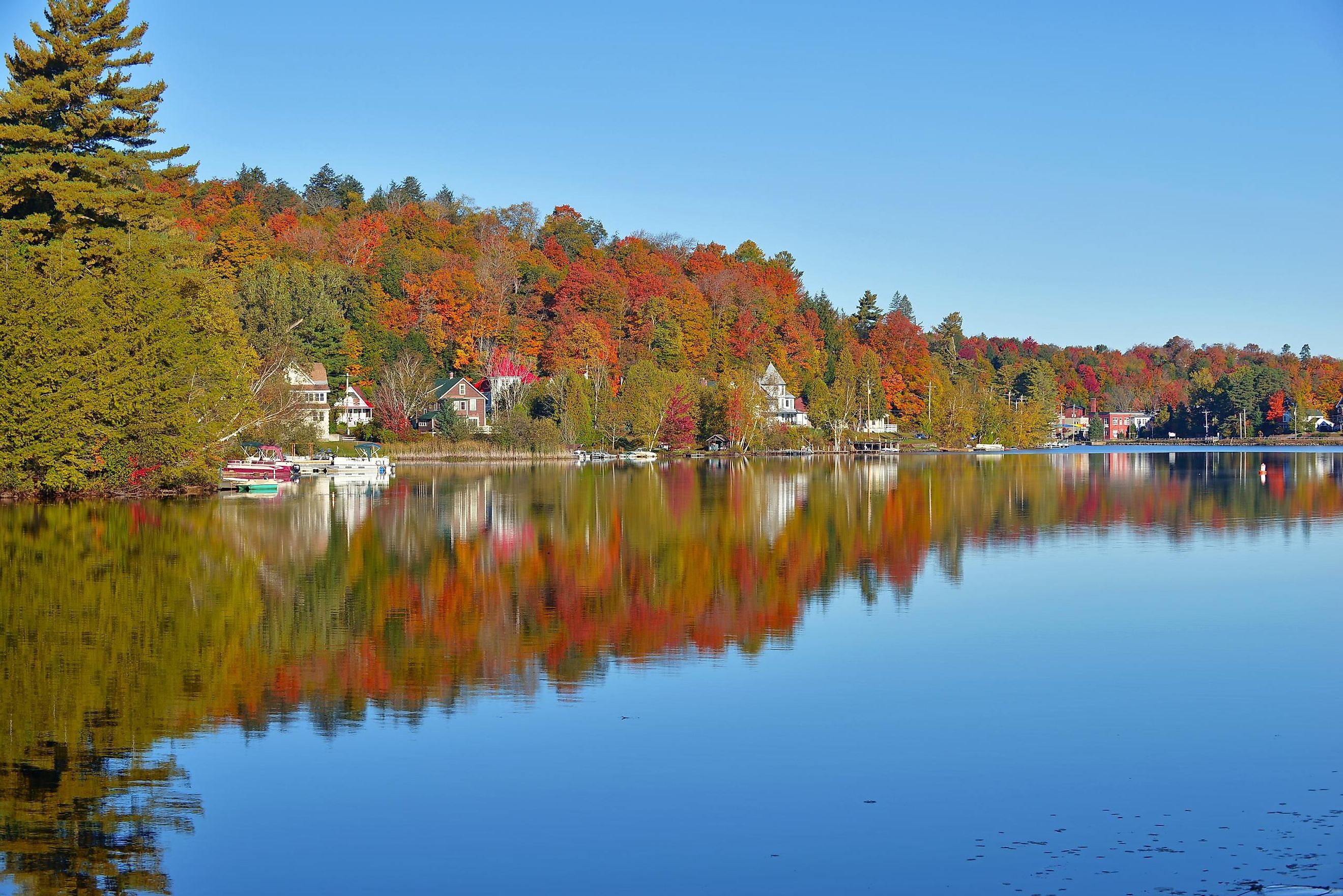 These Are the Most Beautiful Cities In New York
Situated along America's eastern coast, New York is one of the most iconic states in the country. Whether this is thanks to the infamous New York City which is a bustling metropolis on a global scale or the long list of natural attractions spread across the state. No matter what you are into, New York has it. Moreover, with some unique sights and locations such as Long Island, the Finger Lakes, and more, the beauty of New York is truly endless. So, to help you find the best places to visit in this immense state, let's take a look at some of the most beautiful cities in New York and what makes them special.
Woodstock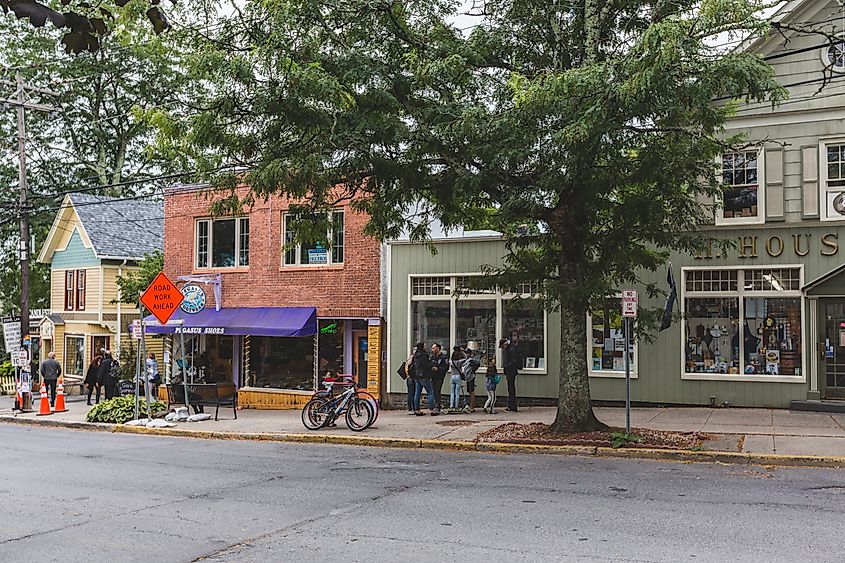 Nestled at the foot of the Catskill Mountains, Woodstock is a lovely town filled with positivity in Ulster County, New York. The town is home to a population of 6,300 and you can find an endless array of natural sights here. In particular, the bordering Catskill Park is home to 700,000 acres of wilderness spanning four counties in New York. The park features more than 35 peaks and ridges, along with dozens of water bodies for a complete experience in New York's greenery. Thanks to this, you can choose from a range of activities to spend your time here from hiking along the 100+ miles of trails to wildlife watching one of the many animal species scattered throughout. Once you've done all of this, check out the Catskill Mountains, which reach heights of more than 4,000 feet at some peaks! There are also many other sites like the Ashokan Reservoir and Esopus Creek which are great for fishing, tubing, and other waterside activities.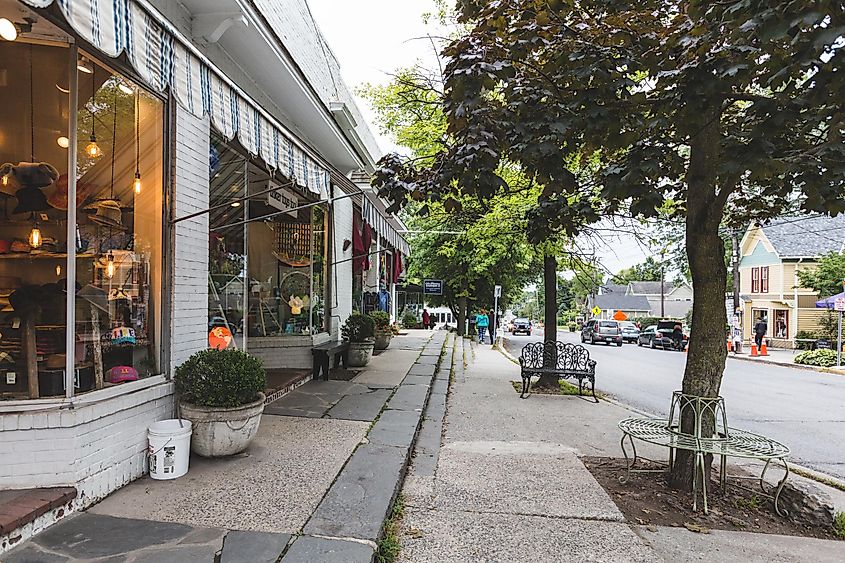 While they may be never-ending, once you've had your fill of natural sights, take a walk back in town to take in Woodstock's immense culture.  One of the best places to visit is Tinker Street, which has dozens of museums and exhibits such as the Woodstock Artists Association and Museum, where you can find some amazing pieces. After all of this, end your day with a meal at one of Tinker Street's many restaurants such as Garden Cafe which is known for its vegetarian delicacies.
Niagara Falls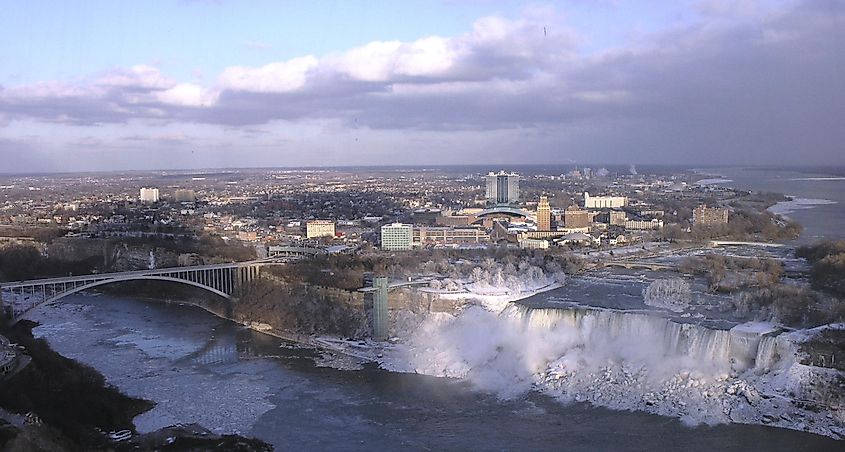 As the name suggests, Niagra Falls is a city in Niagara County adjacent to the Niagara River and home to the beautiful Niagara Falls waterfalls (That's a lot of Niagaras!). This group of three waterfalls is one of the world's most famous tourist destinations and offers beautiful sights you can't find anywhere else in the country. The falls have a height of 167 feet (51 m) and an average flow rate of 85,000 cu. ft/s (2,400 cu. m/s), which is the highest of any waterfall with such a large drop in the continent. They also offer "Maid of the Mist" boat tours that take you near their drop as well as restaurants, attractions, and other establishments along the banks. The city itself is also quite large with an area of 16.83 square miles (43.58 sq. km) which is home to nearly 50,000 individuals.
Moving out from the amazing waterfalls, Niagara Falls is full of tourist-oriented things to do thanks to the influx of people year-round. For example, you can spend your evening dining at the Top of the Falls Restaurant which is known for its one-of-a-kind dining experience. Niagra Falls also houses the beautiful Skylon Tower, a 520 feet (160 m) tall observation tower that offers panoramic views of the falls and city. So, be sure to take a few days off to enjoy all this amazing city in New York and its unique beauty.
Saugerties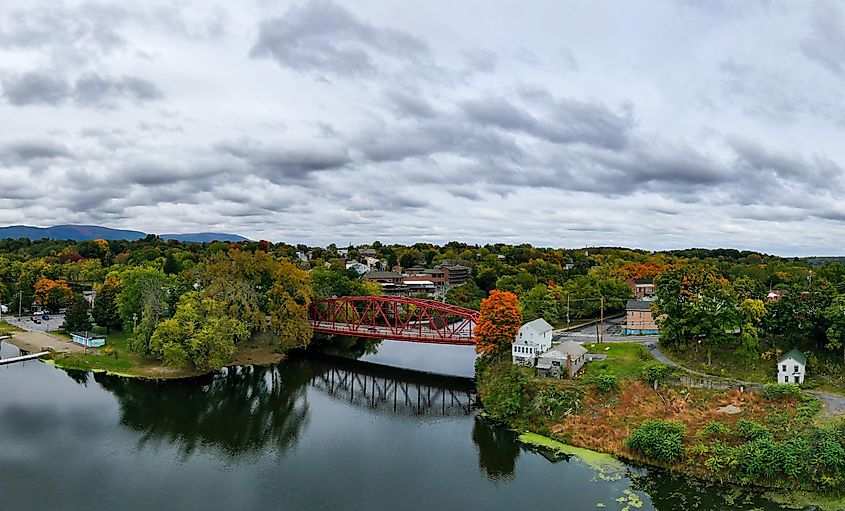 The city of Saugerties in Ulster County is known for being an ideal getaway from urban life into the state's natural beauty. Home to 19,000 in northeastern New York, Saugerties is just a few hours from the major New York City yet offers a complete cutoff from the hustle and bustle of big cities. This is thanks to its vicinity to many major parks and natural areas such as the beautiful Catskill Park where you can find the majestic Catskill Mountains. Reaching heights of up to 4,180 feet (1,270 m), these mountains are immense and offer the perfect natural retreat. So, if you are into nature, this park is a must-visit in the state with an area of 1,120 sq. miles (2,900 sq. km.) filled with hiking, wildlife watching, fishing, and more. In addition, you can also check out the nearby Esopus Bend Nature Preserve which is filled with activities, or spend the day admiring the scenic waterfalls at the Falling Waters Preserve.
Apart from its glaring natural beauty, the city of Saugerties boasts 67.96 sq. miles (176.02 sq. km.) of activities and sights. In particular, you can find an abundance of historical sights bolstered by the city's rich history dating back to the 1600s. For example, you can visit the Saugerties Lighthouse, which was built in 1869 and was pivotal for sailors navigating the nearby Hudson River. Or, spend your day at Opus 40, a large stone sculpture and museum that was created by the famous Harvey Fite in 1938. All in all, no matter what you enjoy, Saugerties has it ready as the perfect hideout from urban struggles. That being said, for the perfect trip, be sure to end your day with some smoked meat from the famous Smokehouse of the Catskills!
Greenport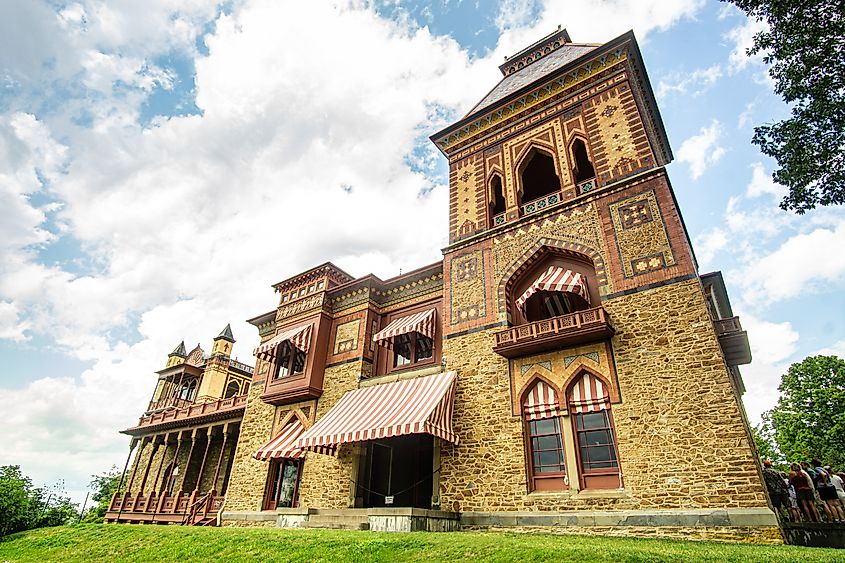 Similar to Amagansett, Greenport is another beautiful New York city known for its scenic waterside location. Located in Suffolk County, this city is home to 2,200 people along the northeastern end of Long Island. Thus, it has miles of coastline along Greenport Harbour which is separated from the North Atlantic Ocean, offering calmer waters and peaceful opportunities. For example, the unique Norman E. Klipp Marine Park is a mix of history, beauty, and activities. The park offers a spacious beach that is loaded with picnic tables, grills, and even playgrounds so everyone in the family can have fun here. Moreover, the water here is perfect for kayaking, fishing, and even canoeing, so you can spend an entire day here without getting bored!
While the beaches may be Greenport's primary attraction, the city's 1.2 sq. miles (3.11 sq. km.) area still has a lot more to offer. Settled in 1682, the city has a long history that is still visible today. Specifically, it once used to be one of the region's major ports and had a bustling fishing and whaling industry which supported the state. So, development happened early and you can find many attractions and establishments from that era. East End Seaport Museum & Marine Foundation is one such site that showcases Long Island's maritime heritage with multiple exhibits showcasing marine life, industry, and more. So, if New York's coastal beauty is what you're looking for, Greenport should be on your list of places to visit!
New York City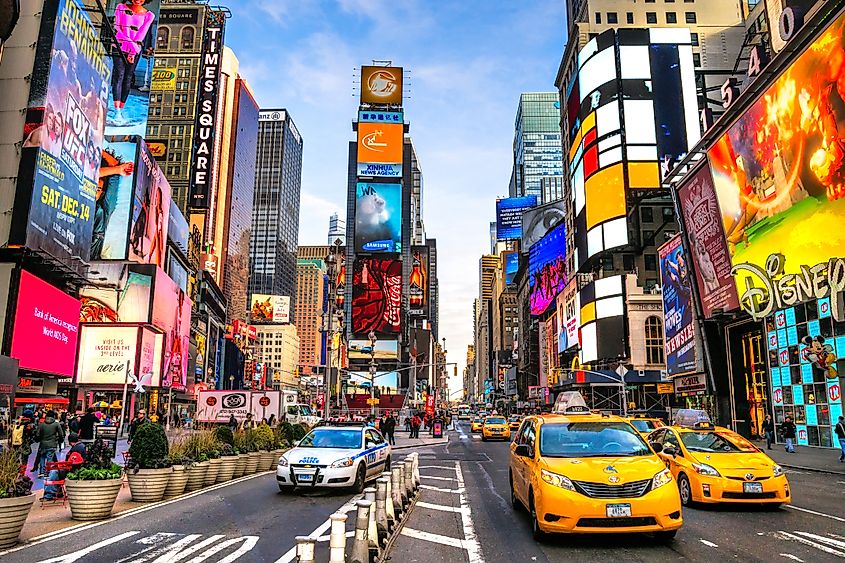 Sharing its name with the state and one of the most prominent urban cities in the world, it is impossible to list New York's beauty without New York City. Home to a population of more than 8.8 million with an expansive urban area of 300 sq. miles (778 sq. km.), New York City is the most densely populated city in America and a hub for industry, economy, culture, and more. Unlike the others on this list, NYC is known for its urban beauty and cultural charm, which is found nowhere else. Whether it is the hustle and bustle of Times Square or the interesting people you can meet around every corner, there is no place like New York City. Testament to this, the city sees an astonishing 60+ million visitors per year, which places it among the world's most visited cities. Thanks to the immense number of people both in and visiting the city, you can find anything and everything here. For example, if you're a big foodie, check out one of the many famous cuisines ranging from New York Style Pizza to the famous NYC Hot Dogs that are simple and delicious. If you're more into the city's centuries-old culture and history, take a trip to Broadway and enjoy some of the country's most important musicals and plays such as Phantom of the Opera.
While it may be an urban metropolis, there is actually an ample amount of nature spread across New York's streets. Thanks to its coastal location and multiple rivers, you can find beautiful waterside sights and activities all around the city. However, what makes it truly special is the massive Central Park which lies in the middle of Urban New York. This park has an area of 843 acres and is the perfect natural getaway encompassed by skyscrapers. While you can spend countless days and still not see everything this city has to offer, the nights are also sleepless as the city always has something going on. Even in the middle of the night, you can travel via the subway and find raging parties, meetings, and eateries!
Albany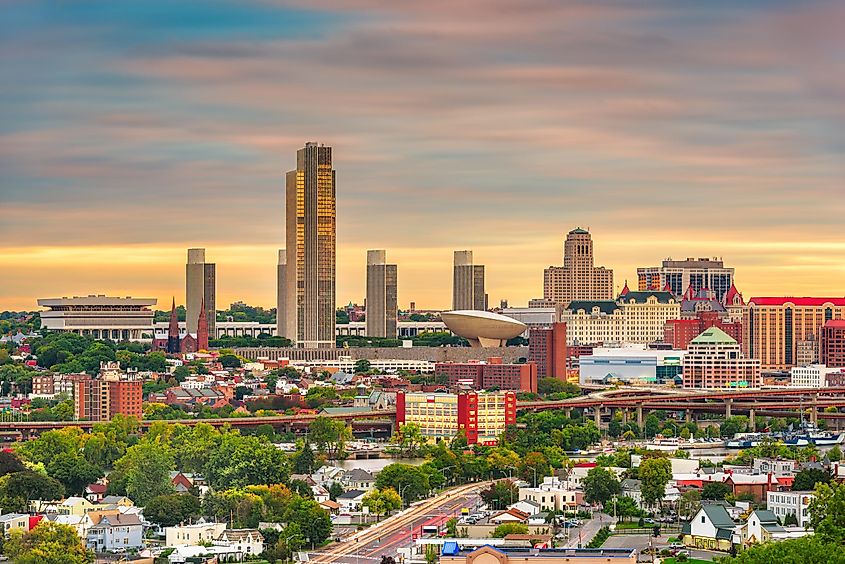 The capital city of New York and county seat of Albany County, Albany is a lively city that offers a mix between urban and rural. The city has an area of 22 sq. miles (57 sq. km.) which is home to a peaceful population of approximately 100,000 people. Thanks to this, Albany has a much lower population density than many other major cities which allows it to maintain a more relaxed and welcoming vibe. That being said, don't let the population fool you as this city is rich with historical and cultural beauty. Established as a Dutch trading post multiple centuries ago, Albany has been at the center of many national developments. For example, railroads, banking, and international trade have all been bolstered by developments in the city. It is also one of the first places for technologies such as the electric motor and telegraph, which were vital in shaping America's present. If the local history does interest you, take a trip to the New York State Museum which was established in 1836 and houses multiple floors of artistic, political, historical, and other exhibits.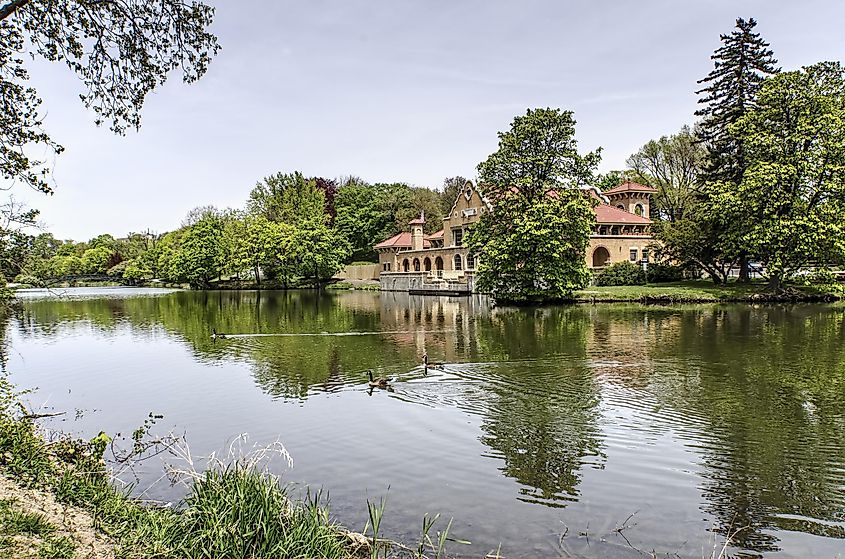 Apart from the museum and many other historic establishments, Albany's location along the Hudson River gives it an added boost of natural scenery. The entire eastern coast is riddled with parks and preserves such as the Corning Preserve where you can spend the day watching the scenic river flow through the city. Or, grab your friends and family for a peaceful picnic away from the skyscrapers for a serene experience surrounded by nature. All in all, Albany is the perfect balance between urban and rural beauty in New York.
Saratoga Springs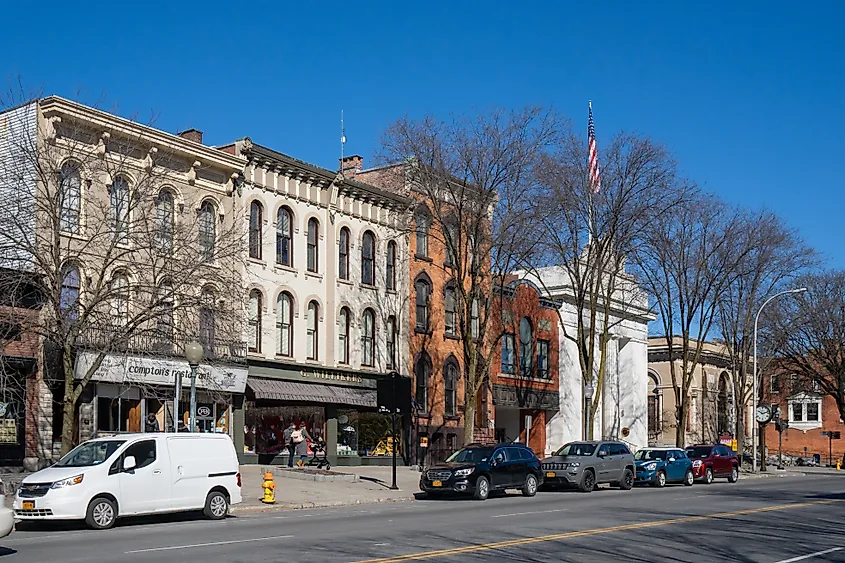 As the name suggests, Saratoga Springs is a city known for its natural springs which have made it a tourist-centric location. Located in Saratoga County, the city has been a popular destination for more than 2 centuries and is revered for its unique natural sights as well as its prominent art scene. In terms of the prime attractions, the natural mineral springs found here were once known to have healing powers, which attracted people from all over. As time passed, this created a bustling tourism industry and Saratoga Springs garnered the name, "Queen of the Spas." As of today, you can find many beautiful resorts that offer accommodation, restaurants, and bathing options in and around the springs.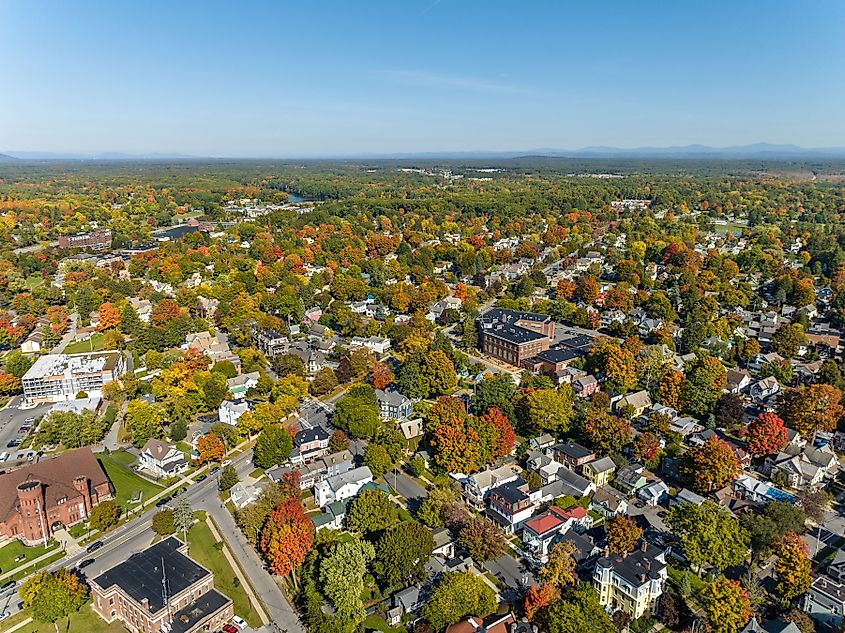 Apart from the beautiful springs, the city itself has an area of 29 sq. miles (75 sq. km.) and is home to a healthy population of 28,500. Here, you can find a range of enjoyable activities and opportunities no matter where you go. For example, the area is known for golfing with multiple large golf courses such as the Saratoga Golf and Polo Club which boasts beautiful landscapes. On the other hand, if you're more interested in extreme sports, check out the Saratoga Race Course for some major stakes races. This course has been open for more than 150 years and has become a staple for both entertainment and history in the region.
Montauk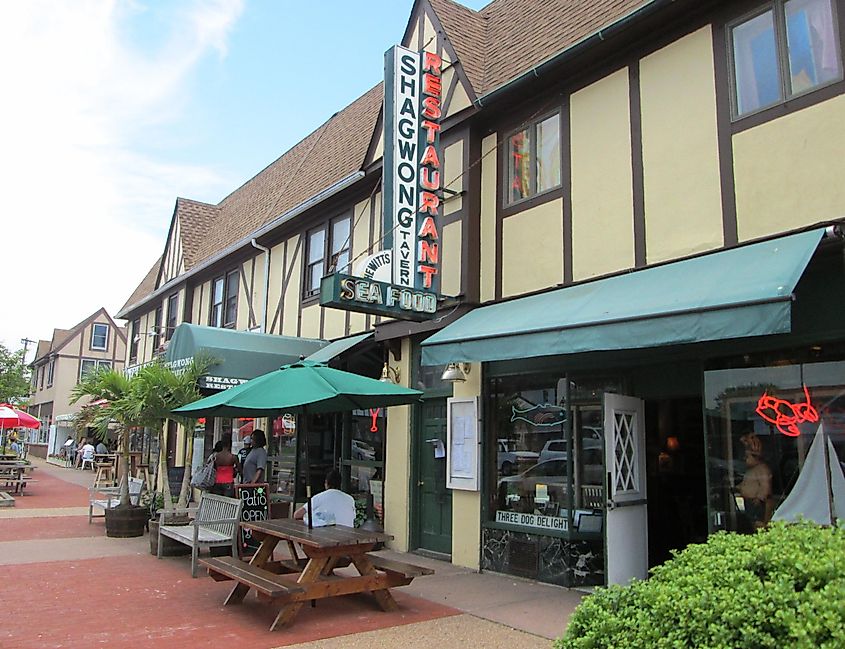 Nestled along the eastern tip of Long Island, Montauk is a marvelous city surrounded by water on nearly all sides. It is home to a population of 4,300 and is known for being a picture-perfect example of a waterside resort town. Testament to this, Montauk is one of the state's major tourist destinations and has more than five state parks. One of the most famous is Montauk Point State Park, where you can spend the day enjoying forested trails, sandy beaches, and limitless views of the Atlantic Ocean. The park offers a range of activities such as surf fishing, hiking, skiing, and much more for a once-in-a-lifetime nature experience. If you want to spend the day in a more relaxed fashion, you can opt for Camp Hero State Park, which is known for its calming environment and peaceful shores.
Montauk's 36 sq. mile (93 sq. km.) area is home to a lot more than just state parks and natural beauty. To this end, one of the most visited sights in the city is the Montauk Lighthouse, which is the oldest lighthouse in New York! Commissioned in 1796, it has been standing for more than 2 centuries and has now become a staple of local history. Today, you can climb the 137 iron steps and spend the day along the lighthouse grounds for a relaxing evening in the sun. With so much to offer, Montauk is the perfect place to witness New York's true beauty.
White Plains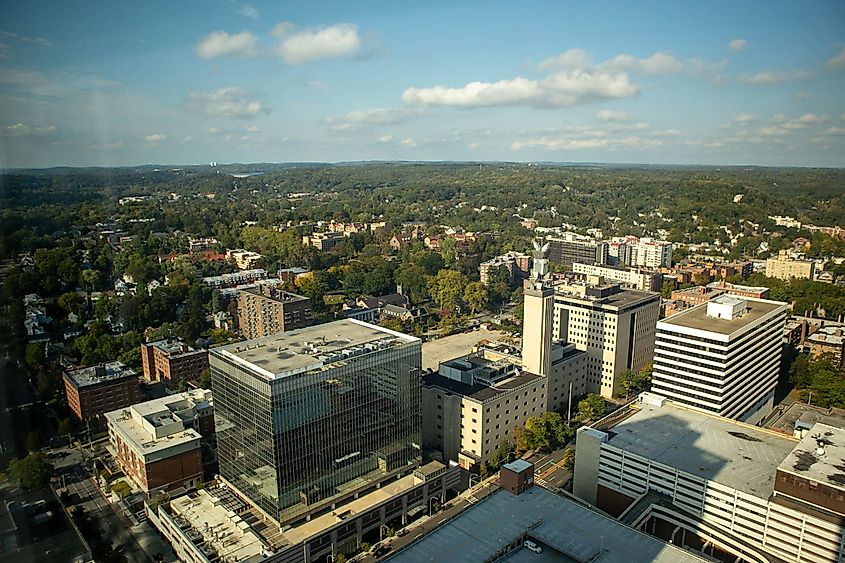 Located in Westchester County, New York, White Plains is a mid-sized city that is perfect for an insight into New York's culture. Home to 60,000 people, White Plains is the commercial hub of the state and offers a mix between densely populated suburbs and natural beauty. Testament to this, you can find large skyscrapers, offices, and many small eateries spread throughout downtown White Plains. Parallelly, the city has more than 300 years of history since it was first settled by the Dutch, thanks to which you can find a wide range of historically prominent sites. The Garden of Remembrance is one of the most famous as it is designed to be a monument for the lives lost in World War 2, one of the world's most violent conflicts. The garden houses the famous Gated of Remembrance which feature images of barbed wire, the Bible, and more to truly put into perspective the harsh times during the war.
Moving further out into White Plain's 10 sq. mile (26 sq. km.) area, you can find many places that combine history and nature. For example, the Battle of White Plains Park commemorates the site of an American Revolutionary Battle in 1776, while also offering panoramic views of the city and amazing greenery. For a more nature-oriented experience, check out J Harvey Turnure Memorial Park, one of the region's most beautiful parks. This is because it is home to more than 100 Japanese cherry blossom trees that create an environment like no other, especially during the annual Cherry Blossom festival. Thus, White Plains may be last on the list, but combining nature, history, suburbs, and more, it is definitely one of the most beautiful cities in New York.
Ithaca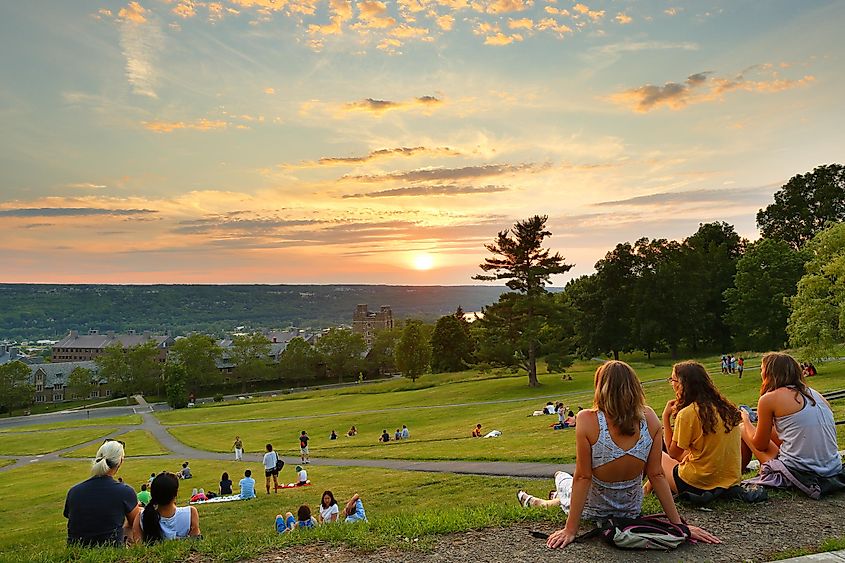 Named after the homeland of Odysseus from Greek Mythology, Ithaca is a scenic city in the Finger Lakes region of New York. It is the county seat of Tompkins County and home to approximately 32,000 residents, as well as many tourists year-round. This is thanks to the abundance of scenic waterfalls ranging from within the city all the way to its outskirts. In total, the city is home to more than 7,000 feet of waterfalls, which adds up to nearly 1.5 miles of falling water! If you are into such natural sights, be sure to take a trip to the nearby Taughannock Falls State Park. At 215 feet tall, it is home to the highest single-drop waterfall in the region, along with many other enjoyable outdoor activities. You can also spend your day at the Cascadilla Gorge Trail which is filled with beautiful sights and trails that are sure to brighten up any trip.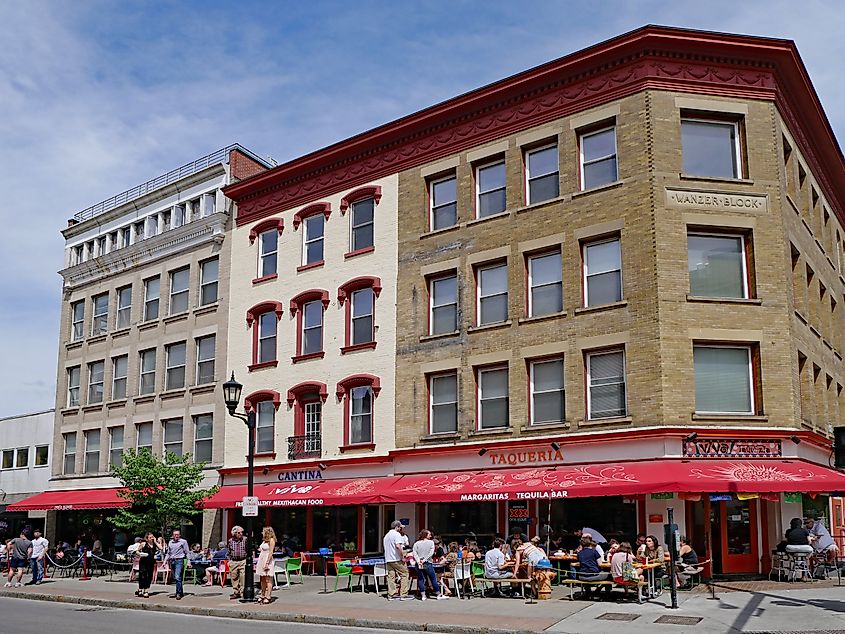 While natural sights may be one of the prime attractions, Ithaca is also known for its rich historical roots. In particular, the city history spans more than 2 centuries, during which it has been an important place for progress in the state. For example, America's first electric street lamps were lit on Cornell Campus in 1875. Moreover, the first ice cream sundae and French-bread pizza were also both created in Ithaca during the 19th century. Thanks to this, you can find a plethora of unique historic establishments within the city's 6.07 sq mi (15.72 sq. km) area. One such location is Cornell University, which was founded in 1865 and is one of the world's premier institutes. Here, you can enjoy the unique Collegiate Gothic, Victorian, and Neoclassical-style buildings spread across campus or choose to visit the botanical gardens, chapel, or many other sights.
Sleepy Hollow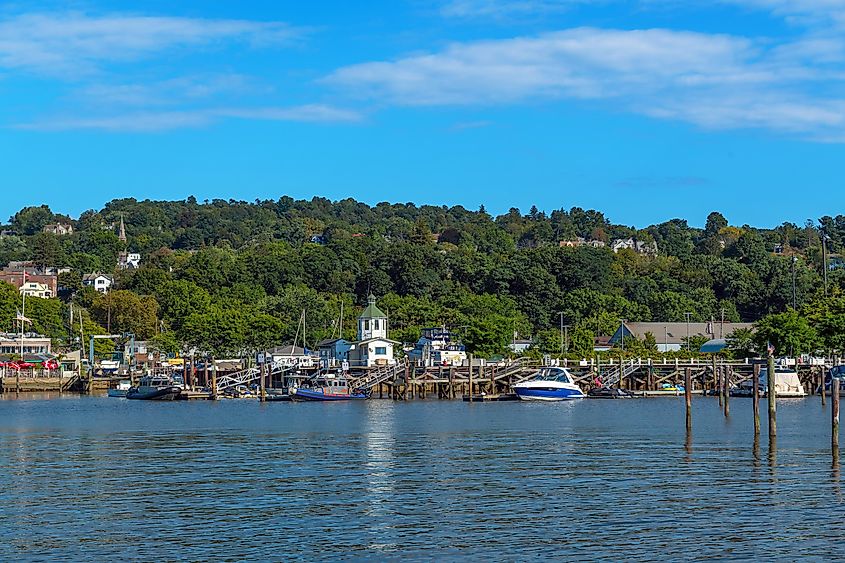 As its name suggests, Sleepy Hollow is a village that comes to life during the spooky Halloween season. Known for its amazing Halloween celebrations with ghoulish decorations and lanterns across the streets, it is the perfect insight into New York's cultural beauty. The village itself is located in the town of Mount Pleasant, in Westchester County, and is home to a quaint population of nearly 10,000 people. With an area of 5.21 sq mi (13.48 sq. km.), you can find something spooky in all corners of the village. Most prominently, the city was the location of "The Legend of Sleepy Hollow", an 1820 short story, whose writer was buried in the local Sleepy Hollow Cemetary. Testament to this, Sleepy Hollow is often deemed one of the world's most haunted places and you can find tourists checking out the cemetery once the sun sets. If you do decide to check out the cemetery, be sure to take a walk to the Headless Horseman Bridge (yes, that's its name) for a view of the lovely Pocanticio River and some horrific chills at night! Or, you can also take a trip to the Headless Horseman Sculpture which depicts the character and is a famous tourist spot.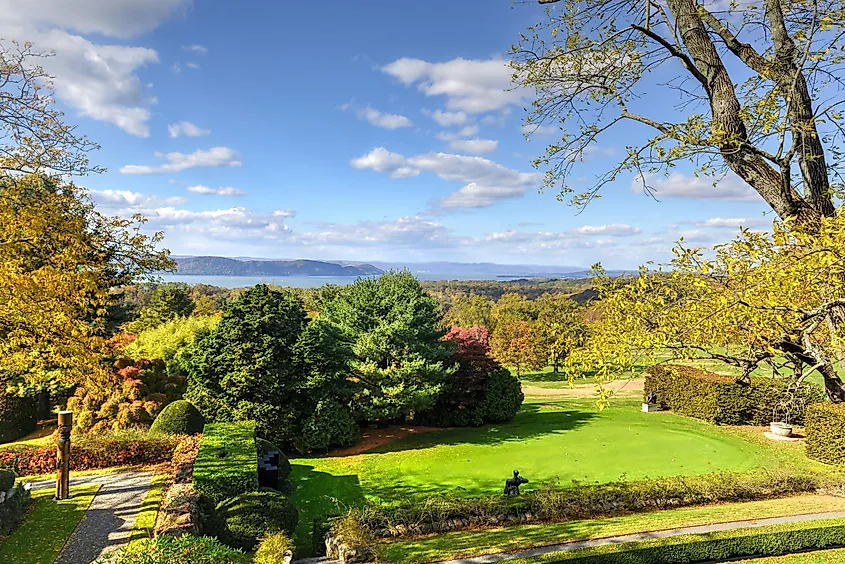 Apart from the obvious horror element of Sleepy Hollow, the village also has a lot of less eerie things to offer. For example, if you enjoy nature, you can take advantage of the expansive natural lands nearby with a visit to the Rockefeller Park Preserve. This preserve has a plethora of picnic spots, hiking trails, waterside activities, and birdwatching opportunities, making it ideal for any nature lover. On the other hand, to delve deeper into local history, take a trip to Philipsburg Manor, a prominent establishment from the 1600s which has now become a museum that showcases the largest slaveholding families in the region.
All in all, no matter what you are looking for in terms of beauty, New York has something for you. Whether it is the urban hustle and bustle found in the world famous New York City or the peaceful waterside comfort of Amagansett, the possibilities are endless. Moreover, home to many natural parks and formations such as the massive Catskill Mountains, you are bound to find beauty everywhere in the state!