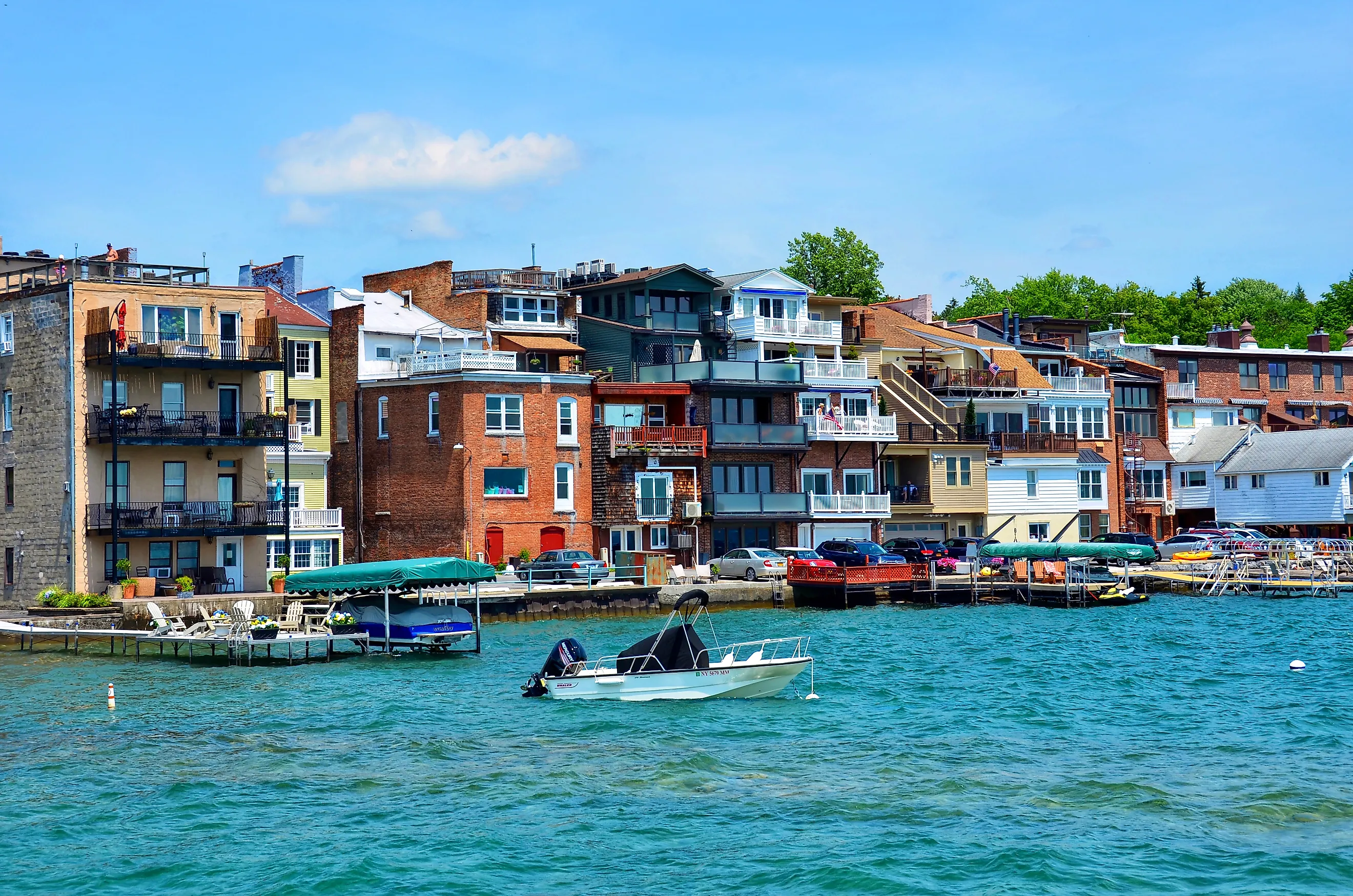 7 Most Beautiful Lake Towns in New York State
While New York is known for its city life and urban development, the state is also home to many natural beauties. Amongst the luscious greenery, vast farmland, and forests in the American state, the amazing lakes and towns built along them are among the most beautiful sights to see. With more than 7,500 lakes spread across the scenic state, various towns along their coast have must-visit activities and sights for nature enthusiasts. So, to narrow it down, check out our list of the top 7 most beautiful lake towns in New York State.
Canandaigua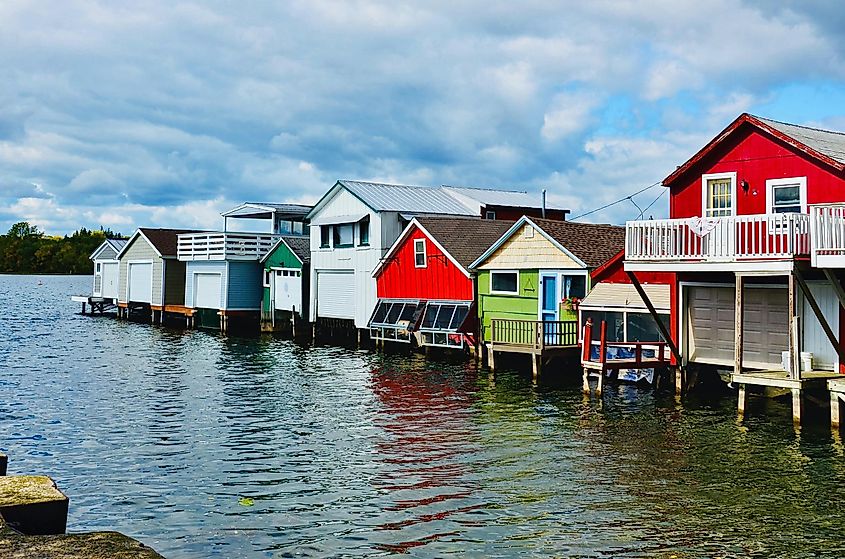 Sharing its name with the adjacent Lake Canandaigua, the town of Canandaigua is a small community that consists of 10,000 odd residents. Located in Ontario County, the town is full of serenity and peace which is a testament to its natural beauty. That said, don't let the relaxed environment convince you that this town has nothing exciting to offer! Just south of the town's boundaries is Canandaigua Lake, one of the largest finger lakes in the state and home to more than 40 sq. km. of clear blue waters. Taking advantage of this, the city offers terrific waterfront activities such as swimming along the coast, fishing, or even boat rides from the historic Canandaigua City Pier. Buildings such as the Pier and the nearby Cobblestone Cottage provide the town with a touch of history, with their construction being done back in the early 1800s.
Further out from the lake and into this peaceful town, you can find a plethora of beautiful buildings, historic sites, and restaurant squares that provide everything needed for a fun day out. This could include going to the Sonnenberg Mansion and Gardens to take in the beautiful 200,000 sq. m. protected building and green space or enjoying some famous wines you can get on Main Street. While these attractions are present year-round, the town also hosts many festivals such as the Finger Lakes Riesling Festival, Waterfront Art Festival, etc., which make for great social and cultural environments.
Lake George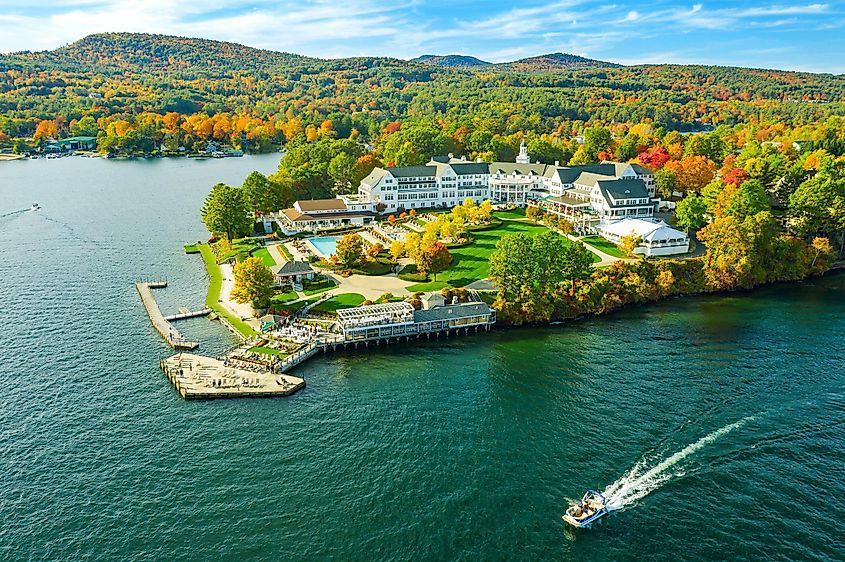 Nicknamed The Queen of American Lakes, Lake George is a narrow lake set at the southern foot of the Adirondack Mountains. Thus, veiled in natural scenery and beautiful views, the town of Lake George is one place that is able to capitalise on it to make for a great place to visit. With a population of approximately 3,500 people within the town's area of more than 85 sq. km. this town has ample space for all kinds of summer activities across the lake's coastline. For example, adrenaline seekers can opt for rapid whitewater rafting while families can take their time on a lovely cruise ship or fishing expedition to take in the beauty of the town.
Slightly away from the lake, Lake George is also home to both town and green space which is split between enjoyable theme parks and shopping squares to camping and hiking routes near the mountains. With so much, the summer tourism at Lake George can skyrocket the population to approximately 50,000, which is more than ten times the local residents. Moreover, with direct access via the Adirondack Highway, the town of Lake George is one of the most popular tourist destinations on this list.
Skaneateles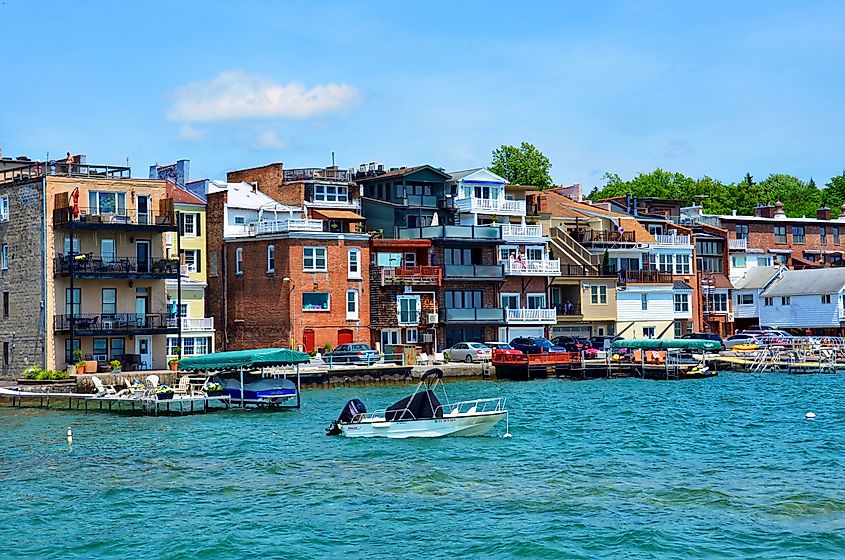 Located in Onondaga County alongside one of the cleanest lakes in the United States, Skaneateles is the name of both a lake and the beautiful town alongside it. The town sits at the northern end of the narrow Skaneateles lake, which covers a length of nearly 27 km. With such a lake along the coast, the town of Skaneateles has become one of the most popular tourist spots in the county. Being just a 30-minute drive from the central city, Syracuse, Skaneateles sees tens of thousands of tourists annually. Even with so many people coming into the quaint town of 7,000 odd people, there are endless activities and sights to choose from. Whether this involves taking a walk along the scenic Shotwell Park and enjoying the nearby swimming beach or going through the busy Jordan Street to enjoy dining and shopping, there is something for all kinds of people.
The town also houses a wide array of antique boats and boating tours that offer one of the most interactive experiences with the clean and clear Skaneateles Lake. Even if you aren't a fan of water, the town itself has a safe and welcoming environment that is sure to keep it on this list as one of the best lakeside towns in New York State.
Watkins Glen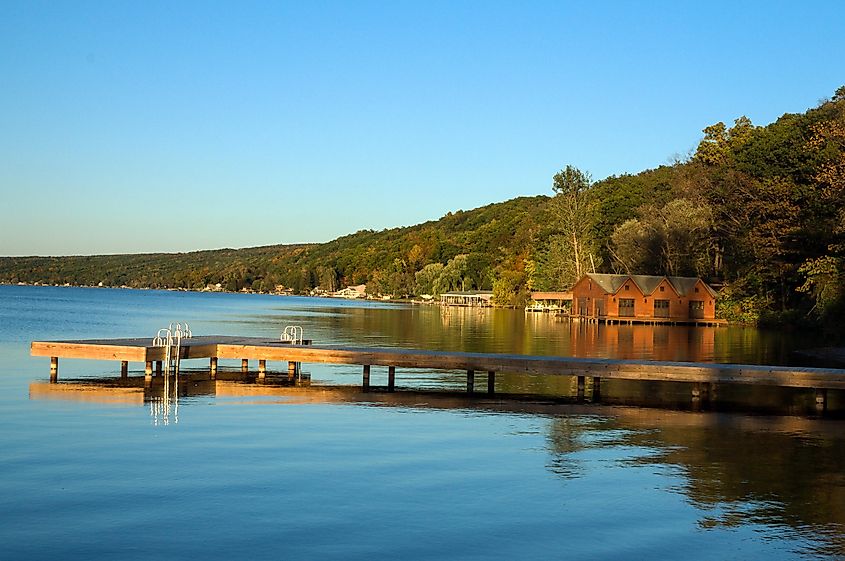 At the southern end of Seneca Lake in Schuyler County, Watkins Glen is another small lakeside town with plenty of beautiful attractions. The village is only 5 sq. km. in area, but with just under 2,000 inhabitants, according to the U.S. Census, you will find ample serenity and peace along the lakeside. As Seneca Lake boasts an impressive 13+ meter depth and 182 sq. km. area, all types of boat trips ranging from large sightseeing groups to lone schooners are available to tourists to enjoy the view. Similarly, the regions near the coastline are filled with fun stores and restaurants, and slightly further out, you can find the scenic Watkins Glen State Park, which offers 2.5+ sq. km. of protected greenery, waterfalls, and wildlife.
In addition to the lakeside beauty of Watkins Glen, it is also a prominent location for motorsport racing in America. This is primarily due to the notable Watkins Glen International Race Track which is home to many races such as NASCAR, Indycar, and at one point, was also a grand Prix in the Formula 1 calendar. Thus, whether you want to visit during a race to enjoy the crowd or take a quiet nature trip to the coast of Lake Seneca, Watkins Glen is a great New York town for tourists.
Cooperstown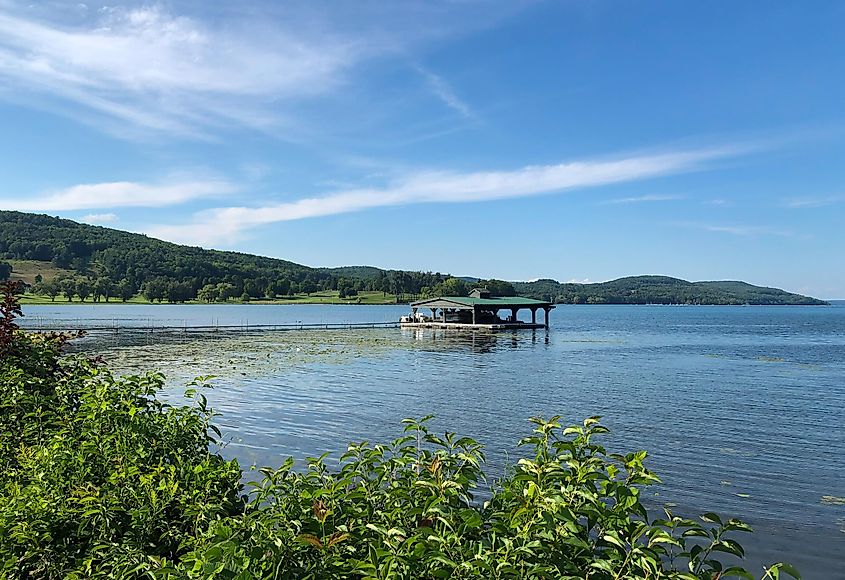 The county seat of Otego County in New York, Cooperstown is a well-known lake town with a wide range of authentic and enjoyable things to do. While it may not be the most populous with less than 2,000 individuals, Cooperstown boasts impressive sights of the beautiful Ortego lake which has been central in the town's history and growth. Specifically, even before the village was established, Ortego lake played a vital role in Native American establishments, which is a testament to the beauty of this lakeside village. Currently, the small 5 sq. km. has become a popular summer retreat with boat tours, swimming beaches, and much more.
However, apart from just Ortego Lake, Cooperstown is also home to various other unique attractions such as its designation as the 'National Baseball Hall of Fame.' This name is due to the place being deeply rooted in baseball history, with the local museum having over 40,000 artifacts such as balls, gloves, etc. that are sure to be enjoyable for fans of the sport. Surprisingly, the small town also has hidden surprises such as ancient castles and even Hyde Hall Covered Bridge, America's oldest covered bridge. So, Cooperstown is a great place to visit if you are a sports enthusiast, nature lover, or just want to enjoy the historical roots of New York.
Long Lake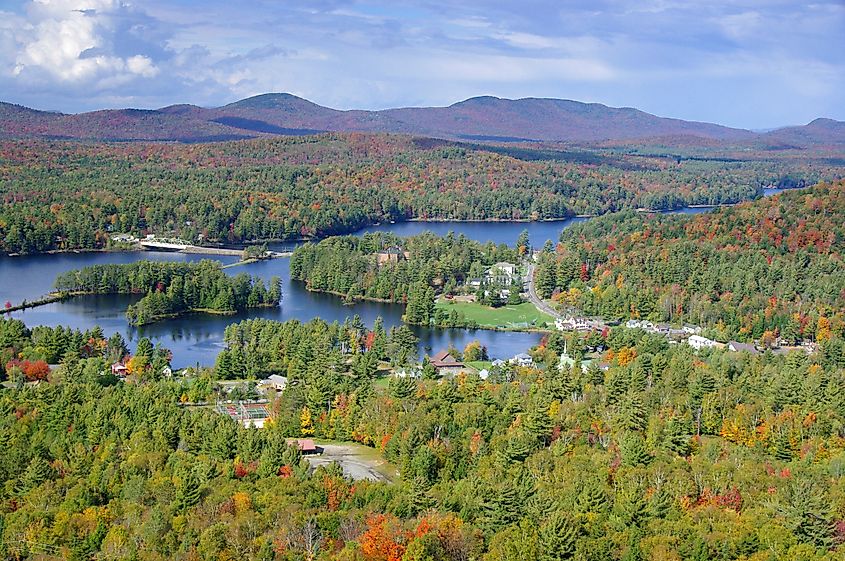 Situated within the Adirondack Park in Hamilton County, New York, Long Lake is one of the state's most peaceful and serene lakeside towns. With minimal tourist footfall and a small population of under 1,000 inhabitants, this town is undoubtedly a hidden gem amongst many other famous lakeside towns. This is most prominently due to the unique 23km long, Long Lake which spans the town's entire western coast. Combining the lake's calm waters with the protected wildlife and greenery of Adirondack Park, this town is ideal for anyone looking to get away from the hustle and bustle of city life.
However, while it may be quiet, there is still lots to do in Long Lake. Specifically, in summer, most tourists spend their time swimming or fishing along the coastline or hiking through the nearby elevated regions. Winters, on the other hand, see a complete change in the town with snowmobiling through the parkland becoming one of the most sought-after attractions. The town also carries a piece of national history, being home to the famous Adirondack Hotel, which was established in the mid-1800s. 
Olcott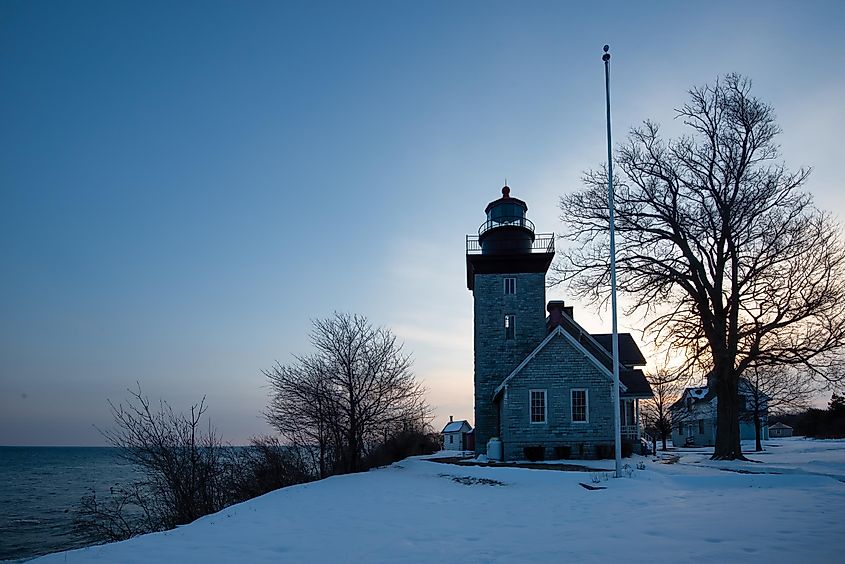 While it may not be home to the largest shopping centres or wineries, there is one thing that the town of Olcott has, which is an amazing lakeside town vibe. Situated along the southern coast of Lake Ontario, one of the five Great Lakes, the small town of Olcott is a fantastic place with a beautiful lake view. While winter months can see a chilling breeze due to the vast Lake Ontario, Olcott has welcoming weather during summer and also hosts various fun events and fests that can make a trip worthwhile. Most of the town's attractions lie along Olcott Beach, such as the Olcott Lighthouse, carousel, etc. and with a population of just 1,200 people, it is almost always crowd free. The beach also offers various food joints such as Lakeside Ice Cream and even activities such as boating from the Pier, fishing, etc., making this one of the most picturesque lake towns to visit.
If you are craving a relaxing lake vacation in Upstate New York to get away from the hustle and bustle of living in the city, you must consider visiting one of the lake towns. New York is home to over 7,600 bodies of water, making the towns surrounding them perfect getaways.