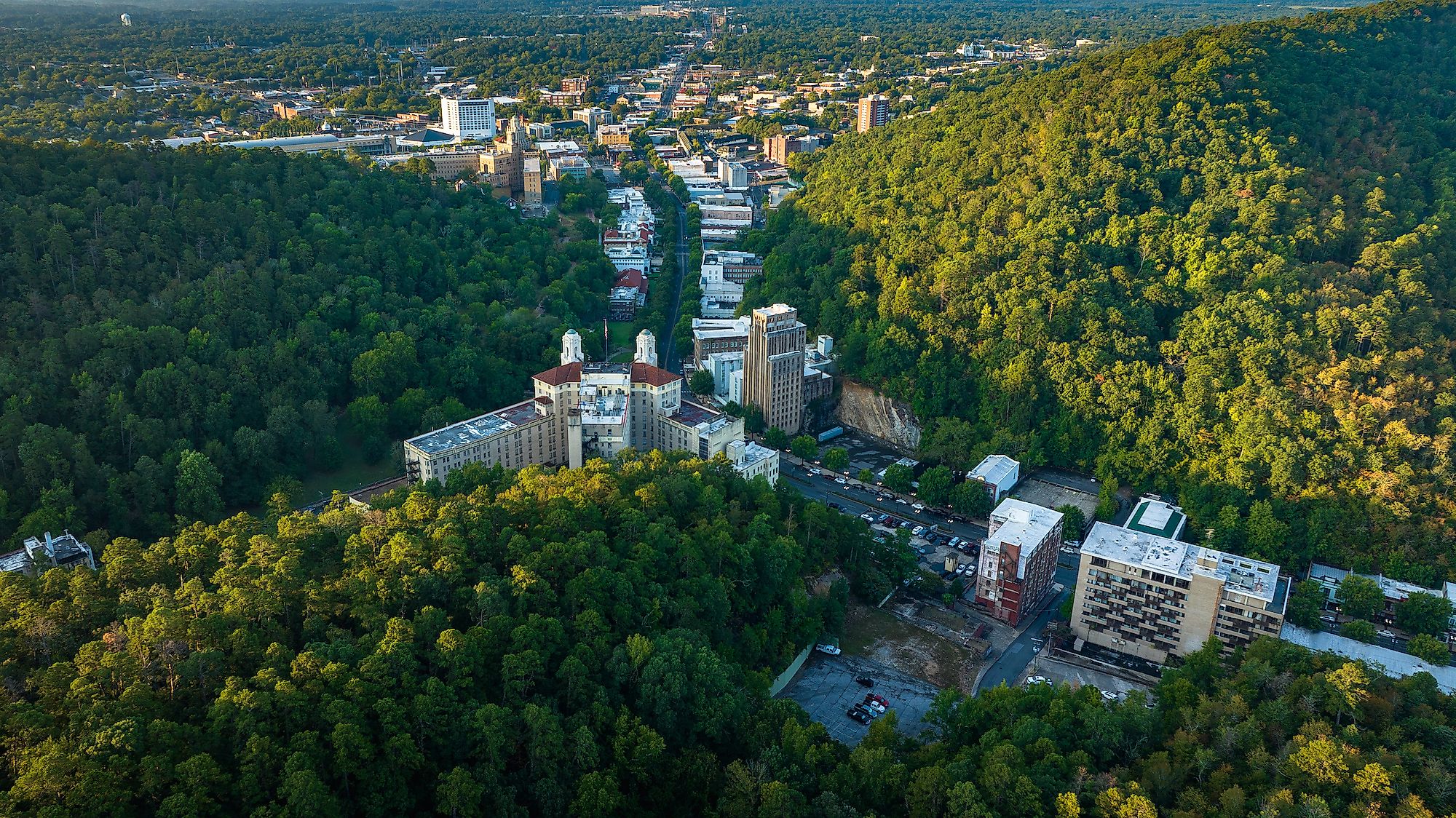 The Most Unique Arkansas Towns
Arkansas, located in the West South-Central region of the United States, is well known for its natural beauty and rich cultural history. The "Natural State" attracts an estimated 41 million visitors a year, most of them here to visit popular destinations like Little Rock and Hot Springs National Park. Arkansas is also home to many charming small towns offering unique attractions and experiences. From the thermal waters of Eureka Springs and Hot Springs to the stunning scenery of the aptly named Mountain View in the Ozark Mountains, there are plenty of good reasons to explore beyond this beautiful state's usual tourist spots. Learn more and be inspired by this list of these unique Arkansas towns to visit.
Hot Springs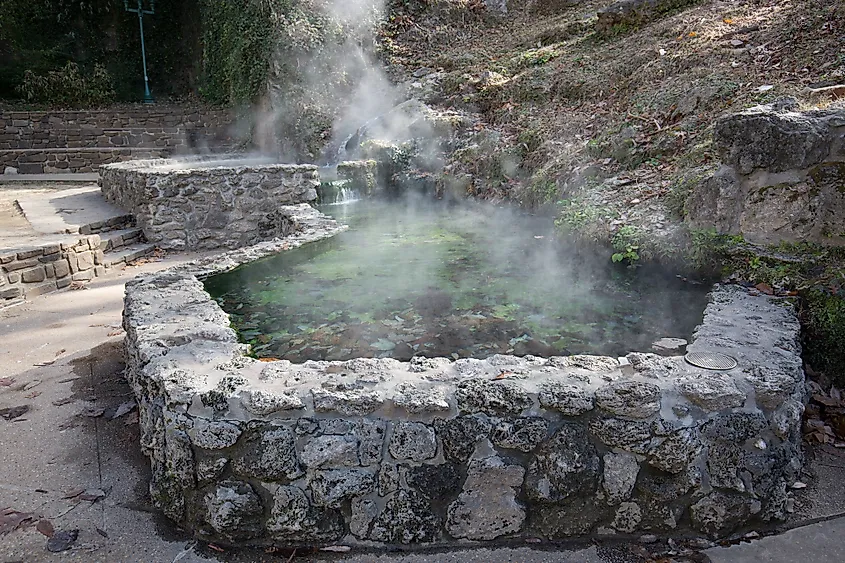 There is certainly no need to ask what Hot Springs, Arkansas, is named for. Founded in 1851 and steadily growing in reputation as a must-visit spa town to its present-day population of around 37,000 residents, Hot Springs' many old bathhouses continue to draw tourists to this beautiful corner of the Ouachita Mountains. No less than eight of these charming original buildings remain on Bathhouse Row, the oldest of them dating back to the early 1900s. You'll find them in the must-visit Hot Springs National Park. And yes, you can enjoy a traditional bath experience, but book ahead to avoid disappointment.
Eureka Springs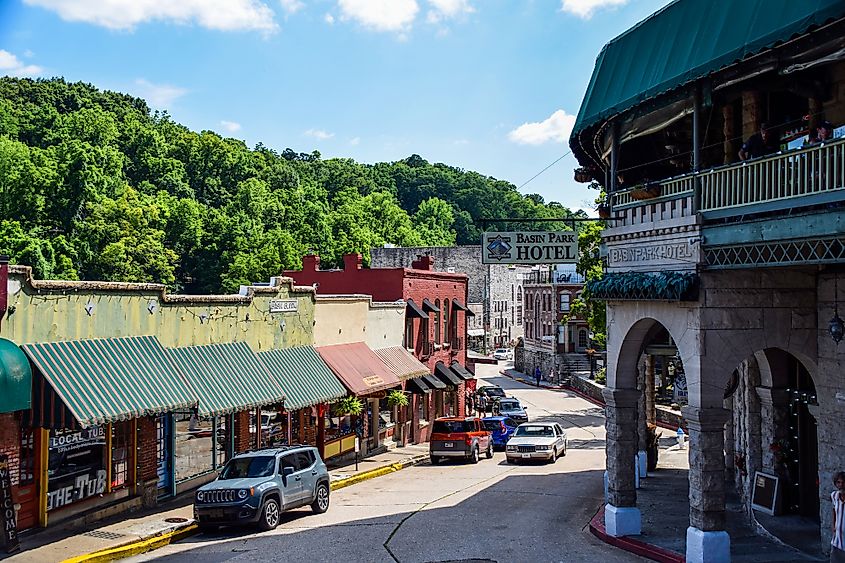 The 2,000 residents of the aptly named Eureka Springs know a good thing when they see it. Established as a spa town in 1880, its unique Victorian-era architecture has been painstakingly maintained by local government, residents, and businesses to preserve its timeless appeal. The result? Not only is Eureka Springs one of the prettiest small towns in Arkansas, but it's also one of the most popular tourist spots in the Ozark Mountains. Nicknamed "The Little Switzerland of America" for its mountainous setting, natural springs, and healing waters, the entirety of downtown Eureka Springs has, in fact, been placed on the National Register of Historic Places.
Alma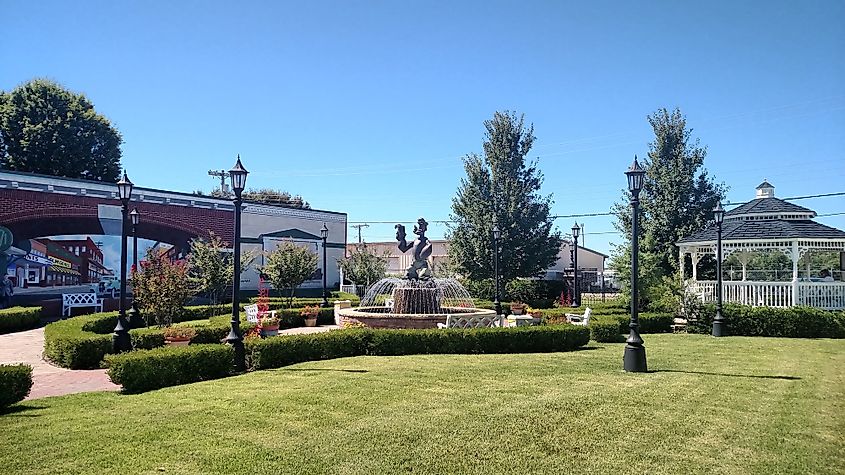 Just 15 miles away from the state border with Oklahoma on the western fringes of Arkansas, Alma's connection to the land is deep-rooted. Incorporated in 1874, the self-proclaimed "Spinach Capital of the World" was at the forefront of the canning industry's vegetable packing revolution in the early 1800s. So proud are the residents of this claim to fame that they erected a newer bronze statue of the famous cartoon character, Popeye, to replace an older fiberglass version dating from the early 2000s. The spinach-eating hero certainly makes for a unique selfie opportunity.
Paris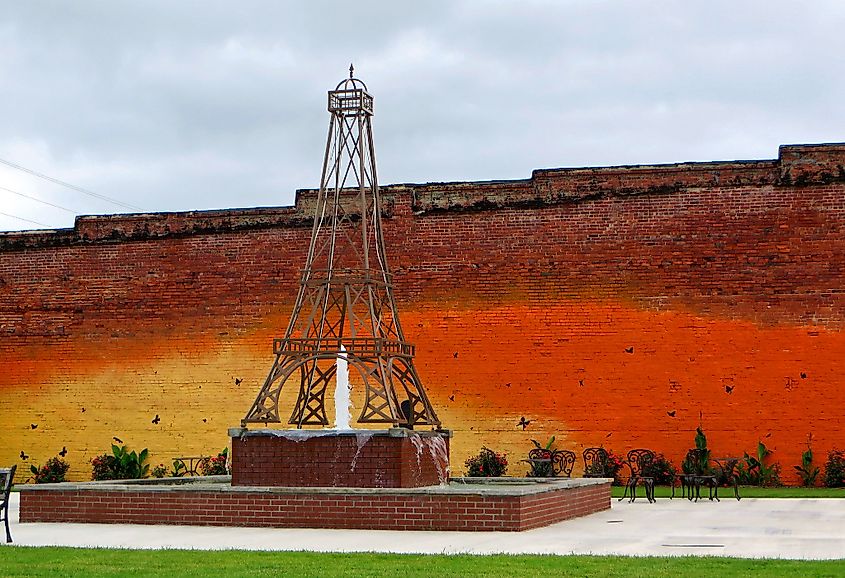 As unique as Paris, Arkansas, actually is, this small town near the Arkansas River is one of 23 communities in the USA to carry the name of the capital of France. Few, however, can claim to have their very own Eiffel Tower. Albeit much smaller than the French original, this particular landmark is located in Eiffel Tower Park in downtown Paris and stands 25 feet tall in the middle of a fountain. While townsfolk weren't able to build their replica to scale, they did, however, manage to add a few authentic touches. Of these, the most notable was a donation by the manufacturer of the exact same brand and color of paint used on the original Eiffel Tower in Paris, France.
Murfreesboro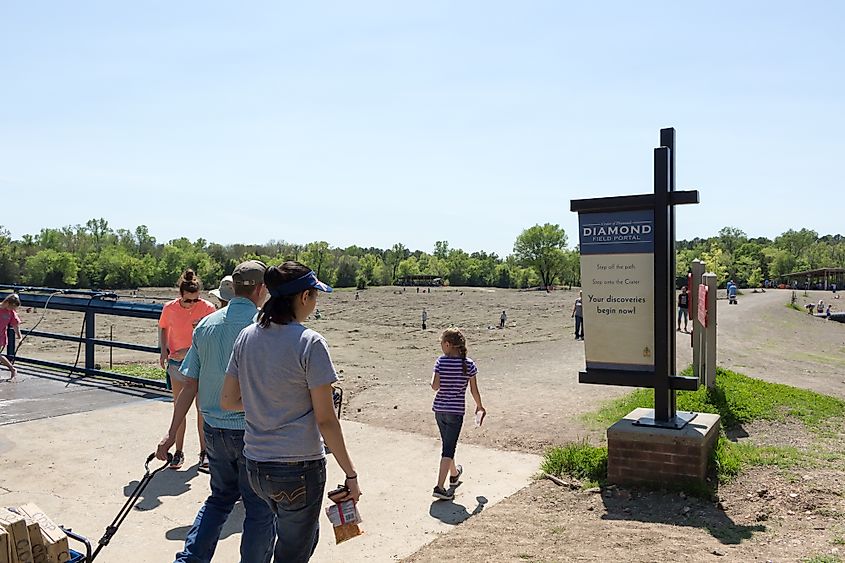 Murfreesboro in Southwest Arkansas is a must-visit for anyone with an interest in gems. This relatively remote community of just 1,500 souls is home to the Crater of Diamonds State Park. It is said to be the only diamond-producing site in the world where the public can search for diamonds and keep what they find. Established in 1972, one or two park visitors still manage to go home with a substantial diamond fine each day. The largest ever found here, the aptly named Uncle Sam, was discovered here in 1924 and has a current value of around $150,000.
Mountain View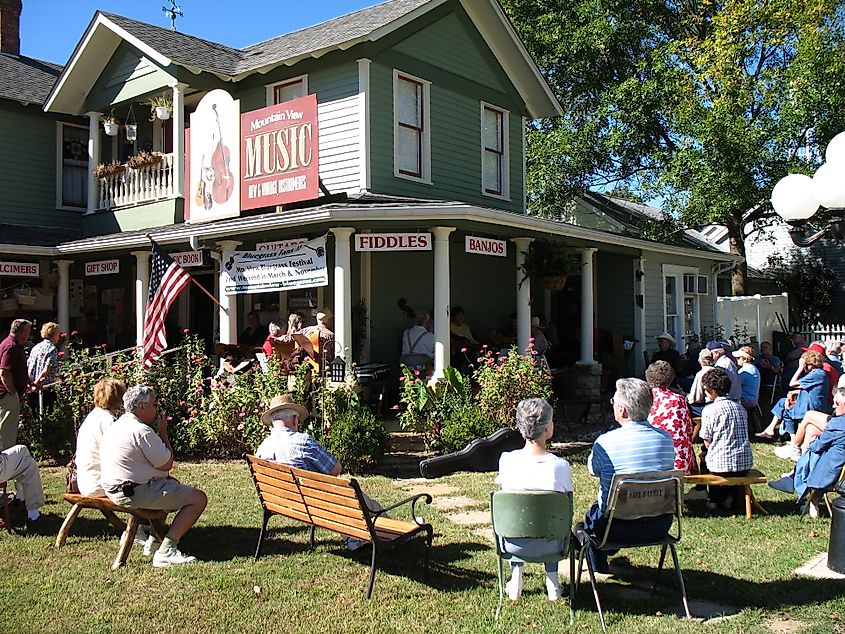 Its location in the heart of the Ozark Mountains makes Mountain View a must-visit destination. Not only is it one of the prettiest places to visit in the Ozarks, but it's also one of the most musical. In fact, r residents and visitors alike have dubbed Mountain View the "Folk Music Capital of the World," a title that was bestowed upon it soon after its establishment as a tourist hotspot in 1873. The folk music tradition has stuck, and to this day, Mountain View's reputation as a hub for Ozark folkways and traditions is well-known across the region. Nowhere is this more evident than at the Ozark Folk Center State, a superb facility built specifically to preserve this rich musical legacy.
Calico Rock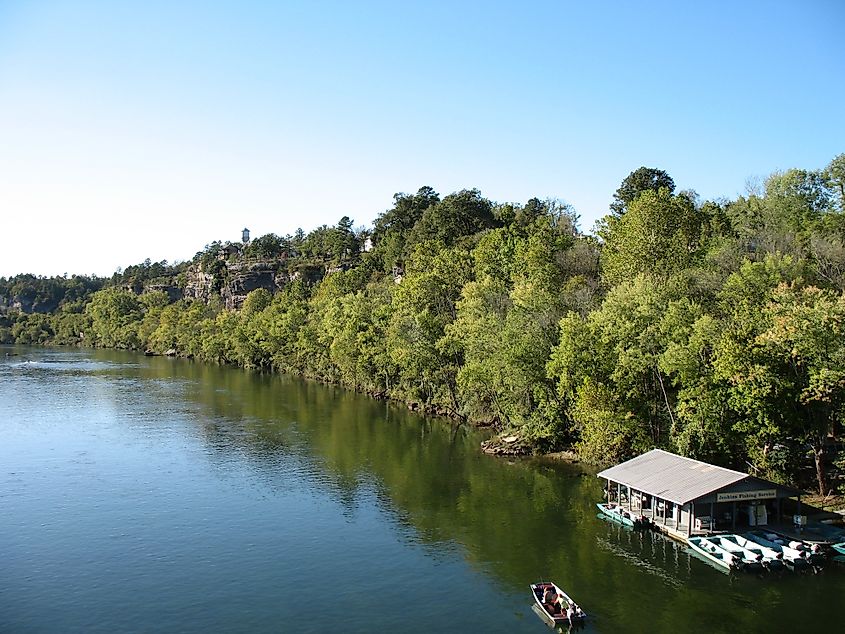 Almost but not quite a ghost town, Calico Rock's current population of around 900 residents is a far cry from its peak of almost double that number. Marketed as a "ghost town" within the town itself, the East Calico Historic District is an area of preserved but mostly abandoned, historic buildings. Established in the 1820s as a steamboat landing, Calico Rock's strategic importance grew along with the size and reach of the paddle-wheel steamships that ferried passengers and cargo to destinations as far afield as New Orleans. Great views of White River can be had from Calico Bluff.
Marble Falls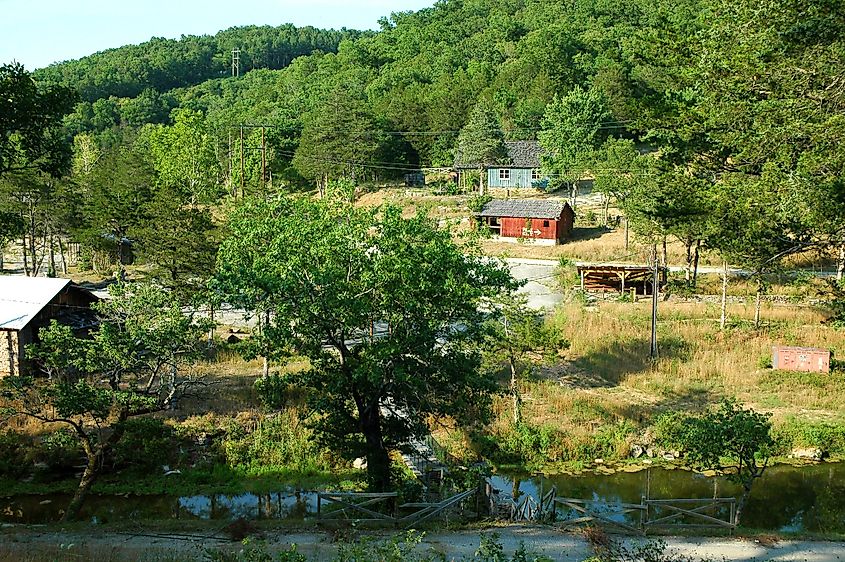 Despite its extremely small population (it's estimated to be home to less than 100 residents), the remote community of Marble Falls makes for a fun day of exploration if you're in the Ozark Mountains. Established as Marble City in 1840 and named after the rock type quarried here, its name changed to Wilcockson and later Dogpatch (after a now-defunct theme park) before ending up as Marble Falls. These days, the area is popular among outdoor enthusiasts drawn for adventures, including hiking, biking, and camping. The scenery along Mill Creek makes for a pretty drive, especially if you end up at the Mystic Caverns attraction just a few miles to the north.
The Take Away
If you're interested in taking the road less traveled and enjoy exploring the country's smaller communities, each of these destinations has its own unique story just waiting to be discovered. To find out more about the Natural State's fascinating cultural, historical, and natural heritage, you'll find inspiration in this list of the most unique Arkansas towns to visit.